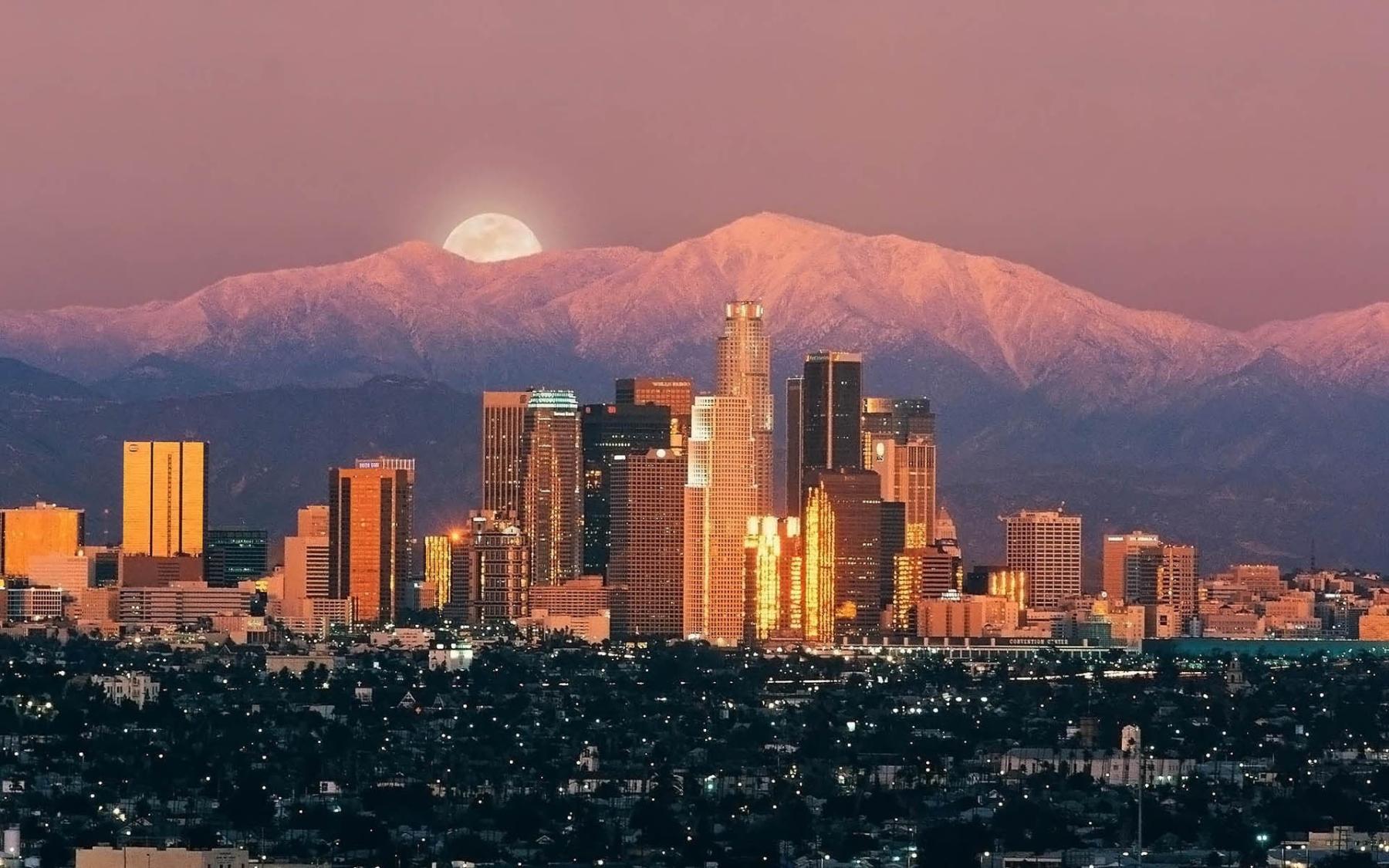 Los Angeles, a big city in Southern California, is packed with things to do all year round. It's famous worldwide for its film and entertainment industry, especially Hollywood. For more than a hundred years, Hollywood has attracted aspiring actors and actresses from all over the country.
Los Angeles is a city known for its diverse cultures and being a hub of creativity in America. There are many exciting things to do in California, such as enjoying delicious food, shopping for unique items, visiting amazing museums, and exploring fun family attractions. The weather in LA is usually sunny and warm, so it's common to pack shorts and T-shirts for most visits.
If you're heading to sunny places to enjoy the warm weather and beautiful beaches, you'll discover lots of activities to keep you entertained. The public transportation system has been improved in the past few years, and there's even a Metro Bike Share available in downtown LA. This means getting around and seeing the sights is now simpler than it has ever been.
Families often love going to Disneyland and Universal Studios, which are popular places to visit again and again.
---
1. Universal Studios Hollywood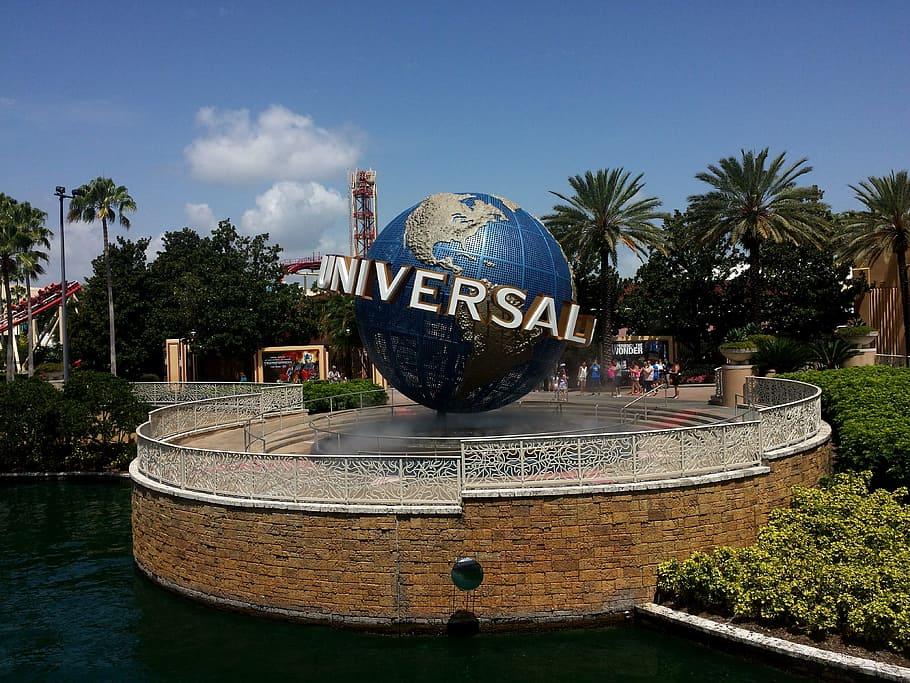 Highlights: Massive amusement park with movie-themed rides and entertainment
Universal Studios Theme Park is famous for its incredible rides inspired by popular movies. But it's not just a theme park – it's also a real movie studio that anyone can visit and have fun. The best part is the rides, which keep changing and offer a wide variety, from exciting simulators to thrilling roller coasters. Some of the most loved rides and sets are based on favorite movies and TV shows like Harry Potter, The Simpsons, Transformers, Jurassic World - The Ride, and Despicable Me Minion Mayhem.
If you want to avoid waiting in long lines at Universal Studios Hollywood, you can buy a Skip the Line: Front of Line Pass. This special ticket lets you enter the park's rides, attractions, and shows quickly without having to wait. It also gives you special access to certain attractions behind the scenes. It's a convenient way to save time and have more fun at the park.
If you've had enough of the rides and want a change of scenery, you can visit CityWalk. It's a fun area with lots to do, including shopping, eating at restaurants, and watching movies at theaters. Another cool option is to take a guided tour of the Universal Studios. You'll get to see what goes on behind the scenes of famous movie sets and even visit areas that regular visitors can't access. The VIP Experience gives you special opportunities to explore these sets and hidden spots.
Address: 100 Universal City Plaza, Universal City, California
---
2. Griffith Park and Griffith Observatory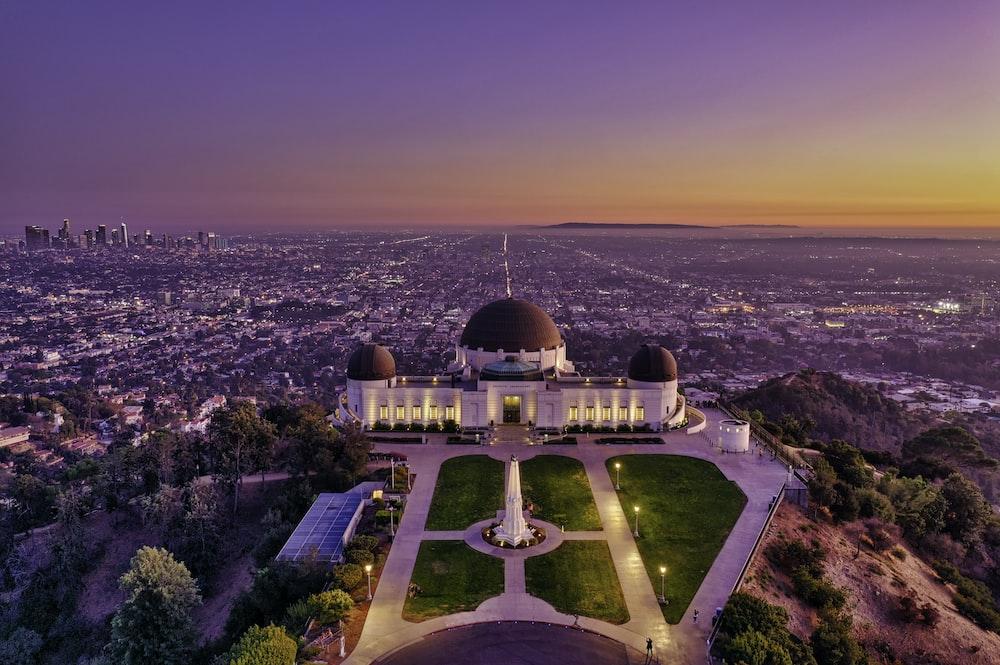 Highlights: Sprawling public park with observatory and many other tourist attractions
Griffith Park is a huge city park located in the eastern part of the Santa Monica Mountains. It covers an area of 4,210 acres, making it the biggest park in Los Angeles. This park is packed with exciting attractions like the Los Angeles Zoo, the Griffith Observatory (which has a planetarium), and a Greek theater. You can also find golf courses, tennis courts, hiking trails, and a riding center that was built for the 1984 Olympic Games. If you enjoy walking, there are trails that allow you to explore the mountains and take in breathtaking views of the city and beyond.
The Griffith Observatory is a really cool place to visit in the city. It's an experience-based attraction that doesn't cost anything to enter. When you go there, you'll find exhibits and telescopes on the grounds. The best part is getting to look through the Zeiss telescope, which lets you see the moon and planets up close. You can use the telescopes for free every evening when the facility is open. They also have special telescopes for viewing the sun.
The park and observatory are called Griffith J. Griffith Park and Observatory. They were named after a generous person named Griffith J. Griffith. In 1896, he gave most of the land for the park to the city as a donation. He also left money in his will to the city to build the observatory.
---
3. Disneyland Resort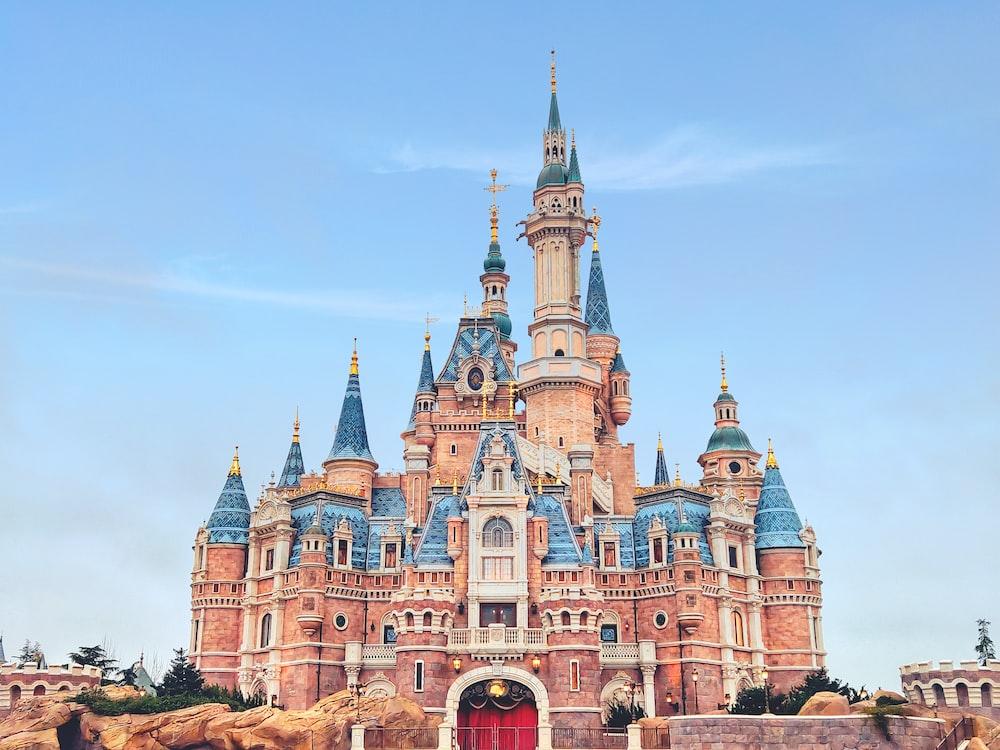 Highlights: Massive theme park in Anaheim with Star Wars rides and other attractions
Located near Los Angeles, Disneyland is the number one family vacation spot in California. It has been attracting visitors since the 1950s. When people think of Disneyland, they usually envision Disneyland Park, which offers exciting rides and immersive experiences in beautifully designed theme areas. Additionally, there's Disneyland California Adventure Park, which was added later and provides even more excitement and thrills. This park features seven different areas inspired by popular movies.
There are some new Star Wars rides that have recently appeared. Two of them are called Star Wars Rise of the Resistance and The Millennium Falcon: Smuggler's Run. These rides can be found in the Star Wars Galaxy Edge area, which also has lots of shops and restaurants designed to look like the Black Spire Outpost on the planet of Batuu.
In addition to the fun rides and Disney characters you see walking around, Disneyland Resort has everything you need for a fantastic vacation. You'll find hotels, restaurants, shopping, and lots of different entertainment choices to enjoy.
Anaheim is a great place to visit on a weekend trip, especially if you love Disneyland Resort. There are many places to eat and shop outside the park, and you can explore the historic downtown area called Central City in Anaheim.
---
4. Hollywood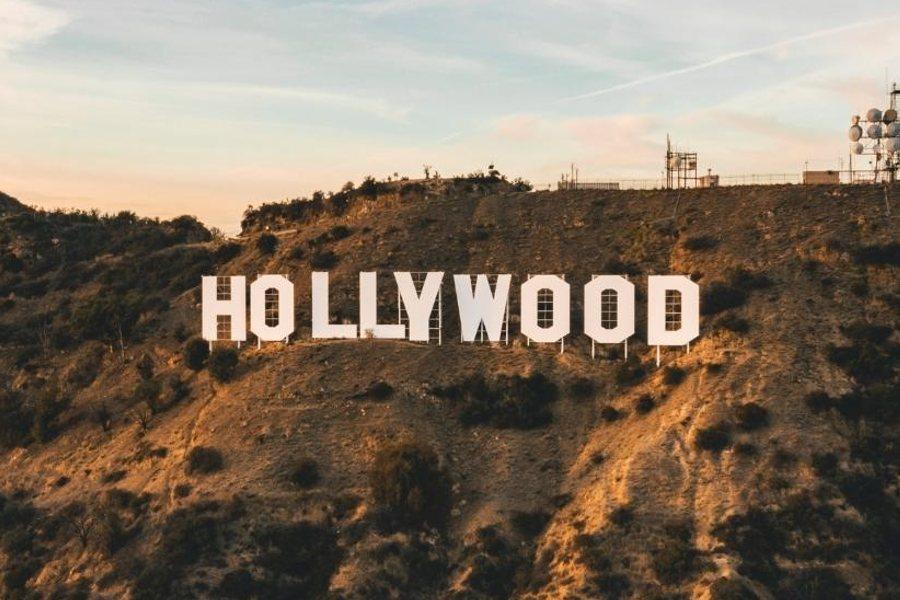 Highlights: Hollywood sign, Walk of Fame, shopping, dining
Hollywood is a neighborhood near Los Angeles that has its own special past and famous places. The things to see in Hollywood are strongly connected to the movie industry and the excitement of movies.
Hollywood has lots of cool places to check out! You definitely don't want to miss the famous Hollywood sign on the hillside, as well as Hollywood Boulevard and the Chinese Theatre. And guess what? If you're really lucky, you might even see a celebrity or two while they're out shopping on Rodeo Drive. Another fun thing to do with your family in Hollywood is to search for your favorite actors' stars on the Walk of Fame. There are over 2,500 stars to find, so it's like a treasure hunt!
---
5. The Getty Center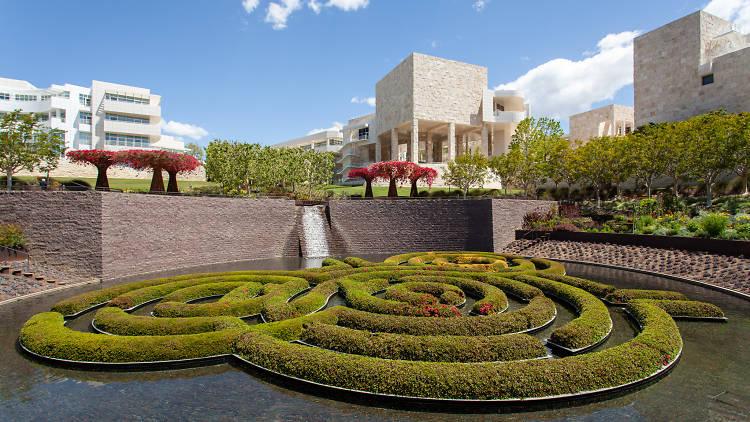 Highlights: Esteemed cultural center and museum with beautiful landscaping
The Getty Center is a large place that covers an area of 0.75 square miles and sits on 110 acres of land on top of a hill in the Santa Monica Mountains. The building there is one-of-a-kind and the surrounding area is very beautiful, making it a perfect location for a fantastic museum. Inside the museum, you can find lots of amazing artwork, like paintings, drawings, sculptures, and fancy objects from Europe. They also have old photographs from the 19th and 20th centuries.
The sights from the museum area looking out onto Los Angeles are amazing. Reserve a spot at The Restaurant and have a relaxed lunch while taking in the beautiful surroundings.
The Getty Center is one of two places where you can find the J. Paul Getty Museum. It was started by a wealthy person named J. Paul Getty who made his money from oil. The Getty Villa is the other location, and it looks like a Roman country house that was built again. It has artworks from a really long time ago, starting from the Stone Age and going all the way until the end of the Roman Empire.
Address: 1200 Getty Center Drive, Los Angeles, California
---
6. Petersen Automotive Museum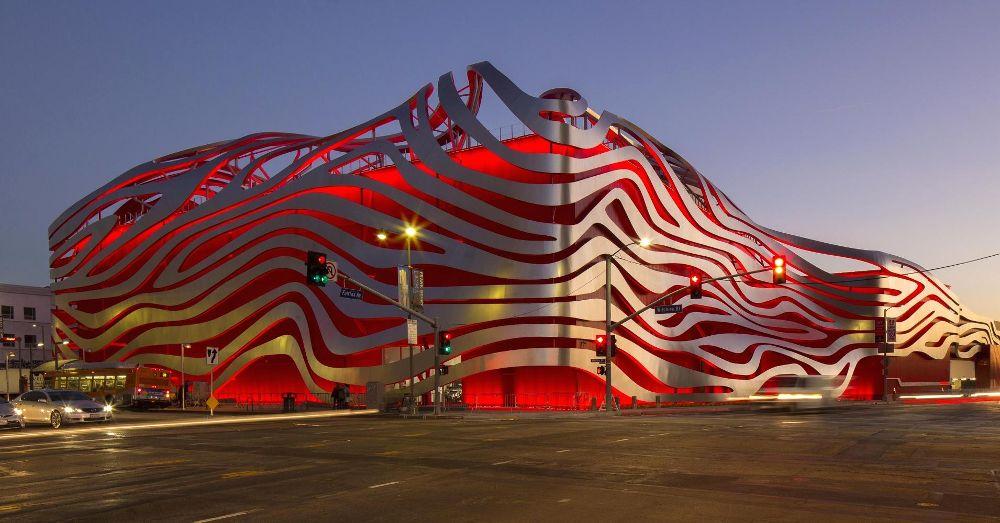 Highlights: Extensive car collection housed in an eye-catching museum building
If you're a fan of cars, you definitely don't want to skip the amazing collection of vehicles at the Petersen Automotive Museum. It's spread across four floors and includes a variety of exhibits, both permanent and temporary. You'll get to see over 300 cars and motorcycles, starting from as early as 1886 all the way to futuristic concepts for the 21st century. It's a treat for any car enthusiast!
The museum got a big makeover and is now super modern. The outside looks amazing, like a really cool building. If you want, you can pay a little extra and join a guided tour to see some really rare and special cars. The tour lasts either 90 or 120 minutes and gives you even more interesting information.
The museum regularly displays special exhibits showcasing cars from different times, including old, new, and even unique ones that you might find in the future.
---
7. Santa Monica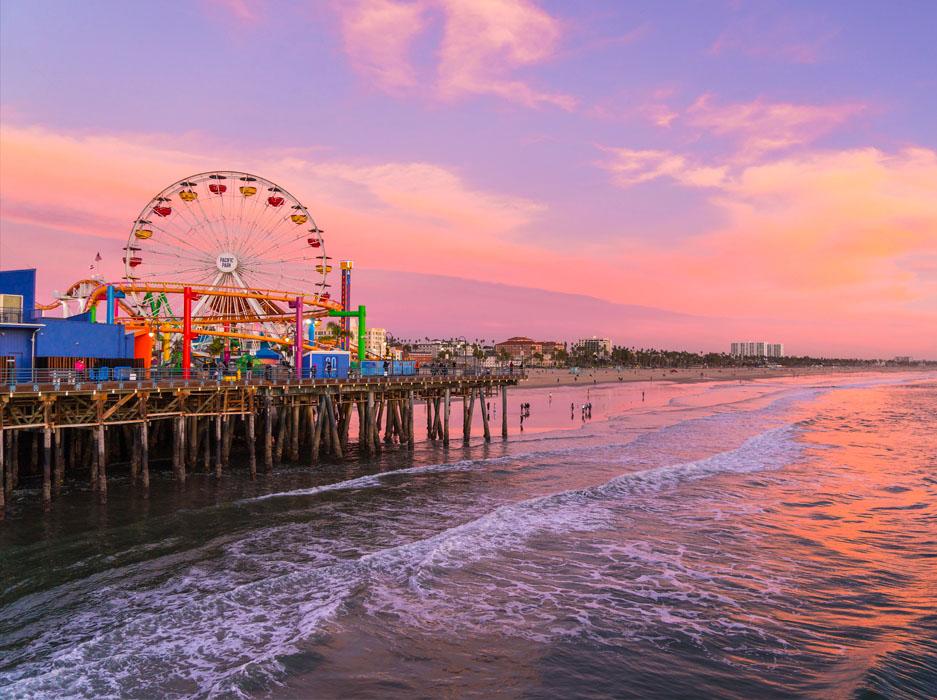 Highlights: Popular beach with pier, promenade, and miles of sand connected by bike path
Santa Monica is a special place where you'll find a mix of cool and relaxed vibes. The people who live here come from different backgrounds, including surfers, skateboarders, yoga enthusiasts, as well as techies and business folks.
Most tourists visit this beachfront city near LA to enjoy its stunning golden sand beach and the famous Santa Monica Pier, which has a captivating Ferris wheel. However, there are also many different experiences you can find here.
The downtown area of Santa Monica is always bustling with activity, both during the day and at night. If you enjoy shopping, you'll discover a wide variety of stores to explore, ranging from unique vintage shops to fancy upscale boutiques. Don't miss the Third Street Promenade, a great place to shop and enjoy watching people, including talented street performers.
If you're up for some fun, take a look at the 26-mile bike path that runs along the waterfront. This long, smooth path covers almost the entire Santa Monica Bay coast and connects all the amazing beaches near Santa Monica. Some popular choices for visitors are Venice Beach in the south and Will Rogers State Beach in the north.
It's now much simpler to reach Santa Monica with the new Expo Metro line, which links downtown LA to Santa Monica.
---
8. Natural History Museum of Los Angeles County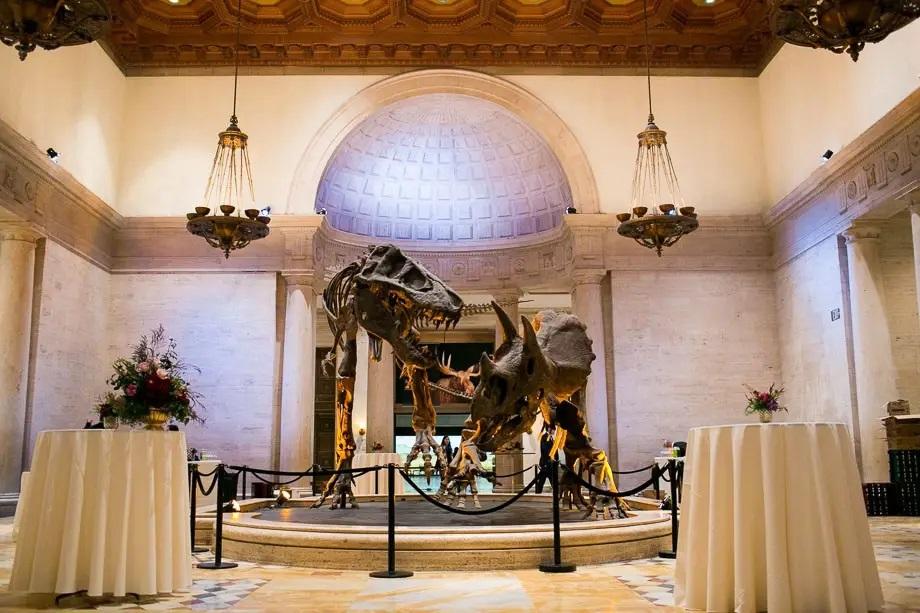 Highlights: Expansive museum with dinosaur skeletons, SoCal history, and seasonal exhibits
The Natural History Museum is a great place to visit because it has many different areas to explore and a big collection of things to see. But what it's really famous for is its collection of dinosaurs. One of the coolest things there is the Dinosaur Hall, which is a huge room filled with dinosaur skeletons. You can see a bunch of Tyrannosaurus rex skeletons, including three that show how they grew from babies to adults. They also have a Triceratops and a Stegosaurus on display.
The museum is all about the natural history of California and other parts of the world. One of its must-visit exhibits is called "Becoming Los Angeles," where you can learn about the history of Southern California over the past 500 years. The Discovery Center and Insect Zoo are also great attractions, especially for kids, because you can touch and explore things there.
Address: 900 Exposition Boulevard, Los Angeles
---
9. California Science Center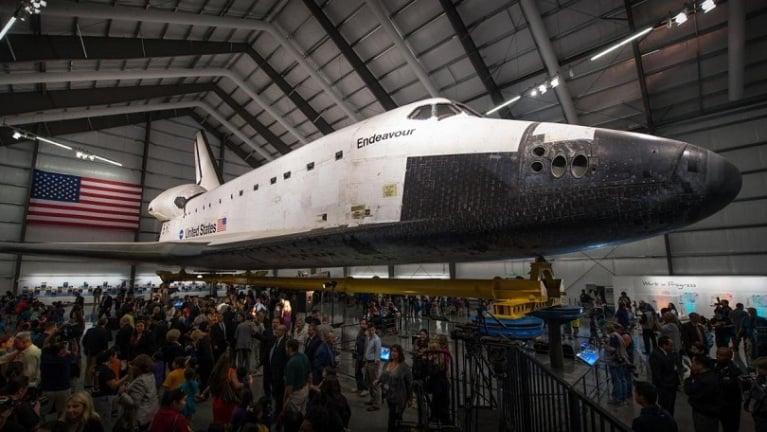 Highlights: Science exhibits on space travel and underwater ecosystems, Imax theater
The California Science Center is a place where anyone can visit for free. It has lots of cool things to see, like the Space Shuttle Endeavour and other important displays. Right now, you can check out Mission 26: The Big Endeavour at the Samuel Oschin Pavilion. They're also working on a new building called the Samuel Oschin Air and Space Center.
You can check out the space shuttle and see things from the space mission. You'll also learn all about it and the people who worked on the program.
The Science Center has many interesting exhibits on different subjects like the living world, technology, and ecosystems. The Ecosystems exhibit is especially impressive with a huge 188,000-gallon kelp tank, live plants, animals, and fish. Besides the regular exhibits, they also have special exhibits that change from time to time, so there's always something new to see at the California Science Center!
Address: 700 Exposition Park Drive, Los Angeles, California
---
10. The Broad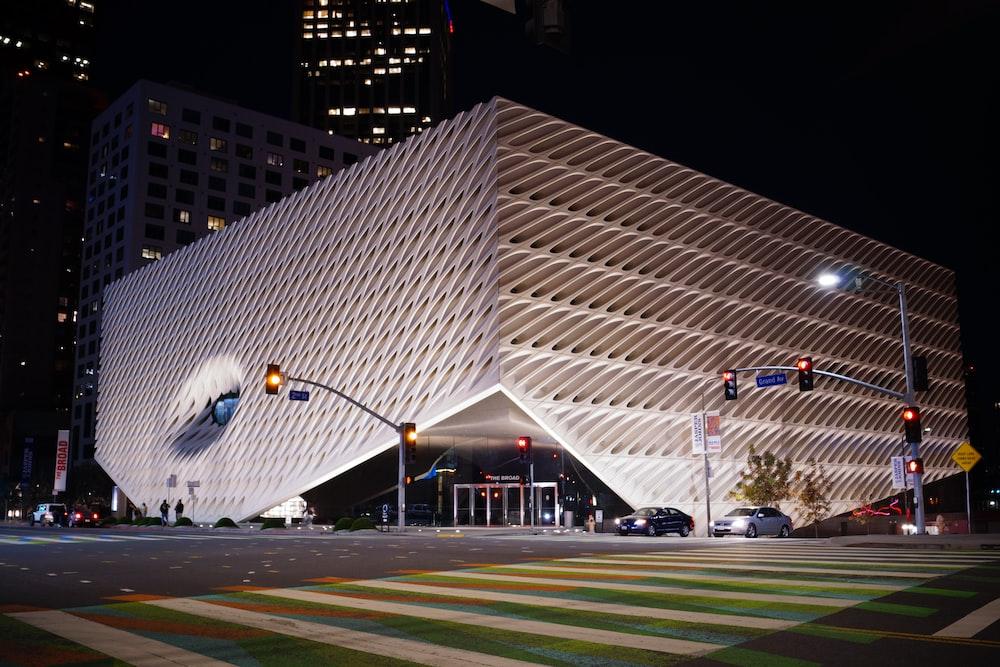 Highlights: Free contemporary art museum with a massive collection and always-rotating displays
The Broad, which started in late 2015, became a huge hit right away and has stayed popular ever since. It's a museum that showcases modern and postwar art, including impressive and grand installations. Inside the one-of-a-kind building, you can find over 2,000 artworks on display, all arranged according to a special "veil-and-vault" idea.
General admission tickets are free, but they are usually reserved ahead of time. If you don't have a reservation, you can get standby tickets on the same day, but you might have to wait in line, especially on weekends. Keep in mind that there may be a fee for certain special exhibitions.
Eli and Edythe Broad, who have loved collecting postwar and contemporary art for a long time, started the museum.
Address: 221 S. Grand Avenue, Los Angeles, California
---
11. The Original Farmers Market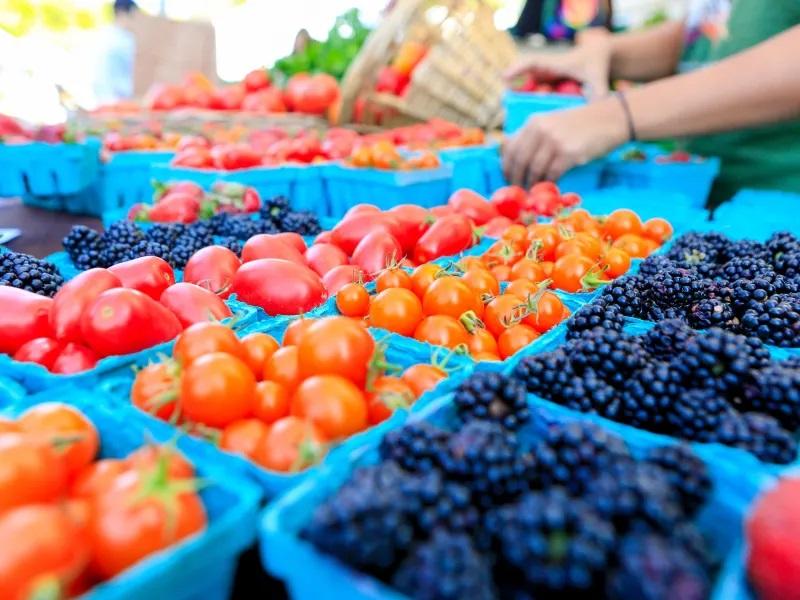 Highlights: Open-air market offering fresh produce and local goods every day of the week
The Los Angeles Farmers Market began in 1934 as a small event that happened because of the difficult times during the Great Depression. When the economy was really bad, eighteen farmers decided to join forces and create market stalls on a piece of empty land close to Wilshire Boulevard. They did this to sell their fruits and vegetables directly to the people who wanted to buy them.
This experiment was incredibly successful, leading the market to grow continuously. Initially, it was a place where fruits and vegetables were sold. However, as time passed, the market expanded to include many more vendors. Today, you can find a variety of stands offering vegetables and other types of food, along with restaurants and specialty shops. The market has become a one-stop destination where you can find everything from jewelry and candles to kitchenware and toys.
If you want to find things to do at night in Los Angeles, you can go to the market where they have different types of entertainment. They even have free concerts on Friday nights during the summer.
Address: 6333 West 3rd Street, Los Angeles, California
---
12. Los Angeles County Museum of Art (LACMA)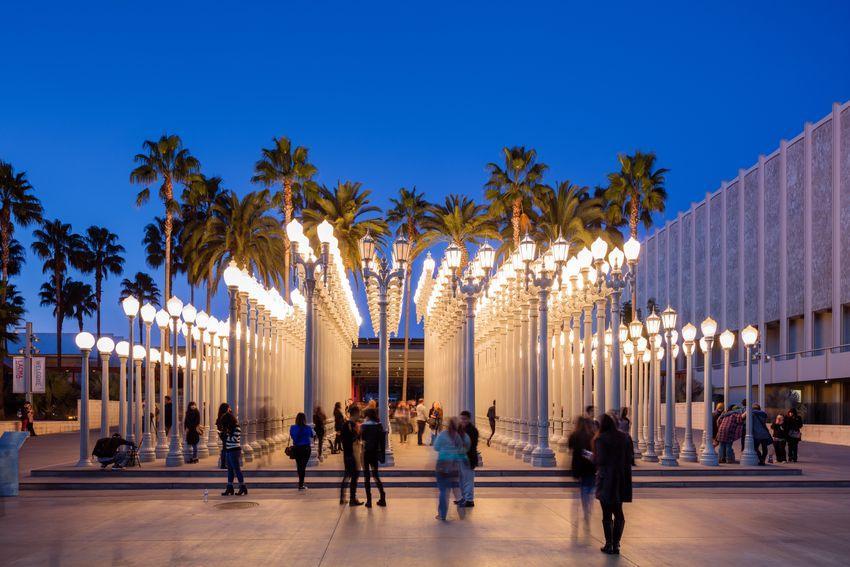 Highlights: Iconic art museum spread across several buildings and exhibits
The Los Angeles County Museum of Art is known as the biggest art museum in the western part of the United States. It has nearly 130,000 artworks that range from ancient times to the present. The museum has remarkable collections of Asian, Latin American, and Islamic Art, which are especially noteworthy.
The big place is made up of many different buildings that were bought and fixed up over time. They recently added more buildings on the western side called the Transformation. These new buildings were designed by Renzo Piano Building Workshop. The LACMA is located next to the La Brea Tar Pits on museum row.
Address: 5905 Wilshire Boulevard, Los Angeles, California
---
13. Venice Beach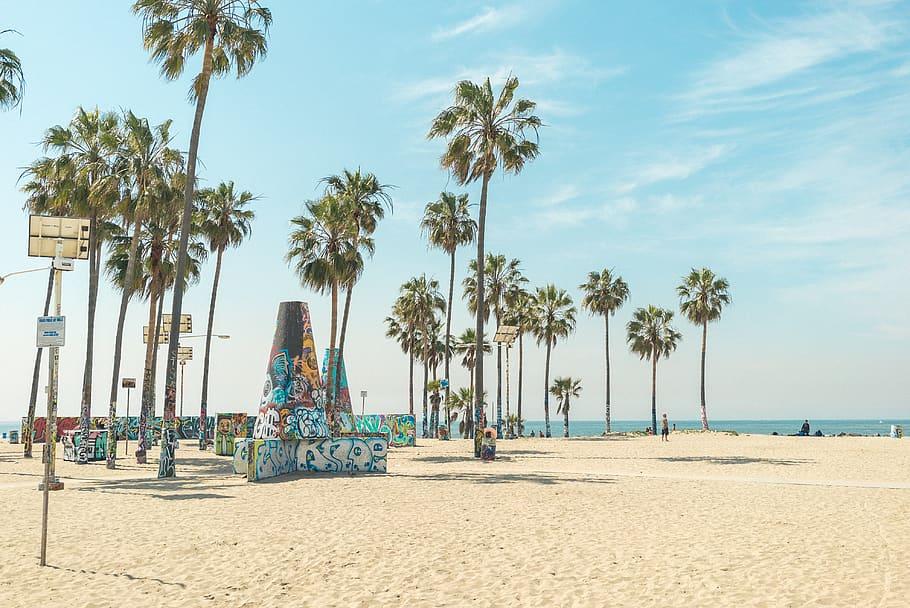 Highlights: Sunny beach with snaking bike path and bohemian shopping corridor
Venice Beach is known for being a great spot to visit and be noticed, which makes it ideal for observing people, although it definitely has its own special atmosphere. This beautiful stretch of sandy beach and the popular Venice Beach Boardwalk are always bustling with people walking, biking, rollerblading, and jogging.
The walkway is filled with unique shops and various street performers. Close by, there is a Skatepark where talented skateboarders often hang out, and you'll also find many interesting art installations nearby. At a place called Muscle Beach, people exercise under the hot California sun by lifting weights.
The food stalls at this place have a wide variety of tasty treats, like shaved ice, kettle corn, and funnel cakes. It feels like you're strolling through a fair with all the delicious options. You'll also come across some great restaurants in this area. Although it's not your typical family beach, it's definitely worth checking out.
---
14. Beverly Hills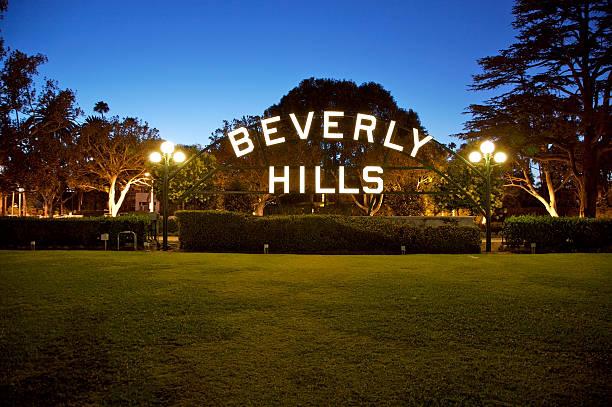 Highlights: Chic Golden Triangle of fashion, several public parks, nearby mansions
Beverly Hills is located to the west of Los Angeles and covers an area of 5.7 square miles. It is nestled beneath the Santa Monica Mountains. Despite its small size, Beverly Hills is home to some of the most luxurious streets in the United States, including the famous Rodeo Drive.
In Beverly Hills, Rodeo Drive, Santa Monica Boulevard, and Wilshire Boulevard come together to form the city's fancy shopping and dining area known as the "Golden Triangle." Even if you're not interested in shopping, it's still worth a visit because you can soak up the glamorous atmosphere on the sidewalks, where you might even spot some celebrities and fancy cars.
Besides shopping and dining, there are plenty of other activities to enjoy in Beverly Hills. The city is designed for walking and offers numerous gardens, historic buildings, and public art to explore. A great place to experience these top-notch public spaces is Beverly Gardens Park.
---
15. La Brea Tar Pits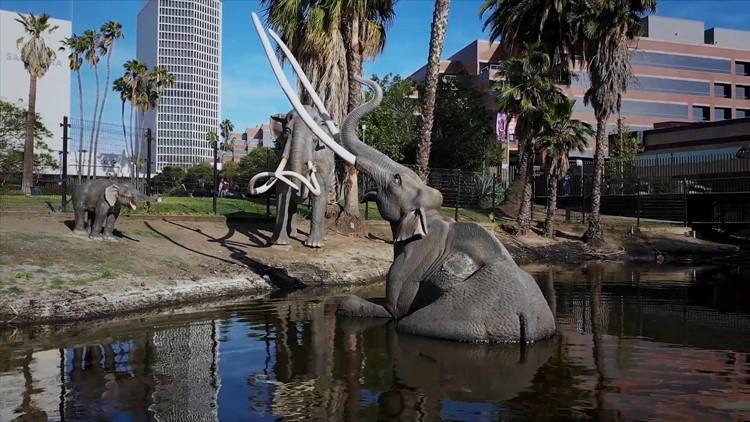 Highlights: Indoor and outdoor exhibits detailing the incredible natural history of the area
At Hancock Park, you can visit the La Brea Tar Pits, where something really cool is happening. They are digging up fossils right in front of your eyes! It's amazing to see how these fossils were preserved for thousands of years. Around 40,000 years ago, there was this sticky black stuff called tar that oozed out of the ground and trapped animals that wandered by. The tar acted like a time capsule, keeping the fossils intact all this time. It's like getting a special peek into the past!
The museum at La Brea Tar Pits, which used to be called the George C. Page Museum, displays reconstructed fossils of ancient animals discovered at the location. It also shows how these fossils are found and prepared. You can observe people working on the bones and learn about the steps involved in getting them ready to be shown in exhibits.
The museum has a collection of fossils from different kinds of animals that lived a long time ago, like mammoths, saber-toothed cats, and dire wolves. These fossils are fully reconstructed and are between 40,000 and 10,000 years old. You can also see replicas of animals that no longer exist in an outdoor section of the museum.
They are currently working on plans to renovate and give a fresh look to the Natural History Museum of Los Angeles County. The museum is going through proposals from architecture teams who aim to transform this special place into something new and exciting.
The Natural History Museum of Los Angeles County is currently considering some exciting ideas for renovating and redesigning their unique attraction. They are looking at plans from different architecture teams to bring a fresh new look and feel to the museum.
---
16. Battleship Iowa Museum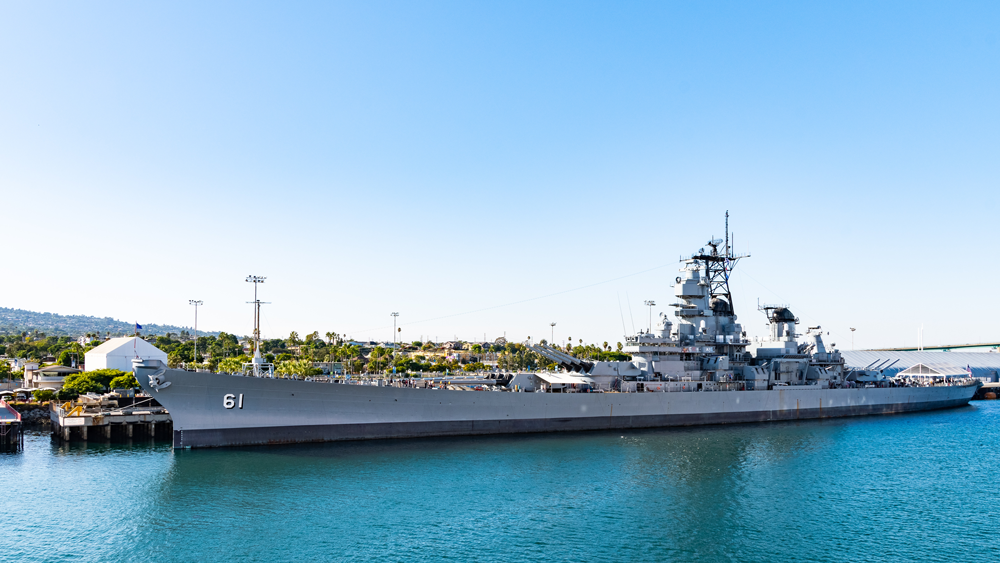 Highlights: Guided tours of a retired battleship
The Battleship Iowa Museum is a big and impressive ship located near the Port of Los Angeles. It's a fantastic place for families to visit and explore. You can walk around this huge battleship and get a glimpse of what life was like for the sailors who lived and worked on it.
When you buy a ticket, you can take a tour by yourself to learn about the ship's history. One exciting part is seeing the huge 16-inch guns. Children can also have fun with a free scavenger hunt, where they search the ship for Vicky, the ship's dog. There are 10 secret places to find Vicky, and you can spot them on posters or through augmented reality.
If you're eager to explore what happens behind the scenes, you can opt for the Full Steam Ahead Guided Tour by paying an extra fee. This special tour grants you access to the ship's inner workings, like the engine room, boiler room, and the Combat Engagement Center, along with other restricted areas. Keep in mind that there are limited spots available for this tour, so it's recommended to book well in advance to secure your date and number of participants.
Address: 250 S Harbor Blvd., Low Angeles, California
---
17. Malibu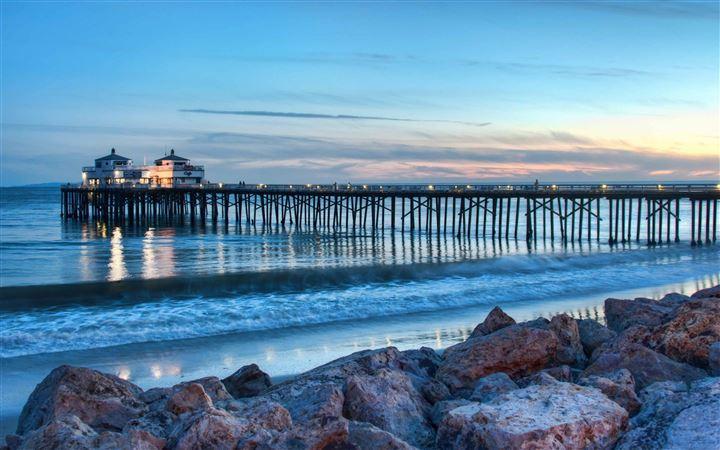 Highlights: Beautiful oceanfront city with several public beaches and posh places to visit
The Santa Monica Mountains and the Pacific Ocean come together in Malibu, a city on the far west side of Los Angeles County. This beautiful setting creates a stunning background for numerous attractions and activities in Malibu. Along with luxurious beachfront mansions, you might even spot a famous person or two, adding to the unique culture of Malibu.
Discovering some of the finest beaches in Malibu is a fantastic way to have a great time in the city. You can reach all of them within an hour's drive from Los Angeles, depending on traffic. Each beach has its own unique scenery for you to enjoy. Whether you prefer the wide sandy expanse of Zuma Beach or the untamed beauty of El Matador State Beach, the coastline has something for everyone, whether you want a peaceful day or an exciting adventure.
Malibu has some fantastic seafood restaurants that are definitely worth visiting. One of the most famous ones is Neptune's Net, which gained its reputation through appearances in movies like Point Break and The Fast and the Furious. If you're looking for more options, Dukes Malibu and Paradise Cove Beach Cafe are also great places to check out with menus that offer a variety of delicious choices.
---
18. Long Beach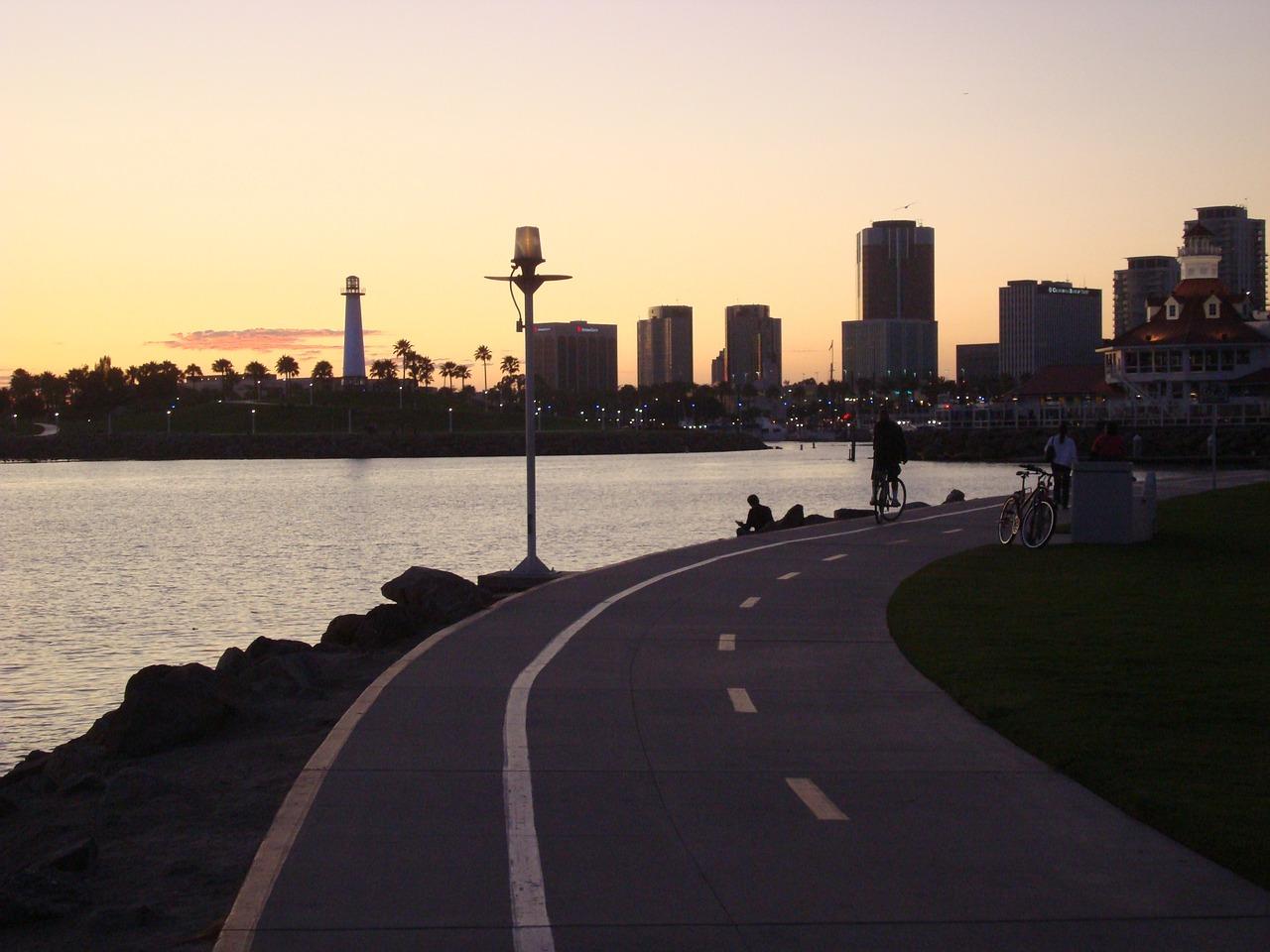 Highlights: Vibrant city with a long beachfront, several city parks, and family attractions
Long Beach is a neighborhood near Los Angeles that you can easily spend a day exploring. It's located to the south of LA, about 20 miles away from downtown, and stretches along the beautiful San Pedro Bay. The long stretches of beach in Long Beach are a popular reason to visit, and there's also a friendly and exciting downtown area filled with attractions that tourists will love.
In Long Beach's waterfront area, there are some exciting activities you can enjoy. You can visit the famous Queen Mary ocean liner, which is expected to open again in late 2022. There's also the Aquarium of the Pacific, where you can see various sea creatures. Don't forget to explore the charming shops at Shoreline Village too! If you're up for an adventure, you can hop on the Catalina Express and take a trip to Santa Catalina Island.
Long Beach has more than just the ocean to discover. Some of the city's top parks have amazing things to explore on land too. For example, there's the fascinating Bixby Park with its rich history, and the huge El Dorado East Regional Park. In El Dorado East, you'll find the beautiful Earl Burns Miller Japanese Garden, which is incredibly peaceful and serene.
---
19. The Nethercutt Collection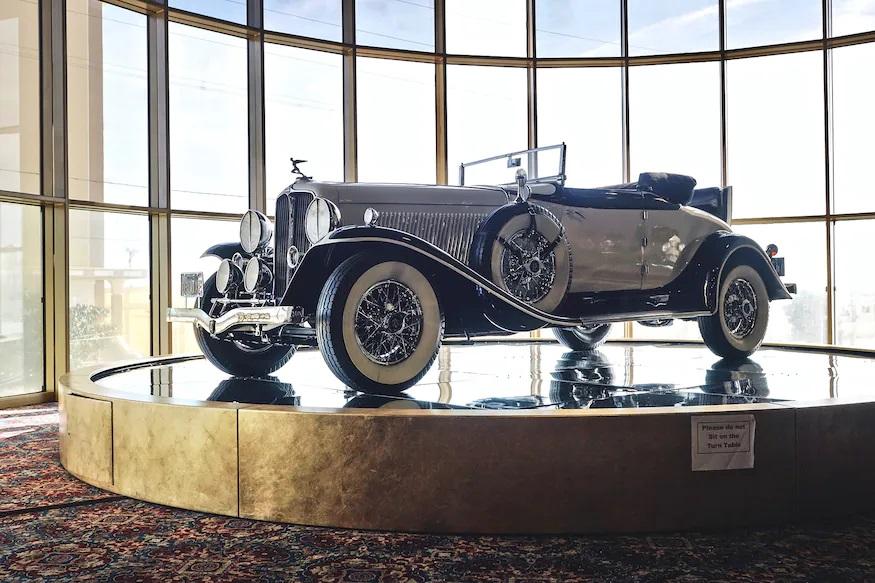 Highlights: Classic antiques with an emphasis on vintage vehicles spanning the last century
If you love old-fashioned, timeless cars, then you absolutely have to check out the Nethercutt Collection. Here, you'll find an incredible selection of American and European automobiles dating all the way back from the 1890s to the 1990s. These cars are in such impeccable shape, and there's such a wide range of models that it's truly awe-inspiring. Plus, you can learn about the history of these cars and the people who owned them through the descriptions displayed alongside the vehicles.
The museum has a special display of old furniture and musical instruments that play on their own. If you go outside, you can check out a cool old train and the car it pulls.
Address: 15151 Bledsoe Street, Sylmar, California
---
20. The Getty Villa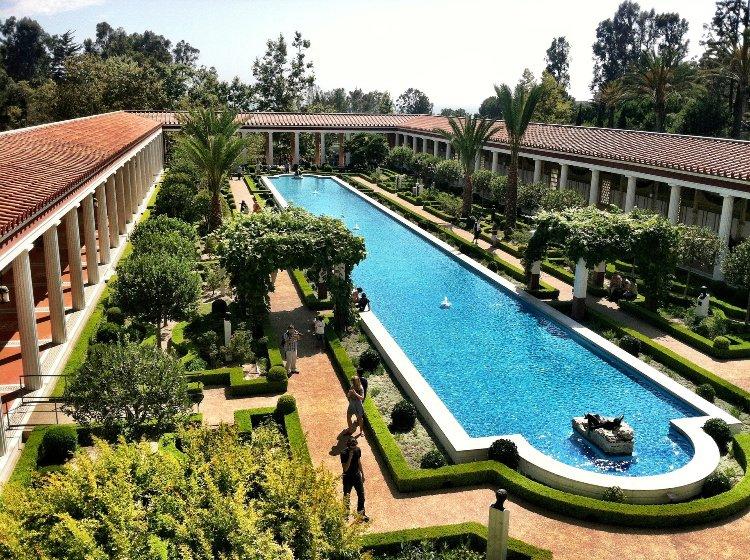 Highlights: Stunning courtyard, gardens, and rare art and sculpture collections
The Getty Villa is another place run by the Getty cultural institution. It's found close to the ocean in the Pacific Palisades neighborhood of Los Angeles, right next to Malibu. The villa is designed to look like a beautiful Roman countryside home, complete with lovely gardens and open spaces.
The Getty Villa has a lot of old art and ancient items on show. You can see things like marble statues, valuable coins, and jewelry. There are exhibits all over the first and second floors of the museum. The beautiful outdoor areas add to the experience. It's a good idea to plan on spending two to three hours there to see everything.
---
21. Museum of Contemporary Art (MOCA)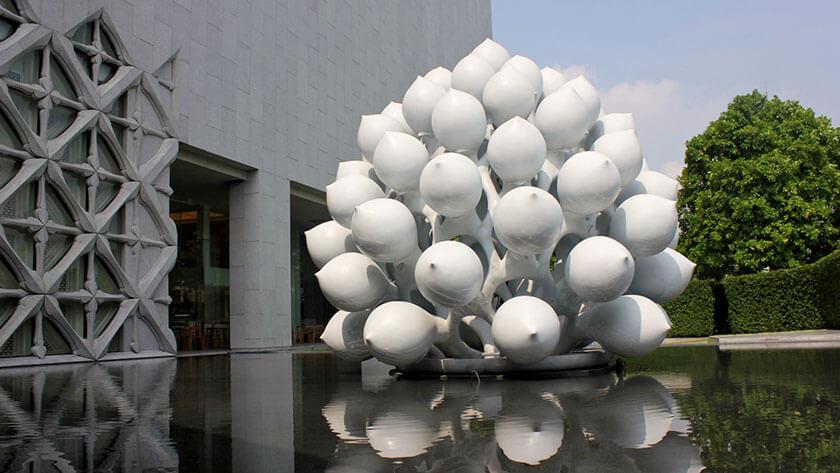 Highlights: Downtown museum with satellite locations and ever-changing art on display
The Museum of Contemporary Art (MOCA) has two different buildings and focuses on artwork created from the 1940s until now. They show art pieces from their permanent collection, and they also have special exhibits that showcase new artworks and different types of media.
The MOCA Grand is the main building of the museum located on Grand Avenue. It houses the main galleries and also has the biggest museum store. The MOCA Geffen is situated in Little Tokyo, and it used to be a warehouse for police cars.
Double Negative is a cool place connected to MOCA (Museum of Contemporary Art). It's found in the desert in Moapa Valley, near Overton, Nevada, on a spot called Mormon Mesa. This artwork by Michael Heizer was bought by the museum and you can visit it for free.