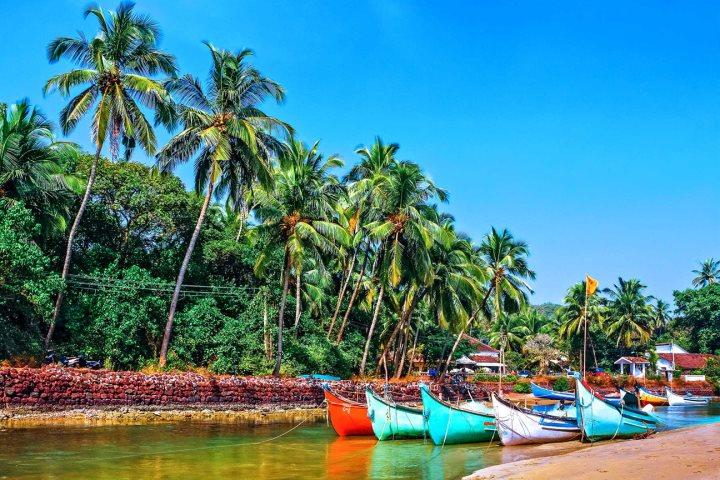 Goa is the ultimate holiday destination in India, and it's easy to see why! The combination of sun, sand, shacks, and vibrant party spots creates an irresistible blend of fun and relaxation. But there's more to Goa than just beautiful beaches and exciting nightlife. Once you step out of your hotel, you'll discover ancient temples, historic churches, charming Portuguese neighborhoods, fascinating museums, wildlife sanctuaries, and breathtaking waterfalls.
If you're wondering where to start and what to see, don't worry! This blog will guide you through planning a perfect 4-day itinerary in Goa, covering the best of both North and South Goa. Get ready to explore and make the most of your time in this beach paradise! Here's a curated list of must-visit places in Goa for your 4-day adventure.
Day 1 and Day 2: North Goa
North Goa is a paradise for travelers, offering beautiful beaches, thrilling water sports, vibrant party spots, and impressive architectural landmarks. If you're planning a 4-day trip to Goa, don't miss out on spending at least 2 days exploring the attractions in North Goa. Here are our top suggestions for an unforgettable experience.
1. Anjuna Beach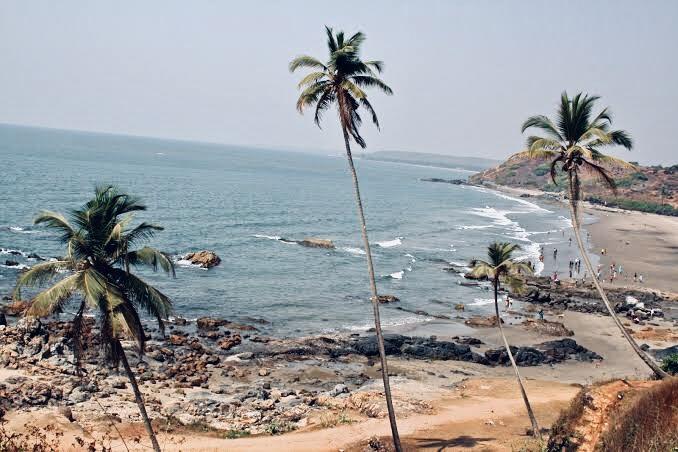 Anjuna Beach is one of the best places to experience the authentic Goan atmosphere. During the day, you'll find beautiful glowing white sands, exciting water sports, and numerous restaurants and shacks where you can indulge in delicious Goan cuisine. As evening falls, the beach turns into a lively destination for nightlife, making it a must-visit spot in Goa at night. Don't forget to check out the vibrant flea market held every Wednesday, which attracts a big crowd. If you're in Goa on a Wednesday, make sure not to miss it!
---
2. Calangute Beach
Calangute, extending from Candolim to Baga, is known as the queen of beaches in Goa. This beautiful beach with white sand is a haven for those seeking thrilling water sports like speed boat rides, banana rides, parasailing, water surfing, and much more. During the day, you can have an adventurous time on this beach, and when night falls, get ready for exciting beach parties that will keep you dancing and enjoying drinks all night long.
---
3. Fort Aguada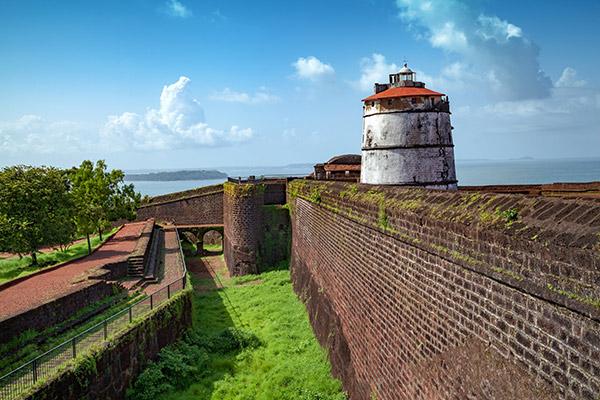 Located at the mouth of River Mandovi, Fort Aguada is a magnificent sight to behold. This colossal fort, dating back to 1612, is one of the most iconic forts in Goa. It was once controlled by the Portuguese rulers, who greatly valued its strategic location. Today, visitors are captivated by the breathtaking view of the Arabian Sea from the fort. Inside, you'll find an old lighthouse and a series of prison cells, which are among its main attractions. The fort's appeal is further enhanced by the presence of a secret passageway.
Location: Candolim
Timings: 9:30 am to 6:00 pm, every day
---
4. Chapora Fort aka Dil Chahta Hai Fort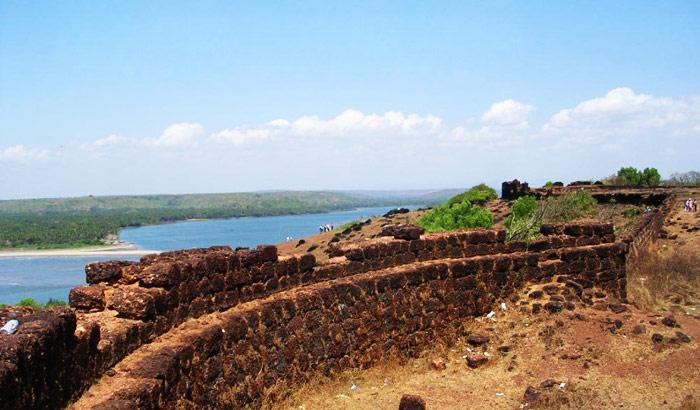 If you're planning a 4-day trip to Goa with your friends, make sure to add Chapora Fort to your must-visit list. This iconic fort gained popularity after it appeared in the Bollywood movie Dil Chahta Hai, which followed the story of three friends named Sameer, Siddharth, and Akash. Since then, it has become a favorite spot for friends visiting Goa and is now commonly known as the Dil Chahta Hai Fort.
Perched above the Chapora River, this fort has a fascinating history dating back to 1717. While its old grandeur has faded over time, it still offers breathtaking views of the surrounding areas and the stunning Vagator Beach from its elevated position. Don't miss the chance to capture some amazing pictures and create memories with your friends at this picturesque location.
Location: Bardez
Timings: 24 x 7
---
5. Casino Pride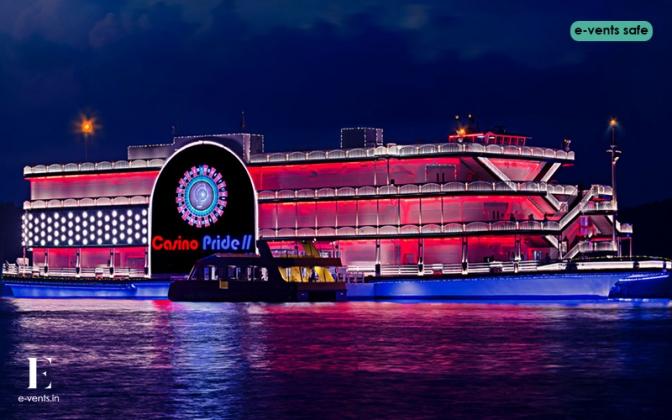 Casino Pride is a luxurious gaming spot that covers a vast area of 30,000 square feet. It floats on the Mandovi River in Goa and is known as one of the liveliest casinos in the area. The casino offers a captivating atmosphere adorned with beautiful golden decorations. It is divided into three levels and features a wide variety of gaming tables and slot machines, where you can try your luck. Additionally, you'll find barbecue counters, bars, and restaurants inside the casino, ensuring that you'll never have a dull moment once you enter.
Location: Captain of Ports Jetty, Panaji
Timings: 24×7
Entry Fee*:
₹ 1500 per adult Monday to Thursday (includes coupon worth ₹ 500)
₹ 2000 per adult Friday to Sunday (includes coupon worth ₹ 1000)
*The entry fee is inclusive of alcoholic beverages and unlimited buffet
---
6. Basilica of Bom Jesus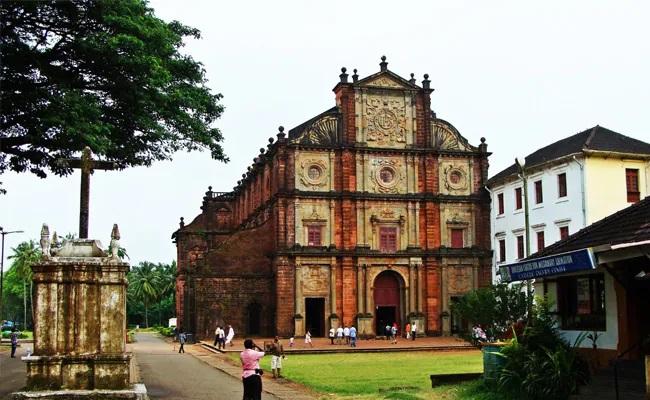 Discover the captivating Basilica of Bom Jesus, one of the most remarkable churches in Goa. With a rich history spanning over four centuries, this architectural marvel showcases the Portuguese style on its exterior with a unique non-plastered appearance. Step inside, and you'll be awestruck by the breathtakingly ornate interiors.
The star attraction of this church is the preserved body of St. Francis Xavier, entombed in a stunning silver casket. As a UNESCO World Heritage Site, the Basilica of Bom Jesus holds a special place in Goan history and culture.
Curious to learn more about this iconic church? Dive into our blog, where we explore why the Basilica of Bom Jesus stands out as the finest church in Goa. Uncover its secrets and immerse yourself in its timeless beauty.
Location: Old Goa Road, Bainguinim
Timings: 9:00 am to 6:30 pm (Monday to Saturday); 10:30 am to 6:30 pm (Sunday)
---
7. Se Cathedral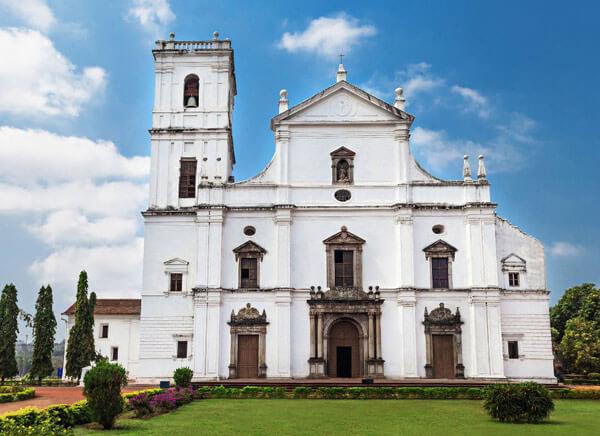 In Goa, there is another UNESCO World Heritage Site called Sé Catedral de Santa Catarina, or Se Cathedral for short. It is a beautiful church dedicated to Catherine of Alexandria. Designed in the Portuguese-Manueline style, the church is known for its flawless architectural beauty. One of the main attractions of this church is its tower bell, known as the Golden Bell. Standing tall at 250 feet, it is the largest bell in Goa and produces a rich and melodious tone.
Location: Old Goa
Timings: 7:30 am to 6:00 pm; every day
---
8. Museum of Christian Art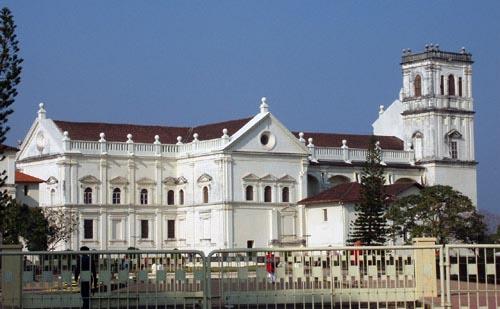 Goa's history has been greatly influenced by Christianity, and there's a remarkable museum that beautifully showcases this connection. The Museum of Christian Art takes you on a captivating journey into the region's past through its ancient artifacts and exhibits. Marvel at the stunning collection of statues, furniture, paintings, ivory, precious metals, textiles, and more.
If you're intrigued by the idea of stepping back in time and unraveling the mysteries of the past, consider adding other well-known museums in Goa to your itinerary. They offer a wealth of knowledge and fascinating insights into different aspects of the region's history.
Location: Convent of Santa Monica, Velha Goa
Timings: 9:30 am to 5:00 pm; closed on Sundays
Entry Fee: ₹ 10 for students; ₹ 30 for adults
---
9. Mangeshi Temple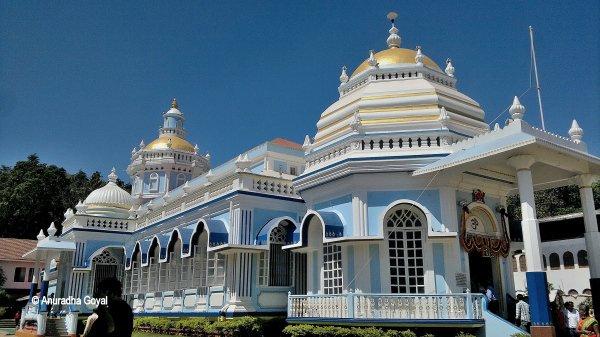 Located near Velha Goa, the Mangeshi Temple stands tall and captivates both travelers and devotees alike. It holds the distinction of being one of the oldest and largest temples in Goa, with a history spanning over 450 years. Dedicated to Lord Mangesh, an incarnation of Lord Shiva, this temple is a must-visit attraction.
What sets this temple apart is its magnificent architecture, featuring beautiful domes, balustrades, and columns. As you enter, you'll be greeted by a striking seven-story octagonal lamp tower, which stands as a prominent highlight. Interestingly, this temple holds a unique status as the only one in India that honors Lord Mangesh. Come and witness the splendor of this sacred place!
Location: Mangeshi Village, Priol
Timings: 6:00 am to 10.00 pm; every day
---
Other Places to Visit in North Goa
Please note that the list provided below includes only a selection of places to visit in North Goa. There are many more options available depending on your interests and the time you have. Feel free to personalize your itinerary using the suggestions provided:
For beach lovers: Vagator Beach, Baga Beach, Candolim Beach, Sinquerim Beach, and Arambol Beach
For history buffs: Reis Magos Fort, Mahalakshmi Temple, Goa State Museum, Houses of Goa Museum, Church of Saint Francis of Assisi, and Church of Our Lady of the Immaculate Conception
For shopaholics: Anjuna flea market, Arpora night market, Mapusa Friday market, Mackie's Saturday night market, Panjim municipal market, and Calangute market square
For foodies: Tamarind Café (Arambol), La Plage (Ashwem Beach), Bhatti Village (Nerul), Thalassa (Vagator), The Lazy Goose (Candolim), and Spice Goa (Mapusa), Britto's Bar and Restaurant (Bardez, Baga)
For party lovers: Club Tito's (Calangute), Café Mambo (Calangute), Cavala (Calangute – Baga Road), Cohiba (Candolim), Café Mojo (Panaji)
---
Day 3 and Day 4: South Goa
South Goa offers a delightful combination of impressive human creations and breathtaking natural beauty, all wrapped in a peaceful ambiance that is rare to find in North Goa. If you're planning a 4-day trip to Goa, here are our top recommendations for places to explore in the southern part of the state.
10. Palolem Beach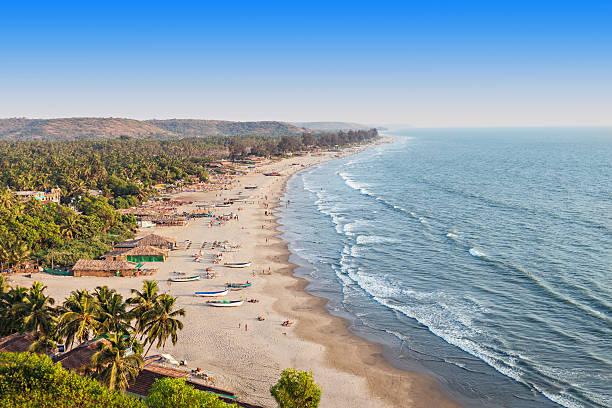 Welcome to Palolem Beach, a picturesque paradise! Imagine a beautiful coastline adorned with swaying palm trees and colorful beach shacks. This incredible spot in Goa is a must-visit destination, especially if you have just 4 days to explore. Palolem Beach is perfect for those looking to unwind and soak up the sun or get involved in exciting activities. You'll find a perfect blend of options to enjoy in South Goa, such as thrilling water sports, browsing through lively flea markets, and indulging in delicious meals at beachside restaurants. It's a place where relaxation and adventure go hand in hand!
Activities: Scuba diving, Silent Discos, Kayaking, Yoga, Turtle Spotting, Dolphin Spotting
---
11. Colva Beach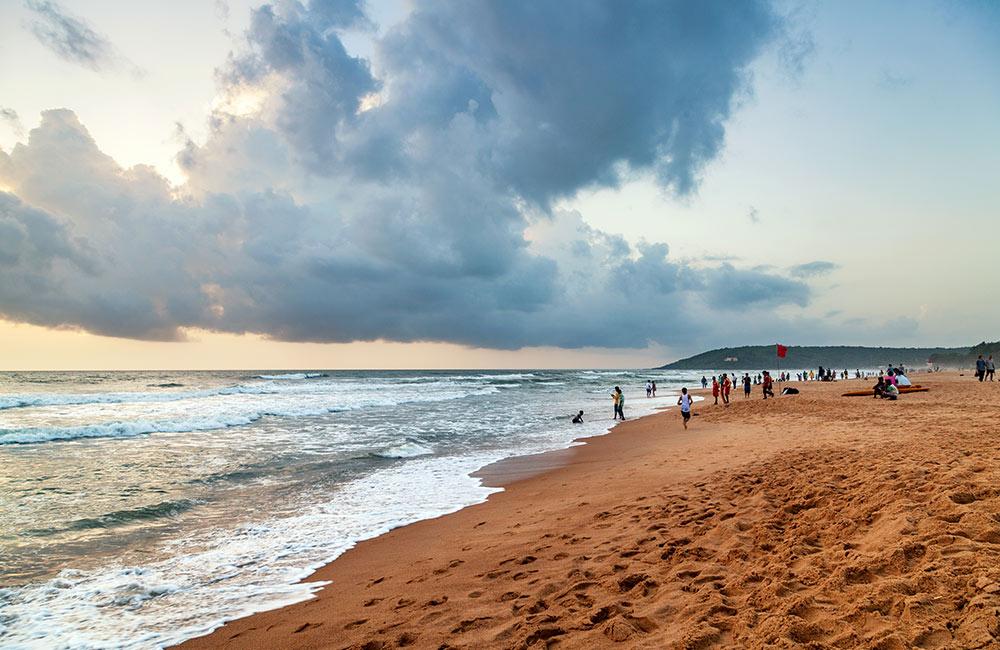 Colva Beach is truly spectacular! It's a haven in Goa for people seeking fun activities. You can enjoy a wide range of thrilling water sports here. And if you prefer a more laid-back beach experience, this place is perfect too. It's a popular choice for couples on holiday and families. Colva Beach is also famous for its lively nightlife and exciting full moon parties. Come and experience the buzz!
Activities: Jet Skiing, Speedboat Rides, Snorkelling, Windsurfing, Dolphin Spotting, Motorboat Rides, Banana Boat Rides, Parasailing, Water Scooter Rides
---
12. Cabo de Rama Fort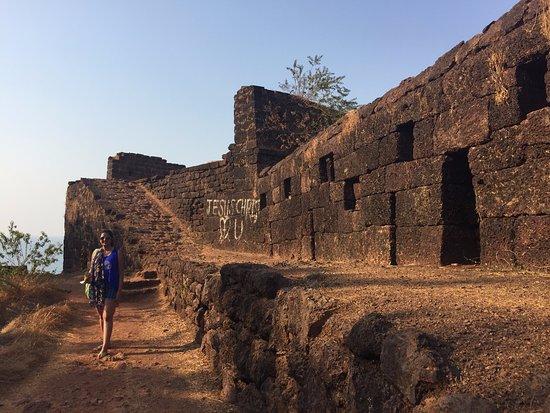 Cabo de Rama is a remarkable place known for its fascinating history and stunning setting. The fort holds numerous legends and tales, one of which suggests that it was the dwelling of Lord Rama and his wife Sita during their exile, giving the place its name. From the fort, you can delight in awe-inspiring views of the Arabian Sea. Additionally, the fort grounds include the Church of Santo Antonio, a charming site that is definitely worth exploring.
Location: Canacona
Timings: 9:00 am to 5:30 pm; every day
---
13. Dudhsagar Waterfalls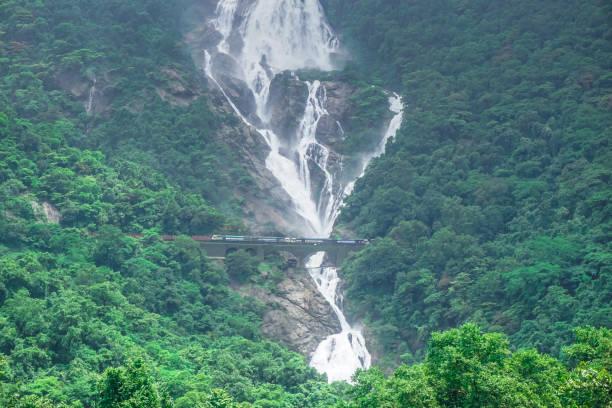 Dudhsagar, which means "the sea of milk" in Hindi, gets its name for a good reason. During the monsoon season, when you witness this waterfall, you'll understand why it's called that. The water rushes down amidst lush green surroundings, resembling a river of milk flowing abundantly. Standing tall at a height of 1017 feet, this waterfall has four tiers and presents a breathtaking view. It's not just the waterfall that's captivating; there are also picturesque trails around it that trekkers absolutely love.
Location: Sonaulim
---
14. Mollen National Park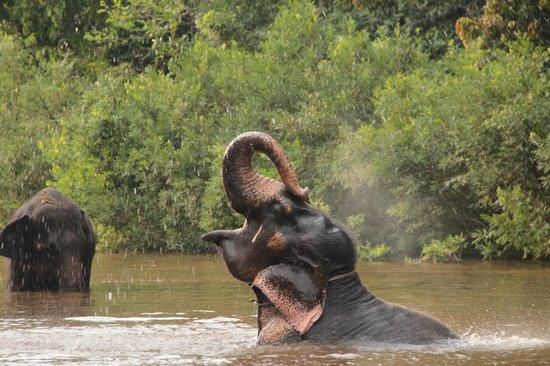 Step into the lush wonderland of Mollem National Park! This incredible park is part of the Bhagwan Mahaveer Sanctuary and is teeming with a diverse array of animals, birds, butterflies, and reptiles. Wildlife enthusiasts and nature lovers alike will be captivated by the thrilling experiences it offers.
Get ready to encounter an impressive variety of animals, such as the majestic Bengal tiger, graceful spotted deer, elusive leopard, majestic sambar, and many other fascinating species. To truly immerse yourself in the park's beauty, hop on an open jeep jungle safari that takes you deep into its heart. Brace yourself for an unforgettable adventure surrounded by the wonders of nature.
Location: Sonaulim
Timings: 8:00 am to 5:30 pm; every day
Entry fee: ₹ 20 per adult; ₹ 10 per children
---
15. Cotigao Wildlife Sanctuary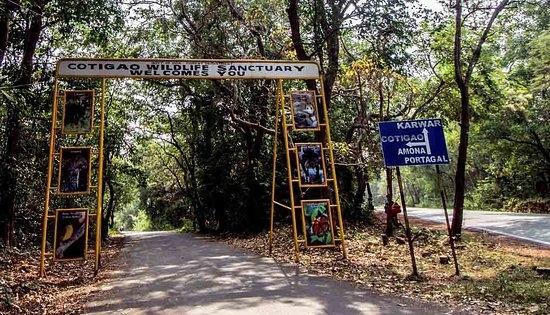 Escape the beaches and shacks of Goa and immerse yourself in the enchanting beauty of Cotigao Wildlife Sanctuary! This sanctuary is a haven for diverse flora and fauna, housing incredible animals such as mouse deer, slender Loris, Malabar trogon, Indian pangolin, Malayan bittern, and more. Don't miss the highlight of the sanctuary—an amazing treetop watchtower that offers a perfect vantage point overlooking a watering hole. Here, you can witness the jungle's inhabitants quenching their thirst up close!
Location: Canacona Taluka
Timings: 7:00 am to 5:30 pm; every day
Entry fee: ₹ 5 for adults, ₹ 2 for children
---
16. Indian Naval Aviation Museum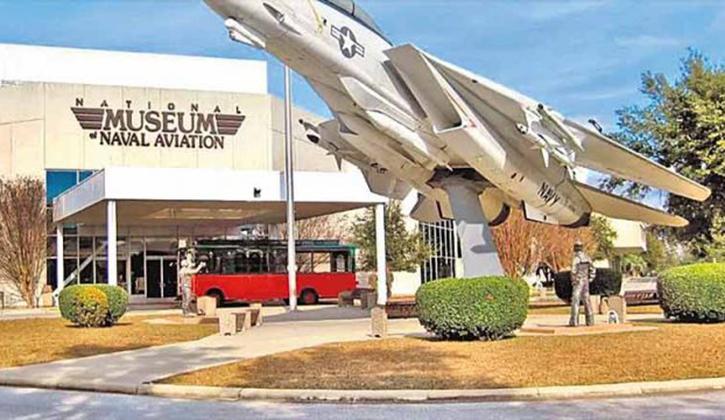 Looking to learn about the history and development of naval aviation in India? Head over to the Indian Naval Aviation Museum for a fun-filled family outing. This museum showcases fascinating artifacts and machines related to naval aviation. Don't forget to check out the souvenir shop and grab a cup of tea at the Cockpit Café. Plus, you can enjoy documentaries and movies on naval aviation in the mini theatre. It's a great way to spend quality time and broaden your knowledge!
Location: Vasco da Gama
Timings: 10:00 am to 5:00 pm; closed on Mondays
Entry fee: ₹ 30 for adults; ₹ 10 for kids
---
17. Mahadeva Temple of Tambdi Surla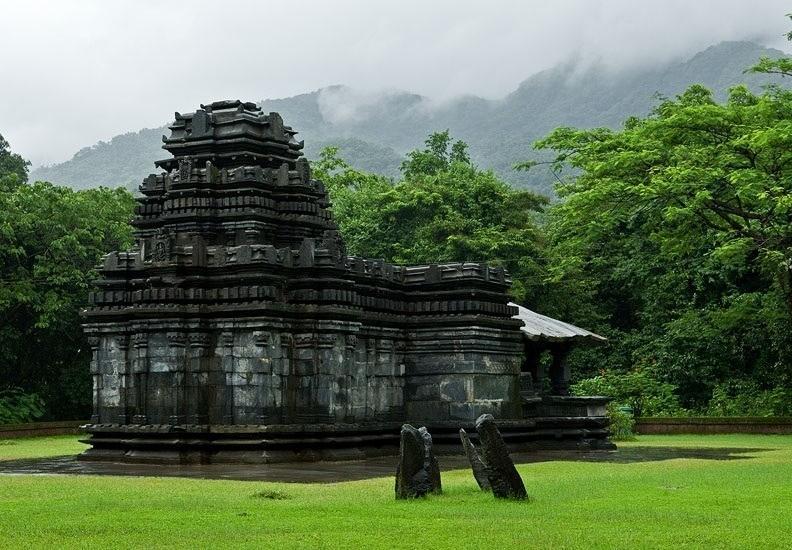 South Goa, just like North Goa, has its own ancient temples and places where people worship. One of these ancient shrines is the Tambdi Surla Mahadeva Temple, which you should definitely visit if you're in Goa for 4 days. The temple was built a long time ago, in the 12th century, and its architecture is quite unique, known as Kadamba-Yadava style. The main god worshipped here is Lord Shiva, and the temple is surrounded by beautiful green forests, making it one of the most stunning temples in South Goa.
Location: Sanguem
---
Other Places to Visit in South Goa
If you have extra time after seeing all the famous spots, you can visit more places during your four-day trip to South Goa. Here are some suggestions for additional places to check out.
For beach lovers: Agonda Beach, Benaulim Beach, Butterfly Beach, and Galgibaga Beach
For history buffs: Alex Church, Three Kings Church, Goa Chitra Museum, Big Foot Museum
For shopaholics: Margao Market, Palolem Beach Market, Colva Beach Market
For foodies: Zeebop by the Sea (Majorda), The Fisherman's Wharf (Salcette), Martin's Corner (Beltabatim), The Red Ginger (Colva), Johncy's (Benaulim Beach)
For party lovers: The Gatsby Pub (Colva), Club Ziggy's (Colva), Leda Lounge (Colva), Firefly Goan Bistro Bar (Benaulim), Silent Noise (Palolem Beach)
You've got your 4-day Goa trip plan all set! Time to seize the moment and make the most of it. Simply pack your bags, book your tickets, and let the fun begin in Goa!