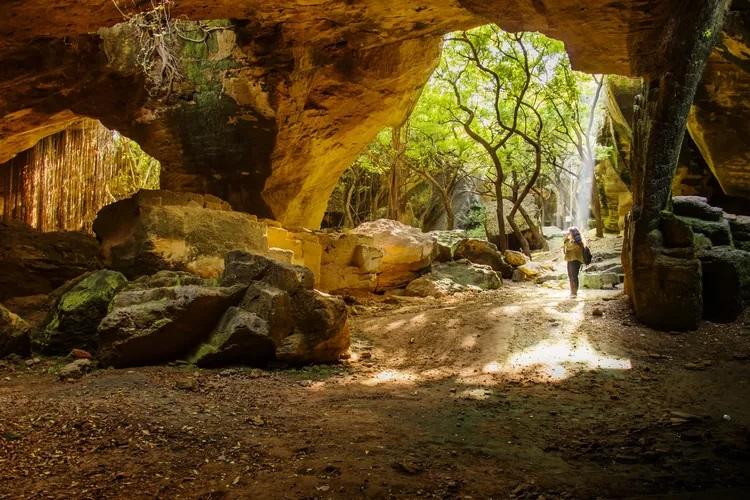 India boasts a mesmerizing plethora of caves that dot its expansive landscape, each one bearing its own unique charm and allure. Some of these enigmatic sanctuaries have been naturally formed over eons, while others astound with their intricate rock-carved beauty, harking back to centuries past. As you venture into these subterranean wonders, a tapestry of history and spirituality awaits, appealing to the hearts of all curious travelers. It's important to note that several of these caves are lovingly maintained by the esteemed Archeological Survey of India, and thus, a small admission fee is required to partake in their enchantment. Allow us to unveil our cherished favorites, among which you'll find familiar names and hidden gems alike, waiting to be discovered by the discerning adventurer.
Caves in India for History, Adventure and Spirituality
Ajanta and Ellora, Maharashtra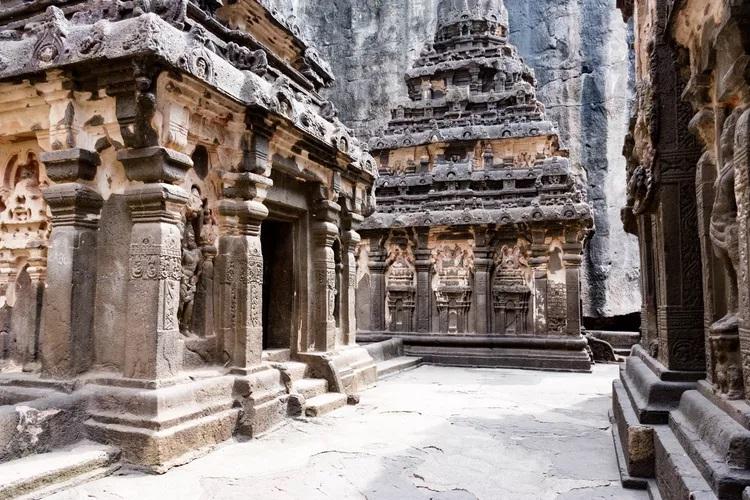 Discover the captivating wonders of India's most extraordinary rock-cut caves nestled in the northern Maharashtra region - the Ajanta Ellora caves. Their sheer magnificence and historical significance leave no room for doubt.
At the majestic Ellora, an astounding collection of 34 caves awaits, bearing testimony to their creation from the 6th to the 11th centuries AD. Meanwhile, the timeless allure of Ajanta embraces 29 caves, with their origins dating back to the 2nd century BC until the 6th century AD. It is important to note that while Ajanta's caves are exclusively Buddhist, Ellora's caves showcase a mesmerizing fusion of Buddhist, Hindu, and Jain influences.
In 1983, these remarkable caves were rightfully acknowledged and honored by UNESCO as a World Heritage Site. Contemplating the monumental hand-carved beauty of these structures leaves one in awe, reflecting on the sheer dedication and artistry of the skilled artisans who fashioned these rock-cut masterpieces.
One cannot help but marvel at the artistic finesse and the remarkable efforts invested in bringing these caves to life. It is truly a mind-blowing experience to stand before these awe-inspiring creations, which stand as an enduring testament to the rich cultural heritage and architectural prowess of ancient India. Plan your visit to the caves with this travel guide.
---
Elephanta Caves, Mumbai, Maharashtra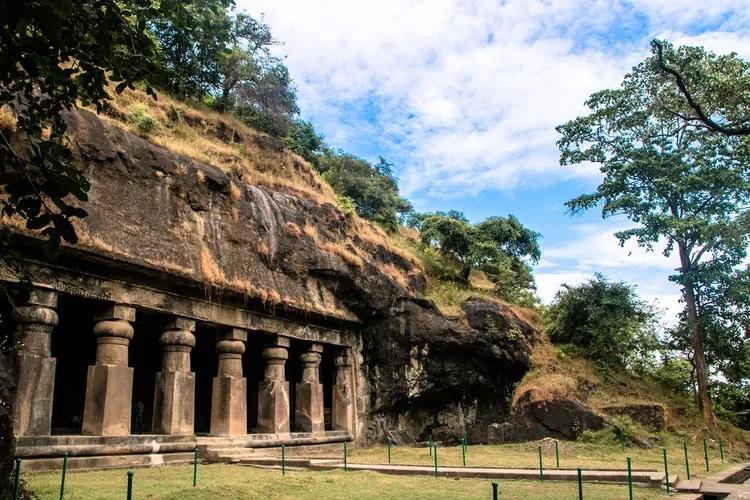 If you find yourself unable to visit the remarkable Ajanta or Ellora caves, fear not, for the Elephanta Island's seven ancient rock-cut caves near Mumbai present an exquisite alternative. Honored as a UNESCO World Heritage Site in 1987, these caves stand proudly as one of Mumbai's foremost attractions. Though smaller in scale, they share the same intricate craftsmanship as their famous counterparts, with masterful carvings hewn from solid rock.
Believed to have been created during the mid-5th to 6th centuries, the caves hold a captivating allure for history enthusiasts and curious travelers alike. The primary cave, in particular, boasts awe-inspiring sculptured panels that pay tribute to Lord Shiva, the Hindu god of both creation and destruction.
To reach this mesmerizing site, embark on a pleasant ferry ride from the Gateway of India in Colaba. However, keep in mind that the caves observe a weekly closure on Mondays, and during the monsoon season, boats are not operational. So, plan your visit accordingly to ensure a delightful experience.
In conclusion, the Elephanta Island caves serve as a splendid substitute for their renowned counterparts, promising a journey into the artistic splendors of ancient India. Prepare to be enthralled as you witness the divine artistry and historical grandeur that awaits within these marvelous rock-cut sanctuaries.
---
Badami, Karnataka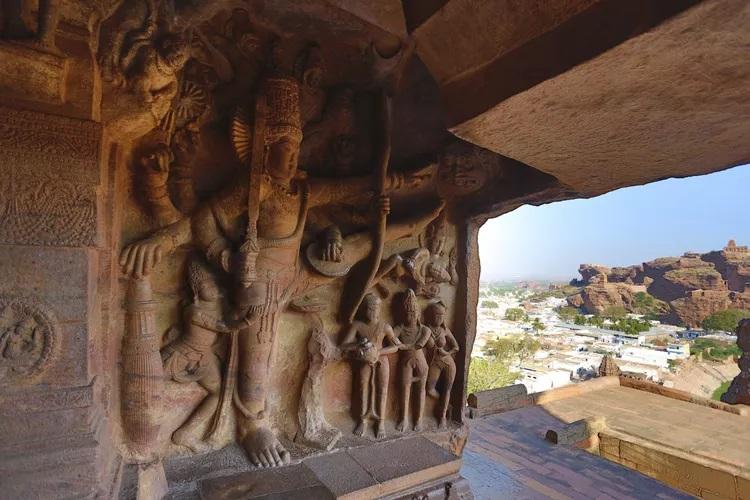 Explore the enchanting cave temples nestled in the quaint town of Badami, gracefully adorning the northern region of Karnataka. A delightful escapade from the famous Hampi, these caves, dating back to the 6th century, epitomize the grandeur of the Chalukya Empire.
Allow yourself to be mesmerized by the four main cave temples, gracefully standing the test of time. These ancient marvels, open daily from dawn till dusk, hold within them a rich spiritual heritage. One cave stands as a divine ode to Lord Shiva, while the other two pay tribute to Lord Vishnu. A smaller, yet equally captivating, cave unveils a precious Jain temple.
Perched majestically, the caves boast captivating vistas over the Agastyatirtha Tank, a serene relic from the 5th century, and the waterside Bhutanatha Temples. The panoramic view adds an ethereal aura to these sacred abodes – a scene so picturesque that it could be effortlessly immortalized on a postcard.
Immerse yourself in the wondrous allure as you step into history, for there's more to uncover. A hidden treasure emerged in 2015, when another cave, adorned with 27 exquisite Hindu carvings, was discovered just a stone's throw away from the main caves. Such serendipitous findings serve as a testament to the depth of this historical site.
Wander through the charming town and its winding lanes, and you might stumble upon further remnants of the glorious Chalukya Empire. The echoes of the past resonate through the ruins, and each fragment invites you to unravel its untold stories.
Visiting the cave temples at Badami is not merely a journey back in time but an enchanting experience that envelops you in a tapestry of cultural richness and architectural splendor. Let history seep into your soul as you marvel at the masterpieces of a bygone era, leaving you with memories that will linger in your heart for years to come.
---
Bhimbetka Rock Shelters, Madhya Pradesh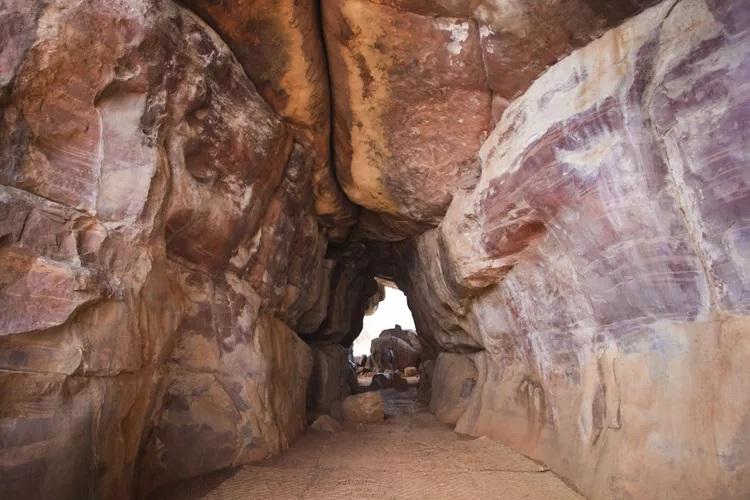 "Unearthing India's Hidden Gem: The Enigmatic Bhimbetka Rock Shelters"
Nestled amidst the verdant wilderness at the base of the majestic Vindhya mountains, lies a treasure trove of history waiting to be unveiled - the Bhimbetka Rock Shelters. These lesser-known marvels earned their place among the prestigious UNESCO World Heritage Sites, a discovery that happened serendipitously in 1957. A fascinating journey back in time awaits those who venture an hour away from the bustling city of Bhopal in the heart of Madhya Pradesh.
Transport yourself to the Paleolithic age, an era so distant that the mind struggles to fathom its antiquity. The Bhimbetka Rock Shelters, numbering over 700, have silently stood the test of time, a testament to the perseverance of our ancient ancestors. Veiled in the sanctuary of a dense forest, these shelters bear witness to untold stories etched upon their very surfaces.
What truly captivates the imagination are the tribal rock paintings adorning the shelter walls. These artworks, aged by millennia, are mesmerizing windows into the artistic expressions of our prehistoric brethren. With each brushstroke, long-lost cultures come alive, revealing their beliefs, rituals, and daily lives in a mesmerizing dance of colors.
Beyond being an archaeological wonder, the Bhimbetka Rock Shelters serve as a humbling reminder of the indomitable spirit of human evolution. As one stands before these ancient canvases, an unbreakable connection is forged with those who roamed these lands eons ago.
To visit Bhimbetka is to embark on a pilgrimage to the dawn of humanity. Step into a forgotten world, where time stands still amidst the echoes of our ancestors' whispers. The enigma of Bhimbetka lingers long after one's departure, leaving a profound appreciation for the rich tapestry of India's ancient heritage.
---
The Many Caves of Meghalaya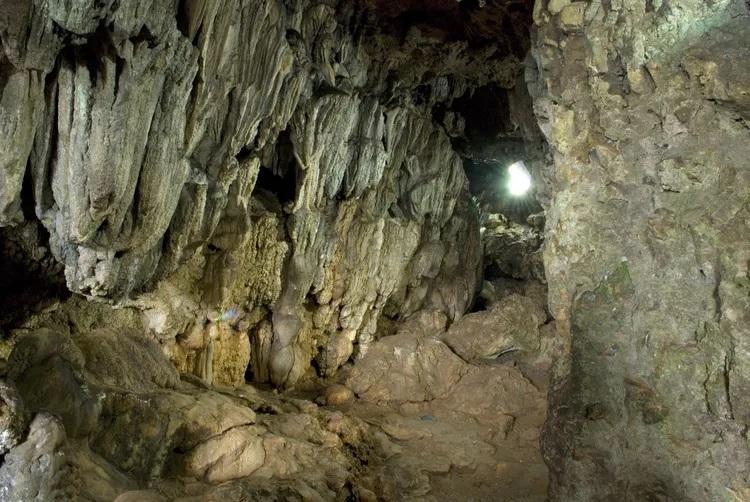 Nestled in the enchanting region of Northeast India, Meghalaya beckons adventure seekers with its mesmerizing array of extensive caves. Boasting over a thousand explored caves, this captivating state has become a haven for cave enthusiasts and curious tourists alike.
Among these subterranean wonders, the easily accessible Mawsmai cave near Cherrapunji stands as a shimmering gem. A treat for visitors, it has been carefully maintained and illuminated throughout, offering an awe-inspiring show cave experience.
However, for those seeking more daring escapades, Meghalaya offers a plethora of other caves that require a spirit of exploration and appropriate caving equipment. Siju, Mawmluh, Mawsynram, and Liat Prah – India's longest cave – await those willing to embark on thrilling caving expeditions into the depths of the earth.
Recently, the discovery and mapping of Krem Puri added to the allure of Meghalaya's underground allure. This remarkable sandstone cave holds the distinction of being the world's longest, serving as a testament to the region's geological marvels.
Enthusiasts planning to delve into this underground realm can find assistance from Meghalaya Tourism, which provides a comprehensive list of caves to explore. For more structured adventures, the Meghalaya Adventurers' Association conducts week-long caving expeditions starting from Shillong, promising unforgettable memories etched into the heart.
To elevate the experience further, Thrillophilia offers an array of caving tour packages to satiate the thirst for exploration. Additionally, Kipepeo stands ready to craft tailor-made caving trips, catering to the unique preferences and desires of each adventurer.
So, whether you seek the illuminated charm of Mawsmai or the thrill of venturing into the uncharted depths, Meghalaya's enthralling caves promise an unforgettable journey into the hidden wonders of the earth.
---
Kailash and Kotumsar Caves, Chhattisgarh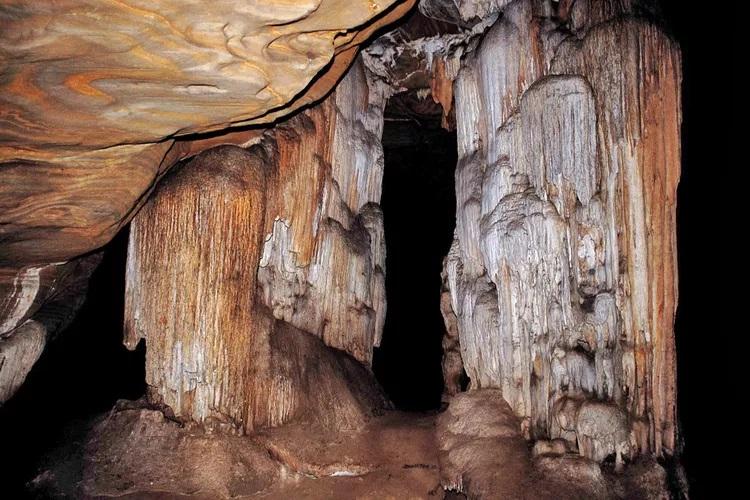 Discover the hidden wonders of India's rich heritage as you venture into the enchanting Kailash and Kotumsar caves nestled within the captivating Bastar region of Chhattisgarh. These awe-inspiring limestone caves stand proudly among the longest in not just India, but the whole of Asia.
Journeying into the heart of nature's beauty, you'll find these remarkable caves discreetly tucked away beneath the earth's surface, concealed within the mesmerizing Kanger Valley National Park, a mere hour's drive from the town of Jagdalpur.
Among the two, the grandeur of Kotumsar Cave reigns supreme, captivating the imagination of all who venture inside. However, entering these majestic caverns requires the utmost care, as they boast narrow passages, slippery floors, and an inky darkness that can be overwhelming to the unprepared.
To ensure the safety of all explorers, the Forest Department oversees the entry to these precious wonders. They have made it mandatory to be accompanied by a knowledgeable local tribal guide, a true custodian of the cave's secrets and mysteries.
If you crave adventure and find solace in the thrill of the unknown, then embarking on this expedition will surely fill your heart with wonder and excitement. Nonetheless, it's important to consider that these caves are not suitable for those who experience claustrophobia, as the enclosed spaces may trigger discomfort.
As with any natural wonder, timing is key. The monsoon season, from June until the end of October, renders the caves inaccessible as they transform into ephemeral reservoirs of water. During this period, the caves' entrance remains closed, safeguarding their beauty and protecting the delicate balance of their ancient ecosystem.
So, if you long for an extraordinary escapade, venture into the depths of Kailash and Kotumsar caves. Unearth the mysteries of time, listen to the whispers of history, and witness the splendor that lies beneath the earth's surface. Allow the allure of these subterranean wonders to sweep you off your feet, and immerse yourself in an unforgettable experience that will etch its way into your heart forever.
---
Belum Caves, Andhra Pradesh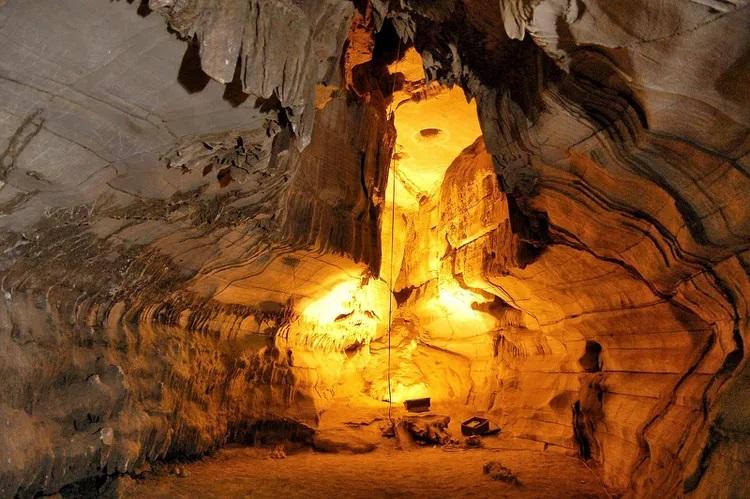 Discover the awe-inspiring wonder of Belum Caves, an extraordinary natural marvel stretching an impressive 3,229 meters (10,594 feet). Nestled in the heart of India, these caves stand tall as the largest and most extensive publicly accessible caves in the entire country.
An ancient legacy unfolds within the depths of these caves, as they form an integral part of a magnificent cave network that has evolved over a millennium through the graceful flow of subterranean waters. This enduring process has given rise to breathtaking stalactite and stalagmite formations, adorning the passages with an enchanting display of natural artistry.
Steeped in history, these caverns once served as a sanctuary for Jain and Buddhist monks, who sought solitude and spiritual enlightenment within their mystical embrace. Even now, a vast meditative chamber within the caves harkens back to those bygone centuries, carrying an aura of tranquility and reflection.
Venturing to Belum Caves requires a journey to the remote corners of Andhra Pradesh, a land of mesmerizing landscapes and untamed beauty. Situated midway between the bustling cities of Bangalore in Karnataka and Hyderabad in Telangana, reaching this hidden gem demands a leisurely six-hour drive from either metropolis.
To make your expedition even more unforgettable, consider combining your visit to Belum Caves with an exploration of the "Grand Canyon of India" in Gandikota. Embrace the breathtaking vistas and marvel at the majesty of nature's artistic prowess.
With its mesmerizing allure and historical significance, Belum Caves beckon explorers seeking a glimpse into India's enchanting subterranean world. Embark on this extraordinary voyage to witness the captivating secrets of time, etched in stone and water, waiting to be uncovered by those who dare to tread within.
---
Borra Caves, Andhra Pradesh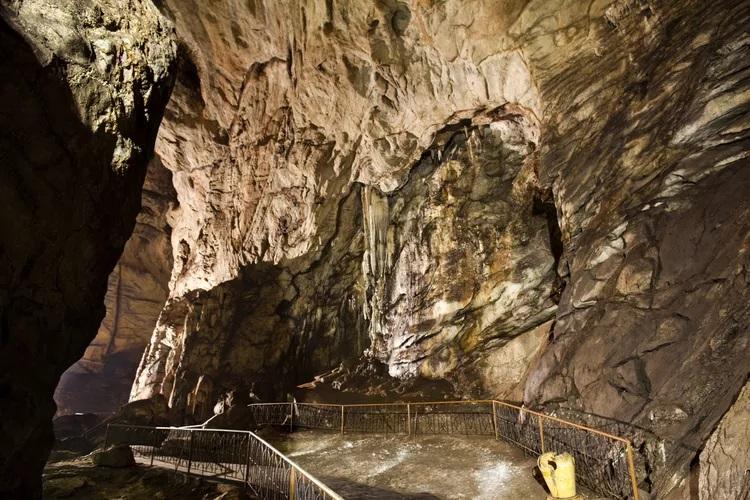 Discover the enchanting Borra Caves, nestled in the picturesque Ananthagiri Hills of the Araku Valley, near the captivating city of Vizag. While they may not stretch as far as the Belum Caves, the Borra Caves boast strikingly similar geological formations and have earned greater fame owing to their easy accessibility.
Begin your magical journey by hopping aboard the Kirandul Passenger Train, which sets forth from Vizag in the tranquil hours of the early morning. As the train gracefully meanders through the scenic landscape, you'll be captivated by the beauty of the countryside, and after a leisurely three-hour ride, you'll arrive at the gates of the awe-inspiring Borra Caves.
Alternatively, if you prefer a more personalized adventure, consider hiring a car for the day, allowing you to relish an unhurried exploration of the entire region. A day filled with captivating sights awaits, and the Borra Caves stand as a remarkable centerpiece, waiting to be uncovered.
Step inside these natural wonders, and be spellbound by the captivating stalactites and stalagmites, sculpted over centuries with tender artistry. The intricate formations create an otherworldly ambiance, igniting your imagination as you traverse the ancient passageways.
With an air of mystery, the Borra Caves have woven tales of the past, and every corner holds secrets waiting to be unraveled. As you venture further into the heart of these caverns, you'll be transported to a realm where time seems to stand still, a testament to the wonders nature can sculpt.
So, whether you embark on the scenic train journey or embark on an exploration by car, the Borra Caves beckon you with their irresistible allure. An encounter with this natural masterpiece promises an unforgettable experience, leaving you with cherished memories and a profound appreciation for the wonders that lie hidden beneath the earth's surface.
---
Undavalli and Mogalarajapuram, Andhra Pradesh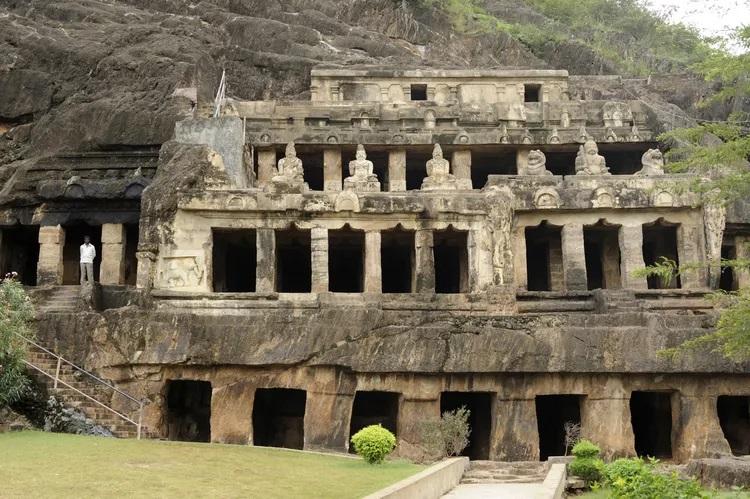 Andhra Pradesh, a state in India, boasts a treasure trove of ancient wonders, including remarkably well-preserved rock-cut cave temples dating back to the 4th and 5th centuries. Nestled amidst a serene setting of palm trees and picturesque rice paddies, these temples offer a peaceful contrast to the vibrant city of Vijayawada, where they are conveniently located nearby.
Upon stepping inside these captivating cave temples, you'll be greeted by the presence of sacred shrines dedicated to the powerful Hindu trinity -- Lord Shiva, Lord Vishnu, and Lord Brahma. Each shrine exudes a sense of divine tranquility, allowing visitors to immerse themselves in the spiritual aura that permeates the surroundings.
However, it is the third-floor attraction that leaves an indelible mark on visitors' minds. An awe-inspiring sight awaits there: a colossal reclining statue of Lord Vishnu. Its grandeur and magnificence are truly remarkable, evoking a sense of wonder and reverence among all who behold it.
Venturing to the east side of Vijayawada, one encounters the Mogalarajapuram caves, a site of historical significance, albeit somewhat damaged over the years. Despite the wear of time, these caves remain captivating and brim with intriguing tales from the past.
Vijayawada, a city of bustling energy, is conveniently located about an hour and a half away from Amaravathi, the newly planned capital city of Andhra Pradesh. This strategic location allows travelers to easily explore the ancient wonders of the rock-cut cave temples while also experiencing the modern marvels of the state's new capital.
In essence, Andhra Pradesh offers a seamless blend of the old and the new, where the echoes of the past reverberate harmoniously alongside the ambitious dreams of the future. Whether you seek spiritual solace, historical fascination, or a taste of modern vibrancy, this captivating region promises to leave an indelible impression on every visitor fortunate enough to grace its lands.
---
Udayagiri and Khandagiri, Odisha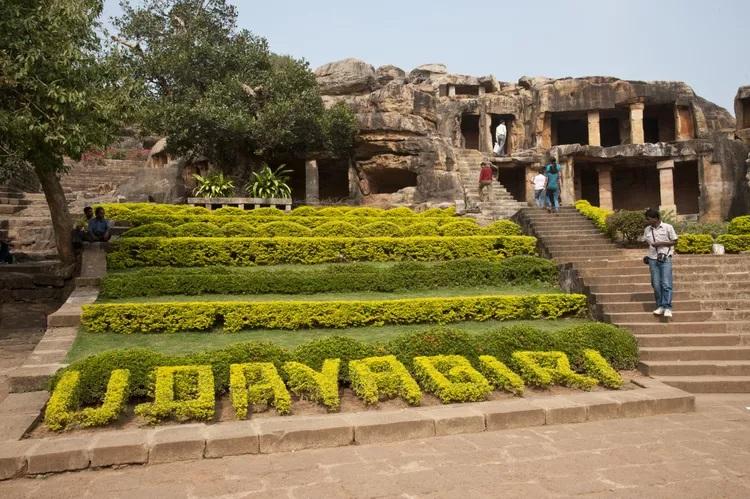 Discover the enchanting allure of Bhubaneswar, the capital of Odisha, where the twin hills of Udayagiri and Khandagiri stand tall, beckoning travelers from near and far. These mesmerizing rock-caves have secured their place as one of the most captivating tourist destinations in the region.
It was in the distant echoes of the 1st and 2nd centuries BC that these caves were intricately carved during the reign of Emperor Kharavela. Their purpose was to provide a sanctuary for revered Jain monks to find solace and contemplation amidst the rugged beauty of the hills.
Among these ancient rock abodes, Cave number 14, fondly known as Hathi Gumpha, takes pride in bearing a 17-line inscription scribed by the Emperor himself. It stands as a testament to the rich historical significance that graces these mystical caves.
The exploration doesn't end with the caves alone; an awe-inspiring Jain temple graces the pinnacle of Khandagiri hill. Ascend its majestic heights, and your efforts will be rewarded with a breathtaking panorama of the bustling city below. Such a sight, a fusion of ancient allure and modern vivacity, makes this journey even more unforgettable.
If you seek to delve deeper into the historical tapestry of these hills, "Ekamra Walks" stands ready to guide you. Every Saturday morning at 6.30 a.m., they offer delightful, free guided walking tours of the enthralling Khandagiri hills. Immerse yourself in the tales of the past, brought to life by passionate storytellers, and embrace the harmony of nature and history entwined.
In the heart of Bhubaneswar lies a treasure trove of ancient wonders - the rock caves of Udayagiri and Khandagiri hills. Their timeless beauty and historical legacy await your discovery, promising an unforgettable journey into the depths of Odisha's illustrious past.
---
Tabo, Spiti, Himachal Pradesh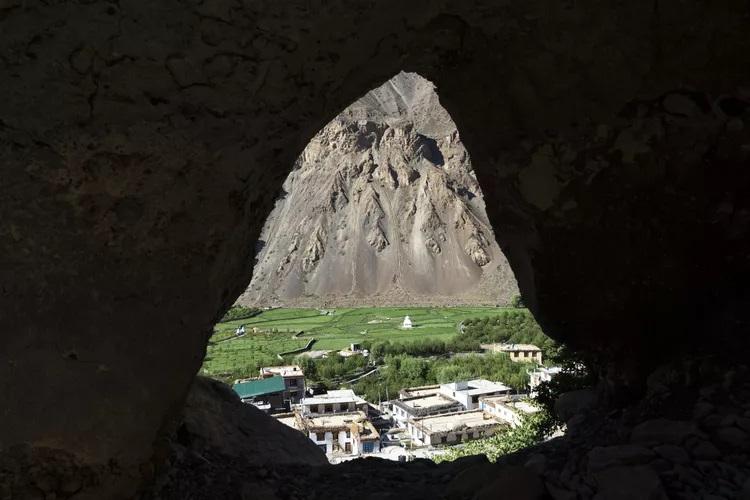 If you're passionate about exploring remote meditation caves in India, Tabo should undoubtedly be your destination of choice. Nestled amidst the breathtaking Spiti Valley in the lofty terrain of Himachal Pradesh, Tabo stands as one of India's finest Buddhist monasteries.
Perched on a rugged and rocky ridge overlooking the town, this sacred sanctuary houses a collection of caves where local Buddhist lamas seek profound meditation experiences. These remarkable caves, varying in size, have been diligently carved into the mountainside by skilled hands.
In this enchanting sanctuary, one can stroll gently up the trail leading to these sanctuaries of stillness. There, amidst the serene surroundings, you'll find the perfect setting for moments of quiet contemplation and introspection. Allow yourself to immerse in the tranquility and spiritual aura of Tabo's ancient meditation caves, where time seems to slow down, and the soul finds solace.
---
Mahavatar Babaji Cave, Dunagiri, Uttarakhand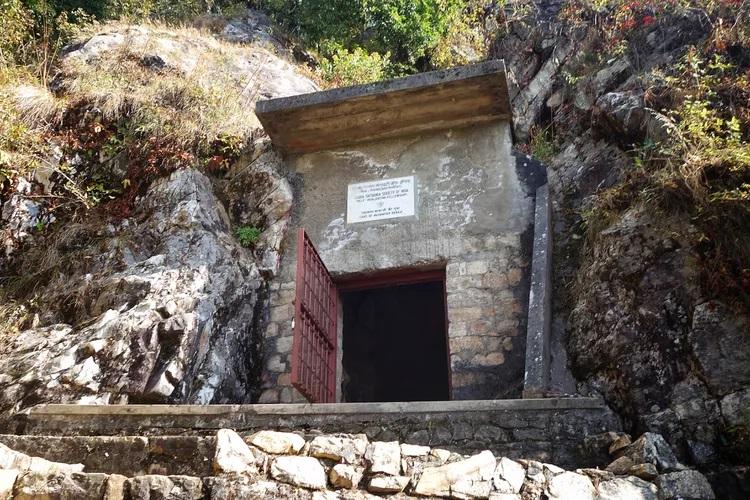 Have you had the pleasure of delving into the timeless masterpiece, Autobiography of a Yogi, written by the revered Paramahansa Yogananda? If not, allow yourself to immerse in its profound wisdom and insights.
Within the embrace of the enchanting landscape lies a cave of profound significance, where the great Mahavatar Babaji, in 1861, unveiled the sacred teachings of Kriya Yoga to his devoted disciple Lahiri Mahasaya. This hallowed site continues to be graced by the presence of Babaji, believed to have maintained his physical form for countless centuries.
The guardianship of this sacred cave belongs to the esteemed Yogoda Satsanga Society, an organization founded by Paramahansa Yogananda, with an ashram situated nearby. Visitors are warmly welcomed to experience the spiritual ambiance daily, from 11 a.m. to 2 p.m.
To complement this soulful journey, one can find solace in the Dunagiri Retreat, overlooking the very cave of wonder. A haven of tranquility, this retreat offers an opportunity to immerse oneself in contemplation and rejuvenation.
If you yearn for an adventure, a trek through the enchanting forest will lead you to this sacred destination, where ancient wisdom and spiritual energy converge, inviting you to explore the depths of your own being.
In the embrace of this harmonious environment, one can't help but feel a profound connection to the past, to the present, and to the eternal truths that continue to resonate in the heart of humanity. So, why not seize the chance to experience this extraordinary journey of the soul?
---
Cave Temples in Jammu and Kashmir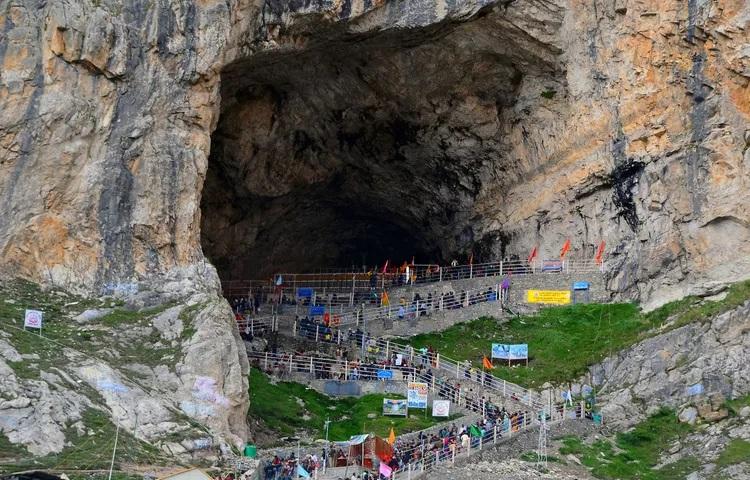 Nestled in the breathtaking landscape of Jammu and Kashmir lie two magnificent cave temples devoted to Lord Shiva, drawing pilgrims from all corners. Among them, the Amarnath temple stands tall, considered one of Hinduism's most revered sanctums. Inside this sacred abode rests a unique symbol of Lord Shiva, a stalagmite fashioned from ice, known as the Shiv linga.
Perched high on the sacred Mount Amarnath, this divine site can only be accessed through a challenging multi-day trek during specific times of the year. It is in the months of July and August that hundreds of thousands of devoted pilgrims embark on the spiritual Amarnath Yatra to seek blessings and experience the divine presence of Lord Shiva.
On a different note, Shiv Khori, situated near Ransoo in the serene Shivalik Hills northwest of Jammu, offers a more accessible pilgrimage destination. Though a short trek is still required, it rewards devotees with a marvelous sight around 150 meters deep within the cave. Here, a natural stalagmite Shiva linga stands gracefully, serving as a symbol of the deity's divine presence.
Every year, during the sacred Maha Shivaratri festival falling in February or March, a vibrant three-day fair takes place at this enchanting cave. As part of these joyous celebrations, devotees come together to pay homage and bask in the spiritual aura that fills the cave.
These two cave temples in Jammu and Kashmir stand as an ode to Lord Shiva's magnificence and attract believers and seekers alike, leaving them with a profound sense of spiritual fulfillment and awe.
---
Rock Fort Temple and Pallava Caves, Tiruchirappalli, Tamil Nadu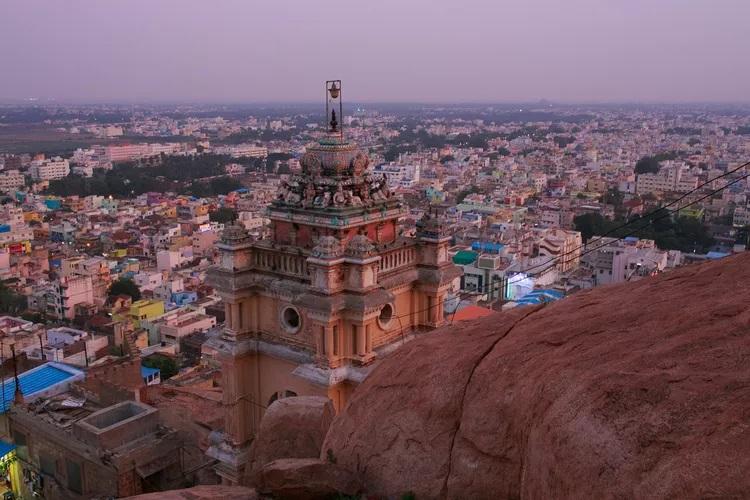 Welcome to Trichy, where the magnificent Rock Fort temple complex stands tall, proudly claiming its position as the focal point of this vibrant city. Among the most remarkable attractions in South India, it rivals even the renowned Meenakshi Temples of Madurai in its splendor. Perched atop an 83-meter (237 feet) outcrop, this architectural marvel was nurtured by the Nayaks of Madurai.
At its pinnacle sits the Uchi Pillaiyar Temple, a sacred shrine dedicated to Lord Ganesh, offering devotees a place of reverence and spiritual solace. From this vantage point, the panoramic view of the city below is simply awe-inspiring, leaving visitors spellbound in its enchanting beauty.
Yet, the Rock Fort's rich history doesn't start at its summit. In the 6th century, the ingenious Pallavas crafted small cave temples closer to the hill's base on its south side. These treasures, known as the Upper Cave Temple and Lower Cave Temple, bear witness to the masterful work of ancient artisans.
Regrettably, access to the upper cave temple is often restricted by protective grilled gates, shrouding its wonders from sight. However, the Lower Cave Temple more than compensates for this, with its plethora of captivating sculptures that leave one truly mesmerized. Though finding it might pose a slight challenge, the experience of discovering this hidden gem is utterly rewarding.
In Trichy, the Rock Fort temple complex stands not only as a testament to architectural brilliance but also as a spiritual haven that beckons travelers from near and far. Its historical significance and breathtaking allure make it an unmissable destination for those seeking a glimpse into the grandeur of South Indian temples.
---
Naida Caves, Diu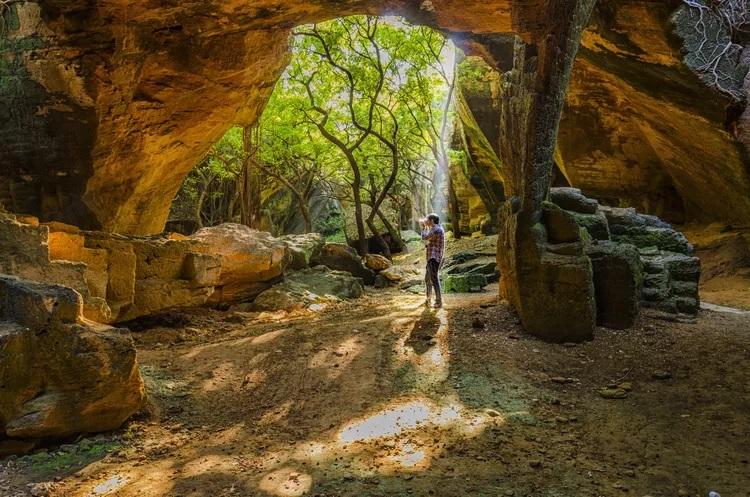 Discover the hidden gem of Dui Island, nestled near the shores of Gujarat. This enchanting destination offers an off-the-beaten-track experience that will captivate your senses.
Dui Island boasts an evocative labyrinth of caves, gently illuminated by the soft play of sunlight. These magnificent caves lie just beyond the historic Dui Fort, a proud testament to the island's past under Portuguese rule during the 16th century. It is believed that the Portuguese might have carved these very caves to procure stones for fortification purposes.
For the most mesmerizing experience, plan your visit during the middle of the day when the sun hovers directly overhead. This strategic timing creates a delightful dappled effect, casting a magical glow upon the cave interiors.
Embrace the allure of Dui Island and embark on a journey through time, surrounded by the echoes of history and nature's artistry. Indulge in the tranquility of these light-flecked caves, where every step unearths a new wonder, waiting to be cherished.
---
Barabar Hill Caves, Bihar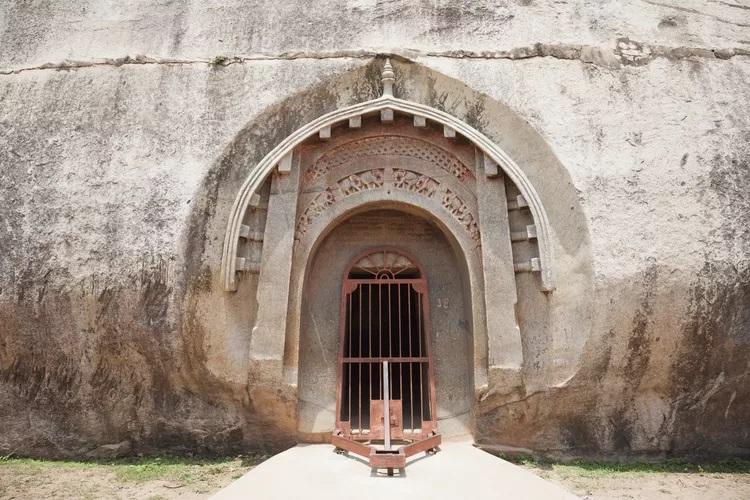 Discover the enigmatic allure of the Barabar Hill Caves, an extraordinary testament to ancient Indian history. Revered as the oldest rock-cut caves in the country, their origins can be traced back to the illustrious Mauryan Dynasty and the reign of Emperor Ashoka during the resplendent 3rd century BC.
Captivatingly hewn into an immense expanse of granite rock on Barabar Hill, these caves comprise four remarkable sanctuaries adorned with scarce Hindu and Buddhist scriptures. Just a stone's throw away, three more caves await your exploration on the nearby Nagarjuni Hill.
One cannot help but be enchanted by the caves' mesmerizing acoustics, emanating from their finely polished walls. So profound was their allure that E.M. Forster, the master wordsmith, found inspiration in their ethereal charm and featured them as a pivotal setting in his literary masterpiece, "A Passage To India."
Nestled within the embracing arms of time, the Barabar Hill Caves offer an unforgettable journey into antiquity. Embark on a day trip from the sacred town of Bodhgaya to immerse yourself in the mysteries and tales etched within these ancient marvels. A rendezvous with history and literature awaits, where the past whispers gently to the present.
---
Dungeshwari Cave Temples, Bihar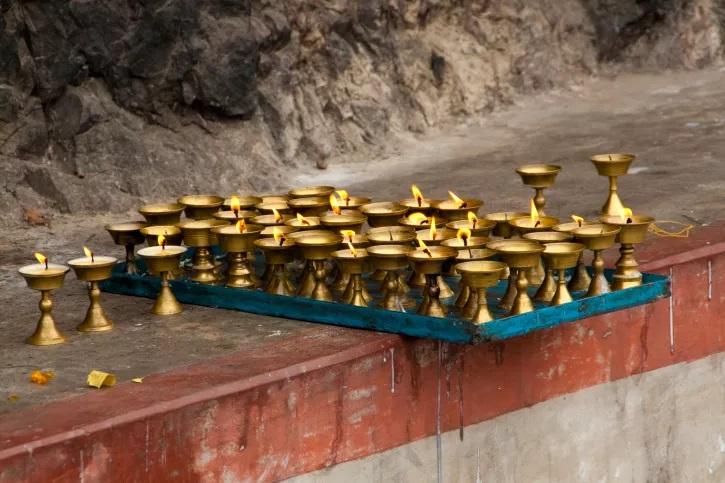 If you find yourself exploring the path of Buddhism, a visit to the Dungeshwari cave temples, also referred to as the Mahakala caves, is highly recommended. Situated just 45 minutes away from Bodhgaya in the beautiful region of Bihar, these caves hold great significance as they served as a dwelling for the Buddha for several years before he embarked on his journey to Bodhgaya and ultimately attained enlightenment.
Upon your arrival, you will likely receive a warm invitation to participate in a meditative session. Embraced by a tranquil ambiance, this sacred site offers a serene and spiritual experience like no other. Notably, one of the caves houses a magnificent golden Buddha statue, serving as a remarkable highlight of the place.
In the embrace of this sacred sanctuary, you can revel in the peace and harmony that envelops the surroundings. The Dungeshwari cave temples present a wonderful opportunity to delve into the depths of your inner self and connect with the profound essence of Buddhist teachings.
Take a moment to bask in the aura of spirituality that permeates the air and let the tranquility of the place nourish your soul. Visiting this hallowed location is a truly enriching experience that promises to leave a lasting impression on your journey along the Buddhist trail.
---
Karla Caves, Lonavala, Maharashtra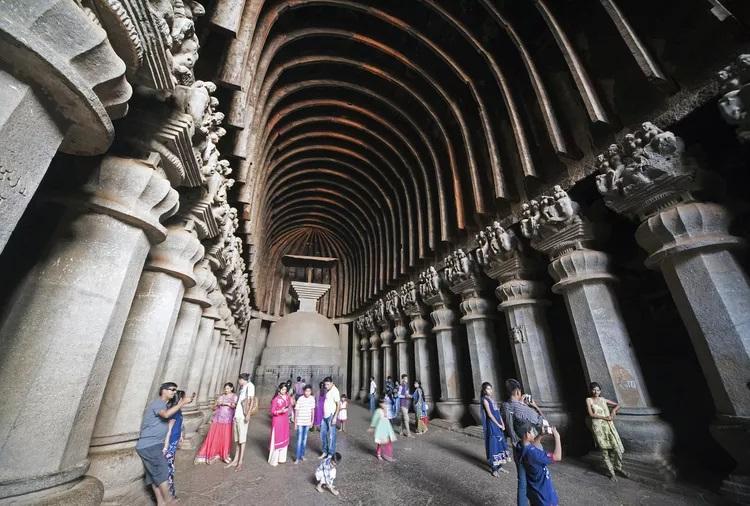 Explore the enchanting allure of these captivating rock-cut Buddhist caves, gracefully standing apart due to their distinguished claim of housing India's largest and remarkably preserved prayer hall. Believed to trace back to the illustrious 1st century BC, they represent a profound connection to ancient spiritual practices.
Nestled amidst a picturesque hillside, just a leisurely two-hour journey from the vibrant city of Mumbai, Maharashtra, these awe-inspiring caves were meticulously hand-crafted into existence above the quaint village of Karla. Their creation was a testament to the devotion and skill of the ancient artisans who chiseled the rock with profound reverence.
Encompassing the main attraction, the splendid prayer hall, are 15 additional caves that once served as intimate spaces for monastic living and contemplative prayers. Each cave resonates with a profound sense of tranquility, inviting visitors to immerse themselves in the timeless echoes of bygone serenity.
Venturing further south, one encounters another set of caves at Bhaja, renowned for their architectural grandeur, yet it is Karla that stands as a crowning jewel with its unrivaled singular cave. This majestic marvel captivates all with its sheer magnificence and timeless allure, offering a glimpse into the ancient world of devotion and artistic brilliance.
Embrace the mystique of these rock-cut wonders as they carry you on a serene journey through time, illuminating the essence of ancient spirituality and architectural finesse. In the embrace of these caves, you will find a profound connection to a bygone era, where the whispers of the past resonate gently in the present.Plan your trip with this Karla Caves travel guide.
---
Kanheri Caves, Mumbai, Maharashtra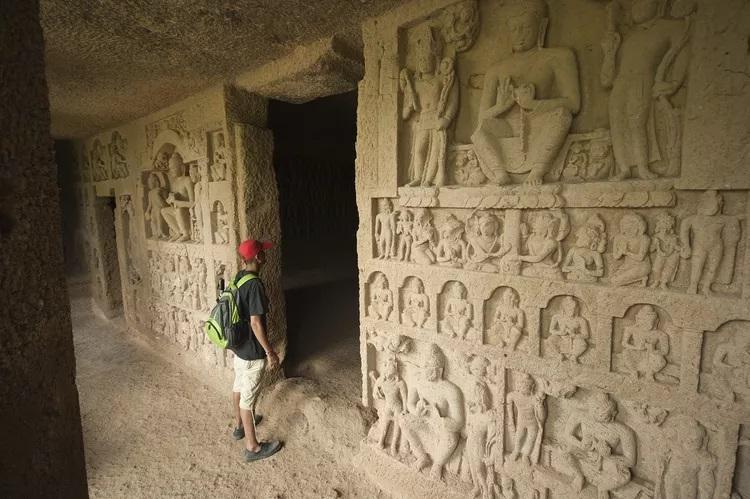 Discover the enchanting allure of the Kanheri Buddhist caves nestled within the serene confines of Sanjay Gandhi National Park, gracefully adorning the northern outskirts of vibrant Mumbai. Carved with meticulous artistry, over a staggering 100 caves of varying dimensions stand testament to human ingenuity, hewn delicately from the volcanic rock, spanning an awe-inspiring timeline from the 1st century BC to the 10th century AD.
Kanheri, once a prominent Buddhist settlement and a center of profound wisdom in western India, unfurls its historical tapestry before us. A sanctuary for knowledge seekers and spiritual devotees alike, this cave complex stands unparalleled, reigning as the grandest of its kind across the Indian subcontinent, boasting the highest number of caves atop a single hill.
From the pinnacle, a breathtaking panorama of the city unfolds, weaving a mesmerizing tale of coexistence between nature and human enterprise. As the tranquil winds gently whisper through the ancient rock-hewn corridors, one cannot help but feel a profound connection to the rich legacy of those who sought enlightenment within these hallowed caverns.
In every crevice and carving, echoes of an era long past resonate, beckoning visitors to delve into the profound history and cultural heritage that has left an indelible mark on this sacred landscape. The Kanheri Buddhist caves are a true gem, an emblem of India's profound spiritual heritage and architectural brilliance, inviting all to traverse back in time and witness the splendor of this remarkable testament to human artistry.
---
Varaha Cave, Mahabalipuram, Tamil Nadu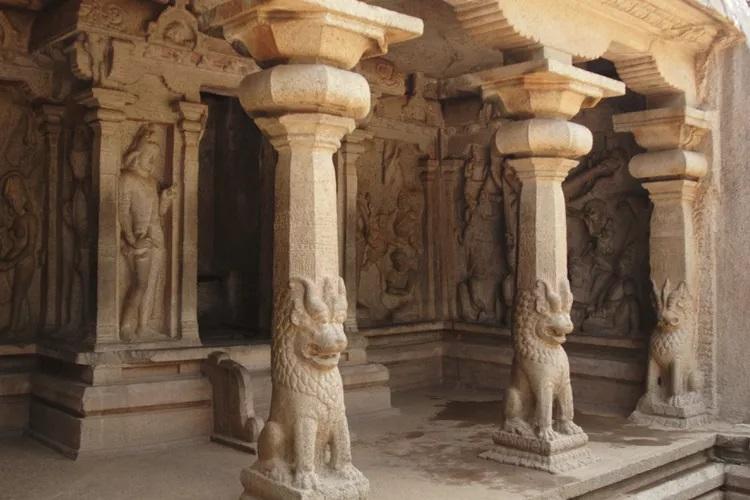 Discover the awe-inspiring UNESCO World Heritage-listed Group of Monuments, nestled in the enchanting town of Mahabalipuram, just a stone's throw away from Chennai in the heart of South India. Among its many marvels, this sacred site houses a magnificent rock-cut Hindu cave temple, an exquisite homage to the revered deity, Lord Vishnu.
Immerse yourself in the splendor of the late 7th-century Pallava Dynasty's craftsmanship, as you venture into this architectural wonder. Carved with utmost devotion, the temple stands as a timeless testament to the artistic prowess of its creators.
At the heart of this sacred abode, you'll find a mesmerizing panel, capturing a profound moment from Hindu mythology. Behold the divine depiction of Lord Vishnu, the preserver of the universe, assuming his third incarnation as Varaha, the mighty boar. Witness the splendor of this celestial scene, where Varaha gallantly lifts the Earth Goddess Bhudevi from the depths of the vast ocean, cradling her with tender grace and strength.
The temple walls, adorned with intricate carvings, whisper stories from the captivating realms of Hindu mythology. Marvel at the tales of gods and goddesses, their exploits and virtues brought to life by the deft hands of artisans from a bygone era.
Steeped in history and sanctity, the Group of Monuments at Mahabalipuram stands as a living testament to the rich cultural heritage of India. It invites travelers and devotees alike to bask in its serene ambiance and revel in the timeless stories etched in stone.
Indulge in the magic of the past, where faith and art intertwined to create a masterpiece that transcends time and space. So, come, and be captivated by the splendor of this ethereal sanctuary, where the divine and the earthly embrace in harmonious beauty.
---
Narlai Village, Rajasthan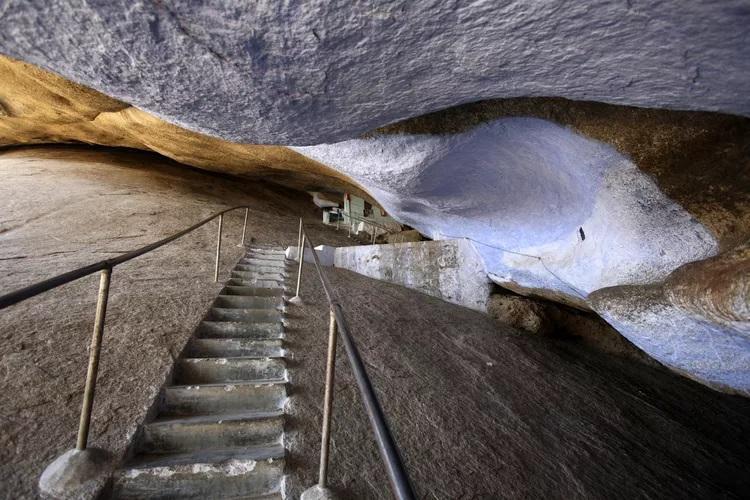 Nestled serenely between the charming cities of Jodhpur and Udaipur lies the quaint village of Narlai, a hidden gem beckoning travelers to pause their journey and discover its tranquil allure. Far from the bustling crowds, this village offers a respite like no other, with enigmatic caves waiting to be explored.
At the heart of Narlai's fascination stands a captivating cave temple, a testament to devotion and reverence for Lord Shiva. Legend has it that the revered Indian sage Narada once sought solace here, making it a sacred haven. Carved skillfully into an imposing granite hill that dominates the landscape, the temple demands a mesmerizing ascent through a rocky crevice, adding an adventurous charm to the spiritual pilgrimage.
Beyond the temple's embrace, the hill shelters other hidden caves, each with its own story waiting to be unraveled. The summit reveals a magnificent marble elephant statue, a symbol of the village's majestic history and vibrant heritage.
For those seeking an opulent immersion into the past, the esteemed Rawla Narlai, a luxurious heritage residence dating back to the 17th century, offers an unforgettable stay. Its regal allure resonates with the very essence of Narlai, transporting guests to an era of grandeur and refinement.
Amidst the rustic beauty and tranquil ambiance, Narlai welcomes travelers with open arms, inviting them to partake in an enriching experience that blends history, spirituality, and timeless luxury. This unassuming village enthralls visitors, leaving an indelible mark on their hearts as they continue their voyage through the enchanting land of Rajasthan.
---
Mahakal Cave, Jayanti, West Bengal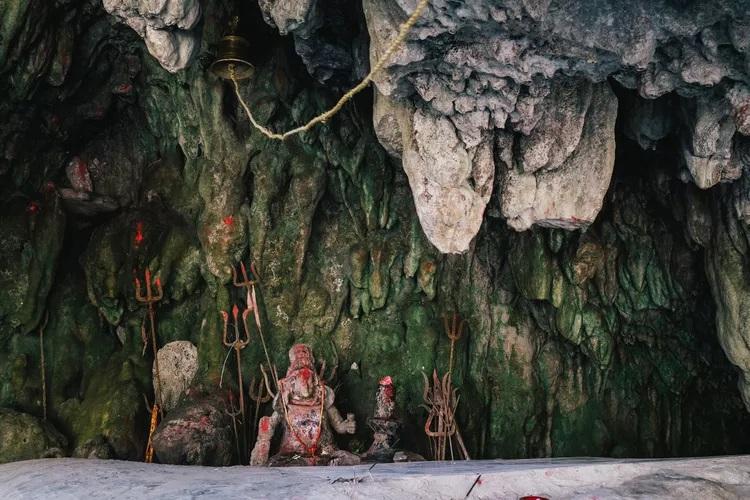 Embark on an unforgettable adventure through the breathtaking wilderness of Buxa Tiger Reserve, hidden away in the northeastern plains of West Bengal. Brace yourself for an exhilarating but captivating three-hour jungle trek, commencing from the remote Jayanti village, alongside the picturesque Jayanti River. This captivating journey will lead you to the enchanting Mahakal Cave nestled amidst the hills, not far from the Bhutan border.
The natural marvel of Mahakal Cave stands adorned with mesmerizing stalactite formations, a true spectacle of nature's artistry. A sanctuary dedicated to the revered Lord Shiva, it exudes an aura of spiritual significance. However, let it be known that reaching this divine abode is no easy feat, for a portion of the trek entails a challenging uphill ascent along a rugged and steep rocky trail.
Along this arduous path lies a smaller Mahakal cave, often unexplored and unnoticed by most travelers. As you venture deeper into the wilderness, the untamed beauty of the surroundings engulfs your senses, creating an ethereal connection with nature.
To optimize your journey, plan your visit thoughtfully, avoiding the rainy season that stretches from mid-June to October. During this time, the cave becomes inaccessible, making it wiser to choose a more suitable time to explore this mesmerizing realm.
The Buxa Tiger Reserve, a hidden gem within the Dooars plains, offers a rare opportunity to embrace the raw splendor of nature and immerse yourself in an expedition of a lifetime. Prepare to encounter nature's bounty in all its grandeur as you set foot on this unforgettable trail to the sacred Mahakal Cave, a profound encounter that will linger in your heart for years to come.
---
Robber's Cave, Dehradun, Uttarakhand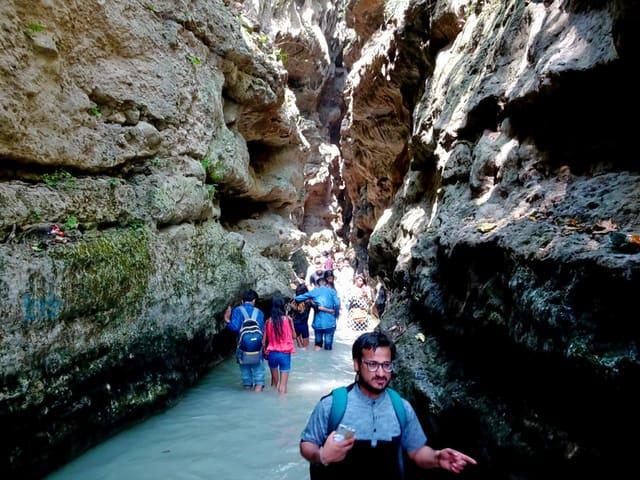 In the heart of a dense and mysterious forest lies an ancient marvel known as the "Robber's Cave." This enigmatic hideout has been shrouded in legends and tales of daring escapades for centuries. Nestled away from prying eyes, it beckons adventure seekers to uncover its secrets.
The Robber's Cave, also referred to as "Guchhupani" by locals, is a natural wonder formed by the relentless forces of nature. It boasts an intriguing network of narrow passages and serene cascades that captivate the imagination of all who venture inside.
As you step foot into this hidden sanctuary, a palpable sense of history envelops you. The cave's rocky walls, adorned with ancient markings and graffiti left by generations past, stand as silent witnesses to the passage of time. Sunlight filters through the canopy above, casting a gentle glow on the trickling streams below, creating an almost ethereal ambiance.
Legend has it that the Robber's Cave was once the coveted refuge of bandits and rogues who sought shelter from the law. These audacious outlaws would use the labyrinthine paths and natural cover to disappear into the wilderness, leaving behind bewildered pursuers. The cave's history only adds to its allure, adding a touch of mystique to its natural beauty.
Today, the Robber's Cave welcomes explorers and nature enthusiasts from all walks of life. As you tread along its meandering trails, you can't help but marvel at the sheer ingenuity of Mother Nature's craftsmanship. Smooth rocks, sculpted by the relentless flow of water over countless years, beckon you to touch and feel the pulse of nature.
One of the most captivating features of this cavernous wonder is its cascading waterfall. As the sunlight dances on the glistening water, a breathtaking display of colors unfolds, casting a spell on all who witness it. The cool mist emanating from the falls is a refreshing respite on a warm day, creating a sense of rejuvenation and tranquility.
If you're an intrepid adventurer, you might choose to wade through the shallow pools or scramble over rocky ledges, immersing yourself in the thrill of exploration. But for those seeking a quieter experience, finding a cozy spot along the banks to meditate or read a book might be equally enticing.
As you bid farewell to the Robber's Cave, you carry with you the memory of an extraordinary escapade. This hidden gem, tucked away in nature's embrace, leaves an indelible mark on your soul, leaving you yearning to return someday.
So, should you ever find yourself yearning for an adventure that intertwines history, mystery, and natural wonder, venture forth to the Robber's Cave. In the heart of its rocky embrace, you'll find a sanctuary like no other—a timeless testament to the beauty and allure of our awe-inspiring world.