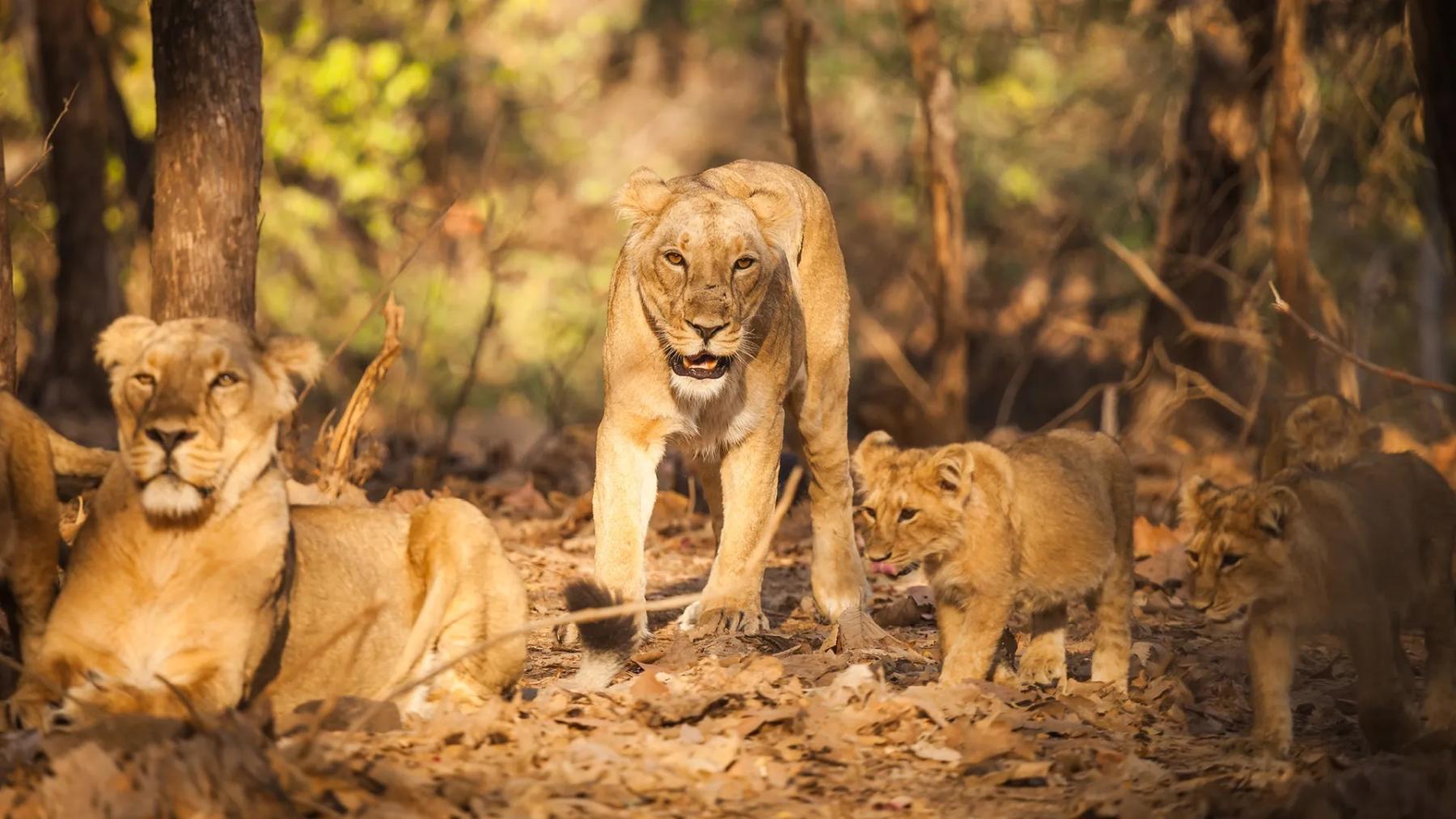 Gir National Park is located in the western Indian state of Gujarat. Here, 545 square miles (1,412 square kilometers) of hilly, dry scrubland serves as a wildlife sanctuary for Asiatic lions (the only place on the planet where these creatures can still be found). Asiatic lion numbers have recovered well thanks to conservation efforts that began in 1965 after they were nearly hunted to extinction and listed as critically endangered in 2000. According to a recent census, Gir National Park has a total population of 674 lions.
Gir's unique ecosystem makes it a popular habitat for other animals such as jackals, leopards, antelope, and deer. Crocodiles live in the seasonal rivers and four man-made reservoirs here.
These watering holes also attract over 300 different species of resident birds. Thousands of visitors flock to this park each year (despite the fact that it is an expensive trip) to participate in a bucket list safari tour that puts them face-to-face with Asiatic lions in the wild.
---
What to Do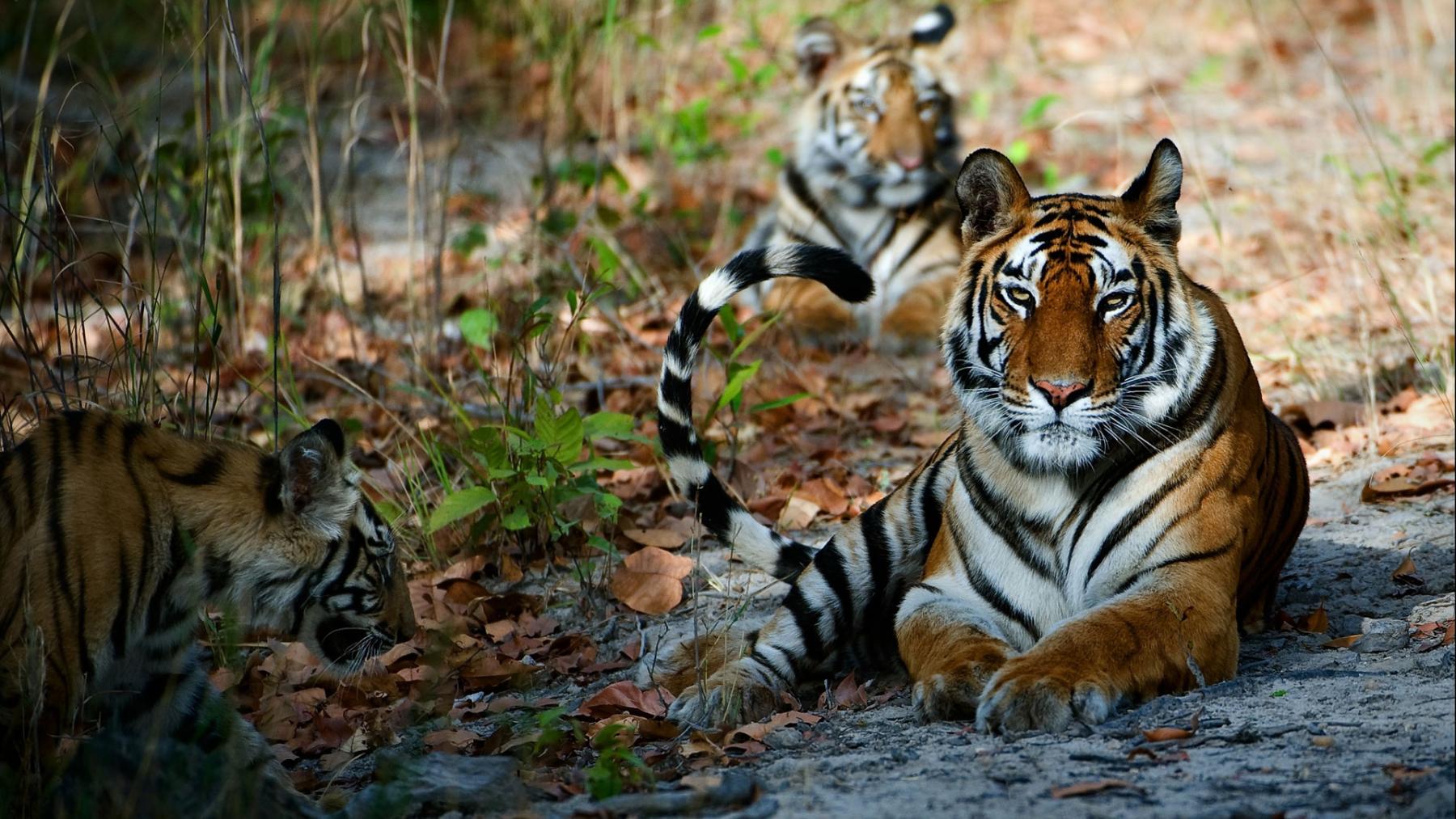 The majority of visitors to Gir National Park come to see the park's two most prized predators: lions and leopards. They embark on guided jeep safari tours that take them on one of the park's pre-determined safari routes. A three-day safari with lodging provides the most opportunities for wildlife viewing because this multi-day experience is perfectly timed.

You can also enter the park in a private vehicle (for a fee), but there are some restrictions and you must still hire a guide. Alternatively, you can take a shorter, guided minibus tour through the park's Interpretation Zone, a fenced-off compound located off-site. Within a 20- to 30-minute drive, you can see a cross-section of the park's wildlife, including lions.
Avid birders flock to Gir to see the area's 300 bird species, which include the critically endangered white-backed and long-billed vultures. A two-day birdwatching tour led by local experts can accommodate as few as two people or as many as ten.

Finally, mingle with the colorful Maldhari (a tribal herder community). Only about 1,000 native people remain on the Gir National Park grounds, as large predators consume roughly one-quarter of their cattle and buffalo livelihood.

Hiking is unfortunately not permitted in Gir National Park. Because of the high frequency of lion and other predator encounters, there are no trails within the sanctuary.
---
Safari Jeep Tours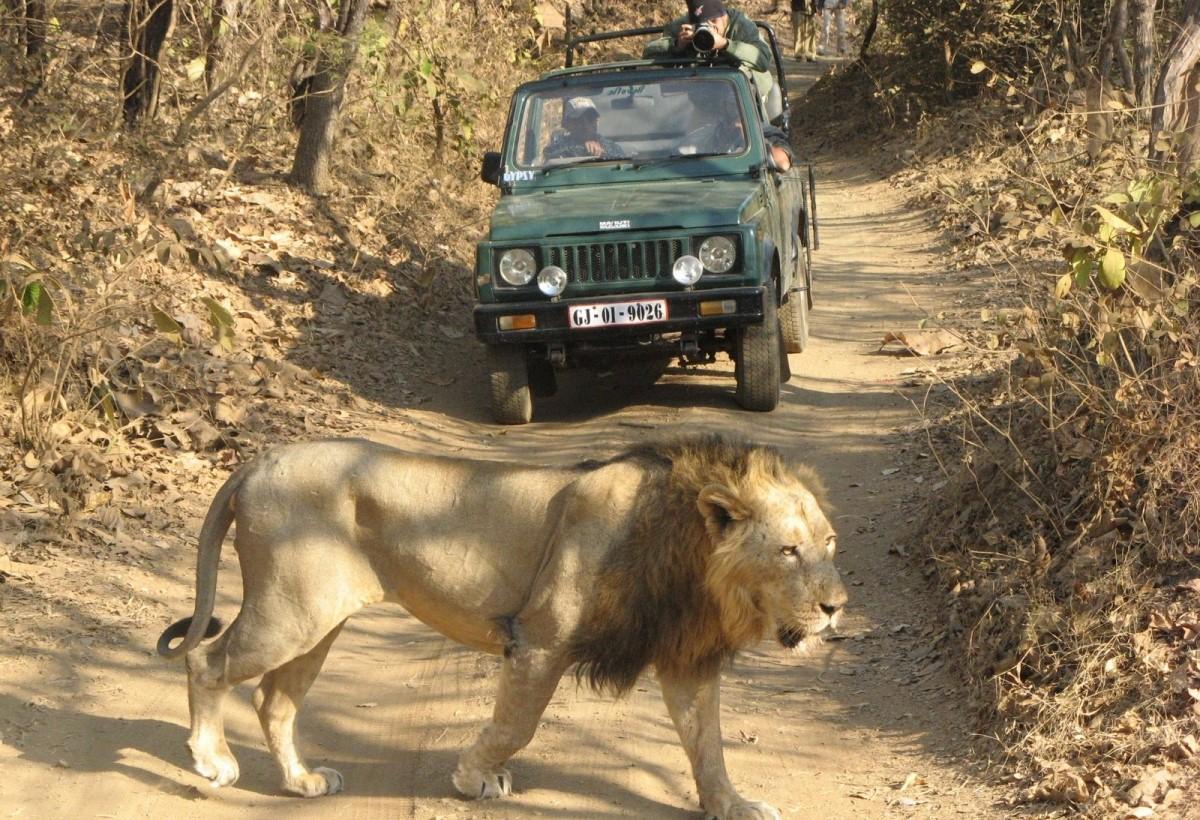 On a jeep safari tour, the Asiatic lion is a sure sighting. Indian leopards, jungle cats, hyenas, desert cats, honey badgers, and mongoose sightings are also common. Trained guides and drivers will take you on one of the park's eight driving routes, where you may see blackbucks, boar, chinkara, chital, and the rare four-horned antelope.
To rent a jeep (gypsy), you must first purchase a permit for Gir National Park (Gir Jungle Trail) or the Gir Interpretation Zone (in neighboring Devalia Safari Park). Permits can be obtained ahead of time and must be presented at the reception desk of the government-owned Sinh Sadan guesthouse (the safari entry point). Arrive 30 to 45 minutes before your safari departure time to allow enough time to check in and meet your guide and vehicle.
Upmarket hotels also offer jeep safaris, albeit at a higher price, and will handle all arrangements, including bookings and permits. This preferable option, especially for foreigners, removes the uncertainty from the inevitable itinerary challenges that come with a DIY adventure.
---
Where to Stay in the Neighbourhood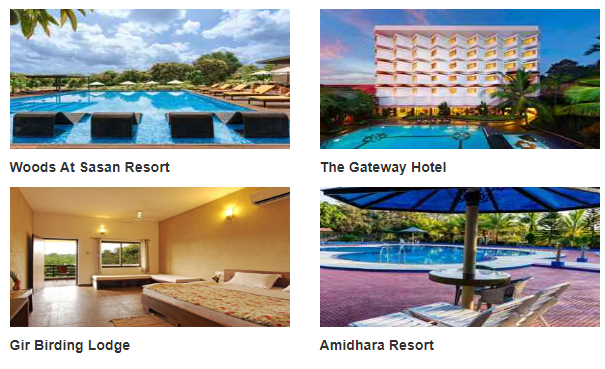 There are several lodging options both inside and outside the park's boundaries. If you want to save money and don't mind staying a little further away, there are a few cheap hotels on the way to the Gir Interpretation Zone.
Sinh Sadan: Located at the sanctuary's entrance, Sinh Sadan is the park's most affordable lodging option and where local tourists stay. The guesthouse is nestled among lush gardens, and rooms are available with or without air conditioning. Please keep in mind that reservations for this lodging option must be made within one month of travel and can only be taken by phone or fax. Furthermore, foreigners pay higher rates here.

The Gateway Hotel Gir Forest: Located on the outskirts of the Gir Forest, this hotel offers a more luxurious stay. Rooms and luxury suites—some with views of the river or the garden—come with en-suite bathrooms, free Wi-Fi, and a spacious balcony. After a long day of safari touring, you can relax at the hotel's spa and fitness center, and the restaurant serves regional, home-style cuisine.

Woods at Sasan: Eco-conscious travelers may want to consider staying at the Woods at Sasan. Because it specializes in personalized Ayurvedic treatments and yoga, this lodging option is ideal for safari-goers looking for a wellness experience. The meticulously curated property offers stand-alone studios and villas with up to three bedrooms in an 8-acre mango orchard on the outskirts of the forest.

Maneland Jungle Lodge: The popular and inexpensive Maneland Jungle Lodge, located about two miles from the park's entrance, features a grand lodge and 17 jungle cottages. Choose from deluxe rooms or a deluxe villa, both with air conditioning and dine at the hotel's restaurant on locally sourced and homegrown organic delicacies.
---
Ways to Get There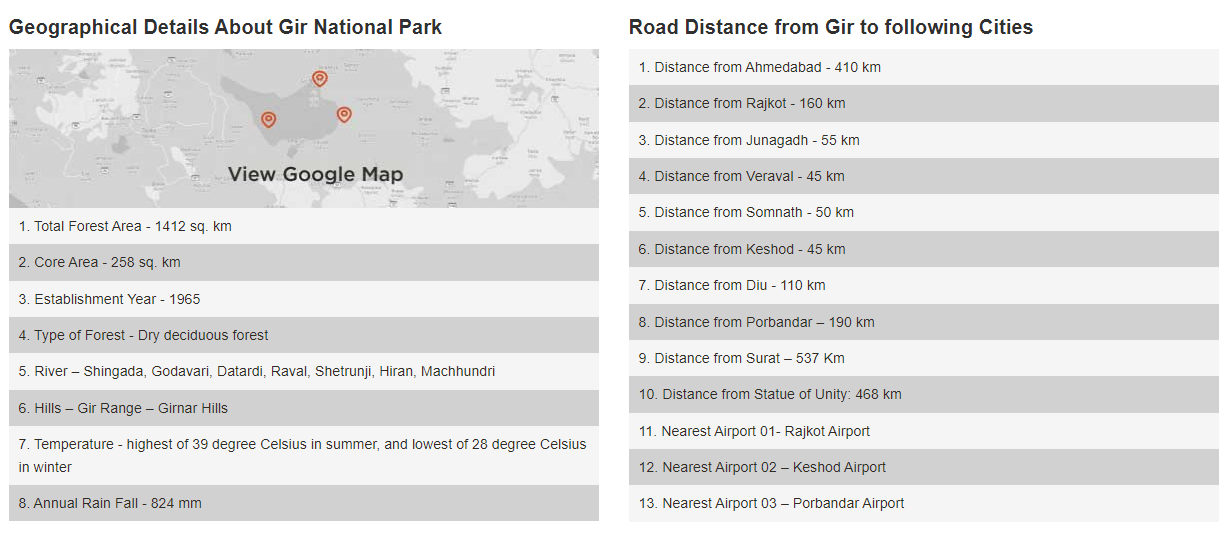 Gir National Park is located in Gujarat state's southwest region, 360 kilometers from Ahmedabad, 65 kilometers from Junagadh, and 40 kilometers from Veraval. The park's entrance is located in Sasan Gir Village, which also houses the park's reception and orientation center. The Gir Interpretation Zone is located in Devalia, about 7 miles (12 kilometers) west of the village. The nearest major airport is about seven hours away in Ahmedabad, with smaller airports in both Rajkot (three hours away) and Dui (two hours away).
The nearest train station in Junagadh provides the most convenient access to the park. Trains run directly from Ahmedabad and Rajkot, followed by an hour-and-a-half drive to Sasan Gir. Taxis are available at the train station, and public buses run frequently to Sasan Gir.
You can also take a private bus from Ahmedabad to Sasan Gir, which will drop you right next to the Sinh Sadan guesthouse and reception center. It's more convenient than taking the train, but it takes seven hours.
---
Advice for Your Visit
Gir National Park is most popular between December and March. However, during these peak times, it can become extremely crowded, resulting in lengthy waits. Alternatively, come during the hot and dry season (March through May), when animals congregate near the water's edge and are easily spotted.

Take a morning safari to see the lions at their most active. Lions tend to sleep throughout the day, making them more difficult to spot on a mid-day tour.

Gir National Park is open from October to June, with jeep tours beginning at 6:30 a.m., 9 a.m., and 3 p.m. The Gir Interpretation Zone is open year-round, from Thursday to Tuesday (closed Wednesday), from 8 a.m. to 11 a.m., and from 3 p.m. to dusk (around 5 p.m.).

Safari reservations can be made up to three months in advance and within 48 hours of a scheduled tour. Because the national park only allows 30 vehicles at a time, permits for the Gir Jungle Trail are limited and can only be booked online.
When you present your permit, a computer (along with a driver and guide) assigns you to one of the eight safari routes at random. Vehicles must all travel in the same direction along the route, with no reversing or detours.

Gir National Park e-permits are issued per vehicle with up to six occupants. The price varies by day of the week, with weekends and public holidays being the most expensive.

If you want to do it yourself, expect to pay for a guide to accompany you inside the park, a jeep, and a DSLR camera charge. (Foreigners are charged an exorbitant camera fee. As a result, many people find the experience disappointing and unworthy of their money.)