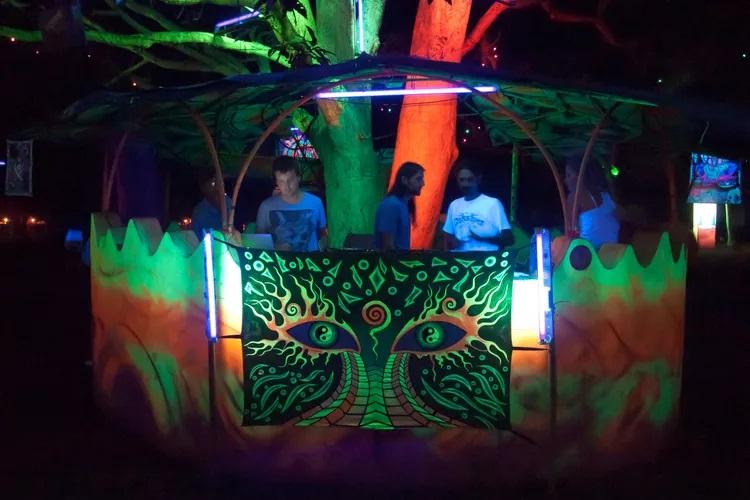 Where to Be!: Goa's 2022-23 Party Hotspots
If you are looking to enjoy the goa nightlife and party in Goa, head to North Goa. Baga Beach is famous for its nightlife, but there are also great spots near Vagator and Anjuna beaches.
Hill Top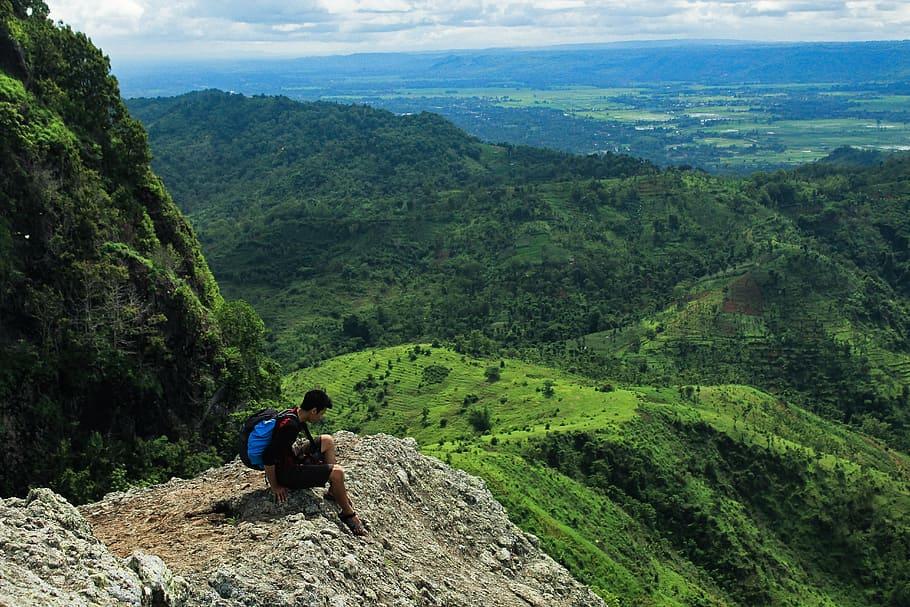 Hill Top is the perfect spot if you're looking for a classic psychedelic trance party in Goa. It's an iconic open-air venue that's been around since the hippie era of the 1970s. Initially a small restaurant, it's now a mecca for psychedelic trance enthusiasts, with artists from all over the world performing there. The venue has a trippy ambiance, with neon palm trees and art installations scattered throughout. Every Sunday, Hill Top hosts parties, and special events like New Year's Eve and Christmas Eve are celebrated here. Additionally, on Fridays, they hold a funky new "Goa Collective" all-day market. The annual Hill Top Festival, usually held in February, is an event not to be missed.
Location: Vagator Hill
Open: October to April but also occasionally during the monsoon season
Music: Psychedelic trance
---
Curlies and Shiva Valley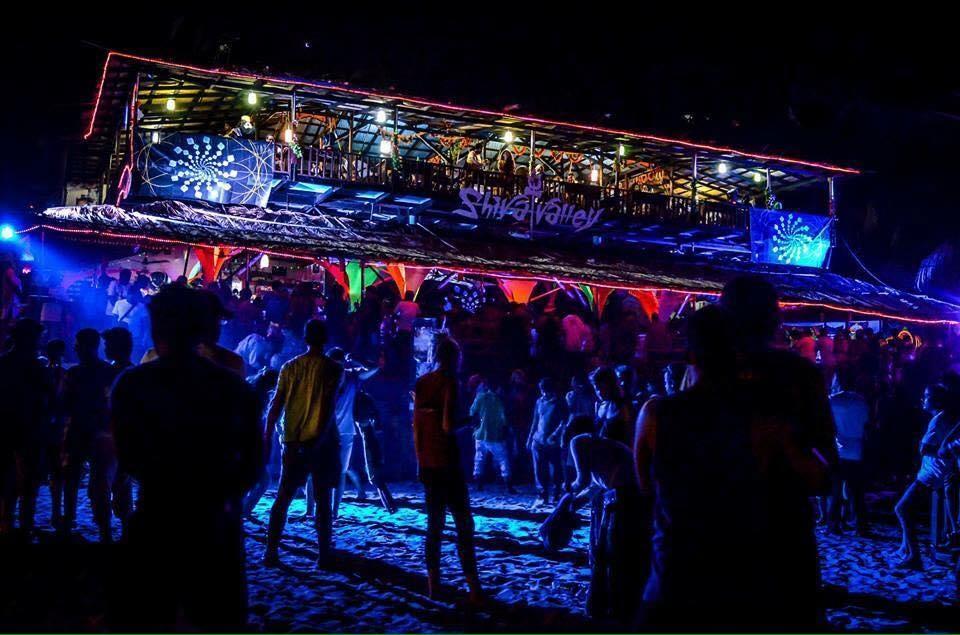 Curlies, one of Goa's most well-known beach shacks, holds a special place in the state's history as one of the first shacks to open its doors. It was once the go-to spot for visitors looking to catch the sunset after the popular Wednesday Anjuna flea market, although its atmosphere has since become much more relaxed. Nowadays, the big nights for partying at Curlies are Mondays (which are dedicated to techno music) and Thursdays (which feature trance music). Next to Curlies, Shiva Valley has made a name for itself by hosting trance parties every Tuesday, which start at 4 p.m. These parties have become quite famous and are not to be missed if you're a fan of trance music.
Location: Anjuna Beach
Open: All year round
Music: Psychedelic trance and techno
---
Cafe Lilliput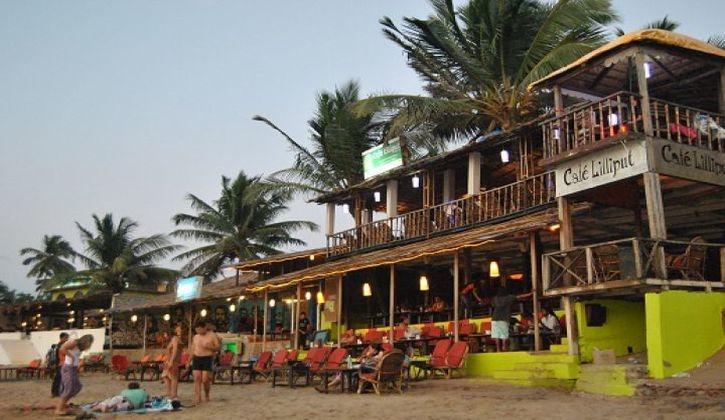 Cafe Lilliput, a well-established beach shack in Goa, has been operating since 1986 and can be found in the heart of the Anjuna beach strip, conveniently located near the Wednesday flea market. During the day, the atmosphere is relaxed and laid-back, providing the perfect beachside retreat. However, once the sun sets, the vibe changes and the beach shack transforms into an energetic party destination, hosting frequent events that often last until dawn. For those who prefer to stay overnight, comfortable beach hut accommodations are readily available, so you can remain right where the action is.
Location: Anjuna Beach
Open: All year round
Music: Techno and house
---
UV Bar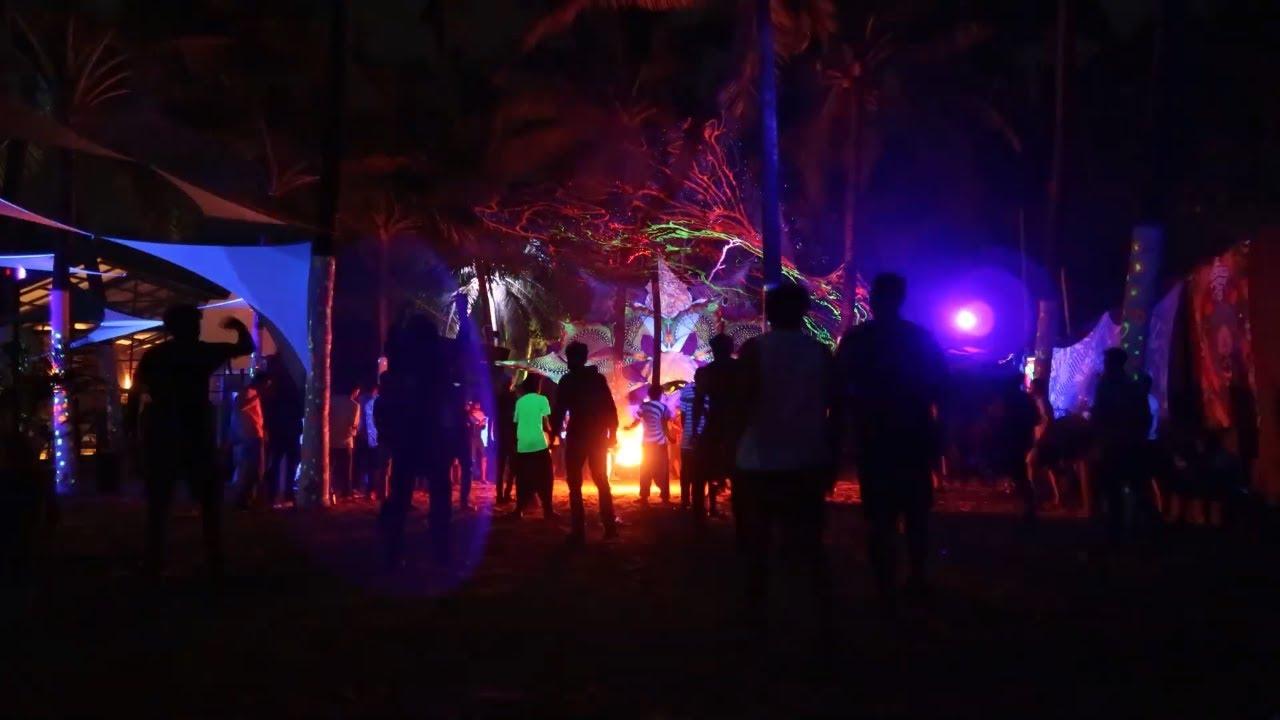 In 2008, the UV Bar was established as a venue for hosting electrifying psy trance parties that run from Fridays through Sundays, regardless of the weather conditions, including the rainy monsoon season. Additionally, events are frequently held on weekdays as well. The UV Bar is a large beach shack that spans two levels and boasts two dance floors, one of which is situated right on the sand. The ambiance is enhanced by the presence of trendy artwork and captivating visuals, creating a truly memorable experience.
Location: Anjuna Beach
Open: All year round
Music: Psychedelic trance and some techno
---
Purple Martini at Sunset Point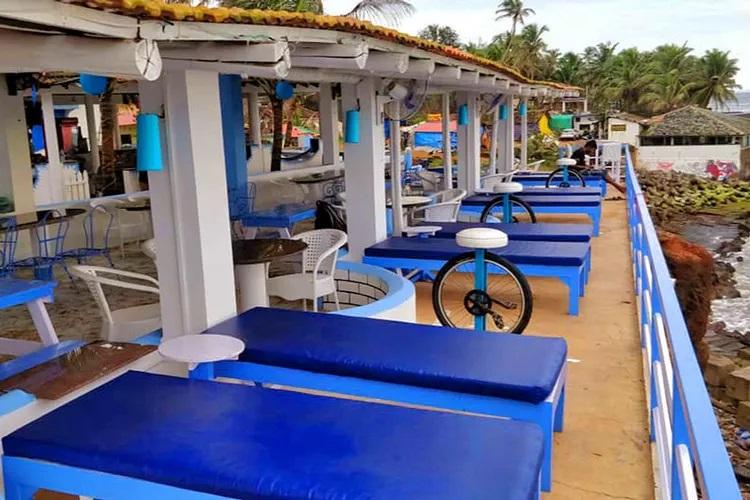 If you prefer a more relaxed atmosphere with live music, you should visit Purple Martini cliff bar on weekends. This venue offers breathtaking views of the water's edge, where you can sit and enjoy the music. On Fridays, you can listen to sitar music while watching the sunset, and on Saturdays and Sundays, saxophone tunes are played. Additionally, a DJ set follows the live music, which continues into the night.
Location: Anjuna Beach
Open: All year round
Music: Live music and commercial
---
Guru Bar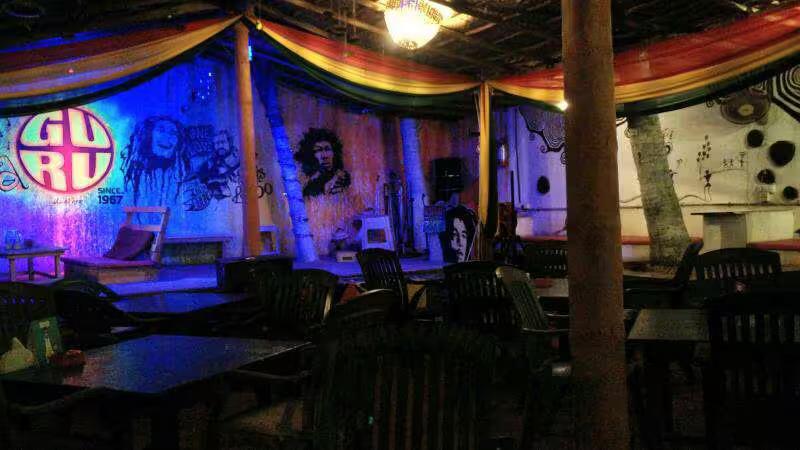 In 1967, a small chai stall and canteen was set up by a Goan native from a farming family, who envisioned catering to the hippie foreigners that flocked to Goa with their musical instruments and an appetite for revelry. The founder, also known as the Guru, offered them not just food but also mattresses to sleep on. Over time, this humble establishment evolved into the legendary Guru Bar, which has retained its roots while continuing to rock as much as ever. The bar's name is inspired by its founder, and his popular vegetable cheese toast continues to be a bestseller even today.
Location: Anjuna Beach
Open: All year round
Music: Live reggae, soul, rock, indie, fusion
---
Chronicle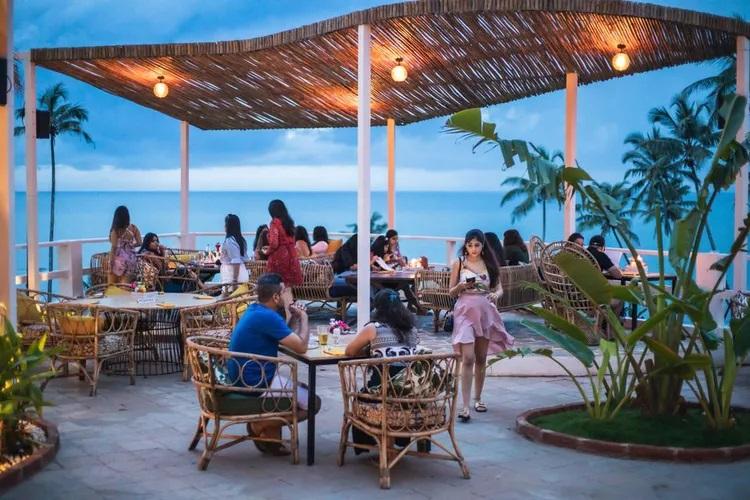 Chronicle, a venue in Goa that opened in late 2013, quickly became one of the most popular spots in the area, which is not surprising given its unique offerings. This place is a fusion of an Italian fine-dining restaurant, a cocktail bar with a large open-air dance floor, and it is located on five levels that are carved into the rocky cliff overlooking a private beach. The creative cocktail menu was crafted by a mixologist from London. On Fridays and Saturdays, sundowner sessions start at 3 p.m., where top DJs and musicians from around the world showcase their talent. In addition, the daily happy hours starting at 5 p.m. set the perfect mood for an unforgettable party experience.
Location: Little Vagator Beach
Open: November to March
Music: Deep house, techno, and trance
---
Titlie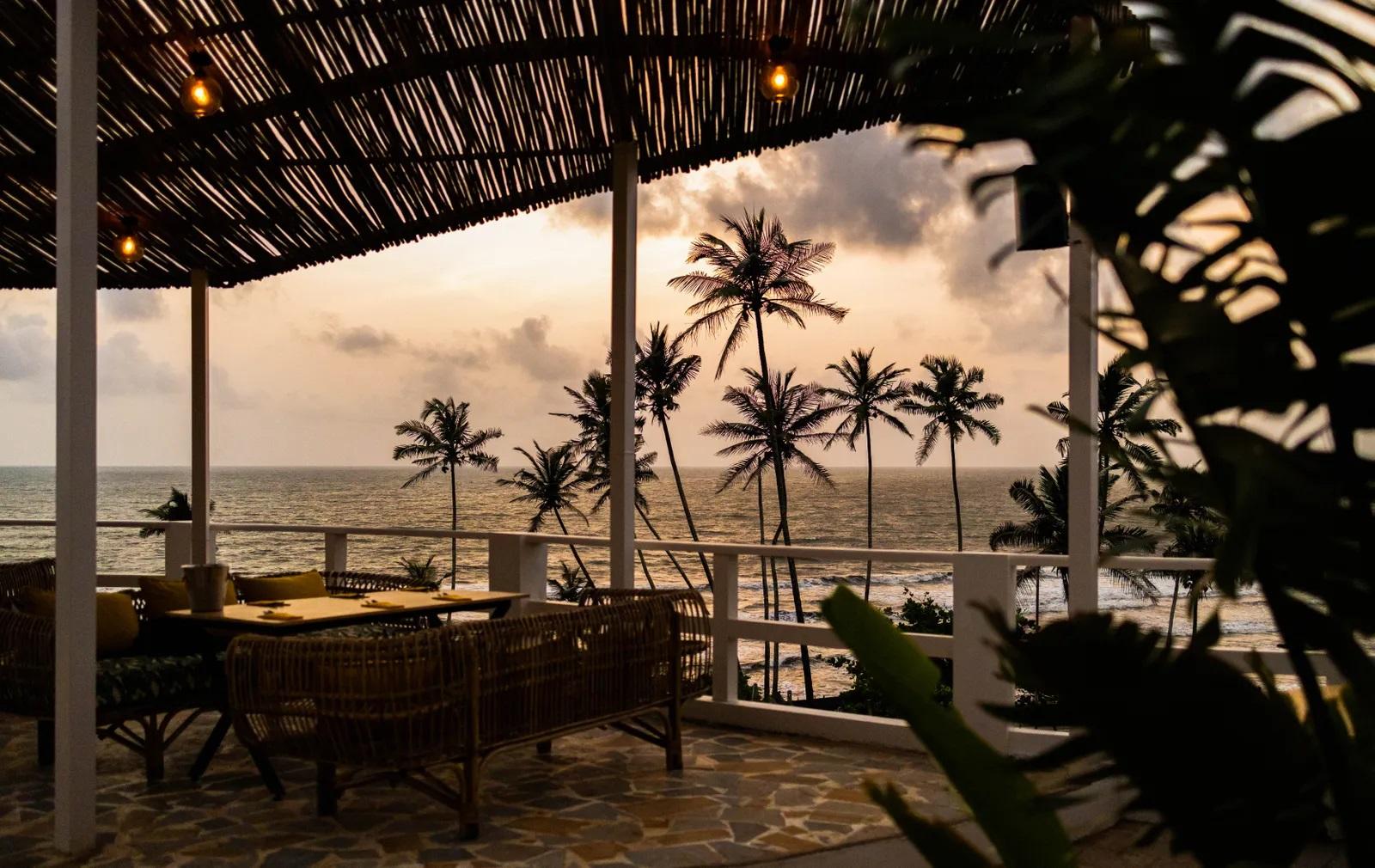 At the stunning Little Vagator, there's a breathtaking partially open-air culinary bar perched on a cliff overlooking the sea, named "Titlie" - the Hindi word for butterfly. Visiting this place will give you a sense of liberation just like a butterfly flying freely. The skilled mixologists, DJs, and musicians collaborate to transform the ordinary into something exceptional and diverse, all while surrounded by the most amazing sunsets in the area.
The bar serves a range of refreshing feni, craft gin, and local whisky cocktails which are all very popular. The menu is also unique, featuring "collaborative cuisine" - a delightful blend of Indian and international ingredients. On Sundays, make sure not to miss the "Sunday Sundowners" event.
Location: Little Vagator Beach, above Chronicle
Open: All year round
Music: Varied, including live music
---
Larive Beach Resort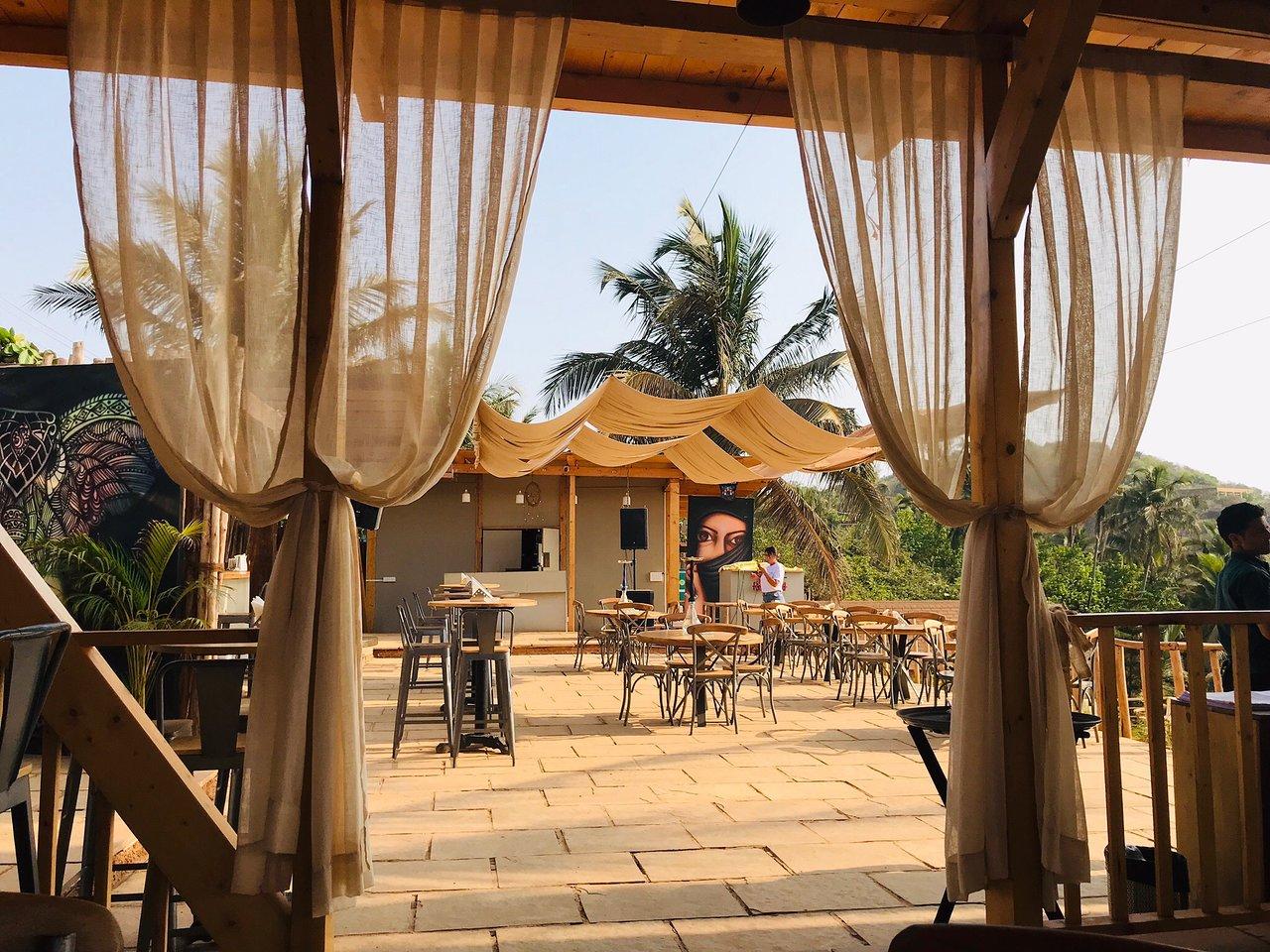 The Larive Beach Resort's website has a cautionary message that states, "We are a party destination where music is played until 4 a.m." This is not an empty warning, as the resort regularly features famous DJs that draw in a large crowd. The resort is an ideal location for those who love dancing outdoors, beneath the starry sky. Once you've had your fill of dancing, you can retire to your cottage facing the sea to recharge before doing it all over again. Alternatively, you can unwind by the pool if you prefer a more relaxing atmosphere.
Location: Little Vagator Beach
Open: October to May (shut during the monsoon)
Music: Mostly techno
---
Antares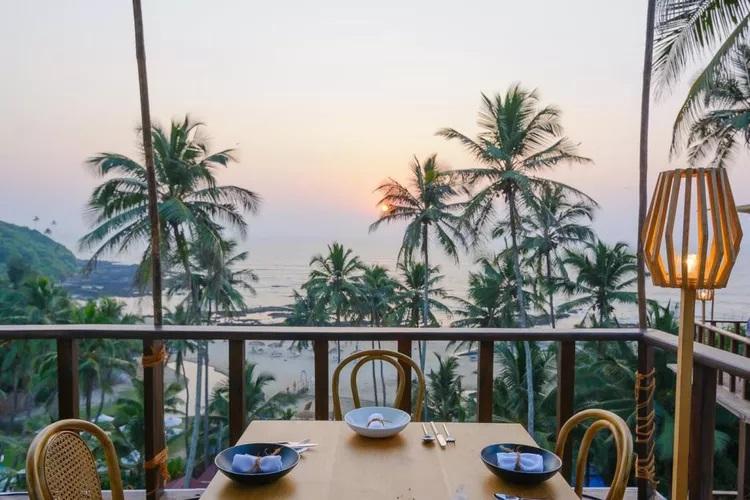 Antares is a multifaceted establishment situated at the foot of a cliff, overlooking Little Vagator Beach. It offers a restaurant and bar, as well as a beach club with guest lodgings. Owned by renowned Australian chef Sarah Todd, Antares serves a delectable selection of Australian-inspired dishes that incorporate subtle Asian flavors.
Antares is also a popular spot for sunset parties that take place every Friday through Sunday. These soirées last well into the night and feature live music and a creative array of cocktails.
Location: Little Vagator Beach
Open: October to May (shut during the monsoon)
Music: Varied, including live music
---
Pinakin Beach Cafe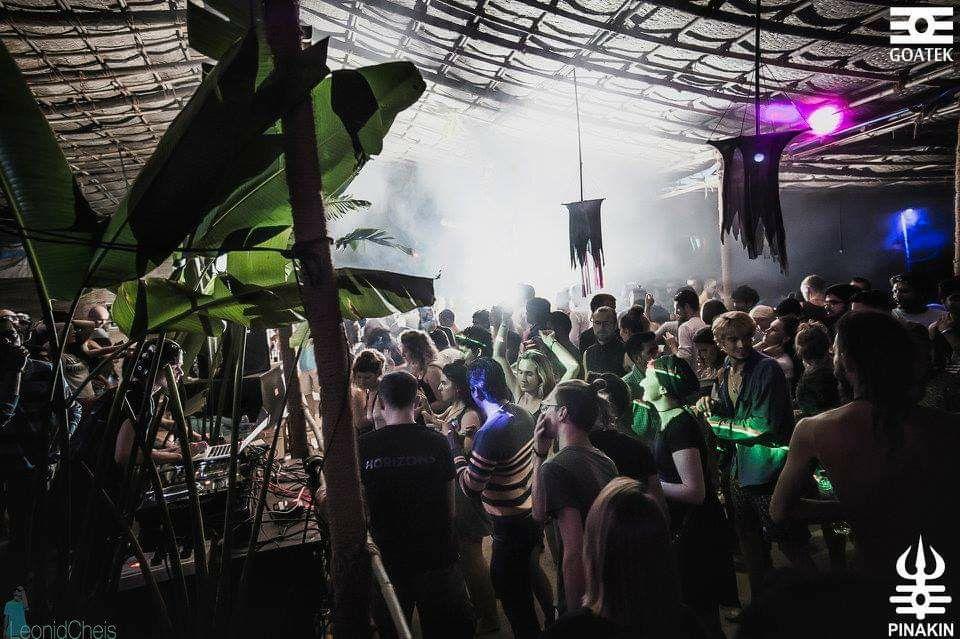 Pinakin Beach Cafe has been pumping out music and throwing parties on Big Vagator Beach since 2015. The shack has proven to be remarkably resilient, recovering from busts and demolition for illegal construction, and is back again for another season of full-power beach raves.
Location: Near the viewpoint on Big Vagator Beach, north of Little Vagator
Open: October to April
Music: Psychedelic trance, techno
---
Thalassa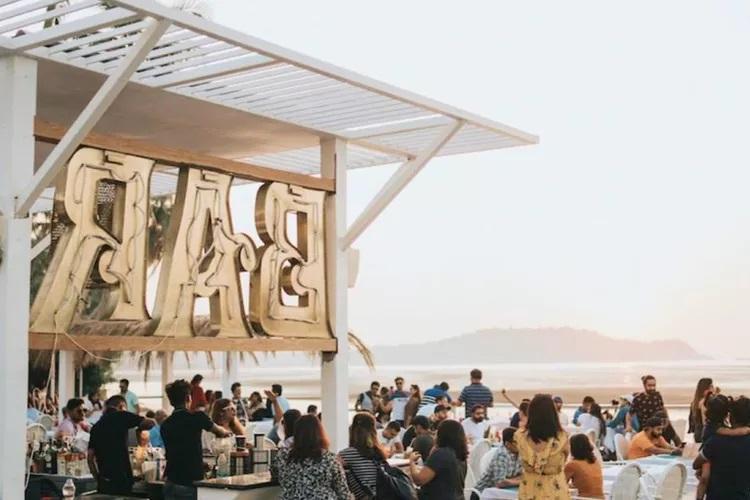 In 2018, a renowned Greek restaurant known for its fine-dining experience relocated to a stunning new location. Despite the move, the restaurant maintains its exceptional reputation and hosts extravagant parties every night of the week, complete with live dance performances and DJs. The name of the restaurant, Thalassa, translates to "sea," and it's easy to see why, as the restaurant offers a spectacular view of the Chapora River at sunset. For those who wish to indulge in the party atmosphere, the restaurant offers seven luxury air-conditioned tents for a glamping experience, with a private waterfront deck to enjoy.
Location: Teso Waterfront, Siolim
Open: All year round
Music: Varied
---
Marbella Beach Resort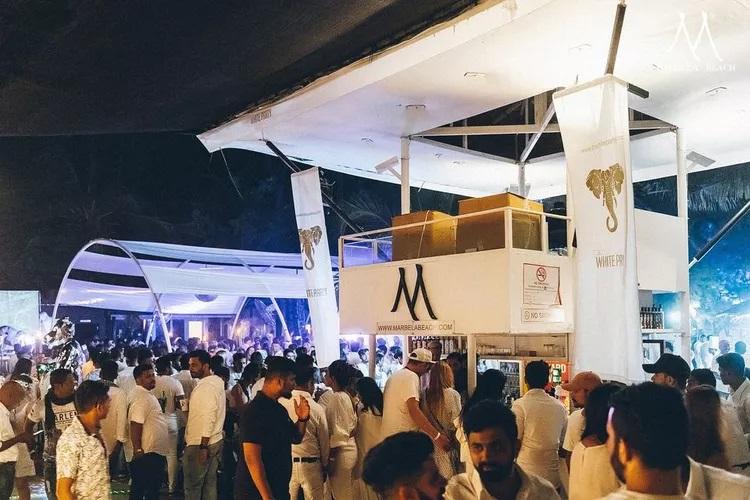 This luxurious beachfront resort called the White Mediterranean-themed Marbella Beach Resort, is famous for its lively weekend atmosphere and vibrant parties, particularly the iconic White Party. During the peak season, rates for accommodations increase significantly from Friday to Sunday. However, even on non-event days, guests can enjoy good music and drinks at the bar. The resort boasts additional amenities such as a swimming pool and wellness spa, making it an ideal destination for indulgent vacations. Come stay and have some fun!
Location: Morjim-Ashwem Beach
Open: November to May
Music: Techno and progressive
---
Soro, the Village Pub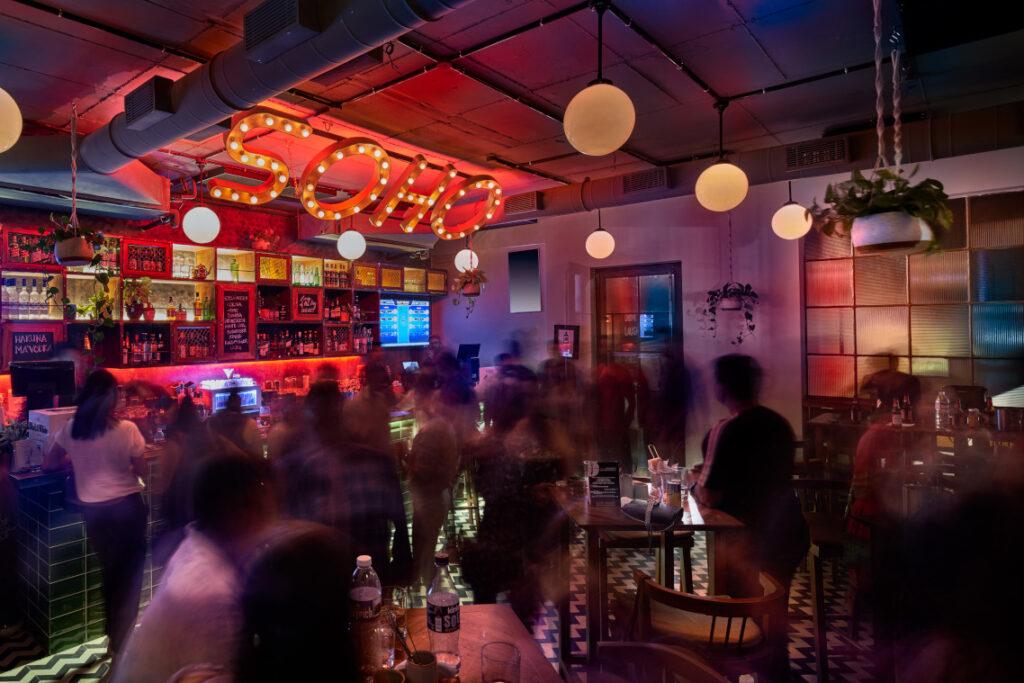 If you're looking for something beyond the typical beach scene in Goa, Soro is the place to be. It offers a unique twist on the traditional pub experience by blending retro vibes with the cozy atmosphere of a classic Goan bar. The establishment is located in the renovated remains of an old corner store and boasts an industrial chic look. Interestingly, the name "Soro" comes from the Konkani language, which refers to an alcoholic beverage.
Location: Assagao village
Open: All year round
Music: Varied
---
Cape Town Cafe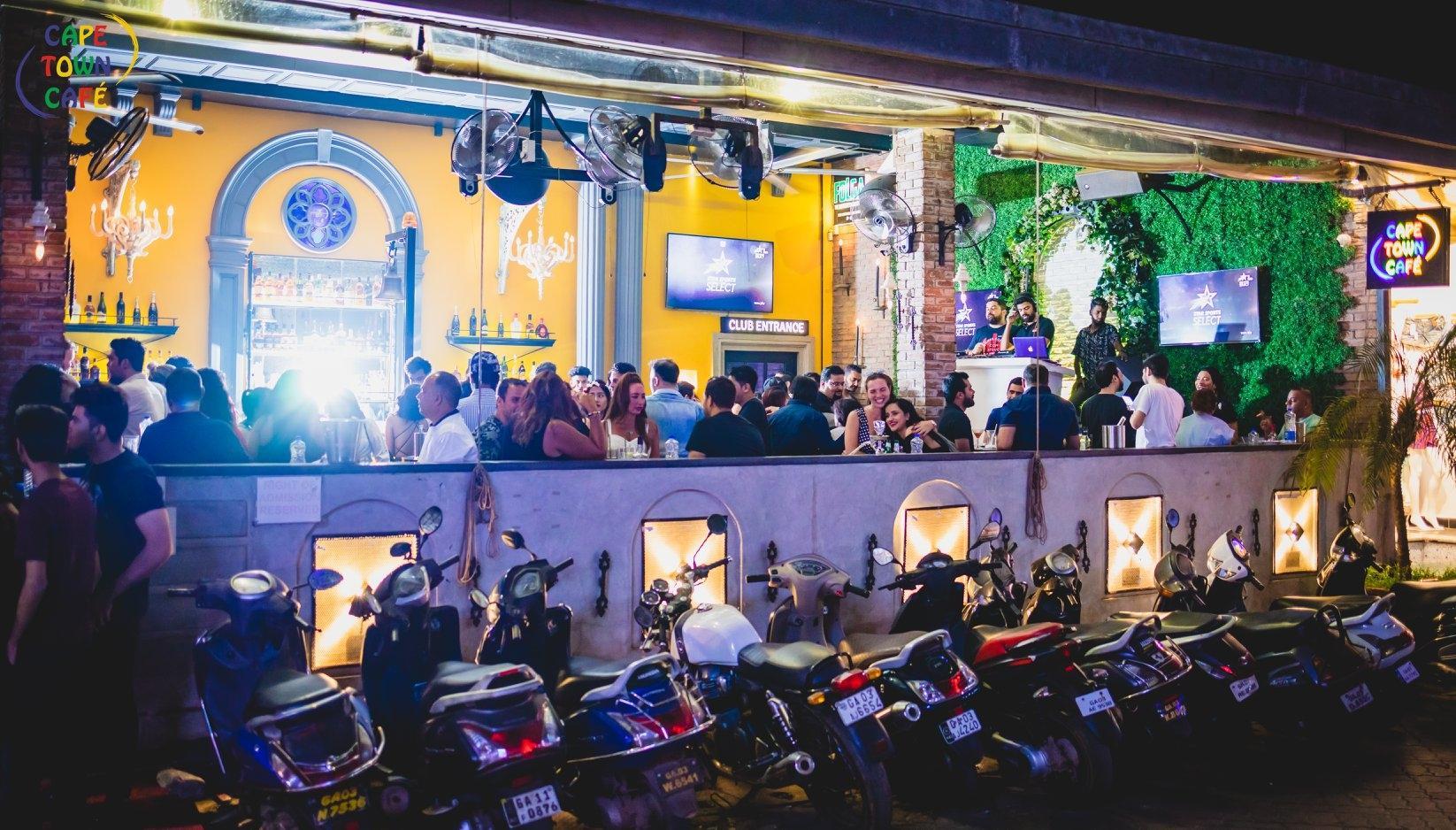 One of the top choices for partying on Tito's Lane is Cape Town Cafe, which shares the same owners as Club Tito and Cocktails & Dreams. This trendy spot is popular among a mostly Indian crowd and is known for its great food and lively atmosphere. Happy hour specials are available until midnight, and football enthusiasts will appreciate the large LCD screens for catching the latest matches. It's important to note that an entrance fee is required on weekends and unaccompanied men are not permitted.
Location: Baga
Open: All year round.
Music: Commercial
---
Cavala Seaside Resort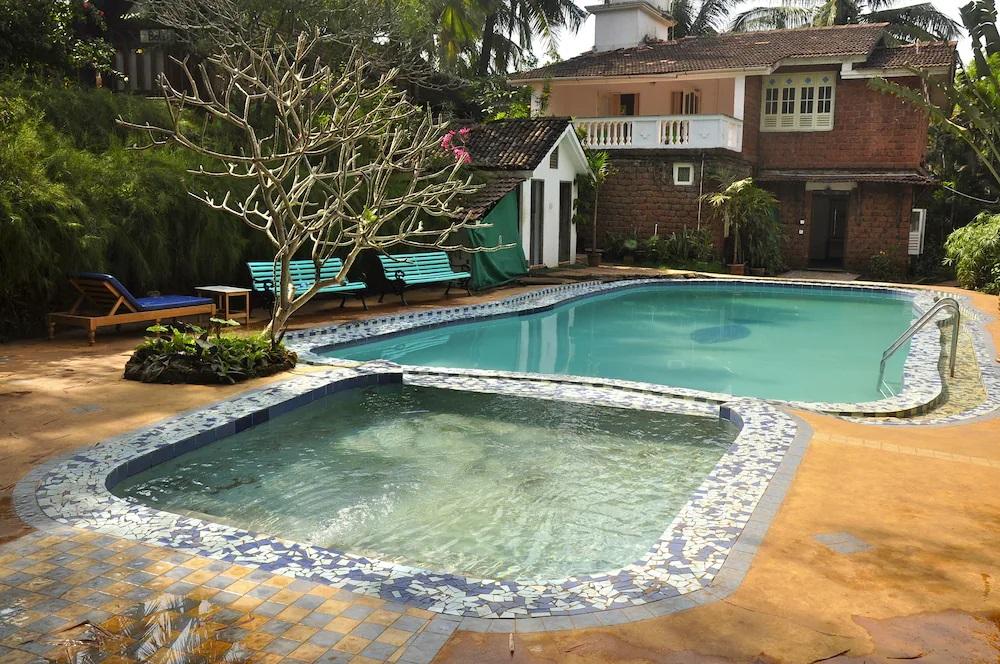 Cavala is a popular destination known for its vibrant live music and mature clientele. This welcoming and down-to-earth resort is a well-known institution in the Baga area, having been established there for over four decades since 1979. The resort is housed in a charming heritage building with sprawling gardens and an inviting bar area in the courtyard. Visitors can expect to be entertained almost every evening with live performances, with Friday being the highlight of the week. Don't miss out on the delectable Goan seafood while you're there!
Location: Baga
Open: All year round
Music: Jazz, blues, retro, rock and roll
---
Cohiba Bar and Kitchen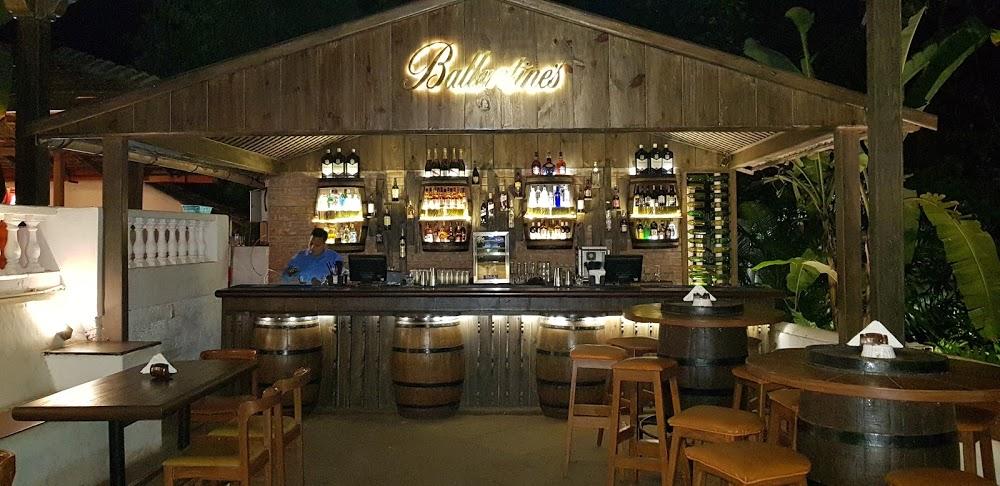 Classy Cohiba is a premier destination for live music lovers, offering an unforgettable experience that lasts well into the wee hours of the morning. The music ramps up a notch around 1 a.m., keeping the party going all night long. With its vibrant Cuban ambiance, fusion cuisine, and signature cocktails, Cohiba is like a one-way ticket to Havana.
On Sundays, you can indulge your inner rockstar with some karaoke, and if you hit the stage, you'll be rewarded with a complimentary mojito. So whether you're looking to dance the night away or belt out your favorite tunes, Classy Cohiba is the place to be.
Location: Candolim
Open: All year round
Music: Everything from retro to reggae on different nights
---
Club LPK - Love Passion Karma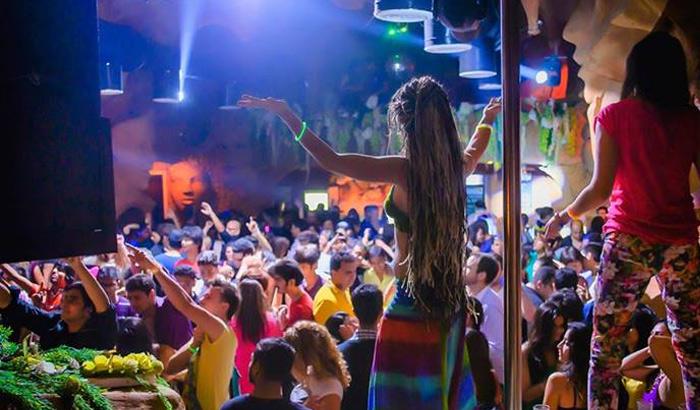 LPK Waterfront is a one-of-a-kind wedding destination that boasts of being the first super club in India - Club LPK (Love, Passion, Karma). The venue's unique location, nestled on the banks of the Nerul River and surrounded by two lakes, coupled with its exceptional architecture, makes it a sight to behold. Constructed primarily of mud and stone, the venue features a massive dance floor and is adorned with terracotta statues, with a 400-year-old Portuguese church providing a picturesque backdrop. The club has a strict entry policy, ensuring that only decent and classy individuals are allowed inside, and the majority of the crowd is made up of Indians. Single men are not actively encouraged to attend. The real party atmosphere doesn't kick in until after midnight, making for an unforgettable experience.
Location: Inland from Candolim
Open: All year round
Music: House, Bollywood, and commercial
---
SinQ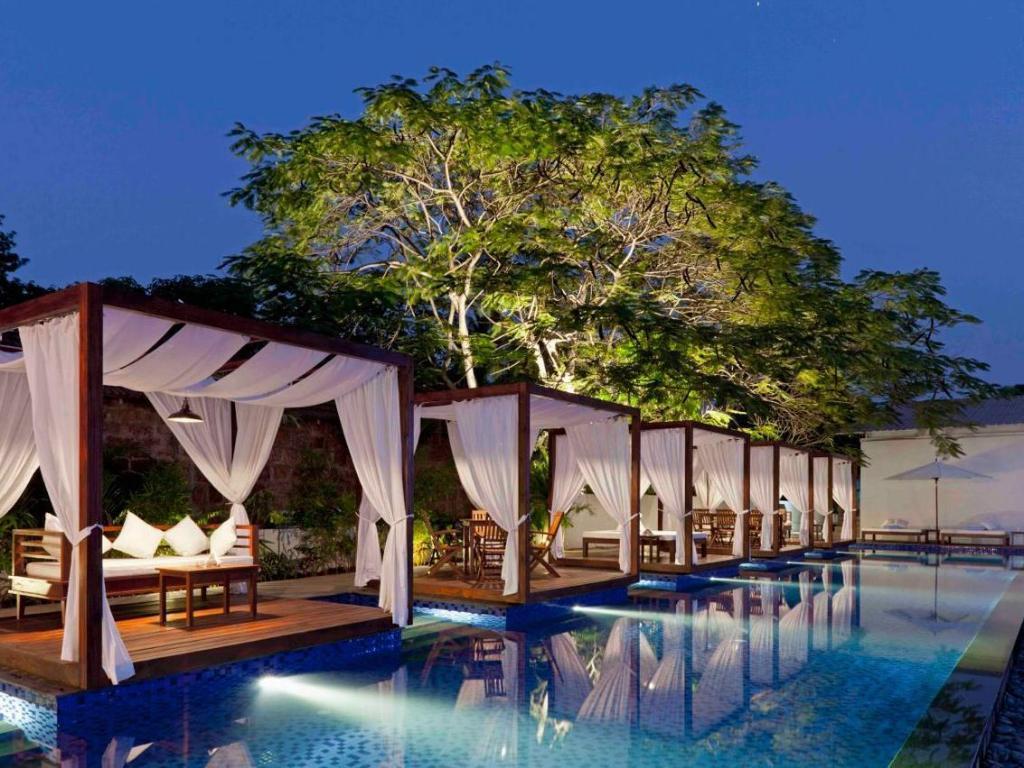 SinQ is an all-in-one party destination that includes a resort with 20 suites and a beach club with extensive indoor and outdoor spaces for partying both day and night. The resort can accommodate up to 4,000 guests and offers top-notch facilities such as a modern nightclub, a swimming pool area with comfortable lounges and a bar, and a cozy tavern. One unique feature of the resort is that the suites are equipped with sound systems that provide live feeds from the DJ consoles. It is worth mentioning that SinQ is a club that primarily caters to the Indian crowd.
Location: Candolim
Open: All year round
Music: Mostly commercial, including some Bollywood club nights
---
Soho - The Capital Bar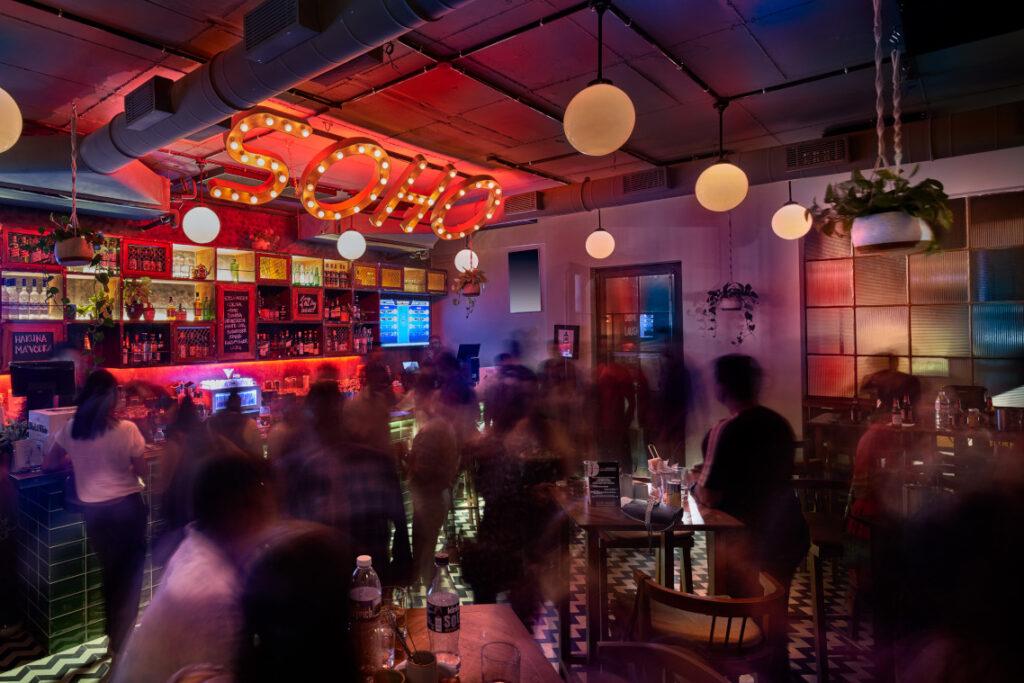 In 2018, the party scene in Panjim, the capital of Goa, got even better with the introduction of Soho. This stylish and energetic venue is located in a 19th-century building that was previously a lodge and is part of an urban renewal project. Soho is situated above a music store and has two levels. The first level offers a semi-casual dining experience with a hint of old-world charm, while the second level boasts a modern bar with a dance floor. Soho is particularly popular on Wednesdays, Fridays, and Saturdays, and tends to get quite crowded on those nights.
Location: Fontainhas Latin Quarter, Panjim
Open: All year round
Music: Mostly commercial
---
For The Record Vinyl Bar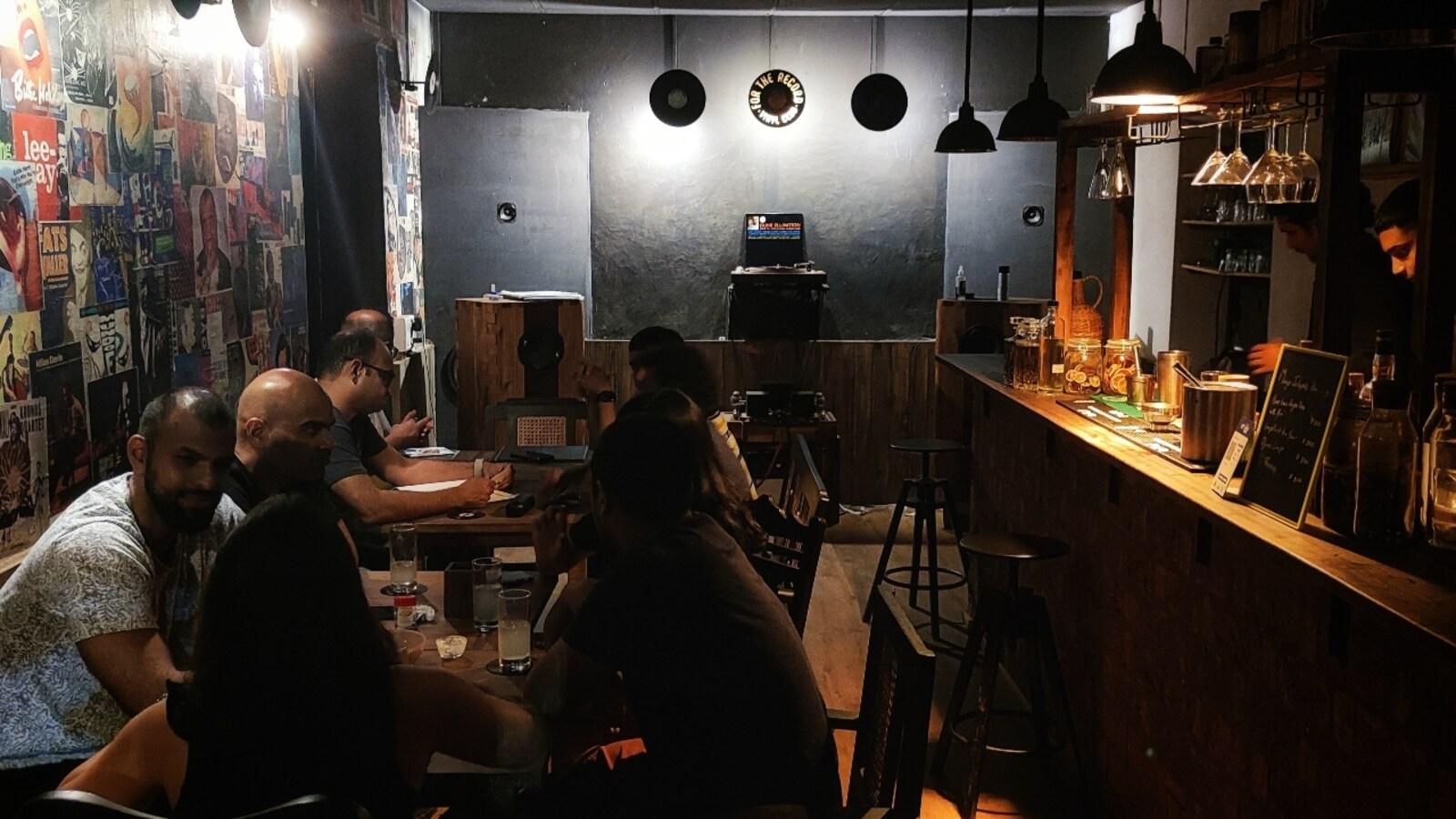 Introducing "For the Record", India's premier vinyl bar that offers a unique experience of reliving the past by playing audio in the classic analog format through a bespoke high-end vacuum tube sound system. The establishment, which is the brainchild of sound expert, Gypsy Jazz artist, and architect Buland Shukla, has recently opened in Goa and is modeled after the vinyl bars of Tokyo. The cozy ambiance of the bar provides an intimate setting where guests can enjoy their music with Indian craft spirits and beers, carefully selected to provide the best taste of the country. If you're feeling adventurous, you can also indulge in the bar's specialty, Feni cocktails.
Location: Fontainhas Latin Quarter, Panjim
Open: All year round
Music: Retro classics
---
Re: FRESH Club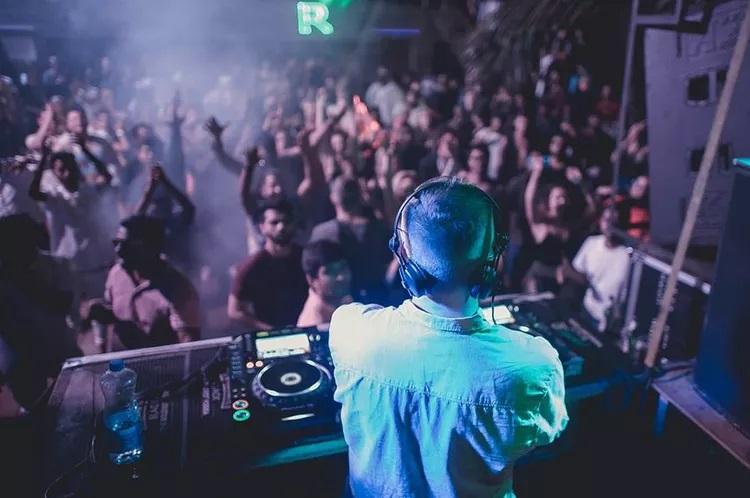 In 2017, the popular nightclub "Fresh" underwent a transformation and emerged as "Re: FRESH Club," a revamped and revitalized version of its former self. Known for its wild parties featuring top-tier international DJs and cutting-edge underground music, Re: FRESH Club has built a reputation for attracting a lively and enthusiastic crowd. And to top it all off, the club's location on the breezy beachside only adds to its allure.
Location: Morjim Beach
Open: November to March
Music: Electronic/techno
---
Leopard Valley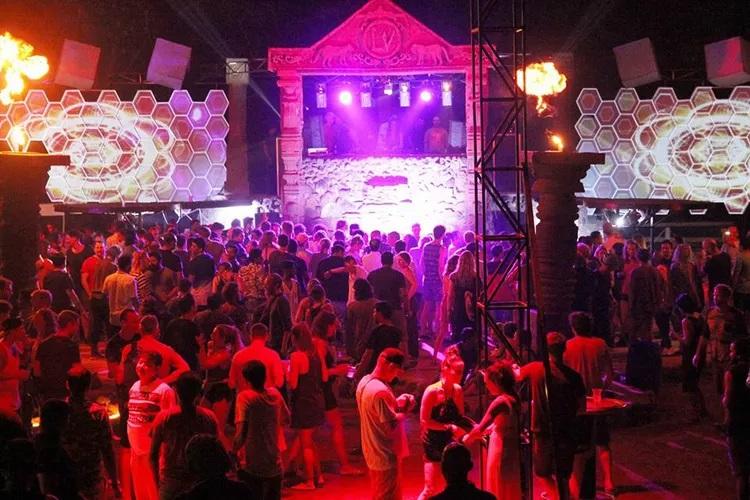 Currently, Leopard Valley has not yet reopened for the 2022-23 season. If you're looking to enjoy a vibrant party scene in South Goa, Leopard Valley is the perfect destination for you. Nestled in a jungle quarry between Palolem and Agonda beaches, this massive outdoor venue can accommodate up to 3,000 people. With its futuristic ambiance featuring mesmerizing lasers, spectacular pyrotechnics, and dancers dressed in elaborate costumes, Leopard Valley is a unique party experience. As the only major club in South Goa, the Friday night events are legendary, and the festivities continue until the wee hours of the morning, with the music and energy keeping you going until 4 a.m.
Location: Palolem-Agonda Road
Open: October to April
Music: Psychedelic trance
---
Ash Arambol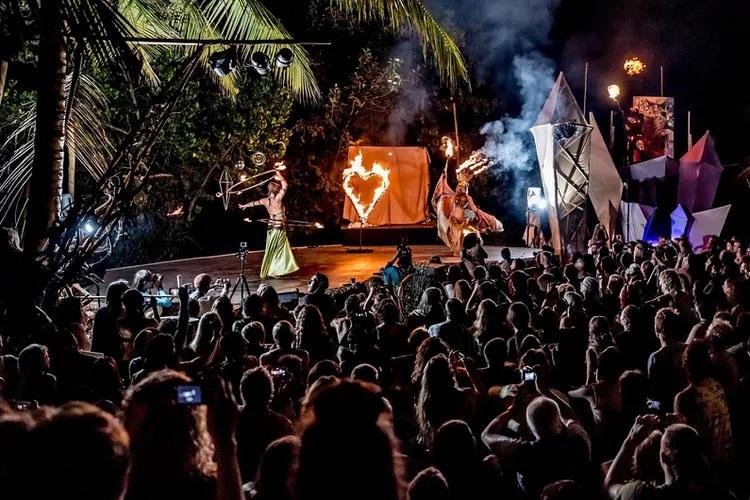 The epicenter of excitement at Arambol Beach is undeniably Ash, a renowned hub for art and collaboration. This vibrant venue is known for its open-air atmosphere, where visitors can enjoy live music shows, DJs, and a variety of other entertainment, all while basking under the glittering starry sky.
Location: At the far south end of Arambol Beach, near Cabo Wado Beach Hotel
Open: November to March
Music: Varies
---
Sundowner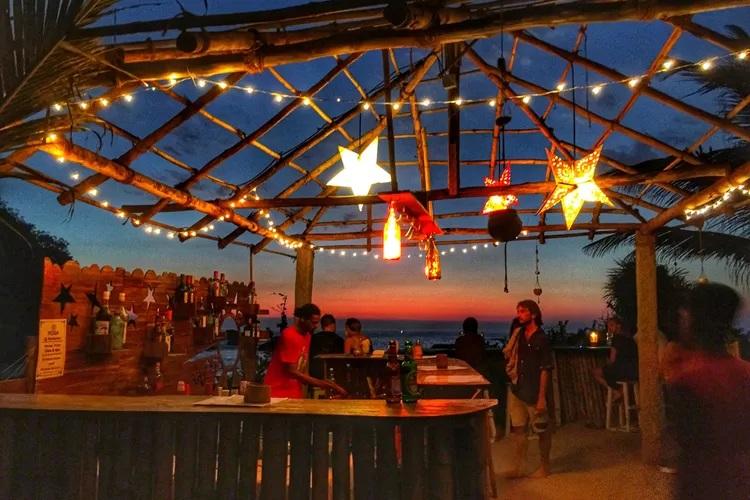 Sundowner, a bar located in South Goa, is highly regarded as one of the best in the region. True to its name, it is the perfect spot to enjoy a cocktail or two while watching the sun set. This charming bar is nestled in a beautiful and tranquil location and exudes a bohemian atmosphere. Sundowner's restaurant offers an array of delectable global dishes, with a focus on vegetarian options, including their renowned wood-fired pizzas. Additionally, they host monthly full moon parties which are not to be missed. Be sure to visit their Facebook page for more information on upcoming events.
Location: Across the estuary at the far northern end of Palolem Beach.
Open: November to April.
Music: The "freshest beats straight from Ibiza".
Don't forget to read : 14 Famous Forts and Palaces in India You Should Visit