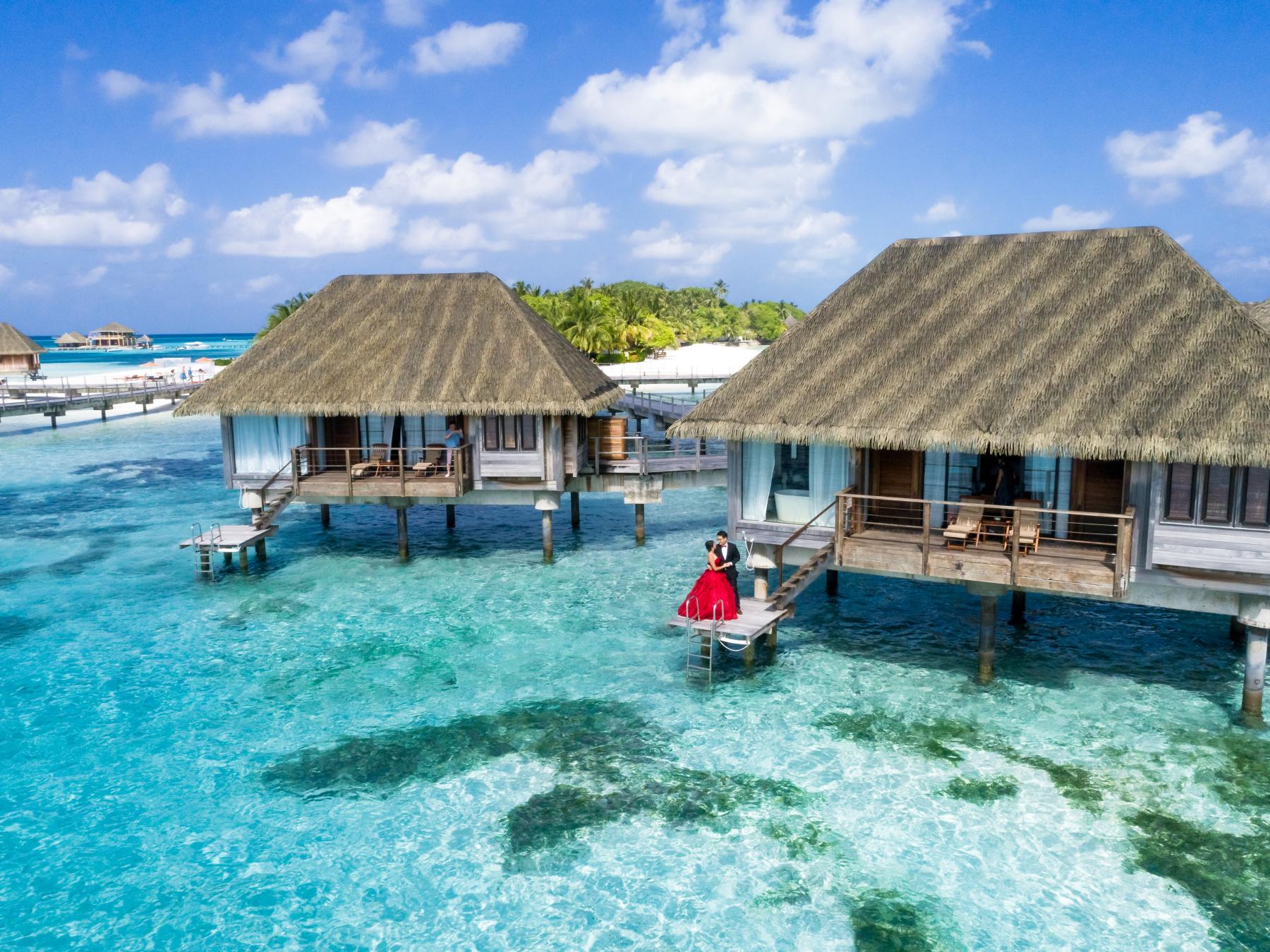 Step into the breathtaking tropical haven known as the Maldives! Prepare to be captivated by its pristine sandy beaches, shimmering turquoise waters, and lavish resorts. This destination is a dream come true for everyone. Nestled in the Indian Ocean, the Maldives is an enchanting collection of over 1,000 islands that beckons those in search of sun, relaxation, and the allure of the sea. Whether you're exploring the vibrant marine life through snorkeling or indulging in luxurious spa treatments overlooking the ocean, the Maldives offers an experience suited to all.
One of the Maldives' main draws is its rich marine ecosystem, boasting an astonishing array of over 1,000 fish species and other captivating marine creatures. Additionally, it has become a favorite spot for couples and honeymooners, as numerous resorts offer romantic packages and private villas for those yearning for an intimate escape. Many resorts even cater to wedding ceremonies and vow renewals, making the Maldives a sought-after destination for those seeking to tie the knot or commemorate special moments.
So, whether you're seeking a romantic retreat or an exhilarating adventure, this tropical paradise is tailor-made for an idyllic beach vacation. Pack your bags, leave your cares behind, and brace yourself for the vacation of a lifetime in the Maldives. With its breathtaking beauty and warm hospitality, it's no wonder the Maldives consistently ranks among the world's top travel destinations.
Here's the list of top 15 must-visit islands in the Maldives that will give you an idea on planning a Maldives trip on your own
Mudhdhoo Beach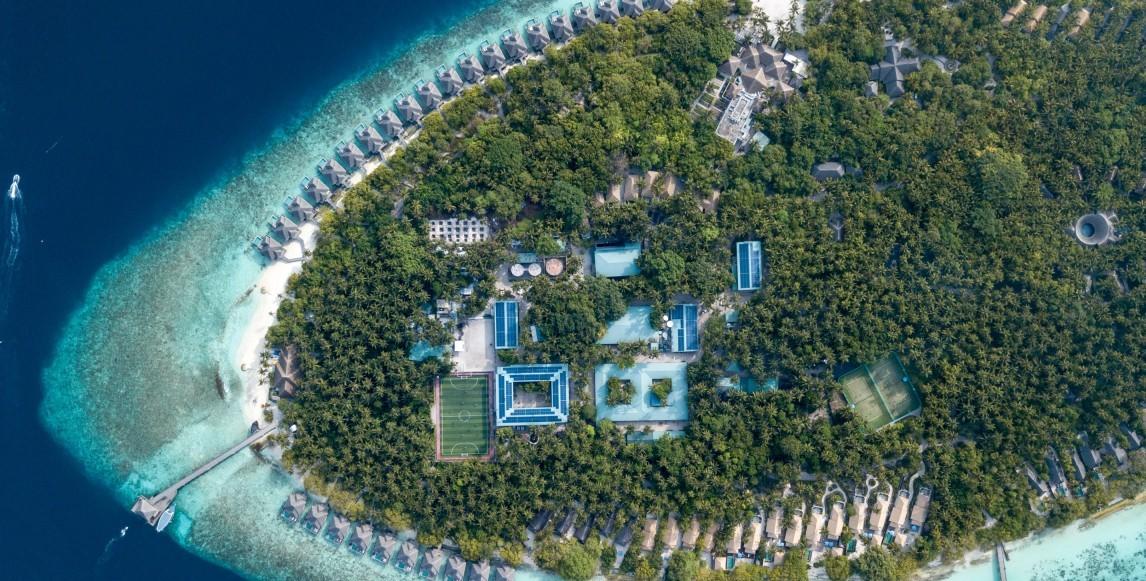 Mudhdhoo Beach, situated on the island of Mudhdhoo in the Maldives, is an awe-inspiring natural marvel. Renowned for its transparent azure waters and unspoiled, pure white sand, this well-liked beach in the Maldives presents a picturesque tropical haven. The turquoise lagoon provides an ideal setting for swimming, snorkeling, and diving, offering an abundance of vibrant marine life and coral reefs to discover. Enveloped by luxuriant greenery, the beach is adorned with natural beauty, attracting nature enthusiasts. Visitors can also partake in a range of activities like kayaking, windsurfing, and jet skiing. With its tranquil ambiance and breathtaking vistas, Mudhdhoo Beach is an essential destination for anyone embarking on a journey to the Maldives.
Key Points to Note about Mudhdhoo Beach
1. Hanifaru Bay, located nearby, is a renowned destination for snorkeling and diving enthusiasts, particularly during the period between June and November when manta rays and whale sharks grace the waters.
2. When evening descends, Mudhdhoo Beach becomes a mesmerizing spectacle as the bioluminescent plankton causes the water to radiate with an enchanting glow.
3. Mudhdhoo Beach can be found within the Baa Atoll, an area designated as a UNESCO Biosphere Reserve. This special recognition ensures that the region is safeguarded, striking a harmonious balance between preservation and responsible utilization.
---
Bikini Beach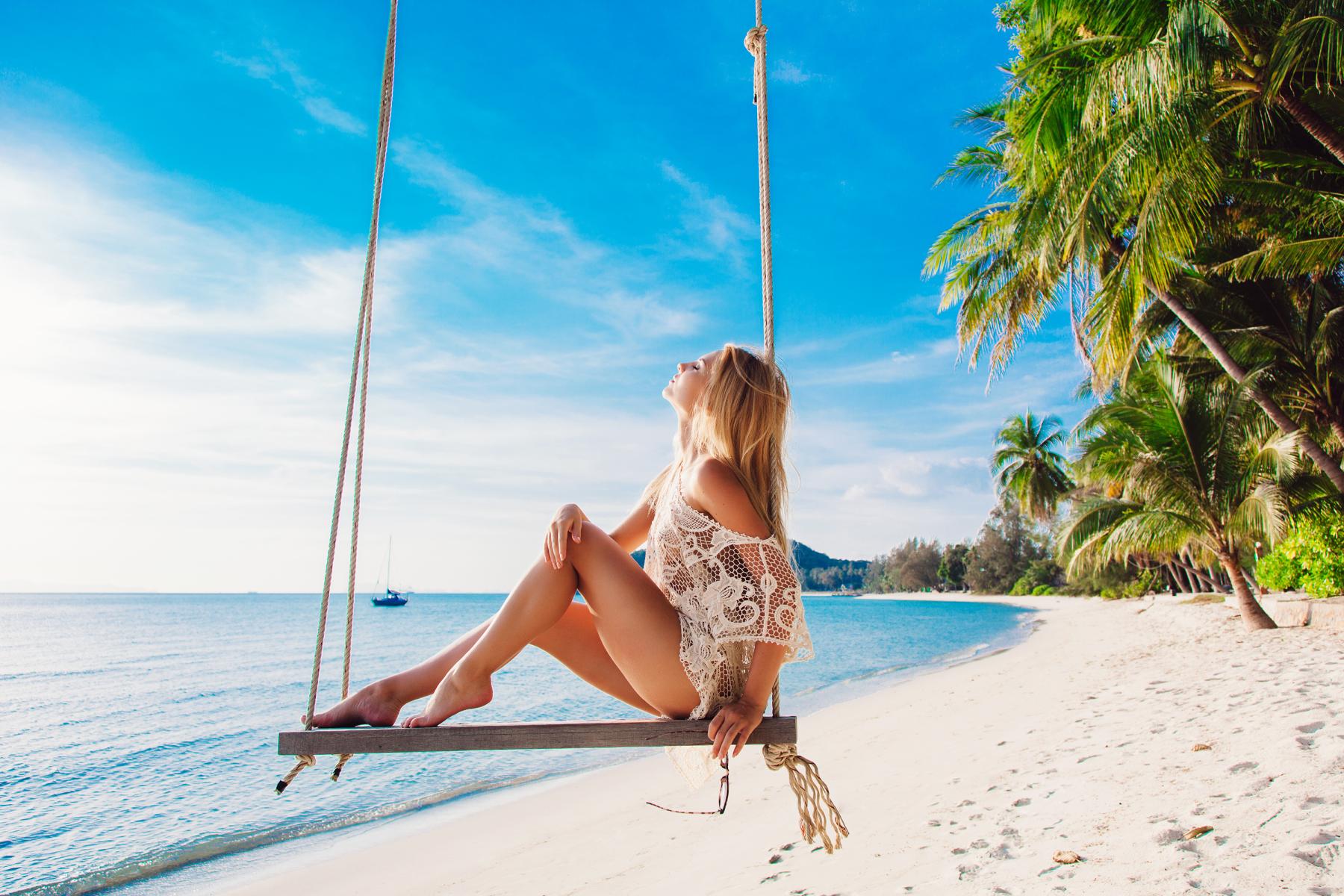 Bikini Beach, situated on Rasdhoo Island in the North Ari Atoll of the Maldives, is a highly sought-after tourist spot. It boasts a mesmerizing expanse of pure white sand and incredibly clear waters. This captivating beach earned its name due to the unique privilege it offers to visitors—here, one can freely wear bikinis without contravening local customs. The beach holds immense appeal for both locals and tourists alike, and its allure is readily apparent. The water is pleasantly warm and inviting, while the surroundings are adorned with lush greenery and palm trees, providing ample shade for those seeking respite from the sun's rays. Visitors can indulge in various activities such as swimming, sunbathing, and snorkeling in the pristine waters. Additionally, there are several conveniently located shops and restaurants in the vicinity, allowing one to enjoy a delectable meal or procure souvenirs with ease.
Key Points to Note about Bikini Beach
1. Bikini Beach is specifically set aside for visitors who want to enjoy wearing bikinis or swimwear, as the name implies.
2. Bikini Beach offers an ideal location for indulging in activities like swimming, sunbathing, and snorkeling. Additionally, visitors can partake in various water sports, including jet skiing and rides on banana boats.
3. During the peak season, which spans from December to March, Bikini Beach tends to attract large crowds of people.
---
Hulhumale Beach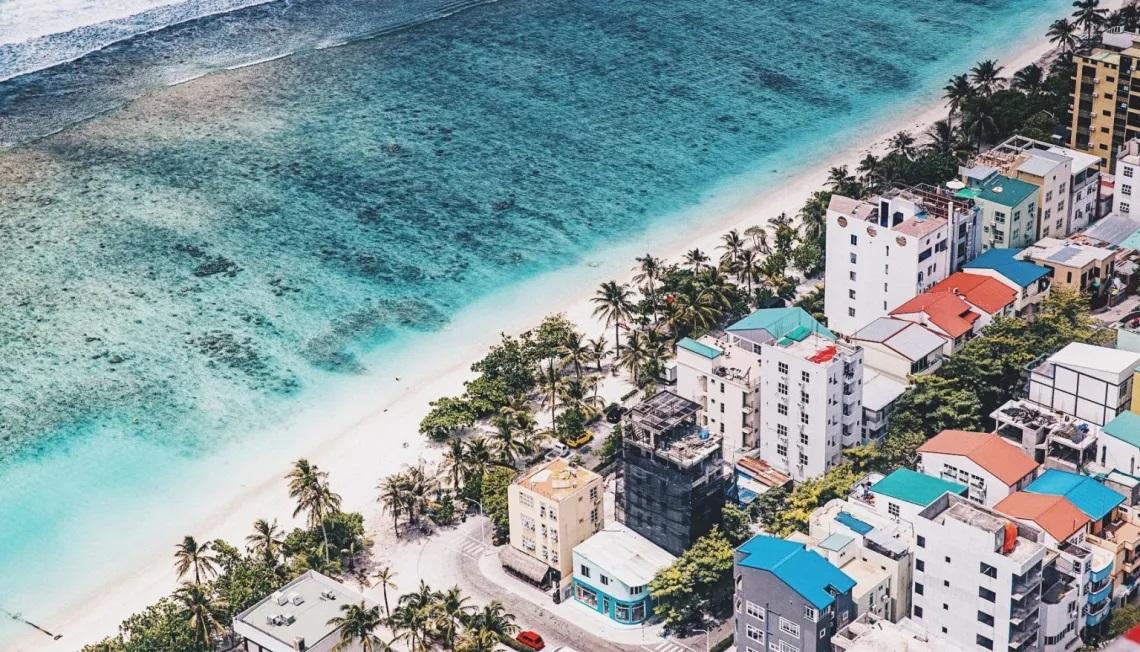 Hulhumale Beach, situated on the island of Hulhumale within the Maldives, is an exquisite man-made beach that should not be missed. This stunning coastal area captivates visitors with its artificial beauty and is cherished by both tourists and locals. With its glistening waters and immaculate white sands, this beach provides an idyllic setting for swimming, sunbathing, and snorkeling. Venture a short distance from the shoreline, and you'll encounter a diverse array of marine life. Moreover, Hulhumale Beach is renowned for its enchanting sunsets, making it an ideal location for a romantic evening walk or a peaceful conclusion to a day of exploration. In essence, this beach offers an unrivaled tropical paradise experience that appeals to all seeking such an escape.
Key Points to Note about Hulhumale Beach
1. Hulhumale Beach was built in the late 90s as part of the Hulhumale Island development project.
2. The beach is located just a 10-minute drive from Male International Airport, making it a convenient destination for travellers.
3. Hulhumale Beach is known for its consistent waves, making it a popular spot for surfing and other water sports.
4. The beach has a calm and shallow lagoon, which makes it an ideal spot for families with young children.
---
Cocoa Island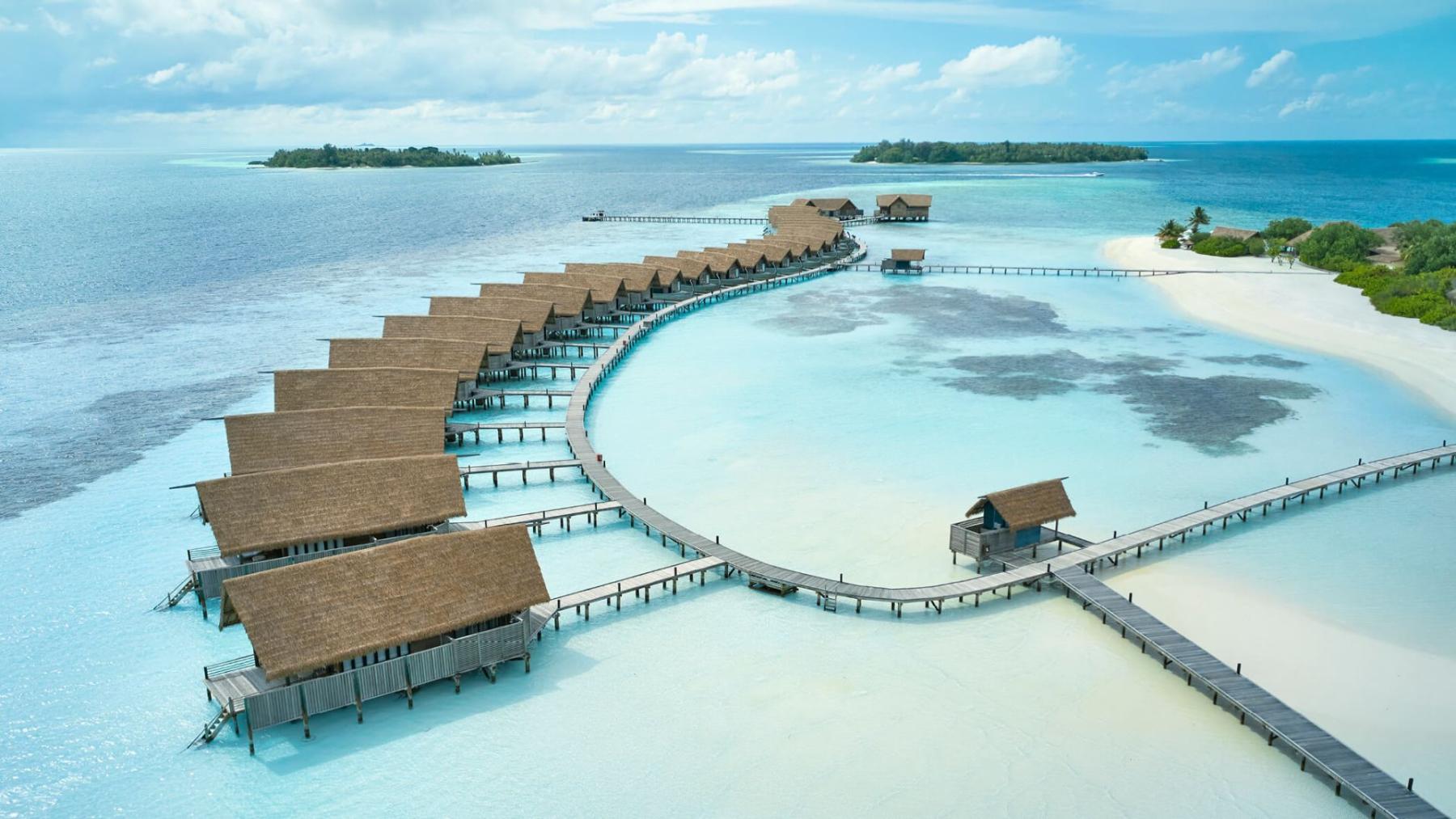 Cocoa Island is a small, exclusive island retreat positioned in the Maldives, an island nation located in the Indian Ocean in South Asia. This island can be found in the southern region of the Kaafu Atoll, around 30 kilometers (18.6 miles) away from the capital city of Male. Regarded as the finest island to visit in the Maldives, Cocoa Island is managed by the COMO Hotels and Resorts group, renowned for operating numerous high-end hotels and resorts worldwide. The island is particularly acclaimed for its opulent villas built above the water, offering breathtaking vistas of the turquoise lagoon that surrounds it. Additionally, Cocoa Island features a spa, a yoga pavilion, and a restaurant that serves a delectable assortment of local and international cuisine.
Key Points to Note about Cocoa Island
1. It is situated in the South Male Atoll of the Maldives, around a 30-minute speedboat ride away from Male International Airport.
2. Cocoa Island, a part of the COMO Hotels and Resorts Group, presents 33 lavish villas, which consist of 17 overwater bungalows and 16 beachfront villas.
3.The resort offers a variety of aquatic activities such as snorkeling, scuba diving, windsurfing, kayaking, and fishing.
4. With a strong commitment to sustainable tourism, the resort has implemented numerous eco-friendly initiatives, including the use of solar power, minimizing plastic waste, and supporting local communities.
5. Cocoa Island has been honored with multiple awards in recognition of its opulent accommodations and exceptional service.
---
Island Beach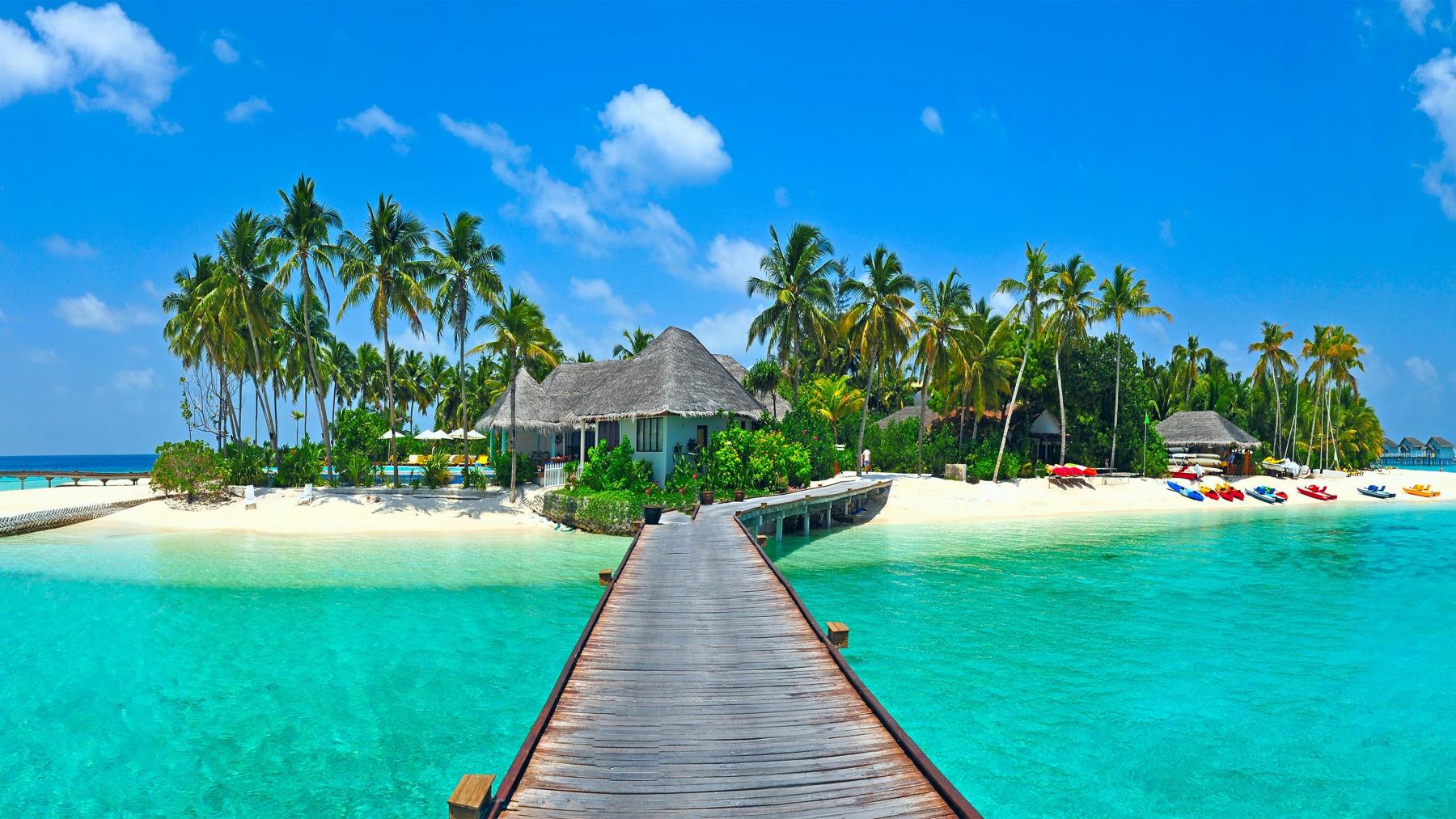 Veligandu Island Beach in the Maldives is a truly enchanting tropical haven that will leave you in awe of its breathtaking natural beauty and unspoiled environment. This small island, situated near the renowned Rasdhoo Island, is home to a resort and spa that provides top-notch amenities and exceptional hospitality. With its translucent turquoise waters, velvety white sandy shores, and flourishing vegetation, this picturesque island offers the perfect retreat from the chaotic pace of everyday life. You can also partake in various water activities such as snorkeling, swimming, and more on this island. The closest airport to the island is Velana International Airport, and you can conveniently reach the beach by hiring a local ferry.
Key Points to Note about Veligandu Island Beach and Its Resort
1. Veligandu Island Resort & Spa is located on a secluded island in the North Ari Atoll, surrounded by clear, pristine waters and beautiful sandy beaches.
2. The resort provides various accommodation choices, such as villas situated over the water, villas on the beach, and beach villas with private jacuzzis.
3. Guests at Veligandu Island Resort & Spa can enjoy a diverse selection of dining experiences. The main restaurant serves a variety of international dishes, and there are specialty restaurants dedicated to Italian, Asian, and seafood cuisine.
4. Additionally, the resort features multiple bars and lounges where visitors can unwind and savor their favorite beverages.
5. For those seeking adventure and recreation, Veligandu Island Resort & Spa offers an extensive range of activities, including snorkeling, diving, water sports, and excursions to nearby islands.
6. To enhance relaxation and well-being, the resort boasts a luxurious spa where guests can indulge in a wide array of treatments and massages.
---
Reethi Beach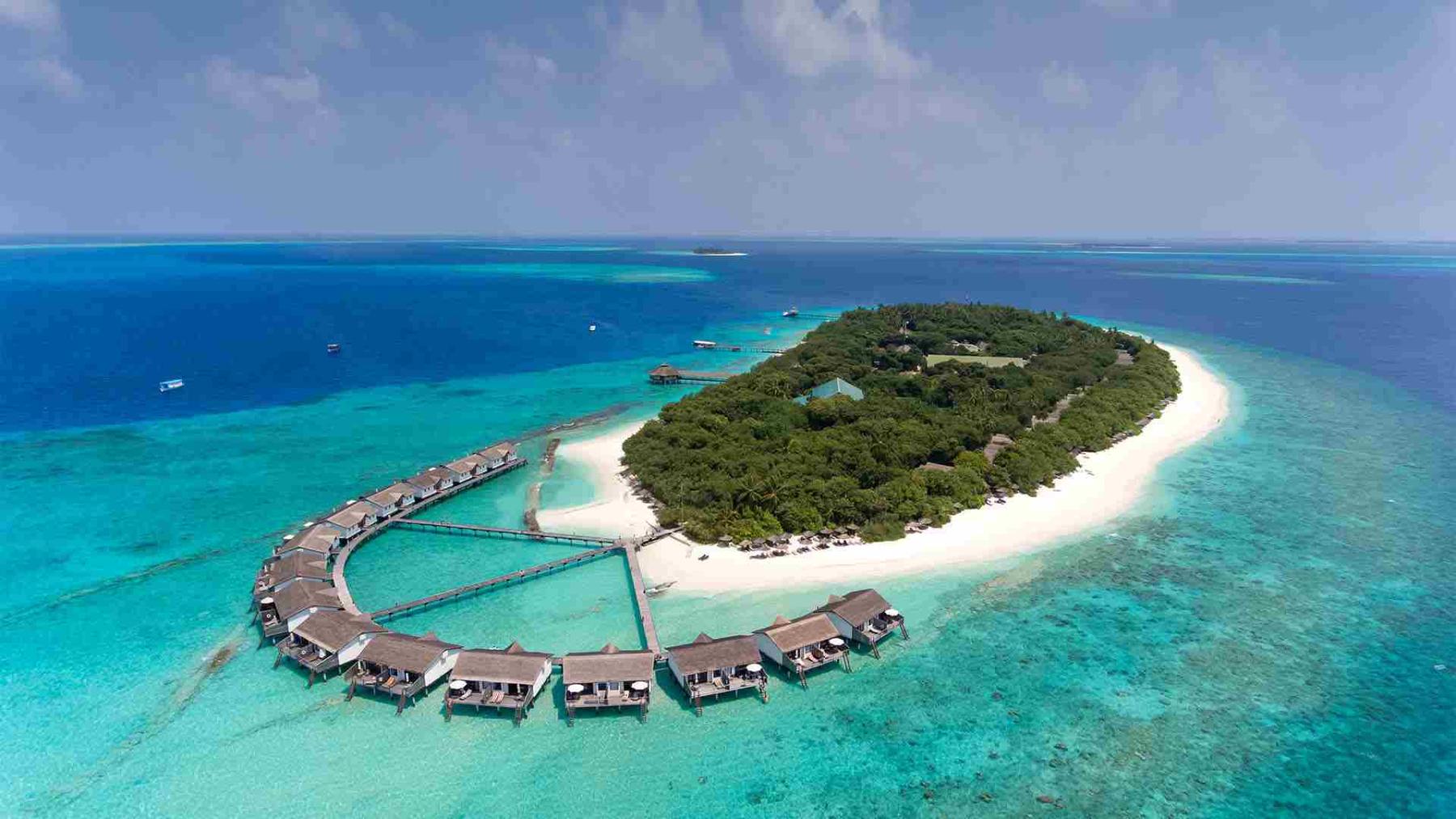 Reethi Beach, situated on Fonimagoodhoo Island in the northeast of Baa Atoll, is an exceptional beach destination in the Maldives. Accessible from Malé, the capital of the country, Baa Atoll is an administrative division. This beach is a splendid choice for those seeking a luxurious tropical getaway in the Maldives. Like other beaches in the Maldives, Reethi Beach is enveloped by pristine waters and vibrant coral reefs. A resort on the beach provides opulent accommodation options, ranging from beachfront villas to overwater bungalows, all boasting awe-inspiring views of the Indian Ocean. Guests can partake in various activities, such as snorkeling, scuba diving, windsurfing, and fishing, or simply unwind on the ivory sandy beaches and bask in the sunshine. The island also features lush tropical vegetation, fostering a serene and peaceful ambiance ideal for those desiring a tranquil retreat.
Key Points to Note about Reethi Beach Resort and The Island
1. In the resort, you can choose from three different kinds of villas: Regular Villas, Deluxe Villas, and Over Water Villas.
2. The cost for one night's stay in the accommodation begins at approximately INR 15,000, which may vary depending on the season.
3. The resort boasts a total of five on-site restaurants, which include a gourmet restaurant, a buffet-style restaurant, a specialty restaurant, and expansive bars.
4. These dining options are Rehendhi Restaurant, Reethi Grill, Alifaan Restaurant, and The Saima Garden Restaurant.
5. The beach area provides ample opportunities for engaging in various water sports activities, overseen by Sasha Waterworld.
6. You have the freedom to choose from a variety of options such as Dolphin Safaris, Catamaran Safaris, Diving, Snorkelling, and more.
---
Rasfannu Beach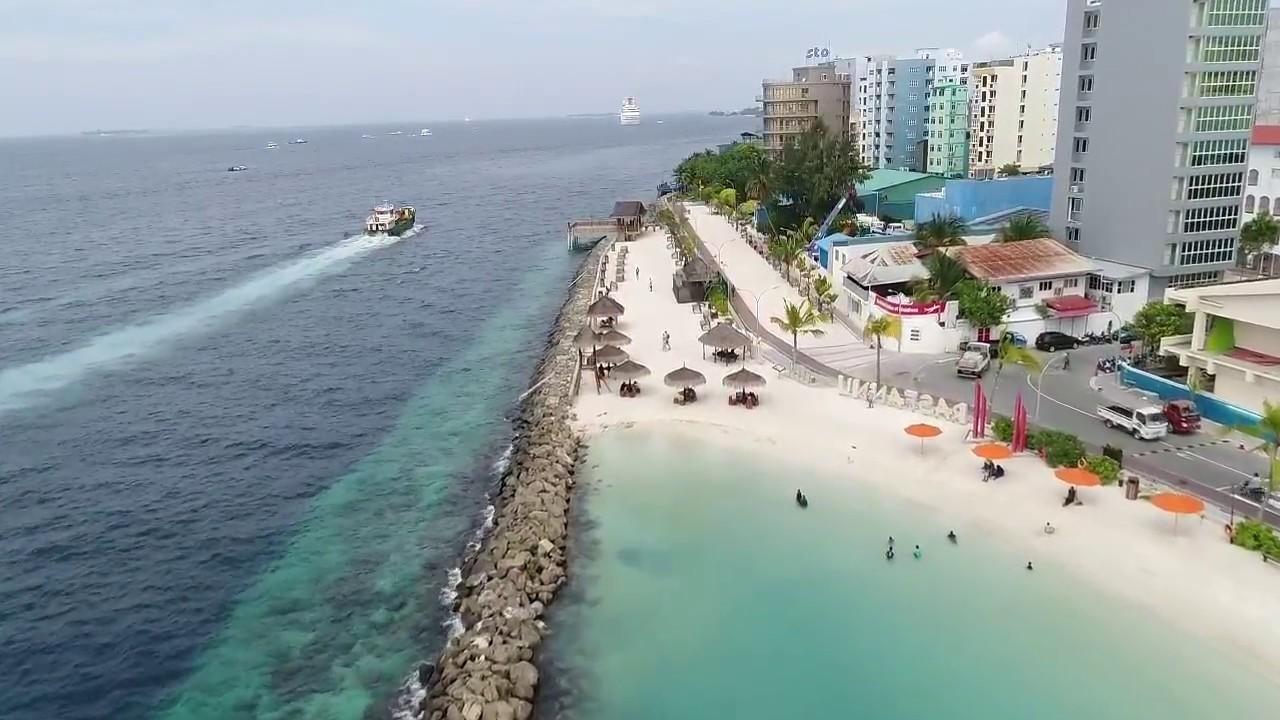 Rasfannu Beach, a captivating and unspoiled shoreline situated at the center of the Maldivian capital, Male, is a highly recommended destination for visitors. This beach boasts an extensive stretch of immaculate sand that provides awe-inspiring vistas of the Laccadive Sea. In addition to its popularity for surfing, swimming, and sunbathing, which draw both locals and tourists, Rasfannu Beach also offers a variety of food stalls and cafes where you can indulge in delectable local dishes and refreshing beverages.
Key Points to Note about Rasfannu Beach
1. There are several places to stay near Rasfannu Beach, such as Hotel Jen Male, Samann Grand, Maagiri Hotel, etc.
2. The beach is just three kilometres from Male International Airport and can be reached by road.
3. You can opt for various water sports activities here such as diving, swimming, snorkelling and others.
4. There are several tourist attractions near the beach where you can visit while staying in Rasfannu Beach and they are National Museum, Laguna Beach, Maldives Fish Market, Sultan Park and Full Moon Beach.
5. Rasfannu Beach is home to many bars and cafes, making it a popular spot for nightlife in Male.
---
Taj Exotica Beach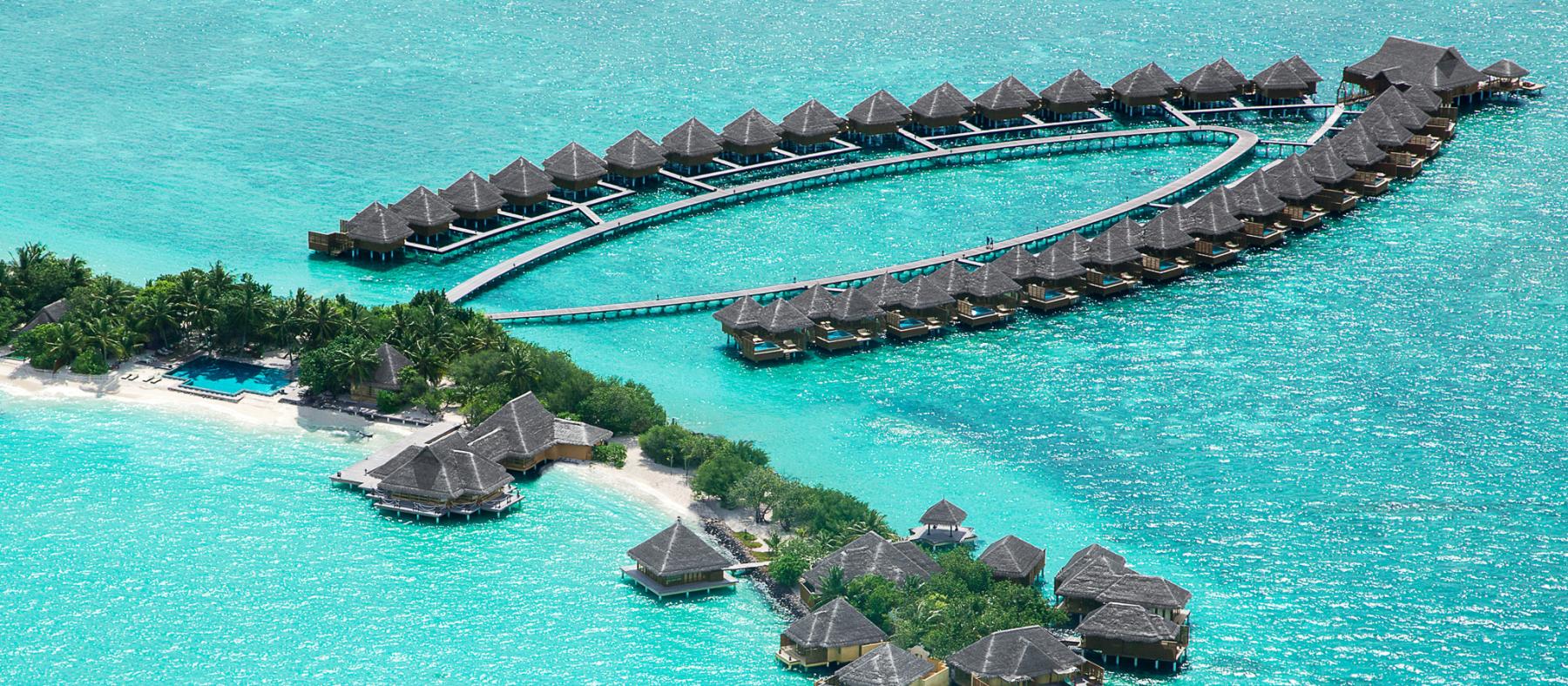 Taj Exotica Beach, a top-notch island in the Maldives ideal for couples, presents an opulent resort situated in South Male Atoll, conveniently close to the Maldives' international airport. This remarkable property showcases lavish villas and suites, each affording awe-inspiring vistas of the crystal-clear ocean and pristine sandy shores. Within a mere 15-minute speedboat ride, guests can effortlessly arrive at this idyllic location, immersing themselves in the ultimate Maldives beach experience. A plethora of activities awaits, ranging from snorkeling and scuba diving to yoga and meditation, allowing visitors to tailor their perfect vacation. Alternatively, one can simply unwind by the magnificent infinity pool and bask in the serene surroundings. Moreover, the resort houses a world-class spa, offering a variety of treatments to ensure relaxation and rejuvenation. With its unparalleled natural splendor and luxurious amenities, Taj Exotica Beach emerges as the ideal destination for a romantic escapade or a tranquil sanctuary in paradise.
Key Points to Note about Taj Exotica Beach
1. There is no reef around the island so experiencing snorkelling here is a downside unlike other beaches.
2. The other nearest places to visit from Taj Exotica Beach are Ocean Junkies Diving Centre, Veli Spa, OK Maldives, and Secret Paradise.
---
Artificial Beach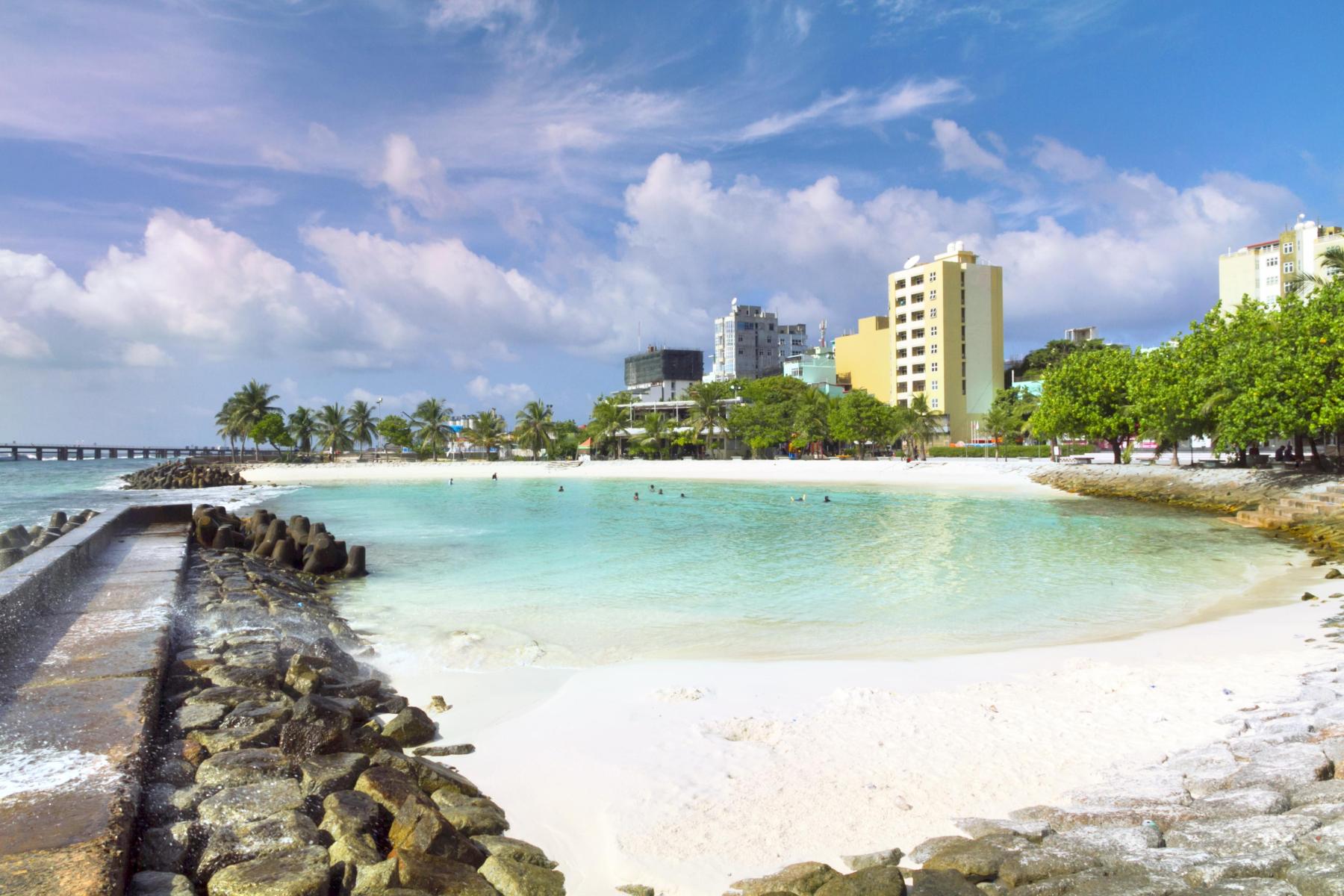 The Artificial Beach in the Maldives is a carefully constructed sandy area located in Male, the capital of the country. Its purpose is to replicate the enchanting landscapes found on the natural islands nearby. This man-made beach boasts imported sand, flourishing palm trees, and various types of vegetation. Visitors, both tourists and locals, can enjoy a range of amenities such as beach bars, comfortable loungers, and shaded umbrellas. It is particularly popular among families looking for an ideal destination in the Maldives. The Artificial Beach offers a diverse selection of accommodations and dining options to cater to different preferences. Furthermore, accessing the beach is convenient as it is a mere 400 meters away from the Hulhumale Ferry Terminal, where direct transportation to Velana International Airport is readily available.
Key Points to Note about Artificial Beach
1. There is a dress code to visit the beach. No swimwear is allowed and women need to cover up while visiting the beach.
2. Several carnivals and live concerts are held at the beach for public entertainment.
---
Fulhadhoo Beach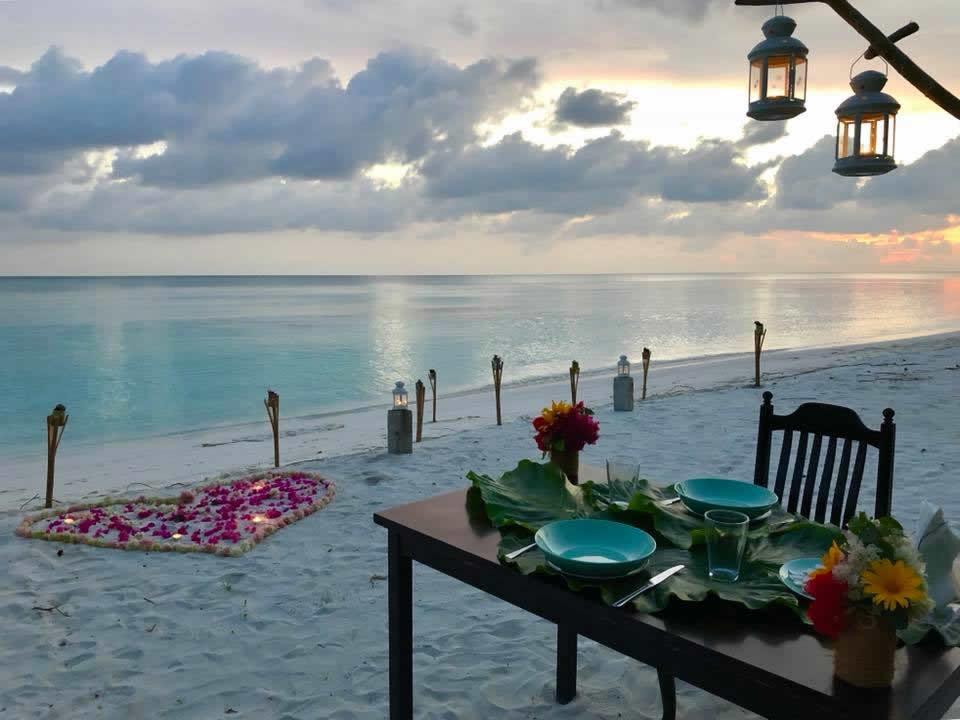 Fulhadhoo Beach, situated in the Maldives, stands out as an exceptional choice for honeymooners. It serves as a heavenly retreat for those who adore nature, have a passion for beaches, and long for a serene and tranquil vacation. Unlike other opulent beaches in the Maldives, Fulhadhoo Beach doesn't boast lavish facilities or provide opportunities to immerse oneself in the local way of life. Instead, it presents an opportunity for undisturbed beach holidays in the Maldives. The beach extends across a considerable distance, featuring pristine white sand that is secluded from crowds, ensuring that your vacation remains uninterrupted and peaceful.
Key Points to Note about Fulhadhoo Beach
1. Fulhadhoo Island is known for its commitment to sustainable tourism.
2. The waters around Fulhadhoo Beach are home to a diverse range of marine life, including turtles, sharks, and colourful fish.
3. Fulhadhoo Island is home to a small local community that has a rich culture and history.
4. It's a paradise for nature lovers and photographers alike.
---
Thoondu Beach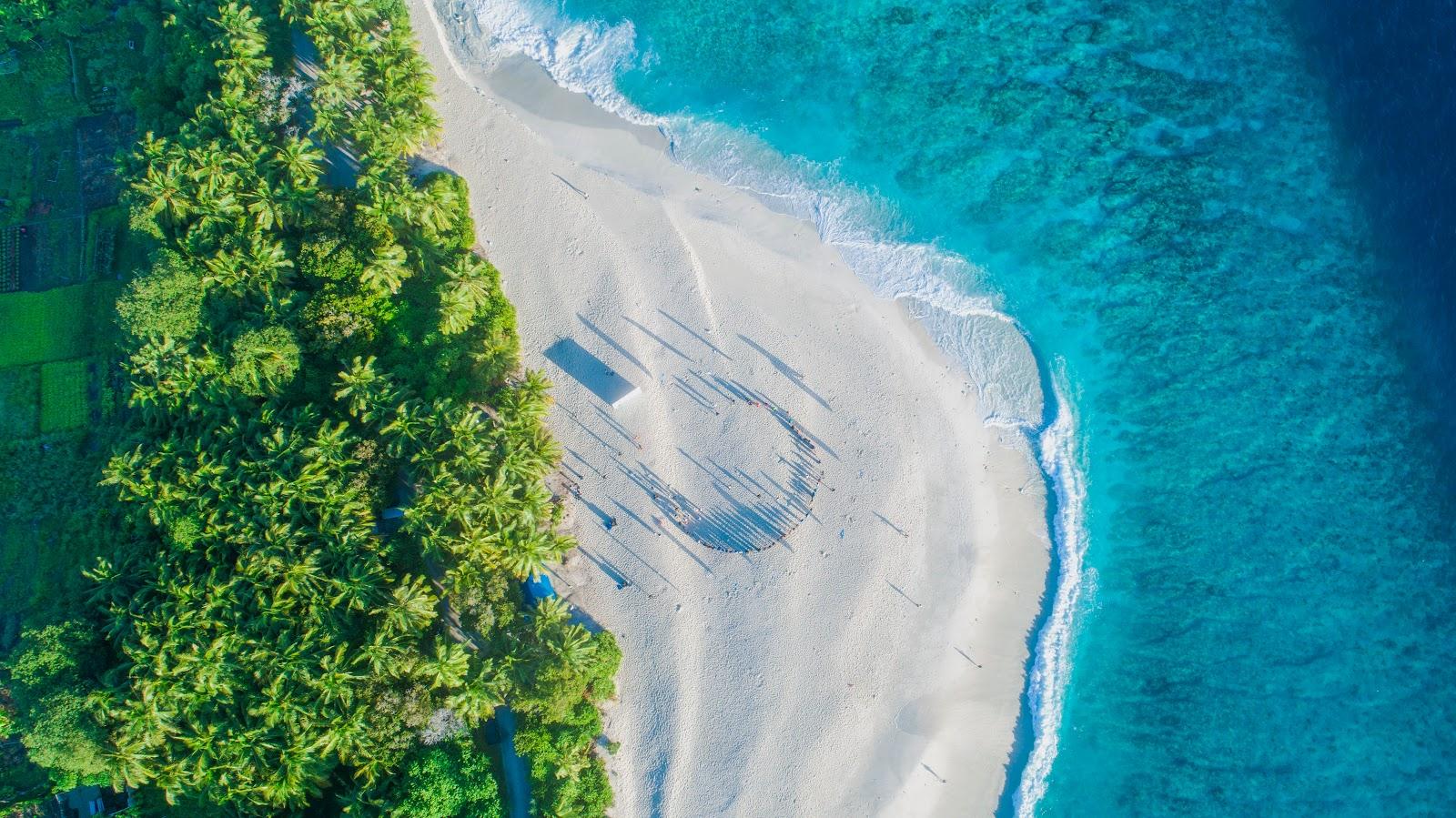 Thoondu Beach in the Maldives is a sought-after beach getaway, offering a tranquil and pristine environment far from the busy city life. It is a well-known tourist destination, admired for its immaculate shoreline and exceptionally fine, velvety white sand, ideal for leisurely sunbathing and unwinding. Additionally, the beach is renowned for its rich and varied marine life, featuring captivating creatures such as reef sharks, vibrant fish, and graceful turtles. This makes it an excellent choice for snorkeling, further enhancing its reputation as one of the finest islands in the Maldives. With its remarkably clear waters, vibrant coral reef, and abundant options for accommodations and dining, Thoondu Beach is an absolute must-see for travelers visiting the Maldives.
Key Points to Note about Thoondu Beach
1. Thoondu Beach offers its most favorable conditions for a visit during the period spanning from November to April when the climate is characterized by dryness and abundant sunshine.
2. This beach is under protection, necessitating visitors to adhere to stringent regulations aimed at preserving the environment.
3. Renowned for its breathtaking natural splendor, Thoondu Beach presents excellent opportunities for photography, ranking among the top activities to engage in while there.
---
Vabbinfaru Island Beach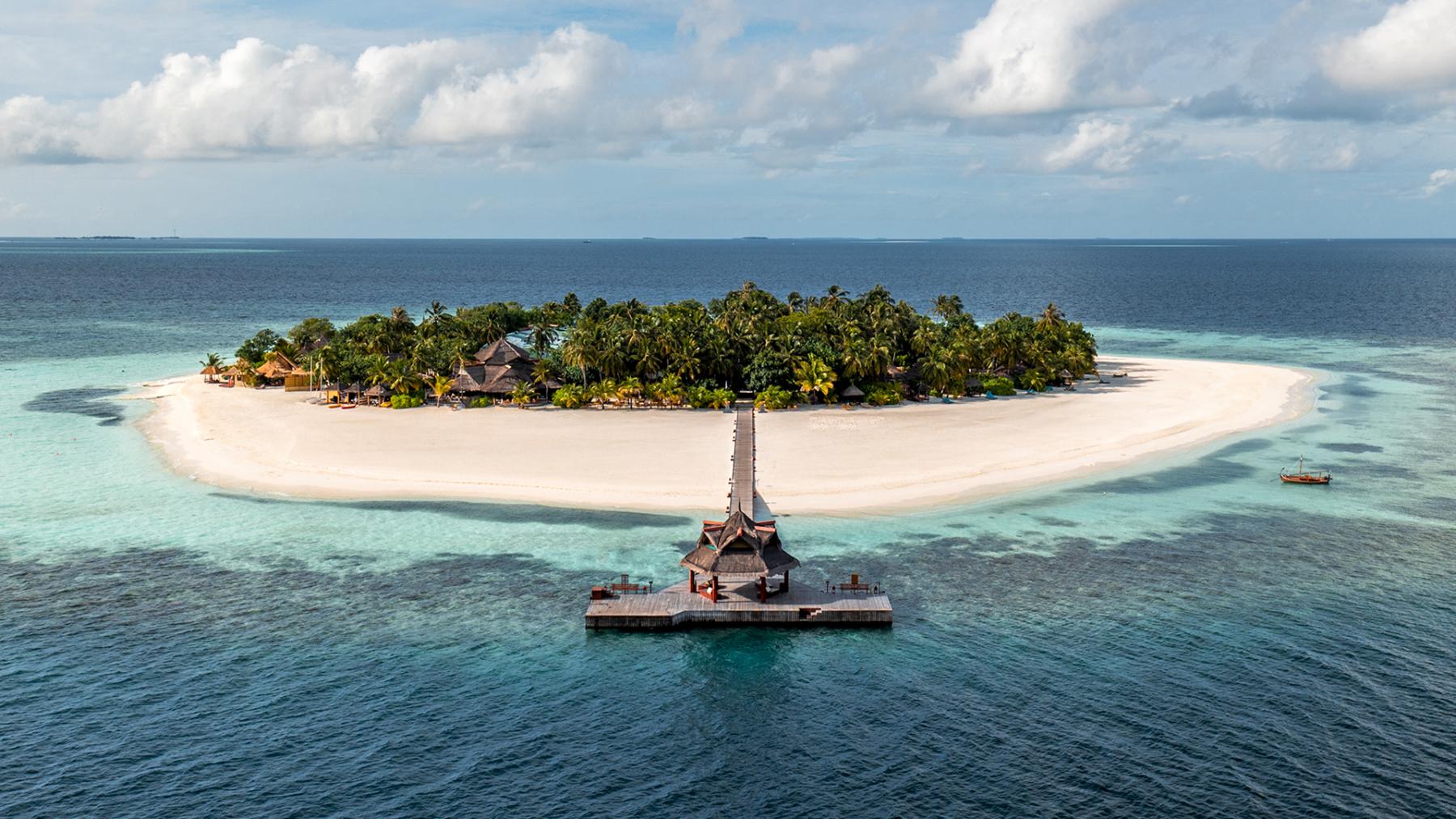 Vabbinfaru Island Beach can be found in the North Male Atoll area of the Maldives. It is a small, exclusive island situated roughly 20 minutes away from Male International Airport by speedboat. Besides the typical water sports activities and stunning coral reefs found on other islands, one of the highlights of this place is surprising your partner with a romantic candlelit dinner by the seaside, beneath a sky filled with radiant illumination at night. Another enticing aspect of visiting this luxurious beach in the Maldives is the opulent resort situated right on the beach. The resort offers a variety of accommodation choices, including overwater bungalows, villas that face the beach, and cozy garden rooms.
Key Points to Note about Vabbinfaru Island Beach
1. Banyan Tree Vabbinfaru is the preferred choice for lodging in this area, attracting the highest number of visitors.
2. You have the opportunity to savor a wide range of international and local dishes at beachfront dining establishments like Ilaafathi Restaurant or Naiboli Bar.
3. To reach the beach from Male International Airport, you can take a speedboat and arrive in just 25 minutes. Furthermore, you can explore other nearby attractions, including the Whale Submarine and Sultan Park.
---
Lily Beach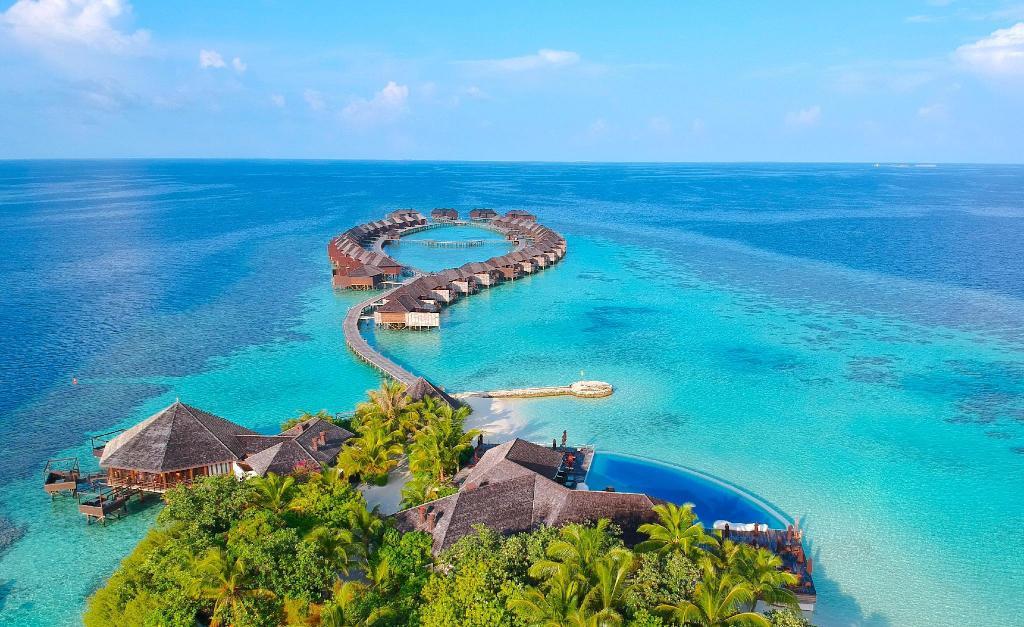 Lily Beach, a secluded shoreline owned by Lily Beach Resort & Spa, can be found on Huvahendhoo Island, renowned for its exquisite beauty among the Maldives' many stunning islands. Situated within the Ari Atoll, this beach is conveniently located near several renowned diving spots, benefiting from its transparent waters and breathtaking coral reef. In addition to the opulent resort, there are numerous enchanting dining spots in close proximity to the beach, perfect for a romantic evening. After indulging in various water activities, take a leisurely stroll along the sandy shores, discovering nearby attractions like the Whale Submarine, Beach Swings, and the captivating Big Head Coral.
Key Points to Note about Lily Beach
1. The resort boasts 119 opulent villas, which encompass beach villas, lagoon villas, and overwater villas.
2. To reach the resort, a seaplane journey of around 25 minutes is required from Male International Airport.
3. Lily Beach Resort and Spa presents diverse dining choices, such as a primary buffet restaurant, an à la carte restaurant, and multiple bars.
4. Moreover, the resort offers an extensive array of activities and amenities, including a spa, a fitness center, water sports, and diving.
5. For families traveling with children, there is a kids club and a babysitting service available as well.
---
Dhigurah Beach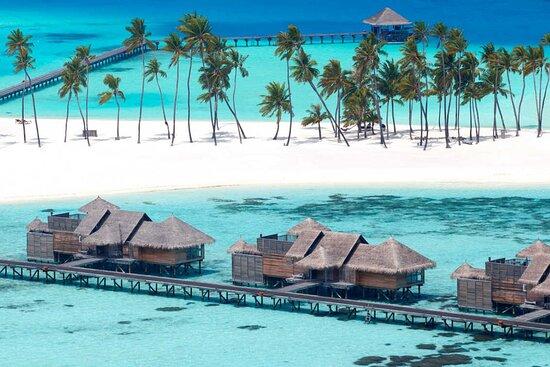 Dhigurah Beach, situated on a remote island in the Maldives, is renowned as one of the finest coastal destinations to explore. This beach is a haven for those who seek tranquility and adventure on a budget. Located in the southern part of the Ari Atoll, Dhigurah Beach stands out as one of the most exquisite stretches of shoreline in the entire country. Its allure is further enhanced by its seclusion, offering a serene atmosphere unspoiled by excessive crowds typically found at other popular Maldivian beaches. The beach boasts shallow waters that are perfect for leisurely swims, while its pristine sands invite visitors to indulge in long strolls, sunbathing, and unwinding beneath the shade of palm trees.
Key Points to Note about Dhigurah Beach
1. The beach is an ideal place to spot whale sharks.
2. You can wear swimwear in some parts of the island and swim with the sharks.
3. TME Retreats is one of the popular places to stay on the island.
4. You can also find several guest houses here, ideal for budget-travellers.
---
Kurumba Beach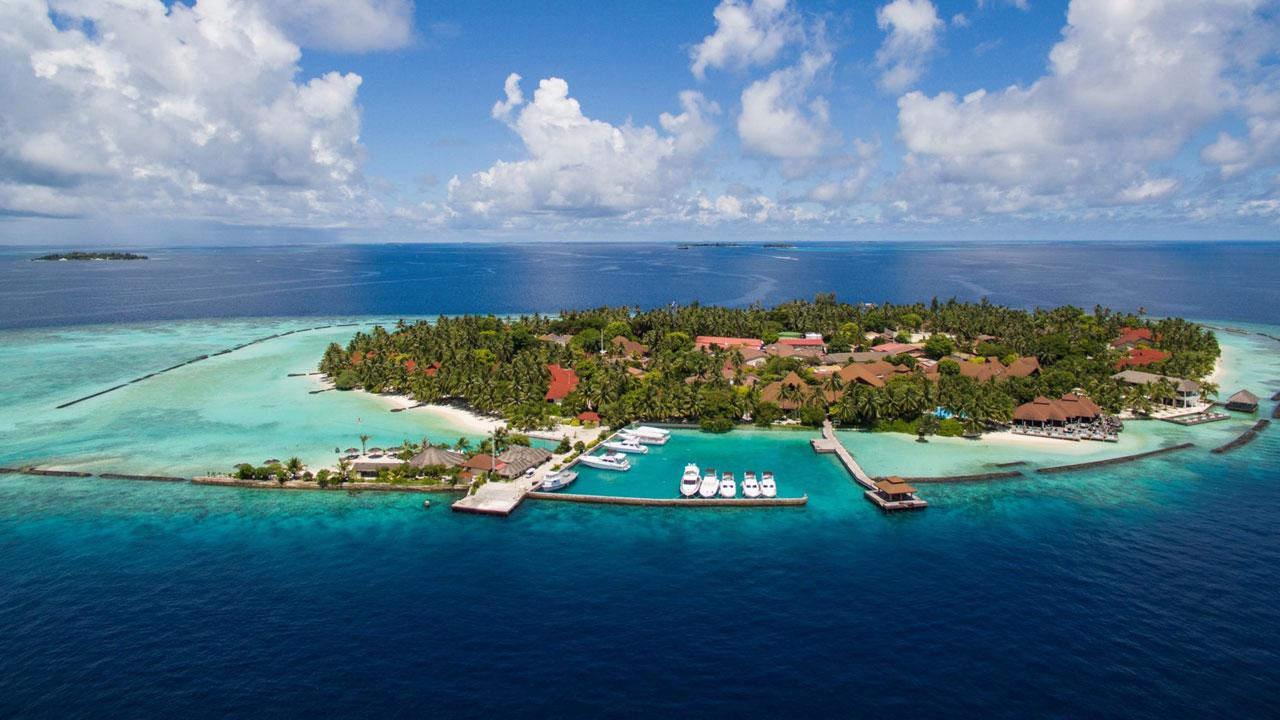 Kurumba Beach, located in the captivating Maldives, stands out as a top-notch tropical haven, particularly enchanting for newlywed couples seeking an idyllic retreat. This mesmerizing beach derives its name from the Kurumba tree, a local coconut tree species found abundantly across the Maldives. The distinguishing features of Kurumba Beach encompass its translucent azure waters, velvety white sands, and the flourishing verdure enveloping its surroundings. The serene and tranquil waves embracing Kurumba Beach create an impeccable setting for indulging in activities like swimming, snorkeling, and various water-centric pursuits. Renowned as one of the oldest and finest beach resorts in the Maldives, this unspoiled coastal gem has attracted countless tourists from around the globe for numerous years.
Key Points to Note about Kurumba Beach
1. The beach is the nearest to Male International Airport.
2. It looks crowded almost every time of the year, hard to find a secluded place.
3. Scuba Diving, Veli Spa and floating in the water are some of the best things to do here.
Maldives is an absolute paradise for those who adore beaches, as it offers crystal-clear waters, powdery white sand, and breathtaking coral reefs. With an abundance of stunning beaches to choose from, it can be quite challenging to determine which ones to explore. We have highlighted some of the finest beaches in Maldives, each possessing its own unique charm and allure. From the peaceful and secluded Fulhadhoo beach to the lively and energetic Cocoa Island beach, there is a beach suited for every kind of traveler. Whether you seek thrilling adventures or serene relaxation, Maldives caters to all preferences. Therefore, prepare your belongings, gather your sunscreen, and brace yourself for an extraordinary and memorable beach vacation in the splendid Maldives!