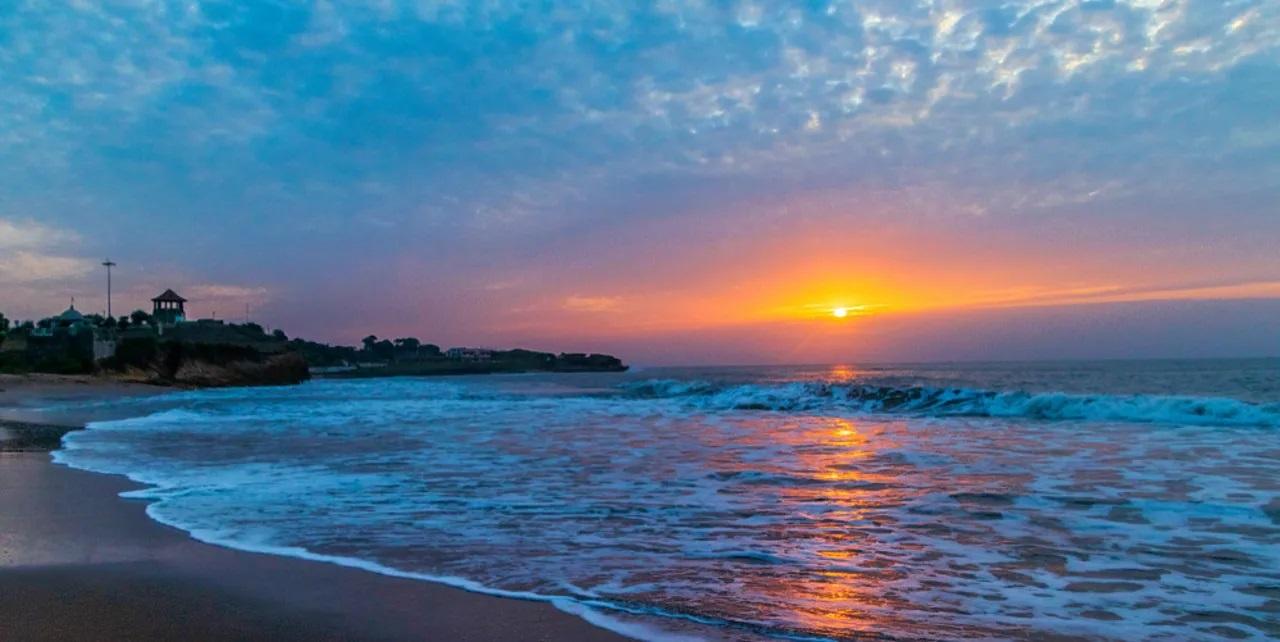 Make sure you don't overlook these highly recommended attractions to visit in Diu during your sightseeing excursion, or else you may experience a significant fear of missing out. Every destination you explore in Diu will enhance your overall travel experience and create lasting memories. Include these incredible places to visit in Diu in your itinerary without delay to avoid last-minute research when planning your trip.
Best Time To Visit Diu:-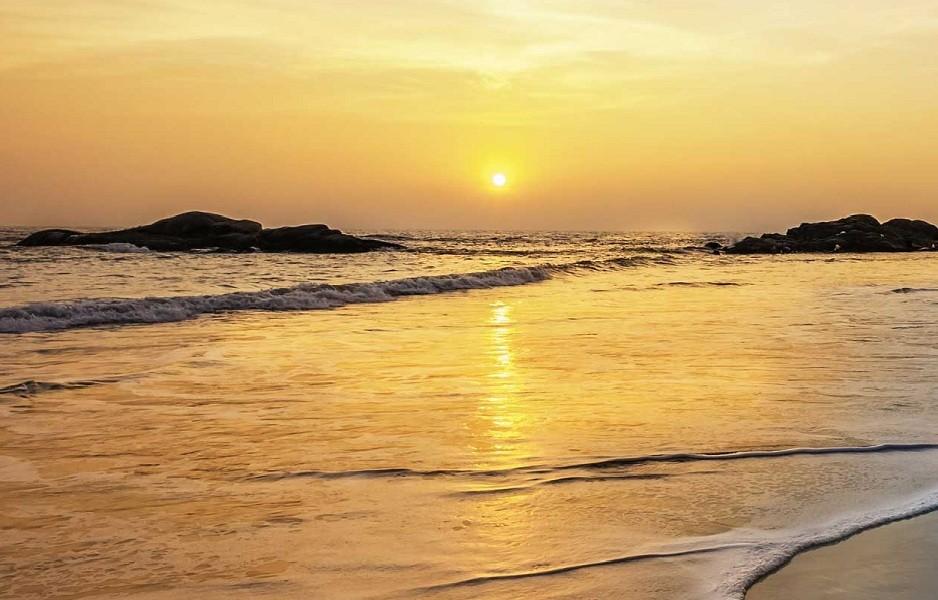 Diu is best visited during the monsoon season, specifically between August and October, when the weather is ideal. As a coastal city, Diu experiences high temperatures in the summer. However, if you want to have the most enjoyable experience, visiting during the summer months is recommended. There are numerous activities and events to participate in during this time in Diu. Therefore, you can also plan a trip to Diu from March to July to make the most of the summer season and have a fantastic time.
---
1. Naida Caves – Explore The Rock Formations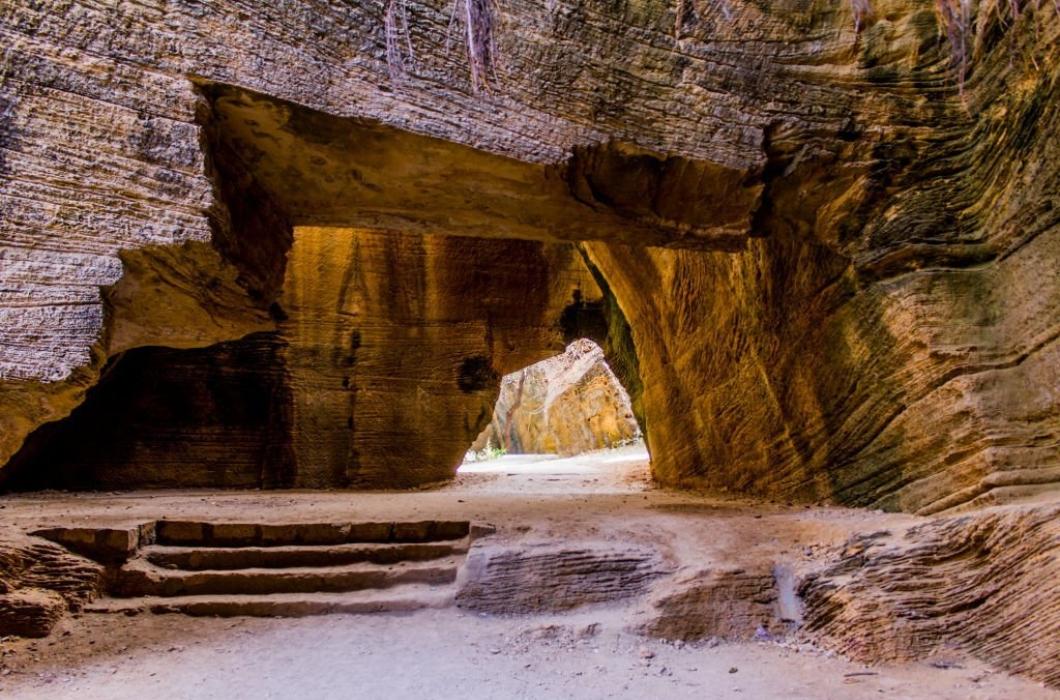 The caves found in Diu, known as Naida Caves, are remarkable examples of human-engineered alterations to rock formations. Over time, the Portuguese people shaped these natural caves, which ultimately served as strategic encampments for the Indian Army during Operation Vijay, aimed at reclaiming Diu from Portuguese control. These renowned tourist destinations in Diu consist of interconnected sections featuring square-shaped carved staircases. Situated approximately 3 km beyond the city limits of Diu, Naida Caves are highly sought-after attractions for visitors to Diu.

Best time to visit:
Diu, a coastal area, experiences a consistently hot and breezy climate throughout the year. Summers are characterized by high temperatures and humidity, while the monsoon season brings exceptionally humid conditions. The winter months, which extend from November to February, offer the most favorable conditions for visiting. On average, the annual temperature in Diu is 26 degrees Celsius.
---
2. Diu Fort – Must-Visit Place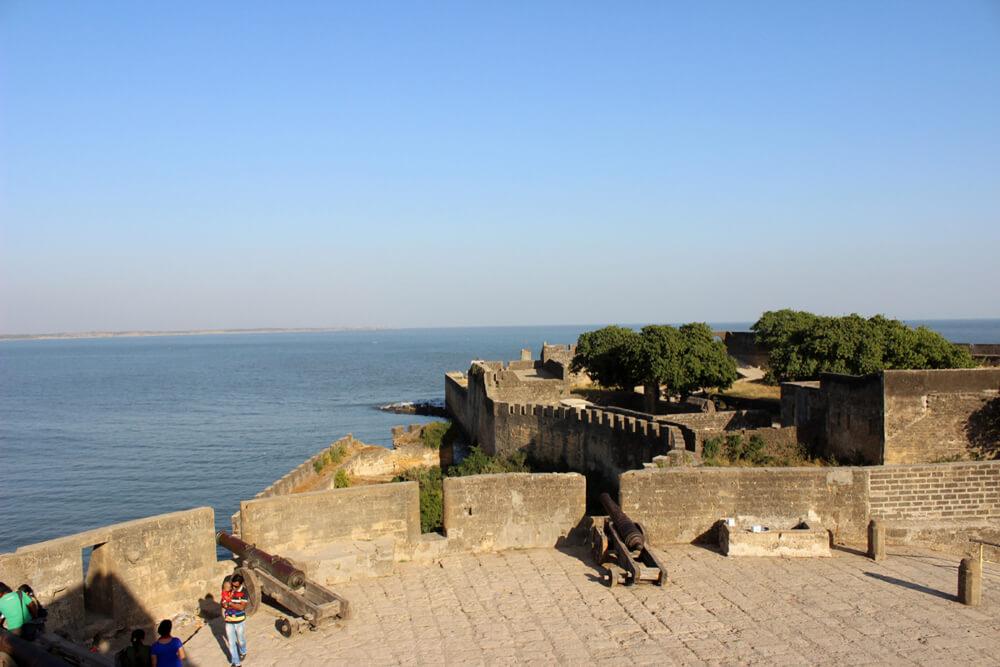 Fort Diu, situated adjacent to the sea or along the coastline, stands out as one of the most renowned destinations to explore in Diu. From this fortress, you can soak in a mesmerizing panorama of the horizon while the relentless sea waves crash against the fort walls, leaving trails of foam in their wake. Unfortunately, the lighthouse is not accessible to the public. Constructed by the Portuguese, the fort's jetty remains operational to this day. In the past, the fort played a significant role in the trade route connecting Cambay, Surat, and Bharuch in Gujarat. On the parapet, an assortment of cannons can be found, with cannonballs scattered throughout the surrounding land.

Best time to visit:
The weather is humid and hot with 26 degrees Celsius being the average annual temperature in Diu. The best time to explore Diu Fort is in winter i.e. November-February when the temperature falls below 20 degree Celsius.

---
3. Gangeshwar Mahadev Temple – Seek Blessings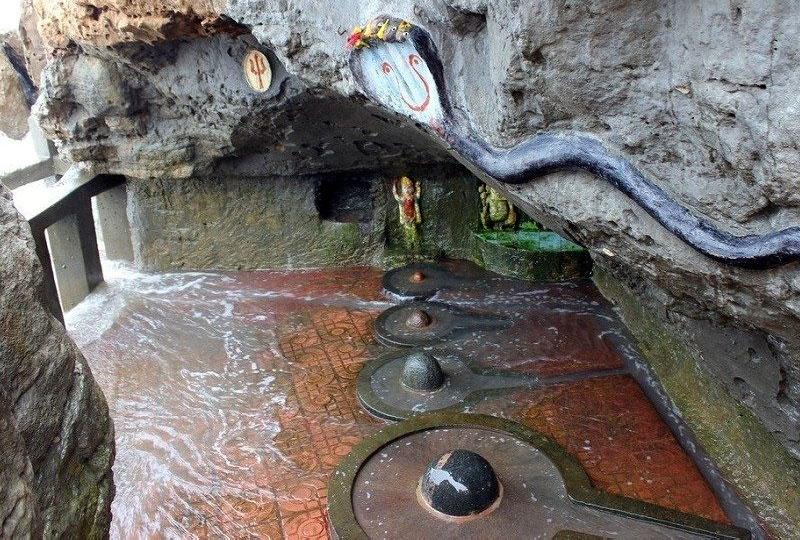 The Gangeshwar Mahadev Temple, situated near Diu, is a highly renowned destination for tourists. It holds significant popularity due to its association with the River Ganga, considered the temple's principal deity, and its reputed construction by the Pandavas. One of the temple's notable features is the presence of five Shiv Lingas, with only their tips visible, occasionally submerged by high tides. Located in the picturesque Fudam Village, a mere 3 km from Diu, this place holds immense religious and historical significance.

Best time to visit:
The ideal period for visitors is from October to May, during which the average temperature ranges between 20 and 26 degrees Celsius. Warm coastal winds are consistently present throughout the year.
---
4. Ghoghla Beach – Soak In Sun Warmth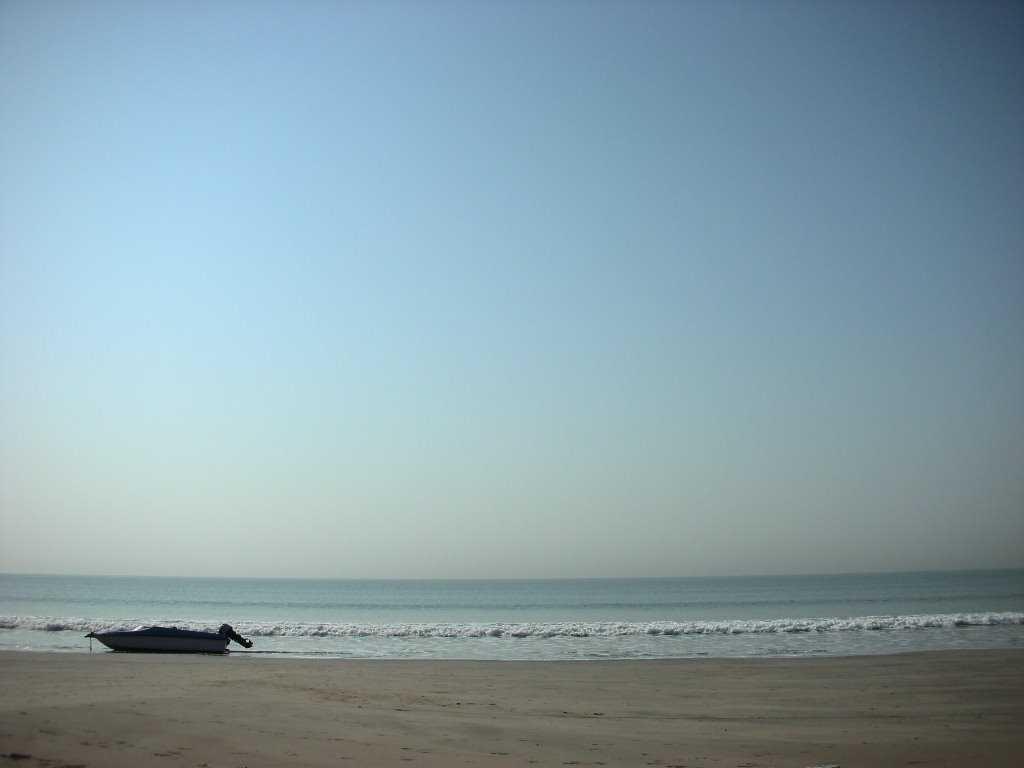 Ghoghla Beach in Diu is renowned both among the locals and tourists as an exceptional destination to discover. It boasts breathtaking coastal scenery, making it an ideal spot for introspection, free from large crowds. Relax under the gentle sun rays and allow the soothing breeze to carry away your concerns and anxieties. Among the notable attractions in Diu, Ghoghla Beach stands out for its cleanliness, array of restaurants, availability of water sports, and the presence of well-known homestays.

Best time to visit:
From late October to early April, the weather is ideal and the summers are mild, making it a great time to visit the beach and experience breathtaking sunsets and sunrises. During the winter and early summer, temperatures range from 20 degrees Celsius to 26 degrees Celsius, while summers are characterized by intense heat and humidity.

---
5. Zampa Gateway – Monument Of National Importance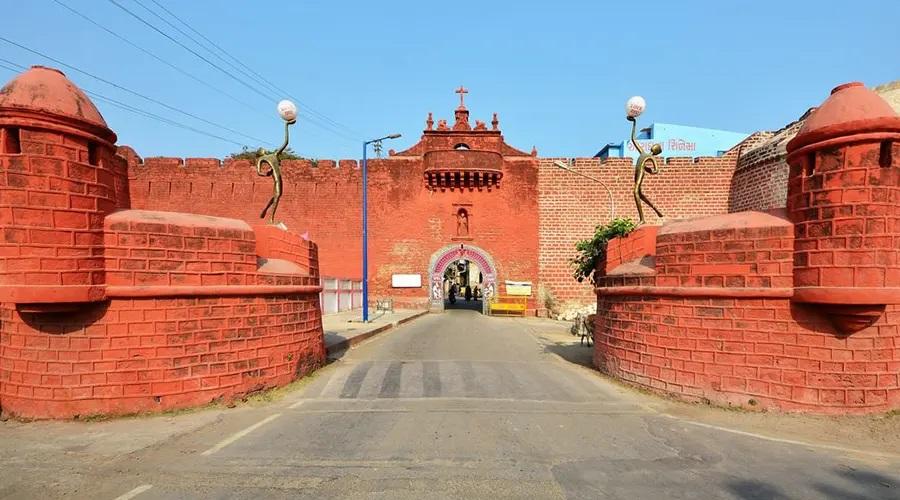 Zampa Gateway, a renowned destination in Diu, offers a rich historical experience for visitors. This vibrant red structure holds significant national importance and boasts an enchanting artificial waterfall. Tourists flock to this monument each year to admire its intricate paintings depicting lions, ministers, and celestial beings. Additionally, within its premises lies a humble chapel housing a 1702 artwork portraying the Virgin Mary and a child.

Best time to visit:
The optimal period for visiting Diu and Zampa Gateway is from late October until April. During the colder months, the average annual temperature ranges from 20 degrees Celsius to 26 degrees Celsius. Summers are characterized by intense heat, while the rainy season is marked by high humidity.
---
6. INS Khukri Memorial – Plunge Into The History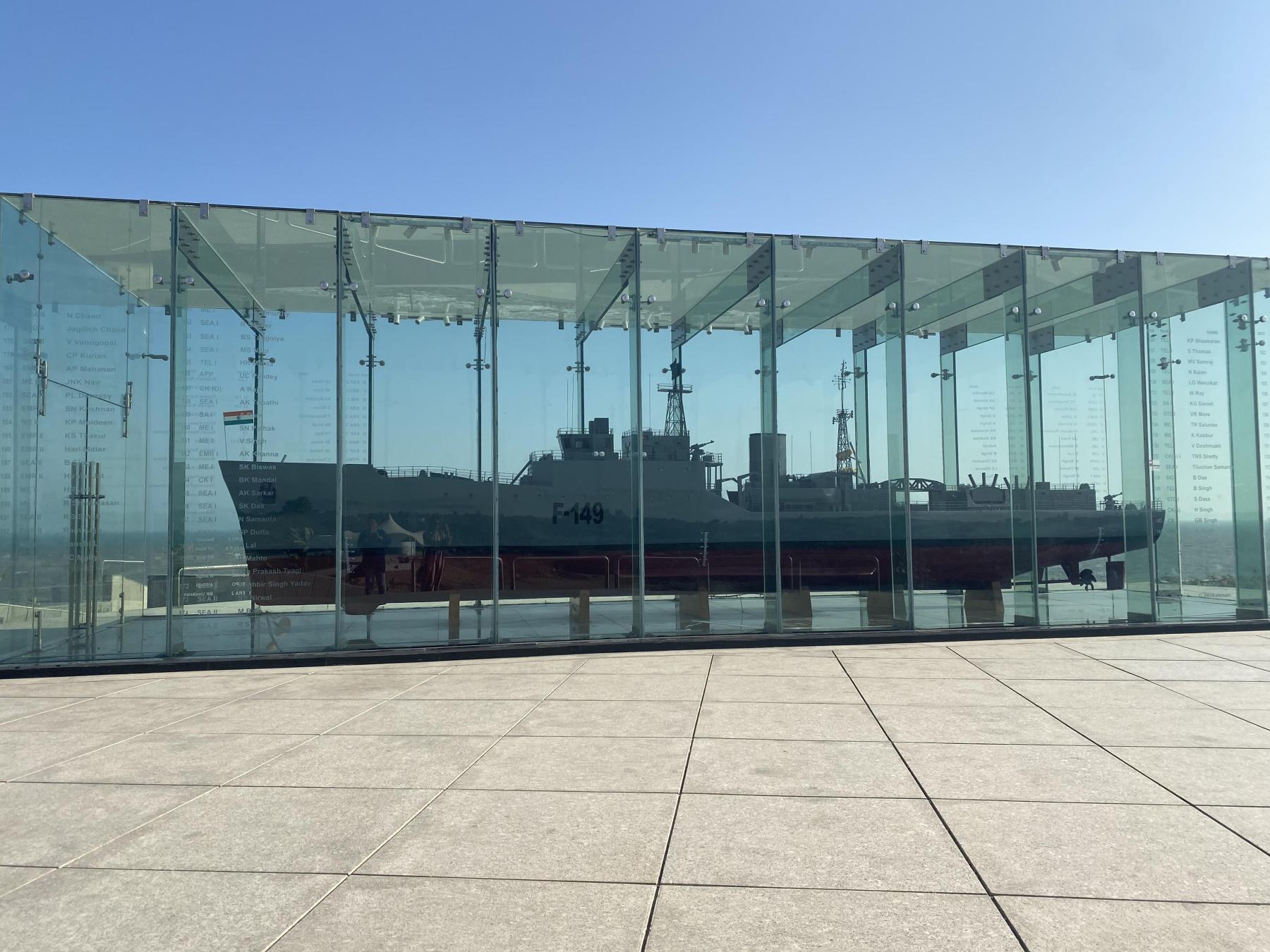 The INS Khukri Memorial is a structure erected to honor the INS Khukri, which was lost during the 1971 conflict between Pakistan and India. The submarine was struck by torpedoes, causing it to sink while its 18 officers and 176 sailors received orders to abandon ship and surrender to the enemy. Despite this, the officers made the courageous choice to face death rather than submit to the invaders. Captain Mahendra Nath Mulla, the commanding officer, was posthumously awarded the Mahavir Chakra for his actions. The memorial continues to stand today, serving as a poignant reminder of the brave soldiers, attracting numerous tourists each year.

Best time to visit:
The ideal period to explore the memorial is from November until March. It is advisable to plan your visit during daylight hours. During the tourist season, temperatures typically range between 20 and 26 degrees Celsius.

---
7. St. Paul Church – Largest Church In Diu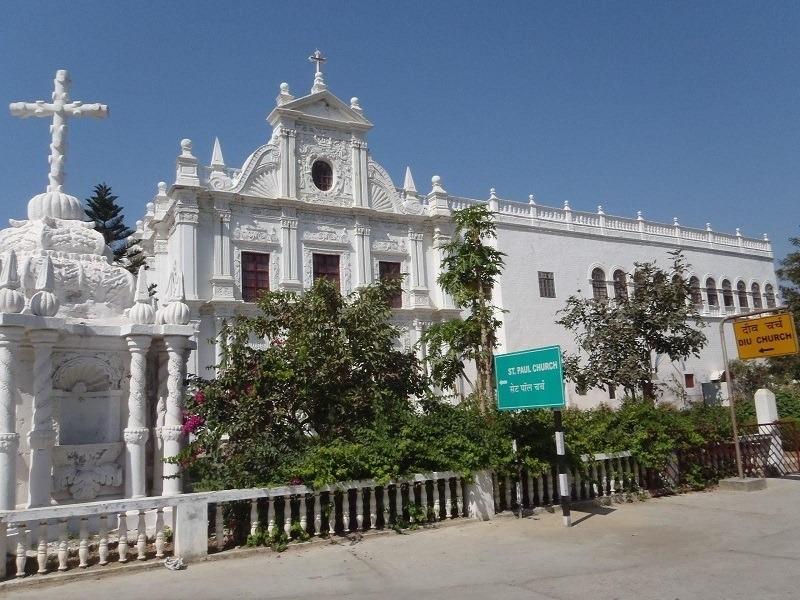 St. Paul Church is the largest church in Diu which is also the only functional church here. The building has a stunning architecture and has rich wood carvings, volutes and marvellous exterior. The church is dedicated to Our Lads of Immaculate Conception and was completed in 1601 AD. The church is visited by many tourists all around the year.]

Best time to visit:
The tourist season of Diu spans from November to March, during which the average annual temperature remains at 26 degrees Celsius. The summers in Diu are characterized by hot and humid weather.
---
8. Dinosaur Park – Fun Place For Kids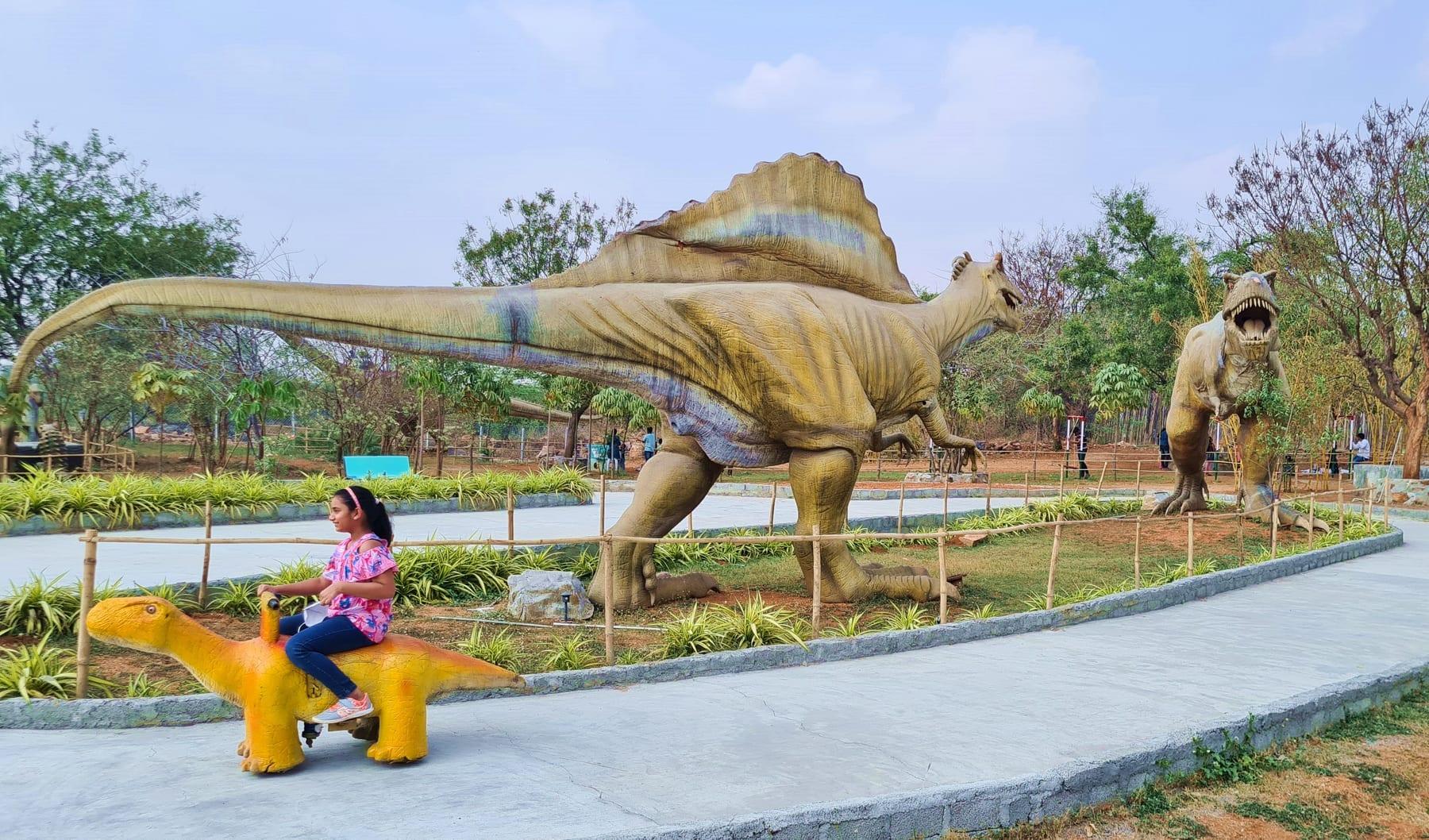 Diu's Dinosaur Park is a newly introduced feature of the city's landscape and has quickly become a popular destination for families with children and adventure enthusiasts! This incredibly creative amusement park, designed specifically for kids, ranks among the top tourist attractions in Diu. It showcases realistic, life-sized dinosaur replicas and other ancient creatures, accompanied by a spacious play area for children that remains open throughout the day. Additionally, the park offers a well-maintained pathway for parents to unwind or take a leisurely stroll while their children enjoy the various attractions.

Best time to visit:
Year-round
---
9. Jallandhar Beach – Go For Water Sports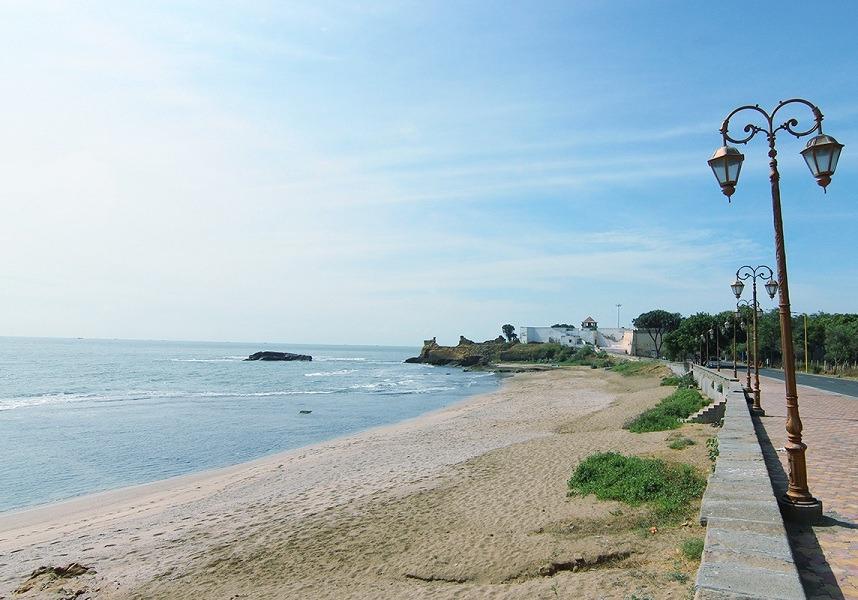 Situated 1 km away from the main city of Diu, Jalandhar Beach is a sun-kissed destination renowned for its connection to the infamous demon "Jallandhar." This beautiful beach, among the top attractions near Diu, boasts golden sands and captivating ocean views. Additionally, visitors can explore a temple dedicated to Goddess Chandrika and a hilltop memorial featuring a stone structure of the demon Jallandhar. However, Jalandhar Beach offers more than just its historical significance. It is also a popular spot for thrilling water sports and serves as an excellent backdrop for private photo shoots, making it a must-visit location in Diu.

Best time to visit:
November to March
---
10. Church Of St. Francis Of Assisi – Pay A Visit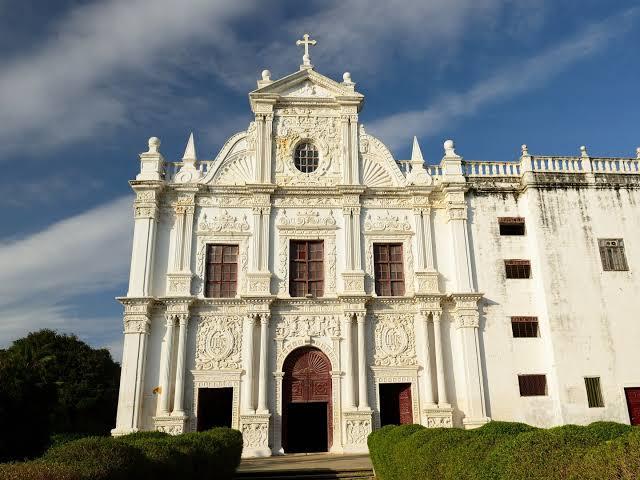 If you're interested in exploring sightseeing spots in Diu that combine history and architecture, then a visit to the Church Of St. Francis Of Assisi is a must. This ancient church, located in Diu, Gujarat, is among the oldest in the area. Constructed in 1593, it served as a hospital for some time before undergoing recent restoration to showcase its magnificent Portuguese-era splendor. The church's enduring history is evident through the signs of sea-spray decay in various sections, indicating its age. Its captivating features include striking blue-white arches and a grand carved wooden altar adorned with images of the Virgin Mary, making it one of the most exquisite places to discover in Diu.

Best time to visit:
Year-round
---
11. Diu Museum – A Restored Church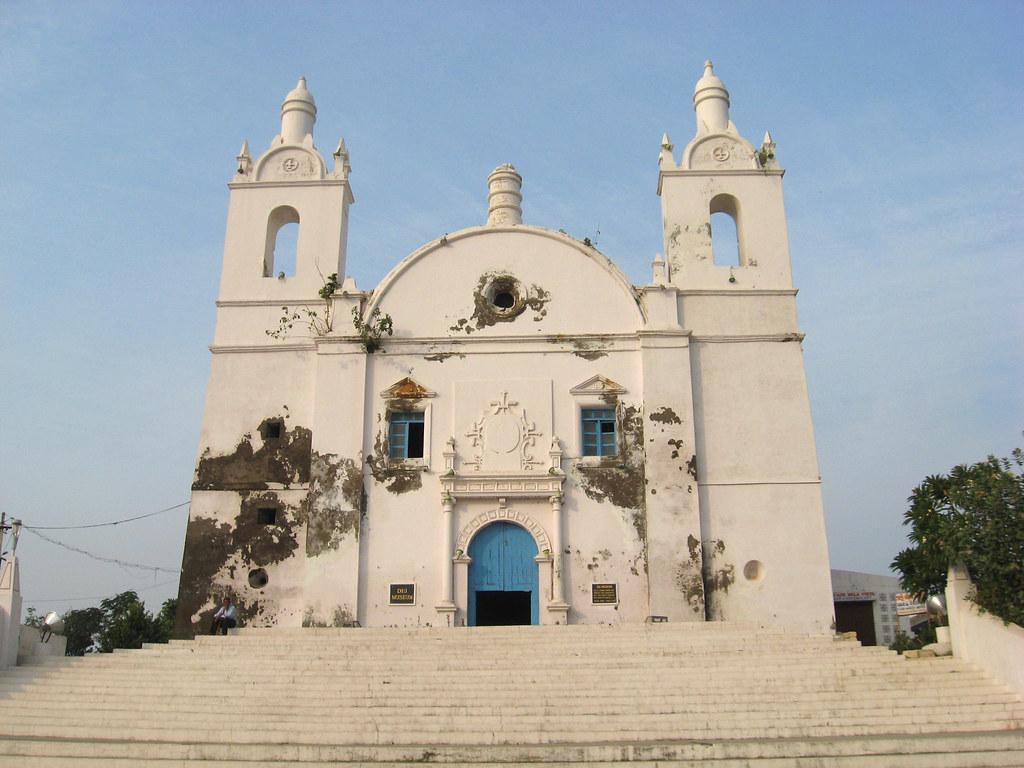 The Diu Museum, located within the St. Thomas Church, is renowned as one of the top tourist attractions in Diu. Originally constructed in 1598, the church was later transformed into a museum. The museum section is relatively new and meticulously maintained, while the church area has been authentically restored to reflect its original grandeur and ancient ambiance. Within the building, you'll encounter a weathered appearance with faded portraits and paintings that were left behind by the Portuguese. Additionally, the enchanting garden path leading to the museum adds to its allure, making it one of the most captivating sights to visit in Diu.

Best time to visit:
Year-round
---
12. Hoka Trees – Spend Some Time With Nature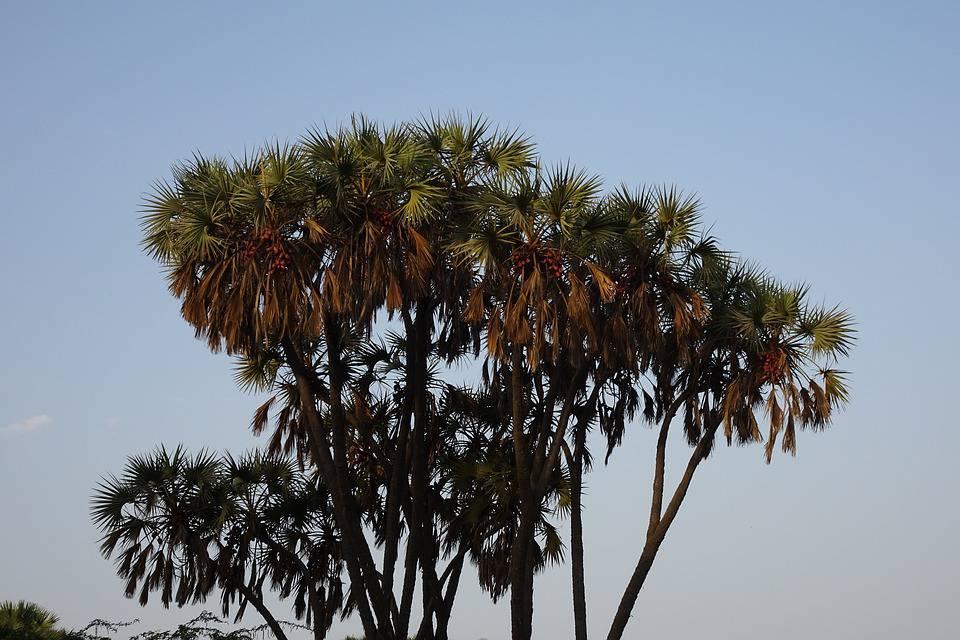 The hoka trees, native to the northern half of Africa and some regions of the Arabian Peninsula, can be found in an unexpected location in Diu, making it one of the most captivating tourist spots in the area. During your sightseeing tour of Diu, you may be surprised to encounter a significant number of these flourishing trees near the Diu Fort. Their unique structure and beauty make them easily recognizable. Interestingly, the large Hoka seeds from these trees are a popular ingredient in local cuisine and are cooked and consumed by many residents in the Diu and Saurashtra region. In fact, these seeds are used to prepare the local beverage called 'Tadi'.

Best time to visit:
October to March
---
13. Panikota Fort – The Jail Of Diu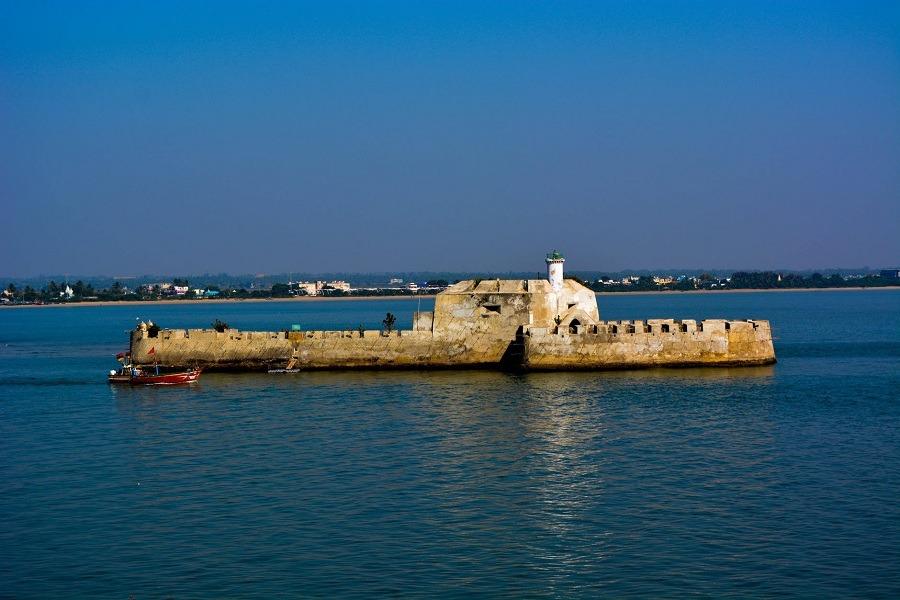 Also known as Fortim-Do-Mar, Panikota Fort is a renowned prison in Diu situated on an island in the Simbor Bay. The coastal area is approximately 46 kilometers away from Diu. Following Portuguese rule, the fort served as a prison after India gained independence. Due to its complete encirclement by water, the island was an ideal location for inmates, preventing any possibility of escape. It is highly recommended to pay a visit to this prominent attraction in Diu.

Best time to visit:
October – April
---
14. Chapel Of Our Lady Rosary – Admire The Architecture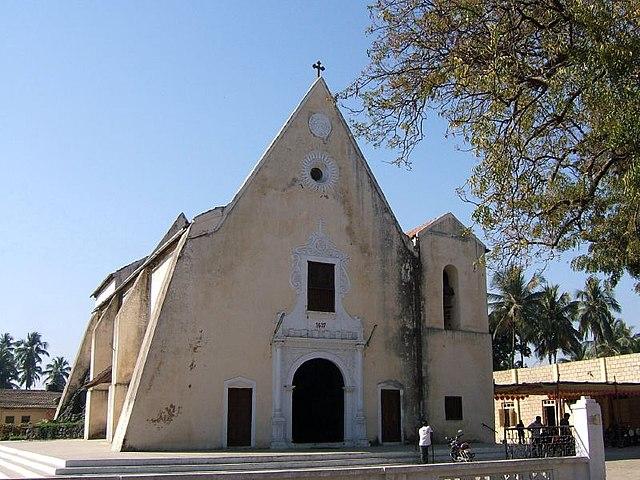 Located in Old Moti Daman, this church's origins can be traced back to the 17th century, making it a place of immense importance and a top attraction in Diu. The architectural style bears resemblance to Gothic design and reflects Portuguese influences. Inside, the church boasts a stunning interior featuring a roof shaped like rose petals and stained glass windows that illuminate the chapel with vibrant hues during the day.

Best time to visit:
Throughout the year
---
15. Nagoa Beach – Laze Around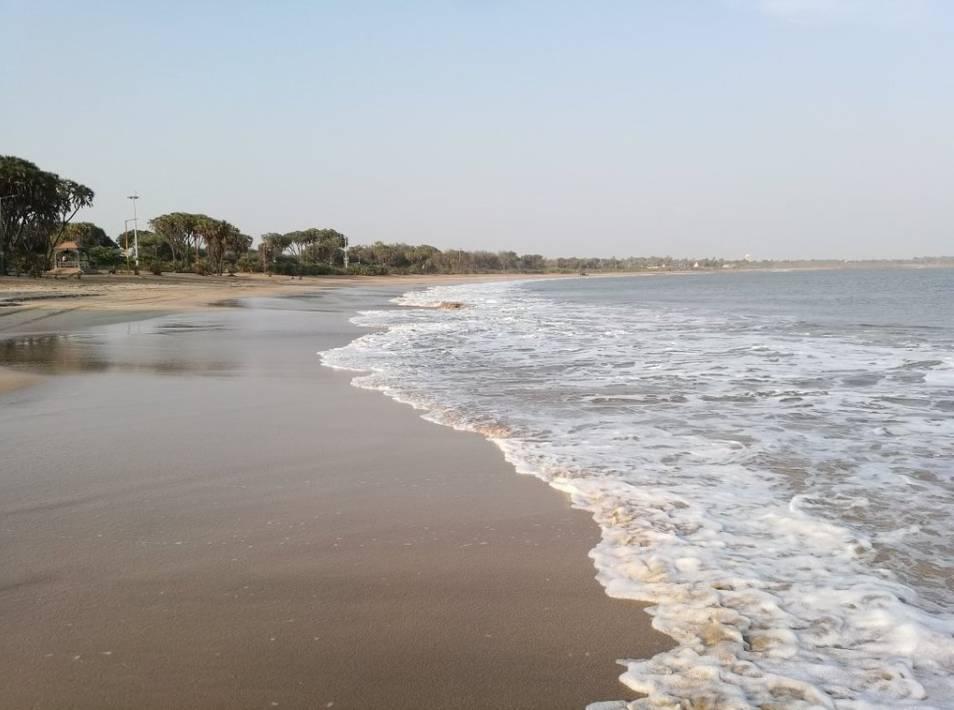 Nagoa Beach in Diu is renowned for its breathtaking stretches of sandy shores adorned with trees and surrounded by the soothing waters of the Arabian Sea. It is considered a must-visit destination, offering an unparalleled beach experience in Diu. One of the highlights of Nagoa Beach is the presence of the rare Hoka Trees, which adds to its charm as a captivating sightseeing spot in Diu. Along with the opportunity to partake in thrilling adventure sports and embark on exhilarating camel and pony rides, Nagoa Beach provides ample opportunities for serene beach walks, picturesque sunsets and sunrises, and the chance to savor local cuisine at the nearby eateries. Additionally, the beach boasts a selection of luxurious villas, making it an overall splendid destination in Diu.
Best time to visit:
November to early March is the best time to visit the beach. It is perfect for serene beach outings and you can also enjoy peaceful evenings here.