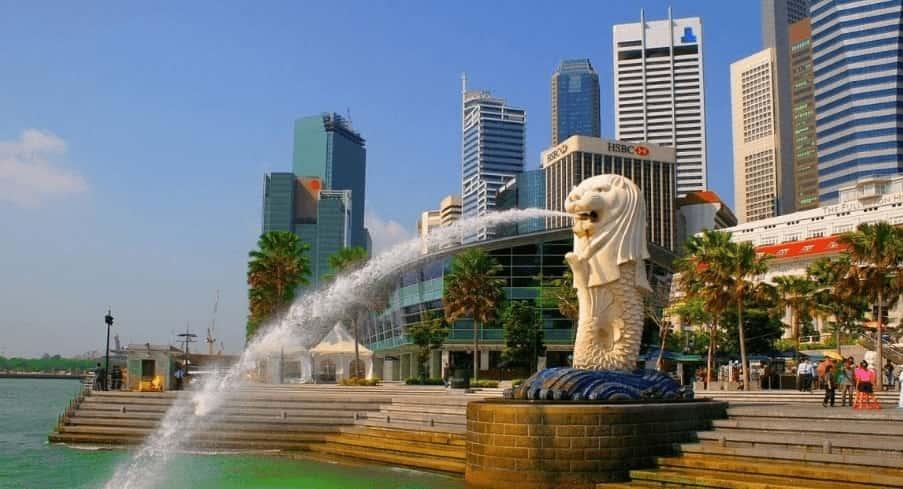 Welcome to the world of tomorrow - Singapore, a land where futuristic marvels and sky-kissing buildings paint a picture of a city ahead of its time. As the night falls, the brilliantly lit lights gracefully dance around these modern architectural wonders, making it seem as though the stars themselves have graced the Earth.
But Singapore is not just about its fast-paced growth and awe-inspiring skyscrapers; it's a city that offers a cornucopia of experiences. Step into its welcoming embrace and find yourself immersed in a world of impressive new shopping malls, elegant dining venues, and luxurious hotels offering breathtaking views that will leave you spellbound.
When the sun sets, Singapore transforms into a pulsating hub of energy and excitement. The discotheques beckon, inviting you to groove your hips to the rhythm of the night, while the vibrant nightlife promises endless moments of joy with your fun-loving buddies.
However, amidst this electro-modern world, Singapore still embraces its natural treasures. The Botanical Gardens and Pulau Ubin provide a refreshing escape into emerald sanctuaries, offering a chance to connect with nature amidst the city's hustle and bustle.
Not only is Singapore a destination for the discerning traveler, but it also welcomes those exploring the world on a shoestring budget. This enchanting city-state offers numerous "comforts to the wallet" experiences, ensuring everyone can revel in its splendor.
From local binge plazas where gastronomic delights await to fulgent temples that exude spirituality, from lush gardens providing serene retreats to inexpensive shopping markets boasting a treasure trove of finds – Singapore leaves no desire unfulfilled.
So, if you're ready to embark on an unforgettable journey, why not checkmark the world's only island city-state? Let us guide you through some of the finest places to visit in Singapore, and unlock the secrets of this extraordinary city that blends modernity with timeless charm.
List of Top Tourist Places & Attractions in Singapore
Gardens by the Bay
Little India and Arab Street
Singapore Flyer
Universal Studios
Botanic Gardens
Chinatown
Singapore Zoo
Changi Museum
S.E.A Aquarium
Changi Beach
Sentosa Islanda
Punggol Waterway Park
Pulau Ubin
Clarke Quay
Orchard Road
1. Gardens by the Bay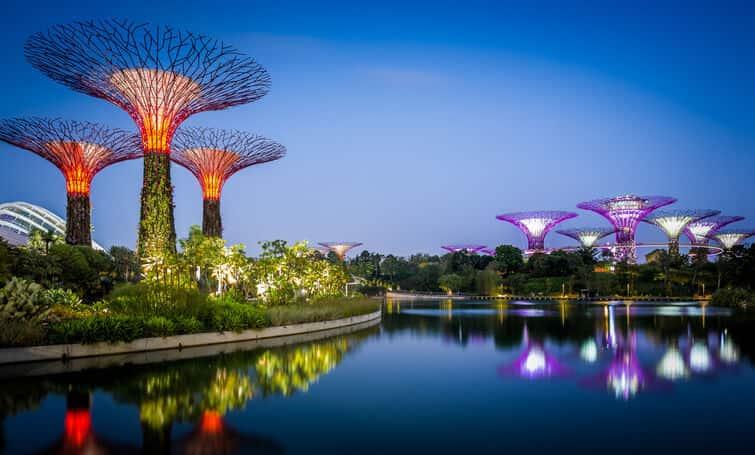 Undoubtedly, there is a place that captures admiration effortlessly and stands proudly as a must-see attraction on every traveler's list. Welcome to Gardens by the Bay, a haven of imagination that beckons visitors from all corners of the world. This tourist hot-spot is deserving of all the praise for its undeniable allure and captivating charm, making it a true gem nestled within the Marina Bay area.
The highlight of this enchanting place is the awe-inspiring Supertree Grove, a spectacle that truly comes alive under the night sky, illuminating the Marina Bay with its mesmerizing beauty. As you wander through this ethereal landscape, you'll feel like you've stepped into a world of dreams, where reality and imagination meld seamlessly.
Prepare to be amazed, for Gardens by the Bay boasts an array of attractions that leave spectators wide-eyed with wonder. The Flower Dome and Cloud Forest stand as testaments to the ingenuity of human creativity, offering a visual feast that leaves an indelible mark on the senses. The sheer beauty of these wonders is beyond words, as they transport you to a realm of botanical excellence like no other.
The Gardens by the Bay complex is thoughtfully divided into three bays - the central, east, and south. Each bay has its own unique allure and is a delightful escapade in itself. Stroll along the promenade that weaves through this wonderland, offering you the perfect respite during your exploration. Take a moment to savor a cup of coffee or indulge in a delectable meal, refreshing yourself for the next chapter of this captivating journey.
Gardens by the Bay is more than just a destination; it is an experience that touches the heart and leaves an everlasting imprint on the soul. So, if you seek a place that beckons your wildest dreams and enchants you with its exquisite beauty, then Gardens by the Bay is the answer. Let your imagination take flight and lose yourself in the wonders of this ethereal sanctuary.
---
2. Little India and Arab Street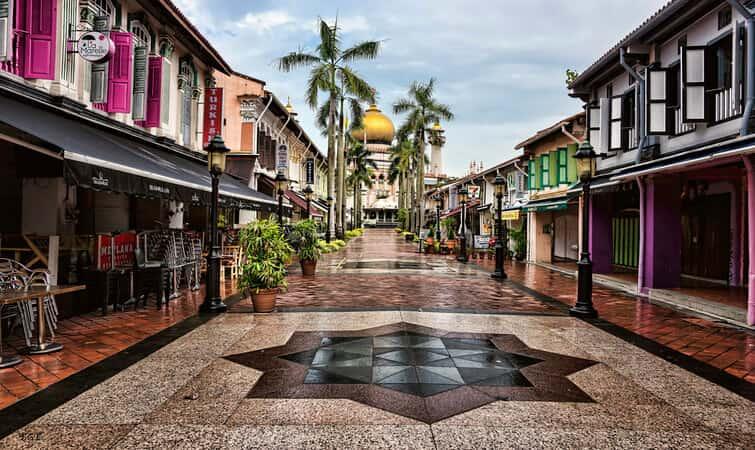 Discover the allure of two captivating tourism destinations - The Arab Street and Little India. Each place promises an enchanting experience that transports you to a world of its own, far removed from the bustling modern cityscape, and into a realm of paradise-like charm. With charming small shops, delightful cafes, and historic Mosques, both locales paint an enticing picture of culture and history.
At the heart of The Arab Street lies a tapestry of age-old structures, inviting shopping stalls, and the wafting aroma of authentic Arabian cuisine. Strolling through its alleys, one can't help but be mesmerized by the heavenly ambiance it exudes, offering a tantalizing blend of tradition and indulgence.
On the other hand, Little India proudly embraces its colonial heritage as a vibrant Indian community in Singapore. Just like its Arabian counterpart, this delightful enclave boasts a plethora of exquisite shopping options and eateries that tantalize your taste buds with flavorful Indian cuisine. Amidst the bustling streets, you'll find the renowned Sri Veeramakaliamman Temple, a majestic Hindu shrine that stands as a testament to the rich cultural tapestry of the region.
Both The Arab Street and Little India are invitations to immerse yourself in their unique tapestries, enticing you with a sense of warmth and wonder. So, take a step back in time, savoring the charm of yesteryears amidst quaint stores, delightful cafes, and ancient religious landmarks. Prepare to be captivated by the beauty and elegance that these remarkable destinations offer, leaving you with cherished memories that will linger in your heart long after you've bid them farewell.
---
3. Singapore Flyer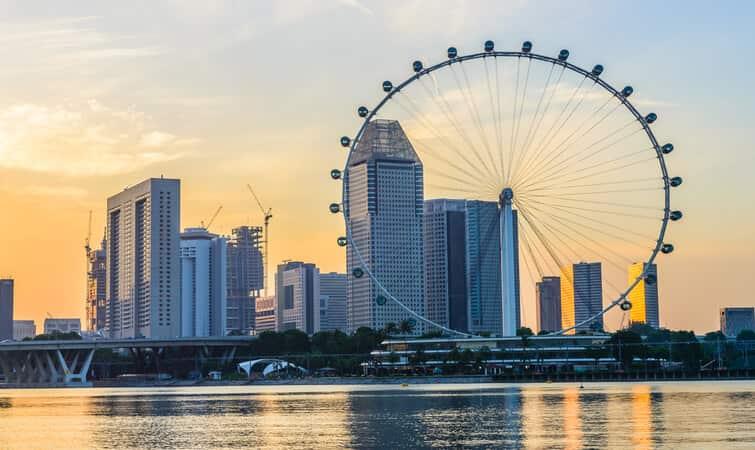 Discover the enchanting beauty of Singapore like never before – from high above the cityscape. Picture this: you're elevated to a birds-eye vantage point, where the entire city stretches out beneath you. Imagine planning your excursions and setting your sights on the most captivating landmarks, or better yet, losing yourself in the awe-inspiring moment as the sun gracefully dips below the horizon during sundown.
Embrace this extraordinary experience aboard the Singapore Flyer, an extraordinary observation wheel that stands an impressive 165 meters tall – proudly reigning as Asia's largest giant wheel.
As you ascend on the Flyer, you'll find yourself immersed in the captivating tale of the wheel's technology and history, granting you an insightful glimpse into the evolution of this remarkable city. An enriching experience awaits both young and old, making it the ideal attraction for families and inquisitive minds alike.
During your city tour, be sure to reserve a moment for the Singapore Flyer – a true gem that promises a breathtaking panorama. As you soar above, you'll be treated to unparalleled vistas of the iconic F1 track, the enchanting Gardens by the Bay, the majestic city skyline, and even a glimpse of neighboring Malaysia and Indonesia.
From the soaring heights of the Singapore Flyer, the world takes on a new dimension, revealing the heart and soul of this vibrant city. It's an experience that transcends the ordinary, leaving you with memories to cherish forever. So, make it a point to indulge in this captivating adventure and witness the wonders of Singapore unfold before your very eyes.
---
4. Universal Studios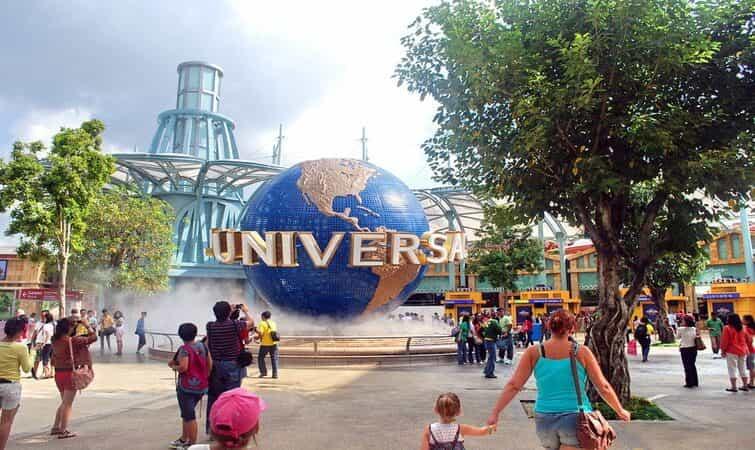 Discover the ever-thrilling paradise of Sentosa Island, where the enchanting Universal Studios awaits to create unforgettable family memories. A trip to this magical destination guarantees an exhilarating day out that will leave you spellbound. Universal Studios is undeniably the epitome of fun and excitement, brimming with a plethora of entertainment options to captivate your senses. Moreover, you'll be spoilt for choice with an array of delightful restaurants, charming cafes, and alluring shopping areas offering delectable treats to indulge in.
Don't miss the chance to stroll down the iconic 'Walk of Fame' and strike a pose alongside your favorite Hollywood personalities, immortalizing the moment forever. For the thrill-seekers among you, brace yourselves for an adrenaline-pumping experience on the legendary roller coaster, Battlestar Galactica. But that's just the beginning; Universal Studios boasts an abundance of captivating sights and activities to keep you energized throughout the day. From the futuristic allure of Sci-Fi City to the mystique of Ancient Egypt, and even the mesmerizing Lost World of Dinosaurs, each zone promises its own brand of excitement and wonder.
Get ready to embark on a journey through the realms of imagination and adventure at Universal Studios, where dreams come alive and joy knows no bounds. Prepare to be enchanted by a world of pure magic, where the young and the young-at-heart share in the delight of this extraordinary wonderland.
---
5. Botanic Gardens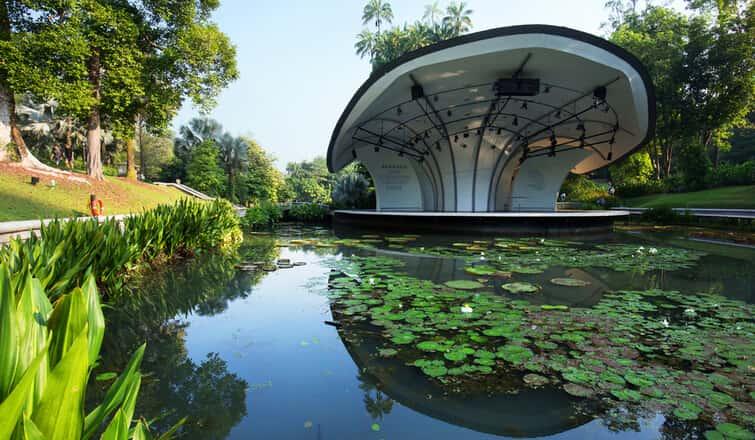 Experience the enchanting allure of Singapore's Botanic Gardens, a must-visit destination that promises to leave you feeling revitalized and captivated by its lush greenery. As the first UNESCO World Heritage Site in Singapore, this garden is a precious sanctuary that safeguards an array of rare and indigenous species of exotic flora, truly a haven for nature enthusiasts.
Once you step foot in this renowned tourist gem, be prepared to be awestruck by the breathtaking sight of vibrant foliage and immaculate landscapes that beckon you to immerse yourself in its natural splendor. One of the standout features of the Botanic Gardens is the exquisite Orchid, Singapore's national flower, gracefully blossoming amidst the verdant tapestry.
The serenity of the Botanic Gardens is further heightened by its serene lakes teeming with graceful ducks and swans, effortlessly gliding across the water's surface. This idyllic setting serves as a perfect retreat, allowing you to embrace the soothing embrace of Mother Nature while delighting in the symphony orchestrated by the harmonious interplay of birdsong, rustling leaves, and the gentle gliding of swans.
Escape the hustle and bustle of the city as you find solace within the sanctuary of the Botanic Gardens. Its allure is irresistible, drawing in crowds of visitors seeking respite and tranquility amid its captivating beauty. Wander through this oasis of natural wonder, and you will undoubtedly feel rejuvenated, your spirits uplifted by the serene ambiance that surrounds you.
A visit to Singapore's Botanic Gardens is an experience like no other, where the allure of nature's wonders intertwines effortlessly with a touch of sophistication. It's a place where you can lose yourself in the poetry of the outdoors and find a moment of stillness amidst the rhythm of life. So, venture into this captivating sanctuary and allow yourself to be swept away by its timeless charm.
---
6. Chinatown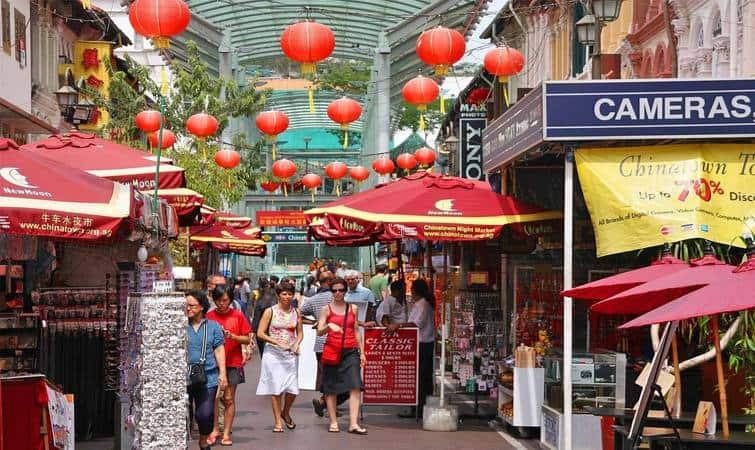 Step into the heart of Singapore, and you'll find yourself amidst the vibrant buzz of China Town. No visit to this enchanting city is truly complete without immersing yourself in the charm of this bustling district. Prepare to be captivated by a fusion of sights, scents, and sounds that create an experience like no other.
At the core of China Town's allure lies its delectable and authentic Chinese cuisine, sure to tantalize the taste buds of even the most discerning food connoisseurs. Wander through the bustling market, where the hustle and bustle seem to harmonize with the lively atmosphere, making it an unforgettable journey.
As you stroll through the colorful alleys, the eye-catching red lanterns sway gently overhead, casting a warm glow that adds an air of mystique to the whole scene. Everywhere you turn, charming shops line the streets, adorned with traditional Chinese products and alluring souvenirs, tempting you to take a piece of this magical place home with you.
While China Town is renowned for its Chinese heritage, it gracefully embraces diversity, showcasing impressive attractions from other cultures. Among these treasures are the majestic Sri Mariamman Hindu temple and the awe-inspiring Buddha Tooth Relic temple, both architectural marvels that bear witness to Singapore's rich cultural tapestry.
And if that's not enough to satiate your thirst for beauty and history, venture to the magnificent Thian Hock Keng, a vibrant and colorful Chinese temple that stands as a testament to the past. Having stood the test of time since its construction in 1820, it proudly wears the title of the oldest Chinese temple in all of Singapore.
So, whether you're a seeker of delectable delicacies, an admirer of cultural wonders, or a traveler with an eye for history, China Town in Singapore beckons you with open arms. Embrace the excitement, savor the moments, and let the magic of this captivating destination fill your heart with memories that will last a lifetime.
---
7. Singapore Zoo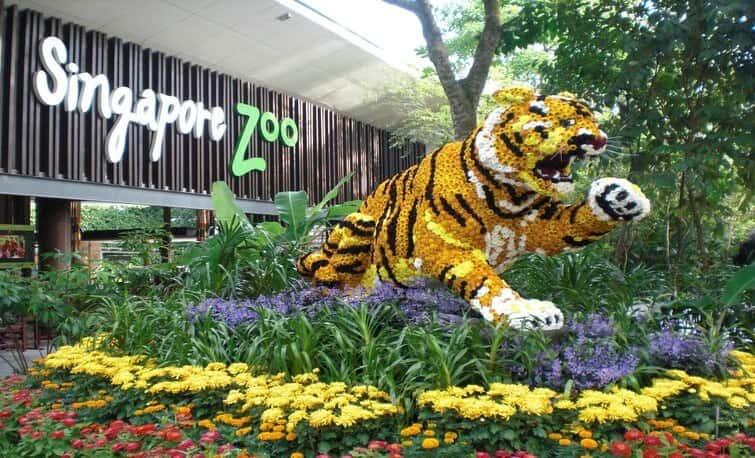 Embark on a remarkable journey to Singapore Zoo, where you will be captivated by the sight of exquisite and endangered animals thriving within its enchanting premises. This delightful family destination is truly one of the finest places to explore, boasting a diverse collection of over 300 species, including Giraffes, Koalas, Zebras, and majestic White Tigers.
The zoo's thoughtful layout divides it into distinct zones, each meticulously designed to replicate the natural habitats of its inhabitants. Enter the Frozen Tundra, where the awe-inspiring polar bears and adorable racoon dogs reside, transporting you to a land of icy wonders. Venture into the Fragile Forest, a lush rainforest teeming with fascinating creatures like insects, beetles, and graceful flying foxes, offering a glimpse of the intricate balance of nature.
Within the confines of the Primate Kingdom, be enchanted by the playful Java Langurs and the regal Lion-tailed Macaques, witnessing the incredible diversity of the primate world up close.
However, Singapore Zoo has much more to offer than just mesmerizing wildlife. Prepare to be entertained by the Splash Safari Show, a thrilling spectacle showcasing the astounding abilities of aquatic stars. Marvel at the intelligence and charm of Orangutans in their dedicated exhibit, a heartwarming experience that sheds light on the importance of conservation efforts.
And why not indulge in the delightful Jungle Breakfast, a unique opportunity to dine amidst the beauty of the animal kingdom? The joy of sharing a meal with the company of orangutans and other fascinating creatures is a memory to treasure.
Singapore Zoo is not just a place to witness animals; it is a haven of conservation, education, and wonder. It beckons you to immerse yourself in the wonders of the natural world, while also advocating for the protection of these vulnerable species. So, step into this elegant sanctuary of wildlife, and let Singapore Zoo bestow upon you a day of pure enchantment and enlightenment.
---
8. Changi Museum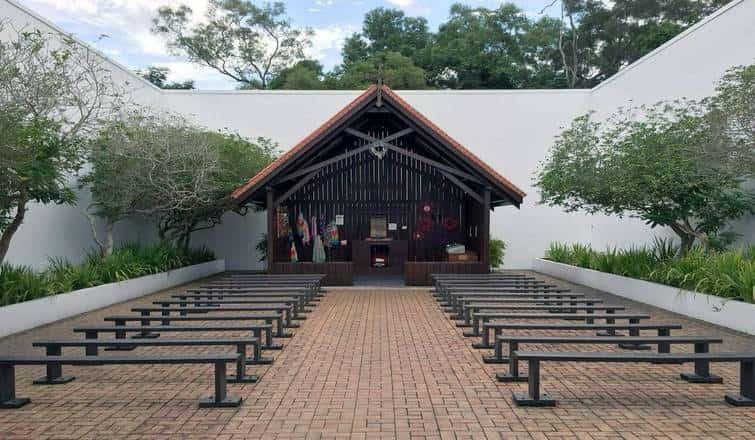 Discover the captivating allure of the Changi Museum, a cherished gem among Singapore's museums. Here, the poignant tale of those who endured the harrowing days of Japanese occupation during World War II unfolds before your eyes. With a treasure trove of letters, photographs, and evocative drawings on display, the museum weaves a heartfelt narrative of the past.
Step into this historical sanctuary, thoughtfully divided into five zones, with a charming gift shop and a serene chapel nestled at its heart. Each zone is adorned with a series of exquisite murals, meticulously recreated from the brushstrokes of the gifted Bombardier Stanley Warren. As you traverse through the museum's corridors, immerse yourself in the intricate details of these masterpieces, etched with emotions from a bygone era.
For those seeking a deeper connection with history, an audio-guided tour beckons, leading you on a captivating journey through the annals of the Changi Museum. Unravel the stories of resilience, sacrifice, and hope, shared by those who once walked the same grounds you tread.
Beyond the compelling allure of the Changi Museum, Singapore beckons with an array of other must-visit museums. Delve into the wonders of natural history at the Lee Kong Chian Natural History Museum, where you'll be enchanted by the marvels of the living world. Alternatively, pay your respects to the visionary Sun Yat Sen at the Sun Yat Sen Memorial Hall, a tribute to his enduring legacy. Lastly, but by no means least, the National Museum of Singapore stands as a beacon of the nation's rich heritage, inviting all to explore its colorful past.
Immerse yourself in Singapore's museum tapestry, where tales of triumph and trials intertwine, and history's echoes resonate with every step.
---
9. S.E.A Aquarium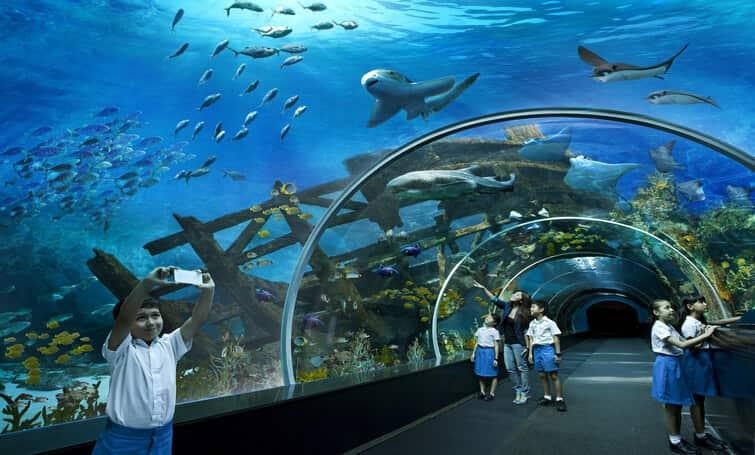 Welcome to the breathtaking SEA Aquarium, nestled on the beautiful Sentosa Island, where fascination awaits both young and old. This captivating attraction stands as one of the finest family-friendly destinations, boasting a stunning array of over 100,000 marine species. Prepare to be awestruck by the kaleidoscope of marine wonders, from graceful Sting Rays and awe-inspiring Sharks to playful bottlenose dolphins, majestic Turtles, and enchanting Coral Reefs.
Beyond its remarkable marine life, the complex houses an array of other captivating attractions that will leave you spellbound. Embark on an interactive journey with the dolphins at the enchanting Dolphin Island or take the plunge into the mesmerizing Shark Seas Habitat, where you can swim alongside a multitude of sea predators, including graceful stingrays and magnificent manta rays.
Without a doubt, a visit to the SEA Aquarium promises an extraordinary and unparalleled experience during your stay in Singapore. So, don't miss the chance to immerse yourself in the wonders of the deep blue sea and create cherished memories that will linger long after your tour concludes.
---
10. Changi Beach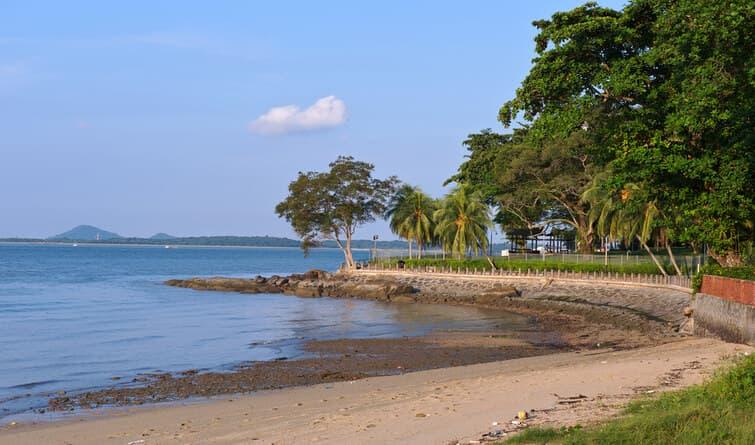 Discover one of Singapore's must-visit gems - the captivating Changi Beach! This enchanting coastal park holds a special place in the hearts of locals and tourists alike. With its rich history and serene 28-hectare expanse, it beckons you for an unforgettable day trip.
Stroll along the tranquil 3.3 km Long Park, gracefully nestled between the mesmerizing Changi Point and the charming Changi Ferry Road. As the sun graces the sky, immerse yourself in the calming ambiance that only Changi Beach can offer.
What makes this destination truly extraordinary is the myriad of leisure activities it has to offer. Embark on a leisurely beachside walk, where the simple pleasure of sun-kissed sands beneath your feet never grows old.
For families seeking a delightful outing, Changi Beach presents the perfect spot for picnics, surrounded by nature's splendor. And as the golden sun begins its descent, a breathtaking sunset awaits to captivate your senses, offering moments of tranquil contemplation.
For those with a penchant for adventure, Changi Beach is more than just a picturesque location. It warmly welcomes barbecue parties and thrilling overnight camping experiences under the starlit sky, leaving you with cherished memories.
And let's not forget the gastronomic delights! For seafood enthusiasts, the nearby Bistro@Changi promises a delectable array of treats to savor. But if you're seeking even more culinary diversity, a visit to Changi Village will unveil a world of tantalizing food options to satisfy every palate.
So, if you're yearning for an enchanting escape, make Changi Beach your next stop. With its timeless charm and an abundance of activities to embrace, this coastal paradise is sure to leave you with cherished memories that linger long after your visit. Experience the allure of Changi Beach - where elegance meets natural beauty, and every moment is a treasured gift.
---
11. Sentosa Islanda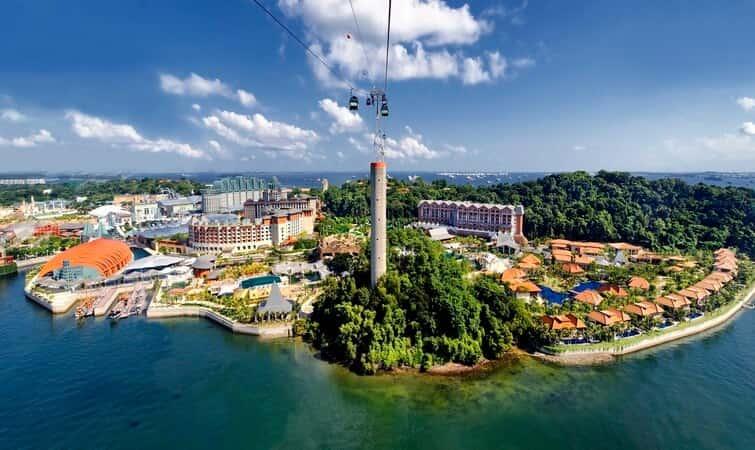 When it comes to choosing the perfect destination in Singapore, the plethora of options often leaves us in a delightful quandary. However, fret not, for there exists a captivating paradise that offers an exquisite blend of excitement, culinary delights, and entertainment - none other than Sentosa Island. This island gem stands as a quintessential tourist attraction in Singapore, beckoning travelers from all walks of life.
Nestled amidst the towering urban structures, Sentosa Island presents a coveted escape to the serene and sun-kissed Siloso Beach - a haven to rejuvenate and unwind. Siloso Beach's allure lies in its pristine sands and sparkling waters, inviting you to bask in the glory of its beachside treasures.
Sentosa Island is not only renowned for its picturesque beaches but also brims with a myriad of captivating activities and alluring beach attractions. For sports enthusiasts, Siloso Beach boasts free courts where volleyball enthusiasts can indulge in friendly matches. Additionally, kayaking and skim-boarding opportunities abound for those seeking a dash of adventure.
One of Sentosa Island's most extraordinary offerings is the famed Underwater World Aquarium, where an enchanting encounter with dolphins awaits. The thrill of swimming alongside these magnificent creatures is an experience that promises to stay etched in your heart forever.
Of course, no trip to Sentosa Island would be complete without a visit to Singapore's iconic statue, the Merlion, which proudly stands as a symbol of the nation's pride. Moreover, Fort Siloso stands as a testament to history, being the sole preserved fort on the island. A family-friendly venue, it promises an array of delightful activities to keep kids and adults entertained.
Let your imagination run wild at the Trick Eye Museum, an attraction that brings out the child in everyone, offering fun-filled experiences for both the young and young at heart.
In conclusion, when seeking an unforgettable escapade filled with laughter, adventure, and the sheer joy of exploration, Sentosa Island stands unparalleled as a destination that caters to every traveler's desires. It's an enchanting sanctuary where cherished memories are woven amidst the magical tapestry of Singapore's marvels.
---
12. Punggol Waterway Park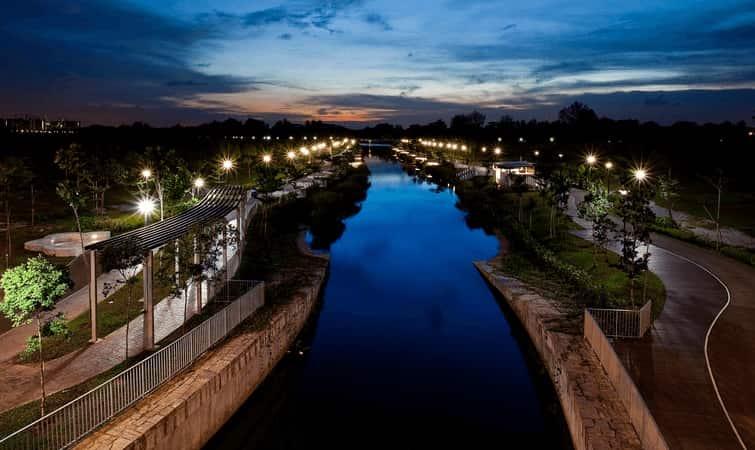 Welcome to Punggol Waterway Park, a delightful and family-friendly tourist destination nestled in the heart of Singapore. This charming park encompasses four captivating themed areas, inviting visitors of all ages to indulge in leisurely strolls and create lasting memories along its picturesque promenade.
Nature Cove beckons with its tranquil charm, inviting you to unwind and bask in the splendor of the serene Waterway. Here, you can leisurely explore and relish the captivating scenic views that surround you, offering a soothing respite from the bustling city life.
Venture into the Green Gallery, a haven adorned with lush and vibrant flora, harmoniously blending with the fauna that call this park their home. As you amble through this verdant oasis, you'll find yourself in awe of the majestic, mature trees that stand tall, offering their shade as a comforting embrace.
The Recreation Zone is a playground of joy for families, where both young and young-at-heart can revel in the abundance of exciting activities. From sand and water play that promises endless fun for the little ones, to a well-equipped fitness corner for the health enthusiasts, there is something for everyone to revel in.
Stepping into the Heritage Zone, you are transported back in time as you tread the pathways of the venerable Punggol Kampong, a historical gem and the last remaining village in Singapore. Here, history comes alive, allowing you to immerse yourself in the rich cultural tapestry of the past.
Punggol Waterway Park is more than just a park; it is a haven for families seeking respite, a playground for the young adventurers, and a sanctuary for those seeking to connect with nature and heritage. With its four themed areas, each offering a unique experience, it presents a harmonious blend of leisure, recreation, and cultural appreciation.
Whether you desire a tranquil escape or an exciting day of play, Punggol Waterway Park promises an enchanting journey that will leave you with cherished memories to treasure for a lifetime. So come, be a part of this captivating experience, and let the park's timeless charm weave its magic on your soul.
---
13. Pulau Ubin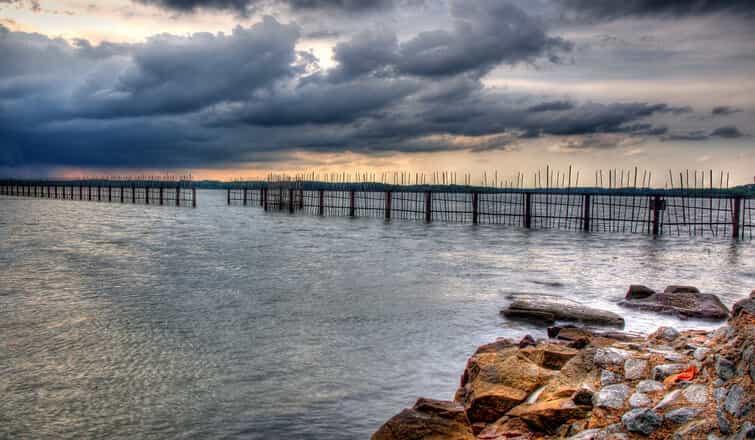 Embarking on a journey to Pulau Ubin promises an extraordinary experience like no other. This quaint island, nestled in the enchanting north-eastern part of Singapore, stands as one of the two remaining kampongs, the first being the esteemed Kampong Buangkok. While it may not boast sandy shores that enthrall beach seekers, Pulau Ubin generously offers something special for every soul who sets foot upon its shores. With lush greenery enveloping the landscape and a diverse array of wildlife, this island paradise beckons travel photographers and nature enthusiasts alike.
Prepare to be captivated by the myriad of trails that crisscross this natural haven. The renowned Sensory Trail, a 1.5-kilometer stretch, comes adorned with tags showcasing unique and fascinating flora, unveiling a world of botanical wonders. Delve further into the heart of Pulau Ubin as you visit the Pekan Quarry and Butterfly Hill, where nature's magnificence unravels before your very eyes, leaving you with a newfound appreciation for the wonders of our environment.
For those with an adventurous spirit, Pulau Ubin generously unveils its treasures. The Chek Jawa wetlands and boardwalk offer an unparalleled escapade. Stroll along the 1.1-kilometer boardwalk, and be treated to an awe-inspiring sight of marine wildlife thriving in harmony. Ascend the Jejawi Tower, and be rewarded with a panoramic view that embraces the entire island, making it an idyllic spot for avid bird watchers.
Thrill-seekers, rejoice! For there are heart-pounding escapades awaiting your indulgence. Embark on a thrilling cycling expedition along Ubin's biking trails, ranging from moderate to challenging tracks, providing an adrenaline-fueled experience like no other. As you traverse this fascinating landscape, make a stop at the esteemed German girl shrine, a place of solemn beauty that holds historical significance.
And if that's not enough, brace yourself for an unimaginable escapade as you kayak through the captivating mangroves. Let the waters guide you on a journey that will undoubtedly etch unforgettable memories into your heart and soul.
In conclusion, a sojourn to Pulau Ubin unveils a world of wonders for those who seek solace in nature's embrace and crave a departure from the ordinary. With its lush foliage, abundant wildlife, scenic trails, and thrilling adventures, this island is a sanctuary for the soul and a muse for the heart. Prepare to be spellbound by its charm and let Pulau Ubin weave its magic, leaving you with a sense of fulfillment that only nature's embrace can provide.
---
14. Clarke Quay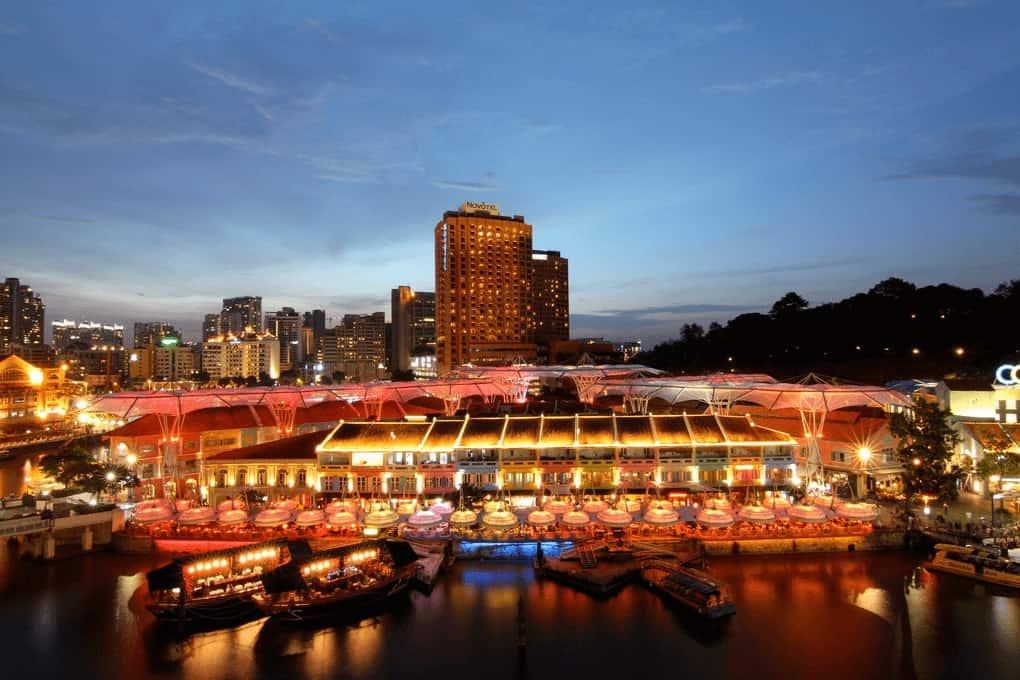 Singapore, a city that never sleeps, offers more than just day-time delights; it caters to the night crawlers too. Among the numerous options, Clarke Quay stands out as an electrifying nightlife destination. Bursting with a vibrant assortment of food joints, lively pubs, charming rooftop bars, and high-spirited discotheques, this place exudes an infectious energy that captivates both travelers and locals alike.
As you saunter along the bustling streets, be prepared to be mesmerized by the enchanting display of neon lights, tantalizing aromas of delicious food, and the dazzling reflection of skyscrapers on the shimmering Singapore River. Clarke Quay is a sensory feast that leaves an indelible mark on your heart.
For those seeking a rush of adrenaline, Clarke Quay has something special in store - the thrilling 'G-Max Reverse Bungy.' Brace yourself for a heart-pounding experience as you catapult 60 feet into the air at an exhilarating speed of 200 km/hour. The adventure buffs will find their fix in this heart-stopping escapade.
A visit to Clarke Quay guarantees an eventful and unforgettable evening during your Singapore trip. It's a sanctuary for those who crave the joy of late-night revelries and the essence of unbridled excitement. So, when the sun sets over Singapore, embrace the magic of Clarke Quay, and let the night embrace you with its madness and delight.
---
15. Orchard Road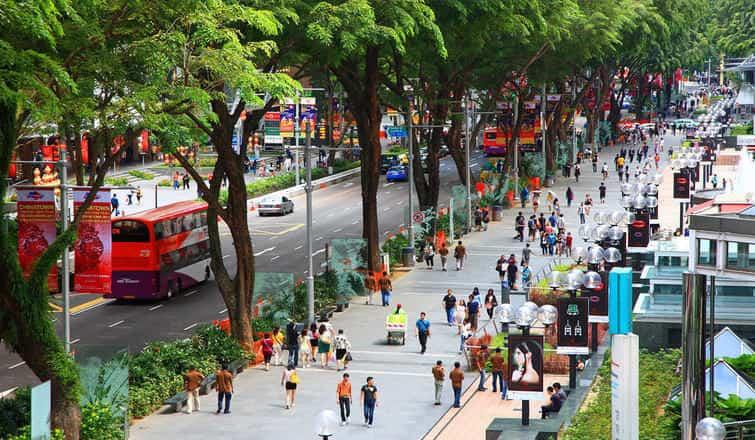 Exploring Singapore's vibrant cityscape, Orchard Road stands tall as a revered sanctuary for all shopping enthusiasts. A haven of contemporary fashion and an array of stores, this bustling boulevard is an absolute delight. Nestled in this world-class metropolis, embarking on a shopping spree from Orchard Road's 22 lavish malls and six department stores is a splendid way to begin your retail adventure.
Venturing through this retail paradise may prove challenging as every store beckons with allure, enticing you to pause and indulge. Orchard Road is an undeniable tourist magnet in Singapore, boasting not only illustrious fashion labels like Prada, Chanel, Louis Vuitton, Gucci, Giorgio Armani, and Dior but also offering four captivating movie theaters. While your companion explores the chic boutiques, unwind and treat yourself to a cinematic experience at the IMAX or showcase your singing prowess at the KTV karaoke joint.
Singapore epitomizes the perfect fusion of the past's timeless charm and the marvels of contemporary artistry. A gem beckoning travelers from across South-East Asia, it is a destination that transcends budget trips, honeymoon getaways, and family vacations alike. In the year 2020 and beyond, Singapore is an undisputed must-visit destination, ensuring an ever-thrilling experience. A resounding "yes" echoes for every journey to this enchanting locale.
Our travel packages extend a warm invitation to create your ultimate Singapore holiday. With a diverse range of offerings, rest assured that you will encounter the finest this mesmerizing country has to offer. So, pack your excitement and join us on an unforgettable escapade through the marvels of Singapore.