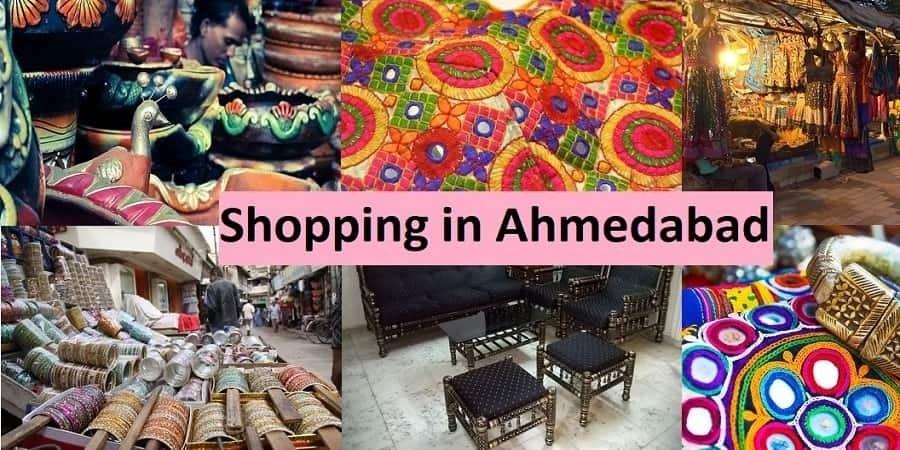 Discovering the hidden gem of Ahmedabad as a shopper's paradise defies conventional wisdom. It is a city where markets burst with lively fabrics, captivating chunky jewelry, and exquisite traditional handicrafts, creating an eclectic blend of strong ethnicity intertwined with a touch of modernity. Revered for its widespread wholesale options, Ahmedabad has earned the illustrious moniker of "Manchester of India," signifying that it is the ideal destination for those skilled in the art of haggling. Embrace the charm of this city and embark on a shopping adventure like no other.
We have curated a comprehensive list of places for Shopping in Ahmedabad
1. Lal Darwaja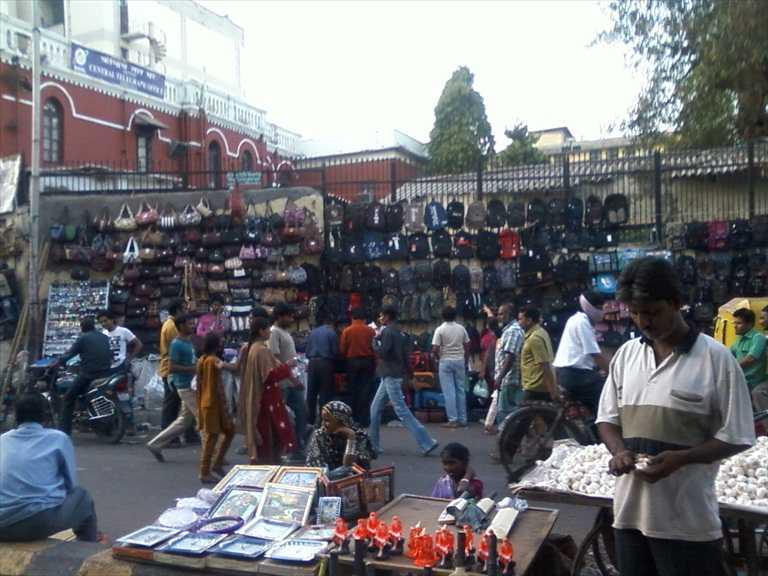 Step into the vibrant streets of Lal Darwaja, nestled in the heart of the old city of Ahmedabad, and you'll find yourself in the midst of a bustling shopping paradise. Despite the crowds that fill the lanes, this place remains an irresistible destination for shopaholics and explorers alike. The charming, winding pathways hold the promise of discovering hidden gems that will leave you craving for more.
If you have a passion for food, consider this a double treat, as Lal Darwaja is a culinary haven. Your taste buds will dance with delight as you savor the flavors of the famous dhoklas, pani puris, samosas, and dosas served here. Each bite will be a revelation of the rich Amdavadi culinary heritage.
Embrace the spirit of a true shopper and don your bargaining hat, as Lal Darwaja offers an authentic and immersive shopping experience. As you navigate through the bustling alleys, remember to keep your valuables close. The array of traditional Amdavadi wares and treasures will beckon you to indulge in a shopping spree like no other.
In the midst of the vibrant chaos, Lal Darwaja stands tall as a time-honored hub of excitement, culture, and commerce. Immerse yourself in its charm, and you'll leave with unforgettable memories and a desire to return for more adventures in this enchanting corner of Ahmedabad.
What can you buy: Sarees, Fabrics, Shoes, Colourful skirts, Chaniya Cholis, Wallets, Second-Hand books, Belts, Garments for men and children, Dupattas
Timings: 11:00 - 23:00 (All days of the week)
Address: Lal Darwaja, Ahmedabad, Gujarat
---
2. Dhalgarwad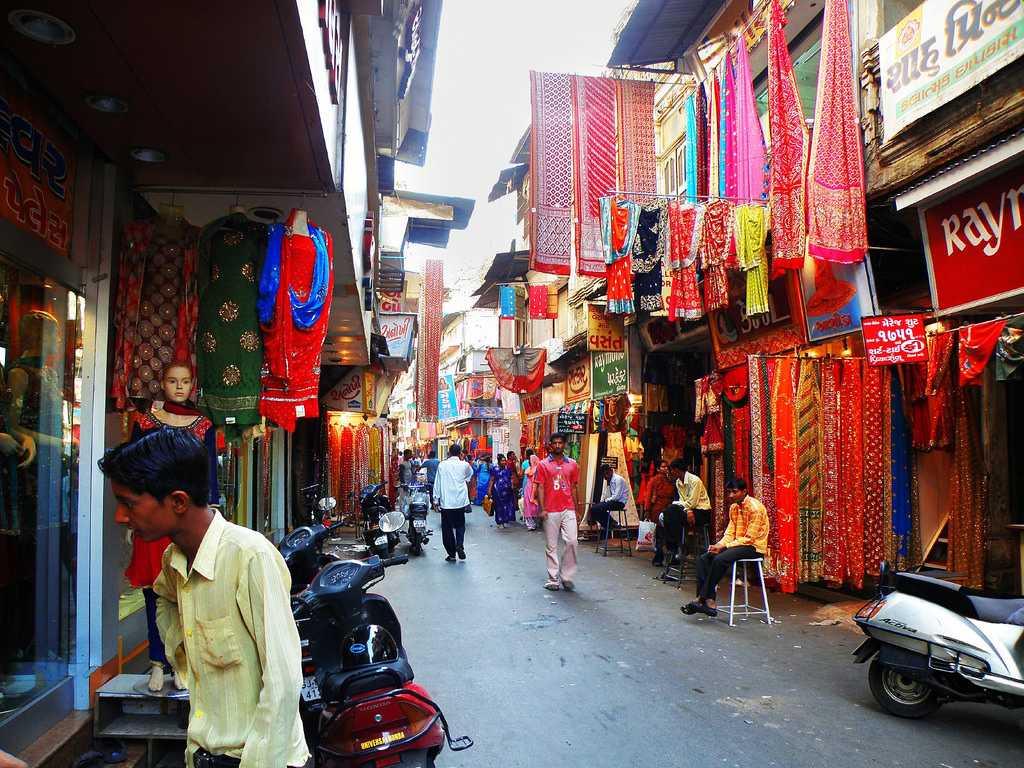 This hidden shopping gem, tucked away in the heart of the old city - a timeless fabric market, boasting a rich heritage in Ahmedabad. While it's celebrated as a paradise for bargain-hunters, brace yourself for a delightful adventure amidst piles of fabrics, in search of that perfect find. This marketplace, renowned for its history, has also earned a reputation for employing shrewd sales tactics, making it essential to carefully select your purchases and seek out the finest materials.
What can you buy: Bandhej, Silk Patola saris, Cotton prints like Mangalgiri, Kalamkari, Jaipuri cotton, South cotton, bedsheet material, salwar suits Chaniya cholis and a fair share of silver jewellery
Timings: 11:00 - 23:00 (All days of the week)
Address: Dhalgarwad, Khadia, Ahmedabad, Gujarat
---
3. Sindhi Market
Welcome to the captivating realm of Kalupur, where the journey begins beside the strong iron-plated timber gates. Here, the enchanting Sindhi market unveils itself, akin to the famed streets of Lal Darwaja, yet exuding its own distinct charm.
Referred to affectionately as Revdi Bazaar, this delightful arena is renowned for its exquisite household upholstery, traditional artifacts, and mesmerizing handicrafts, setting it apart from the fabric-centric markets. However, a leisurely stroll along the length and breadth of the Sindhi market reveals more treasures in the form of fine footwear and elegant saree materials.
To immerse yourself fully in this enchanting shopping experience, embrace the age-old art of haggling. Negotiate skillfully until you are thoroughly convinced that your purchase is a true reflection of value for money.
Allow the allure of Kalupur's Sindhi market to whisk you away on a delightful adventure, where time-honored craftsmanship and authentic finds await your discerning taste.

What you can buy: Bedsheets, curtains, pillow covers, handicrafts, sarees, dress materials, handicrafts, footwear
Timings: 11:00 - 23:00 (All days of the week)
Location: Sindhi Market, Revdi Bazar, Kalupur, Ahmedabad
---
4. Manek Chowk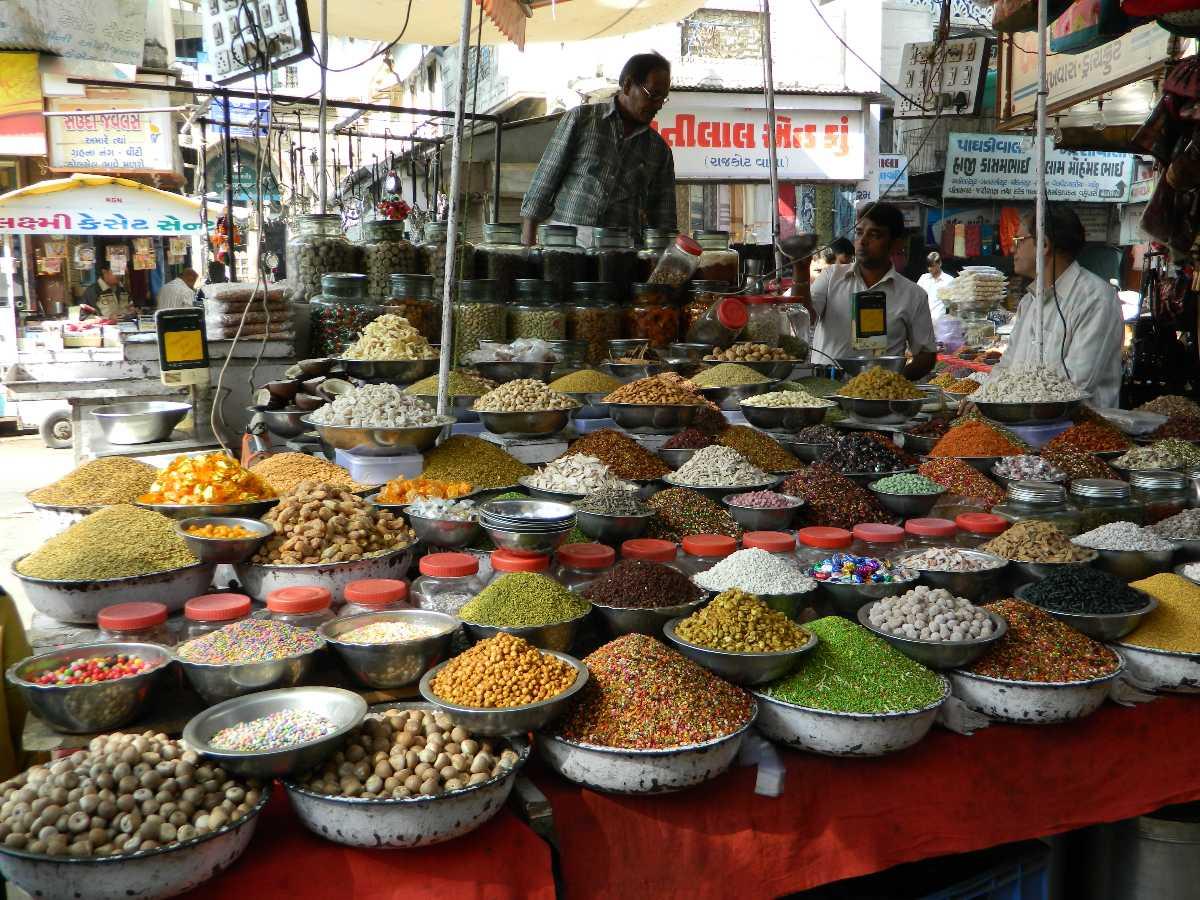 Nestled within the enchanting lanes of Old Ahmedabad, you'll find Manek Chowk, a prominent city square that unravels its unique charm throughout the day. As the sun rises, it transforms into a vibrant vegetable market, brimming with colors and fresh produce. But as the day progresses, a magical metamorphosis takes place, and the market assumes a new identity as a bustling bullion market, where gleaming treasures await those seeking exquisite jewelry and precious metals. In the golden hour of sunset, when the sky blushes with hues of orange, the square morphs once more, this time into an irresistible street food paradise, where flavors dance on your taste buds.
Manek Chowk derives its name from the revered Baba Maneknath, who played a pivotal role in the construction of the magnificent Bhadra Fort, a testimony to the city's rich heritage. At the heart of this market lies the second-largest bullion market in India, boasting an astounding annual turnover of over INR 3 million. For those ringing wedding bells, this is the destination for unforgettable jewelry shopping.
To the east of Manek Chowk, lies the graceful Rani No Hajirao, the Queen's tomb, and the alley leading to this monument is nothing short of a treasure trove. Here, you'll be captivated by a mesmerizing array of block-printed fabrics and chunky silver jewelry, a perfect blend of tradition and contemporary style. During Navratri, women from all corners of Gujarat flock to Manek Chowk to adorn themselves with the finest Garba attire, unmatched in its variety and beauty.
Among the numerous stalls, Gamthiwala stands out as a favorite haunt for those seeking authentic Gujarati fabrics and prints. Though the prices may lean towards the higher side, the quality and craftsmanship are second to none. As the clock approaches 8 PM, a new energy surges through the air, announcing the opening of the street food market that lingers alive until 1.30 AM. Here, an abundance of flavors and aromas tempt your senses, providing a delightful finale to your shopping expedition.
Leaving Manek Chowk after such an indulgent experience is incomplete without a delightful kulfi stick in hand. As you take your last steps through this bustling square, memories of its multilayered markets and tantalizing treats will linger in your heart, forever etched in the fabric of your journey.
What you can buy: Gold, block print fabric, Garba attire, traditional Gujarati material, bandini
Timings: 11:00 AM - 1:30 AM (All days of the week)
Location: Gandhi Rd, Danapidth, Khadia, Ahmedabad
---
5. Law Garden Bazar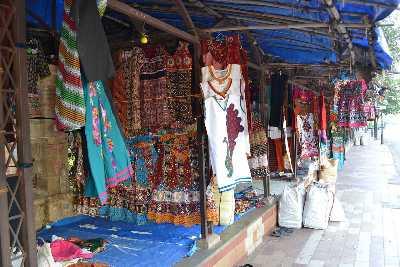 Nestled directly across from a cluster of colleges on Ellis Road, Law College awakens to life as the evening sets in. This vibrant marketplace offers an exquisite blend of both western attire and traditional Indian wear. However, it is most renowned for its captivating mirror work and intricately crafted Kutchi jewellery and dresses.
The college's bustling surroundings are divided into two distinct sides. On one side, you'll find a plethora of stalls showcasing an array of garments, bags, handicrafts, and exquisite jewellery. On the other side, a dazzling array of the latest fashion trends awaits you – from stylish tops and trendy jeans to elegant footwear, graceful skirts, and vibrant palazzos, all complemented by beautiful dupattas.
The people of Amdavad hold their culinary delights close to their hearts even while indulging in retail therapy. Therefore, Law Garden itself is lined with enticing food stalls that offer everything from mouthwatering pav bhaji to delectable kulfi and delectable Chola bhaturas.
In this lively and captivating marketplace, the fusion of culture, fashion, and gastronomy makes it a truly delightful destination for all who visit. The colors, flavors, and vivacity of Law Garden create an unforgettable experience that captures the essence of the city's spirit.
What you can buy: cholis, Chaniyas, embroidered wall hangings, costume jewellery, handicrafts, bags, bedsheets, dress material, western wear
Timings: 17.30 to 23.30 (All days of the week)
Location: Netaji Road, Ellisbridge, Ahmedabad
---
6. CG Road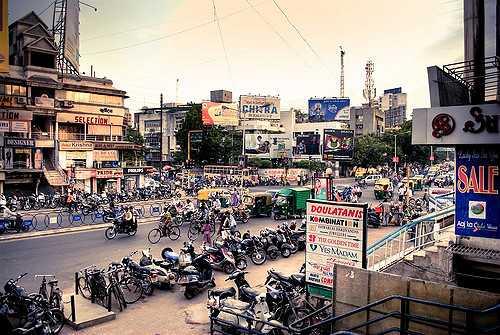 CG Road, named after the illustrious Chimanlal Girdharlal, a prominent Indian businessman during the '60s, is an extensive boulevard of retail delights, stretching from the vibrant Mahalaxmi Crossroads to the grand Sardar Patel Stadium Crossroads. It's a shopping haven that transcends the typical street shopping experience, presenting an exquisite amalgamation of quaint shopping arcades and opulent shopping malls like Super Mall, Iscon Mall, and CG Square Mall.
This retail utopia has attracted esteemed brands like Jade Blue, Blackberry, Reebok, Arrow, and more, each having established their brick-and-mortar emporiums on this prestigious road. As a result, it has become a beloved destination for discerning shoppers who seek nothing but the best.
In recognition of its meteoric rise, CG Road earned accolades in 2010 when it secured the third spot in the "Main Streets Across the World" report by real estate firm Cushman & Wakefield for its impressive growth in the Asia Pacific region. Since then, the value of real estate here has soared to unprecedented heights, making it a domain exclusively reserved for reputable brands capable of affording a presence in this esteemed locale.
So, if you're looking to indulge in a shopping experience like no other, meander along CG Road and relish in the splendors it bestows upon its eager visitors.
Known for: Shopping Malls, Branded stores
Timings: 11:00 - 23:00 ( Monday - Sunday)
Location: Chimanlal Girdharlal Road
---
7. Teen Darwaza Market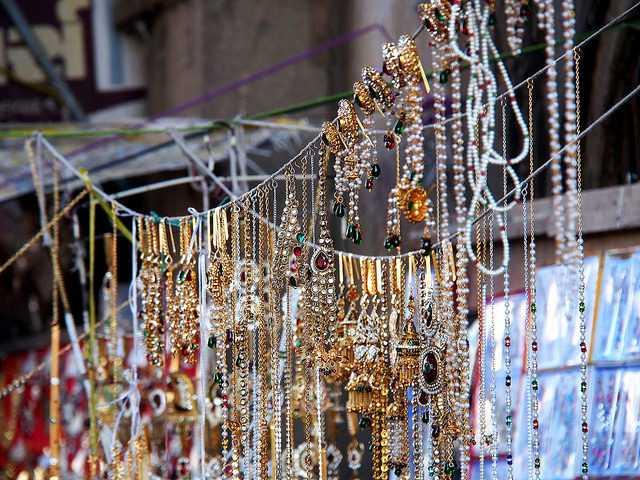 The allure of Ahmedabad's historical and architectural gem, the Teen Darwaza – a captivating sightseeing spot that should not be missed. Nestled in the heart of the city, along the bustling main road, this place exudes a vibrant energy, drawing numerous tourists from near and far.
The Teen Darwaza area is a lively hub of activity, teeming with vendors offering an astonishing array of goods. From footwear to clothing to household items, there's a treasure trove of wares waiting to be explored. The joy of shopping here lies in the art of bargaining, allowing you to indulge in a delightful shopping spree.
When festivals grace the city, the Teen Darwaza area transforms into a lively carnival. The streets come alive with people celebrating, adding a festive charm to the surroundings. One of the highlights of this area is the renowned Patharnawala stalls, which cater to people from all walks of life, offering practical and affordable merchandise.
For shopaholics, the Teen Darwaza market is nothing short of a paradise. Its wholesale market entices shoppers with a plethora of choices. For a truly enchanting experience, plan your visit during the captivating kite festival, as the market becomes adorned with an array of colorful kites. It is not just any kite market – it is the beating heart of India's kite industry, producing and distributing kites all across the nation.
While exploring the market, make sure to bring back some souvenirs as mementos of your journey. The market is replete with charming shops where art lovers can find rustic artifacts and locally-crafted showpieces. Speciality goods, like Meenakari furniture and exquisitely embroidered items, are also abundant.
But what truly sets Teen Darwaza apart is its dedication to ethnic wear and unique artifacts. The market boasts an impressive selection of traditional clothing and timeless treasures, reflecting the rich heritage of the region.
So, when you find yourself in Ahmedabad, don't miss the opportunity to delve into the enchanting world of Teen Darwaza. Immerse yourself in its cultural splendor, relish the joy of shopping, and take home precious memories, not just for yourself, but also as delightful tokens for your loved ones.
---
8. Rani no Hajiro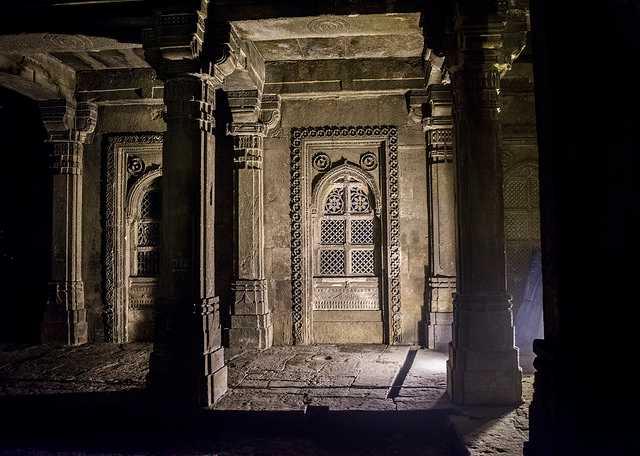 The enchanting Rani no Hajiro complex, a renowned tomb near Manek Chowk, lies a captivating market adorned with a plethora of women's clothing, exquisite jewelry, and delightful accessories. For those in pursuit of traditional earrings and jewelry, this charming destination is an absolute gem. Here, you can indulge in the finest Garba attire, ensuring your fashion choices are nothing short of perfection in Ahmedabad.
As you explore the vibrant open square, you'll be captivated by the intricate jewelry on display, a testament to the artistry and uniqueness that sets this market apart from the rest of the city. The colorful array of fabrics available here will delight you, and what's even more impressive is the accessibility of these treasures at budget-friendly prices.
For connoisseurs of the finest handloom fabrics, this place is a paradise. Feast your eyes on the masterpieces of Ikat, Mashrush, and Ajrakh, each a testament to the rich cultural heritage of this land. Once a tomb for queens, the aura of royalty still lingers, bestowing upon every woman who shops here a sense of regal splendor.
The experience wouldn't be complete without mentioning the plethora of mouthwatering mouth freshener shops that encircle the tomb complex. As you savor the delightful flavors, you'll be left with a lingering taste of the rich history and vibrant present that surrounds Rani no Hajiro.
In essence, this market is a celebration of beauty, tradition, and grace, a sanctuary where women can embrace their inner queen and immerse themselves in the allure of timeless elegance. So, if you seek a shopping escapade like no other, this market near Manek Chowk awaits, ready to bestow upon you a truly unforgettable experience.
---
9. Raipur Gate Market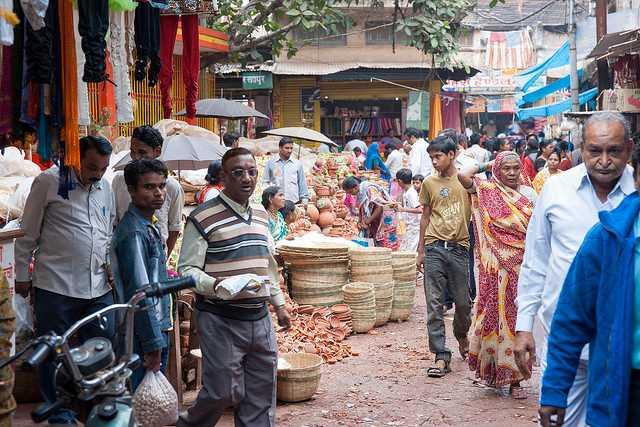 Gujarat, renowned for its delectable fried and steamed snacks as well as mouthwatering sweets, offers a delightful culinary experience. The unique aspect of these snacks lies in their exceptional ability to remain fresh for an extended period, making them an ideal gift for your loved ones.
Among the many places to indulge in these gastronomic delights, Raipur Gate Market in Ahmedabad stands out as an iconic and time-honored destination. Here, you can explore a wide array of delectable treats, including dhokla, khakra, fafda, jalebi, khandvi, and more. A visit to Ahmedabad is incomplete without savoring the famous farsaans of Raipur Gate.
Nestled within the charming lanes of Raipur Gate, you'll find some well-known farsaans vendors, each offering their unique and authentic flavors. Strolling through this bustling area, the aromatic delights and vibrant atmosphere are sure to captivate your senses, leaving you with unforgettable memories.
Whether you're a culinary enthusiast or just someone with a penchant for delicious snacks, a visit to the historic Raipur Gate Market promises a delightful and unforgettable experience. So, make sure to treat yourself and your dear ones to the tempting flavors of Gujarat's finest farsaans during your Ahmedabad sojourn.
---
10. Fernandes Bridge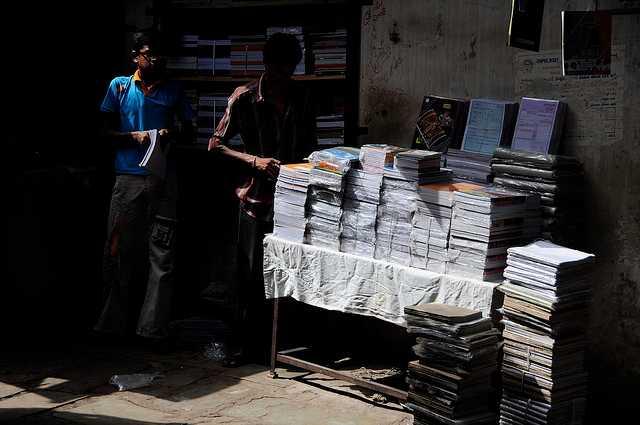 Ahmedabad, the city of colors and culture, has a delightful surprise in store for all book lovers. Nestled beneath the historic Fernandes Bridge lies a treasure trove for those who revel in the written word. This charming market boasts a bountiful collection of both old and new books, available throughout the week.
For avid bookworms, it is a paradise where they can amass stacks of books at remarkably low prices. The market proudly caters to every literary taste, offering an extensive range of genres, from art, design, and management to a diverse array of subjects.
Wandering through this enchanting place, you might stumble upon true literary gems, such as first editions, out-of-print rarities, and collectible classics. Moreover, the market boasts an impressive assortment of academic and technical publications, catering to even the most niche interests.
Magazines and journals also find their place here, adding to the allure of this delightful spot. However, this haven is not just about buying; it warmly welcomes book enthusiasts to sell or exchange their beloved volumes, fostering a community of like-minded individuals who share a passion for literature.
Visitors to this street book market may not leave burdened with heavy bags in both hands, but they are certain to depart with hearts full of joy, having acquired something truly worthwhile to cherish. So, if you find yourself in Ahmedabad, do not miss the chance to explore this charming book-lover's haven, where literary treasures await your discovery.
---
11. Ghantakarna Mahavir Market
Ghantakarna Mahavir Market, renowned for its splendid array of fabrics and textiles, boasts a delightful selection to suit every taste. Among its treasures are exquisitely adorned printed sarees, an assortment of dress materials, and an enticing collection of unstitched garments. The market proudly houses numerous wholesale shops, adding to the vibrant shopping experience. In addition to this, discerning visitors may also stumble upon charming readymade garment boutiques and a variety of other delightful shops, enhancing the allure of this shopping haven.
What can you buy: Textiles
Timings: 10:00 - 21:00
Address: Sarangpur, Sherkotda
---
What to Buy in Ahmedabad
1. Snacks and Farsan
Where: Raipur Gate
Known for: Farsaans, fried snacks, steamed snacks, muthia (vegetarian kebabs), khandvi, khakra, khaman, kachori, dhokla, Patra, fafda jalebi
2. Stoles and Dupattas
Where: Shivranjani Crossroads
Known for: scarves, stoles, dupattas in block printed design, tussar silk, silk crap, crushed material and bandhani
3. Accessories and Stitching Material
Where: Pankornaka, Bhadra and Ratanpole.
Known for: Satin, Laces, buttons, imitation jewellery, turbans
4. Wooden Artefacts and Festival Decorations
Where: Ramakda Market
Known for: Wooden toys, handmade wooden artefacts, painted dandiyas, festival decorations like Christmas trees and stars, Diwali lights
---
Famous Shops in Ahmedabad
1. Asopalav
Asopalav started as a suiting and shirting store in 1968 in Patan. Now they have become one of the most famous names when it comes to saree shopping in Ahmedabad. You imagine it, they have it! Asopalav stores have the most mind-boggling collection of sarees you will ever see. There are four stores of Asopalav in Ahmedabad.
What can you buy: Sarees, Lehengas
Timings: 10:00 - 20:00
Address: four stores- Ratanpole; Shivranjani; Ashram Road; Nava Vadaj
2. Bandhej
Envisioned and brought together by Archana Shah in 1981, Bandhej was one of the first 'designer' labels in Ahmedabad. The brand supports sustainable fashion by using eco-friendly, home woven fabrics and natural dyes. The products are the works of craftspeople in and around Ahmedabad.
What can you buy: Bandhani Sarees, Stoles, Kurtas, fusion wear
Timings: 10:00 - 20:00
Address: three stores- Mithakhali, Alpha One Mall, Prahlad Nagar
3. Kapasi Handicrafts Emporium
Kapasi Handicrafts Emporium was founded by Shri Kantibhai Kapasi in 1973. New designs from various traditional techniques of wood, metal, paintings were created in order to preserve the age-old art and culture. If you are looking for souvenirs, then this is the place to buy from.
What can you buy: Souvenirs, corporate gifts
Timings: 10:00 - 20:00
Address: Jitendra Chambers, Behind Ajanta Commercial Centre, New R.B. I. Lane Income Income Tax Square, Ashram Road
4. Induben Khakhrawala
Are you craving for some Gujarati snacks? Induben Khakhrawala is the store to go to. You will find a variety of packaged snacks like theplas, khakhras, namkeens, pickles, papads, mathiyas, flavouring syrups and even sweets. This decade-old store is famous for manufacturing and exporting khakhras.
What can you buy: Gujarati snacks
Timings: 10:00 - 21:00
Address: Various stores around Ahmedabad
5. Jai Hind Sweets
If you have a sweet tooth and want to try the authentic sweets for Ahmedabad, Jai Hind sweets offers the most mouth-watering delicacies that you can relish. Jai Hind sweets was established in 1948 and is one of the oldest sweet shops in Ahmedabad.
What can you buy: a variety of sweets
Timings: 10:00 - 21:00
Address: Mon-Sat 8:00 - 22:00, Sun 8:00 - 19:00
Apart from streetside shopping and brick and mortar branded stores, there are many malls in Ahmedabad that are a delight to mall crawl at. In order of popularity, some are; Alpha One, Himalaya Mall, Iscon Mall, CG Square Mall, Acropolis Mall and Gulmohar Park Mall. During peak summers when Ahmedabad heat is unbearable, most shoppers prefer these malls that are well equipped with a great selection of brands and quality facilities. Most of these malls have lavish food courts and movie theatres making it a one-stop-shop for locals and tourists alike.