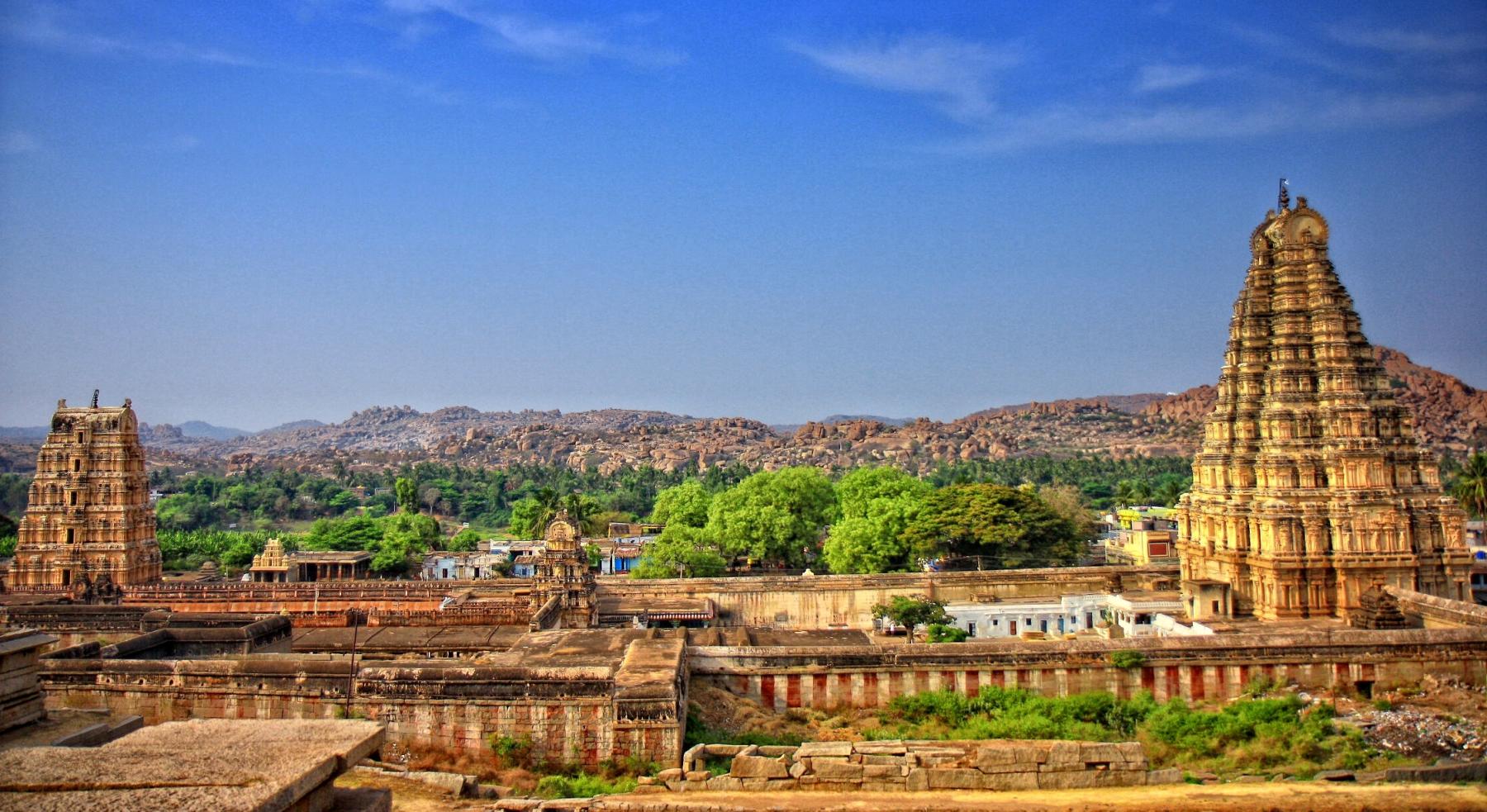 One of India's Greatest Hindu Kingdoms' Evocative Ruins
Laid-back Hampi was the final capital of Vijayanagar, one of India's greatest Hindu kingdoms. The area contains some incredible ruins that are intriguingly intertwined with large boulders that dot the landscape. It's a must-see destination in India, and there's incredible energy there. Use this Hampi travel guide to plan your trip.
History
During the powerful reign of the Vijayanagar Empire in South India from the 14th to 16th centuries, Emperor Krishna Deva Raya built many temples and other structures at Hampi. The thriving capital was considered the center of South India, and its vibrant marketplace was one of the world's largest trading hubs, selling all types of goods to foreigners.
Hills naturally fortified Hampi, shielding it from invaders approaching from the north and south. However, its glory ended in 1565, when the five allied Deccan Sultanates of Bijapur, Bidar, Berar, Golconda, and Ahmednagar defeated ruler Rama Raya (Krishna Deva Raya's son-in-law) in the Battle of Talikota. Following six months of plundering, Hampi was reduced to ruins. Unfortunately, its grandeur was never restored.
Colin Mackenzie, the first Surveyor General of India under the British East India Company, discovered Hampi's ruins in 1800. The Archaeological Survey of India then conducted extensive excavations, which are still ongoing. Hampi was designated a UNESCO World Heritage Site in 1986.
Location
Hampi is located in central Karnataka, about 350 kilometers (217 miles) south of Bangalore.
How to Reach
Bellary/Ballari (two hours away) and Hubli (four hours away) are the closest airports. You'll then need to arrange bus or taxi transportation.
Alternatively, the nearest railway station is about a half-hour drive away in Hospet. Overnight trains from Bangalore and Goa arrive in Hospet several times per week. Buses leave from Bangalore and Goa, as well as Mysore and Gokarna in Karnataka, and arrive in Hospet. However, the train is unquestionably more comfortable and preferable. You can get to Hampi by bus or auto-rickshaw from Hospet. Local buses are frequent and inexpensive, and they are preferable to a long and dusty auto-rickshaw ride.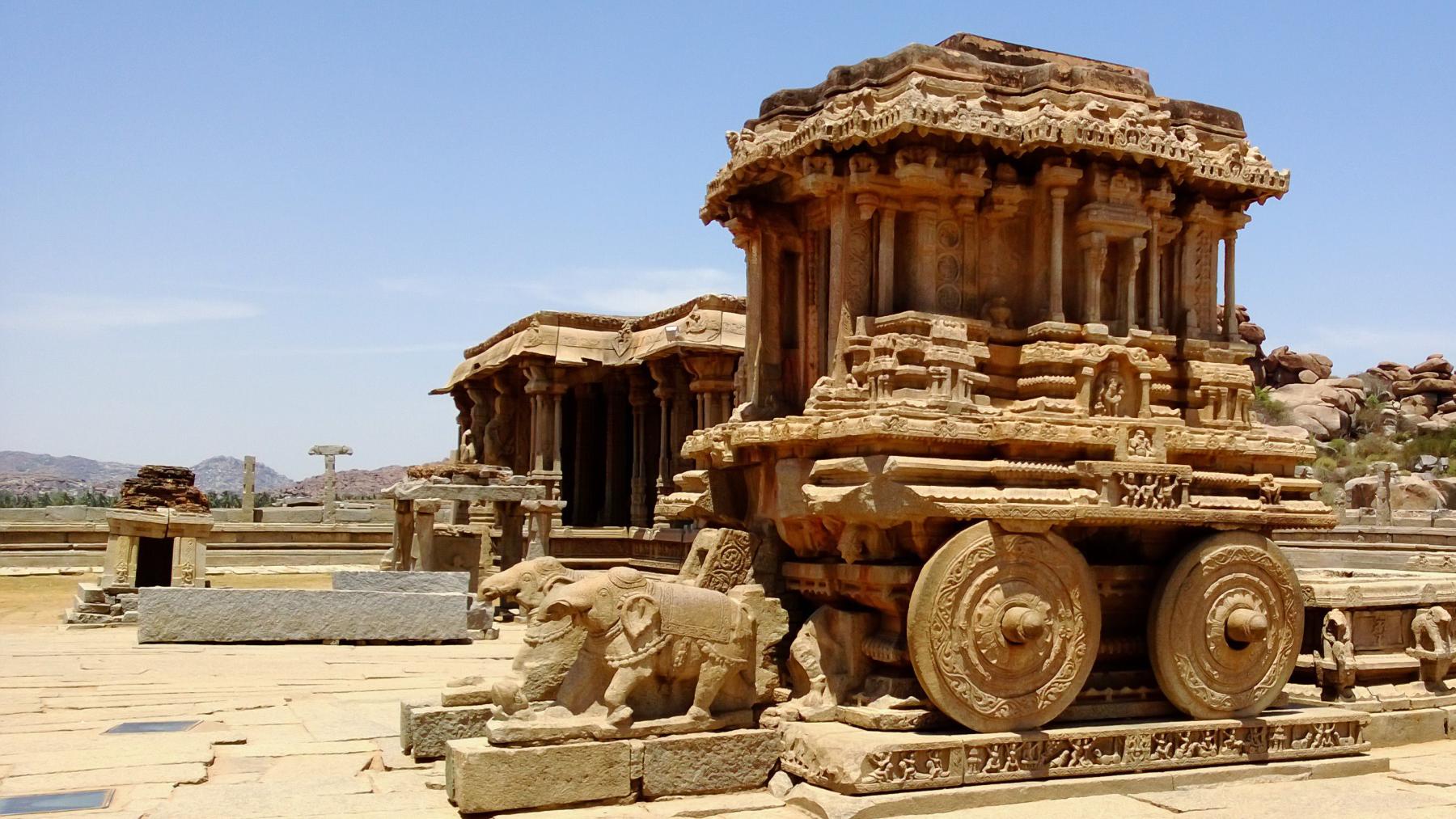 When to Go
From November to February, the best time to visit Hampi is when it is cool and dry. The weather begins to become unbearably hot in March.
If you like local color and culture, go during the three-day Hampi Festival (also known as the Vijaya Utsav). Dance, drama, music, fireworks, and puppet shows are all performed with the Hampi ruins as a backdrop. This popular (and crowded) festival is usually held in November, but it has been moved to January in recent years, so check the dates with Karnataka Tourism ahead of time.
The Virupaksha Car Festival is held in March or April to commemorate the annual marriage ritual of the gods and goddesses. It is Hampi's largest religious festival.
In March, Hampi is also a good place to celebrate the Holi festival in South India.
How to Visit
Because Hampi is best explored on foot or by bicycle, it is essential to wear comfortable shoes. Renting a scooter is another option.
A ticket is required for entry to the main group of monuments (which includes the Vittala Temple, Elephant Stables, and Royal Centre). Foreigners pay 600 rupees, while Indians pay 40 rupees. The ticket also includes admission to the Archaeological Museum. The Vittala Temple is open daily from 8:30 a.m. to 5:00 p.m. The Elephant Stables, where the royal elephants once resided, are open daily from 8:30 a.m. to 6:30 p.m. Arrive as early as possible to avoid the crowds.
The surrounding ruins are free to explore at your leisure.
A guided tour can help you learn about Hampi's rich history. Travspire offers a full-day heritage tour, half-day tours that include Ramayana stories narrated by a local guide, and a six-hour village tour of Anegundi and its surroundings. The Virupaksha Temple also has a tourism office where you can hire guides and bicycles. Near the temple, Lakshmi Heritage Tourist Home also rents out good quality bicycles.
Because Hampi is a religious site, meat and alcohol are not available. Both can, however, be obtained across the river in Virupapur Gadde. Ferries leave from the riverbank near the Virupaksha Temple.
In Hampi, there are no ATMs. The nearest ones can be found in nearby Anegundi and Kamalapura. It's a good idea to withdraw the money you'll need while in Hospet.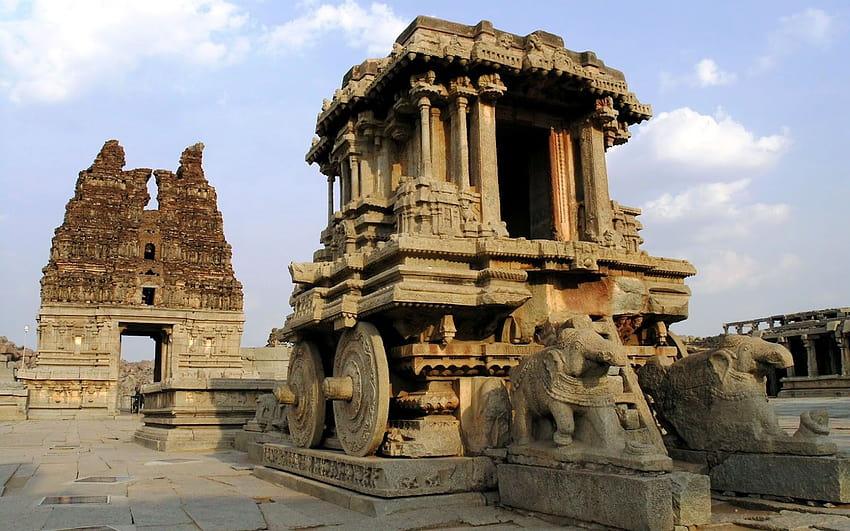 Things to do
The ruins of Hampi cover an area of just over 25 kilometers (10 miles) and include over 500 monuments.
The Vittala Temple, dedicated to Lord Vishnu, is the most striking. It is set among boulders on the southern bank of the Tungabhadra River, not far from town, and represents the pinnacle of Vijayanagara temple architecture. Its main hall has 56 pillars that make musical sounds when struck. The Stone Chariot is located to the east of the hall. Surprisingly, its wheels can still turn!
Another must-see is the Royal Centre, where Vijayanagar rulers lived and ruled. The ornate Hazara Rama Temple is at its heart, with panels of intricate sculptures depicting a regal procession of elephants, horses, musicians, and warriors.
Another attraction in and around Hampi is the ancient traditional water tanks, also known as step wells. Their aqueducts distributed water throughout the city. The Stepped Tank on the Royal Enclosure's southeastern side is particularly impressive. Until about 20 years ago, it was covered in mud and sand, with a mound on top.
The towering Virupaksha Temple in the Main Bazaar is still actively used for Lord Shiva worship. The temple existed in a much smaller form prior to the Vijayanagar Empire, possibly as early as the eighth century, making it one of Hampi's oldest structures. The temple is open from sunrise to sunset and there is a small admission fee. Give yourself at least an hour and a half to enjoy it.
The monolithic sculptures of Hampi are also well-known. Some are as tall as 15 feet, such as the Kadalikelu Ganesha in a temple on Hemakuta Hill. What's truly remarkable is that a single misplaced chip while sculpting would have caused the granite rock to crumble. Beautiful sculptures on rocks along the river were prototypes for those inside the temples.
Sunrise and sunset over the village are truly magical, and should not be missed from atop the central Matanga Hill.
Take a ferry across the river to Anegundi and explore the ancient structures there if you have time.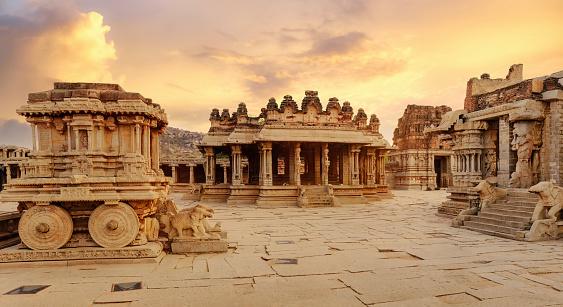 Where to Stay
In Hampi, there are two main areas to stay: near the bus station and Main Bazaar, and on the outskirts of paddy fields across the river in rural Virupapur Gadde. The vibrant Main Bazaar district is densely packed with low-cost guesthouses, shops, and restaurants. Hippies and backpackers who want to spend time chilling out prefer budget accommodations in Virupapur Gadde. Many people choose to stay a couple of nights in each location to experience the various atmospheres.
The upscale properties in Hampi are all located outside of town.
What Else to Do Nearby
If you like wine, don't miss the award-winning Krsma Estate vineyards, which are about two hours north of Hampi.
A visit to the heritage sites of Badami, Aihole, and Pattadakal northwest of Hampi is worthwhile to see monuments and ruins from the Chalukya Empire, which ruled there between the 4th and 8th centuries.
Bellary Fort, east of Hampi, is another Vijayanagar Empire monument from the 16th century. Foreigners pay 300 rupees, while Indians pay 25 rupees.