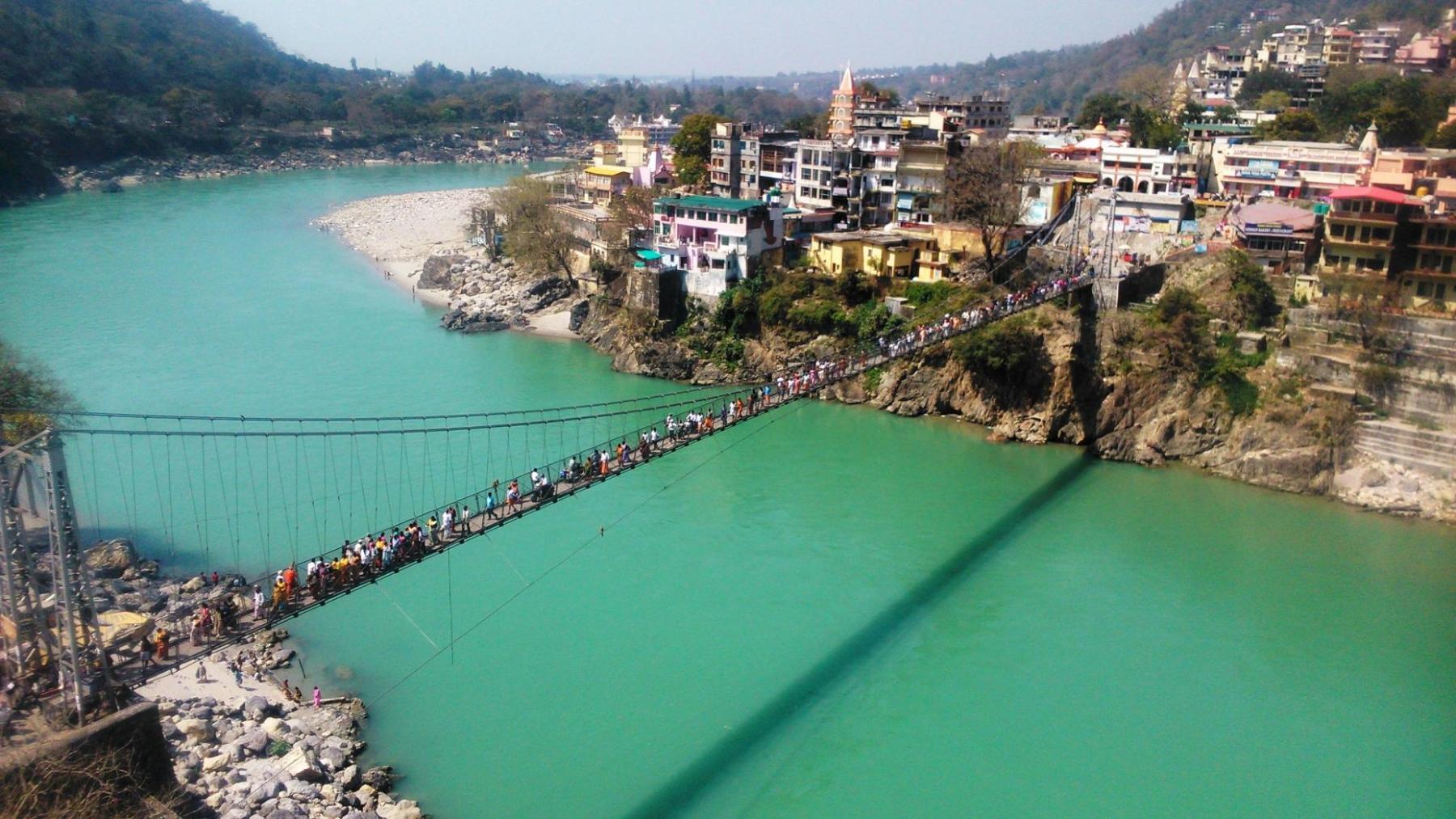 Are you looking to plan an exciting and adventurous trip or do you prefer a few peaceful days surrounded by nature? If so, we highly recommend visiting Rishikesh! This incredible destination, nestled in the foothills of the majestic Himalayas, provides a spiritual retreat, thrilling adventure activities, and breathtaking landscapes where you can practice yoga and discover inner peace. Why not try a bit of everything during your visit to the Yoga Capital of the World?
We have created the best itinerary for you, blending everything the Rishikesh has to offer just under INR 10,000 and this will definitely make you start planning to visit Rishikesh soon.
---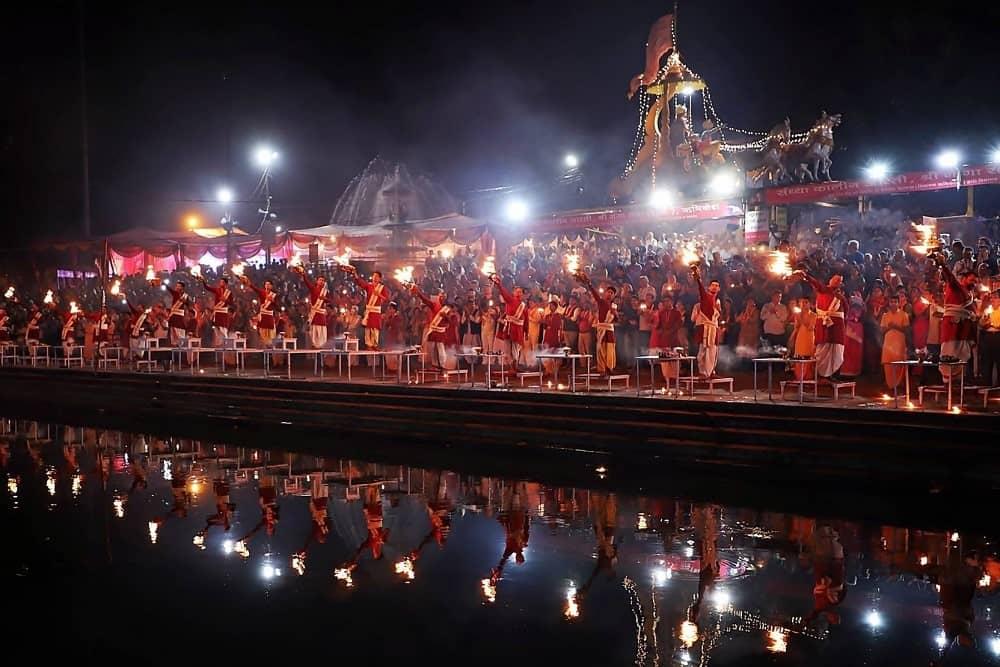 How to reach Rishikesh
Rishikesh can be easily reached from major cities such as Delhi, Chandigarh, Haridwar, Dehradun, Haldwani, and many others
By Road
Rishikesh is well-connected by roads, making it easy to reach by either bus or private vehicle. It is situated at a distance of 238 km from Delhi, 223 km from Chandigarh, 45 km from Dehradun, 239 km from Haldwani, and just 20 km from Haridwar. You can easily find UTC buses to Rishikesh without any hassle
By Train
The closest train station to Rishikesh is called Haridwar railway station. If Haridwar is not convenient for you, you can also consider using the Dehradun railway station. Both of these train stations have good connections to major cities across India, offering regular express and superfast trains. To get to Rishikesh, you have a few options: you can hire a shared cab or rickshaw, or take a bus
By Air
The closest airport to Rishikesh is called Jolly Grant and it is located in Dehradun. If you are coming from another country, you can first take a flight to either New Delhi or Chandigarh and then catch another flight to Dehradun. Once you reach Dehradun, you have the option of hiring a car or using local transportation to travel to Rishikesh.
Best Time to Visit Rishikesh
Although the weather in Rishikesh is nice throughout the year, the best time for adventurous sports is from September to June. During the summer months, it can get quite hot compared to other parts of Uttarakhand. However, March is a popular month for Yogis as many Yoga festivals are celebrated then. In winter, the weather is cool and it's a great time to escape the intense heat of the city
---
Day 1
Begin Your Trip on a Spiritual Note!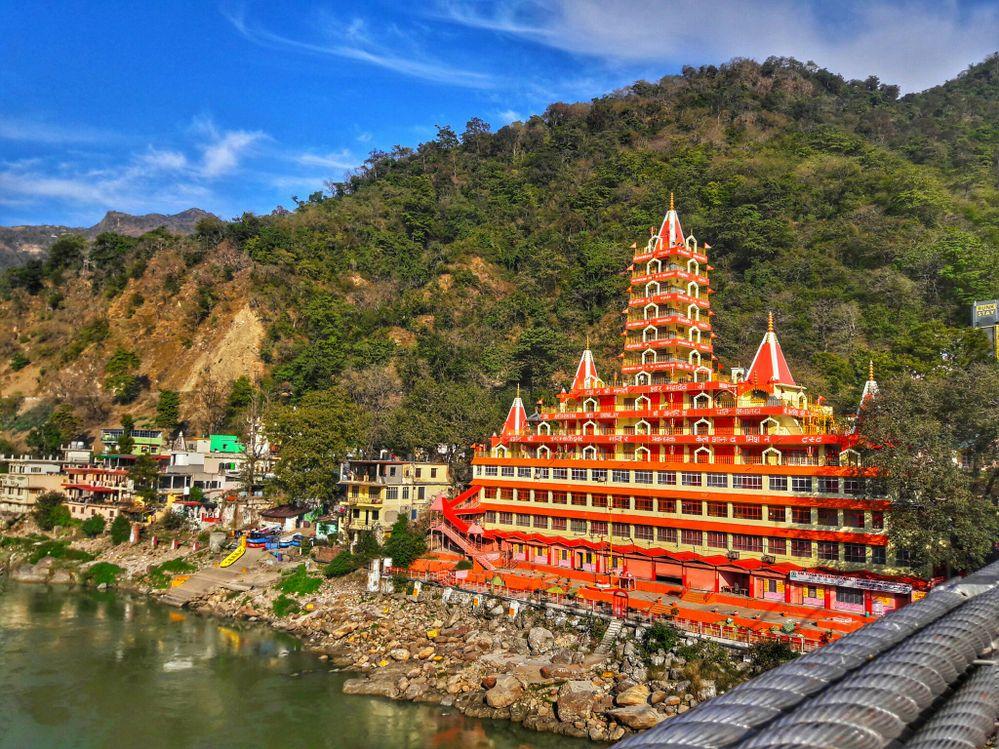 Lakshman Jhula
Lord Lakshman is thought to have constructed a bridge for his brother Lord Rama and sister-in-law Sita to cross the River Ganga at the exact location where the famous Lakshman Jhula stands today. This bridge is an impressive 450 feet long and stands 70 feet above the river. It is one of the most popular attractions in Rishikesh.
Lakshman Mandir
This ancient temple, dedicated to Lord Lakshman, the younger brother of Lord Rama, is situated just 5 minutes away from Lakshman Jhula on the banks of the river Ganga. It was constructed several centuries ago by a Kashmiri king and remains intact to this day.
Tera manzil Mandir
Tera Mazil Mandir, which means "13 floors temple," is a sacred multi-level temple situated by the river Ganga, close to Lakshman Jhula. Each floor of the temple features a collection of small temples devoted to various gods and goddesses. These mini-temples are adorned with captivating murals and statues representing the deities.
Ganga Aarti at Triveni Ghat
The Ganga Aarti at Triveni Ghat is an incredibly beautiful event that you won't want to miss. Picture this: devotees and tourists sitting on the steps, facing the magnificent Ganga river and the breathtaking sunset, while pandits prepare for the evening ritual. The atmosphere of this place is truly indescribable once the Aarti begins. It's something you have to experience for yourself to truly understand its magical vibes.
---
Day 2
Jump from the Highest Bungee in India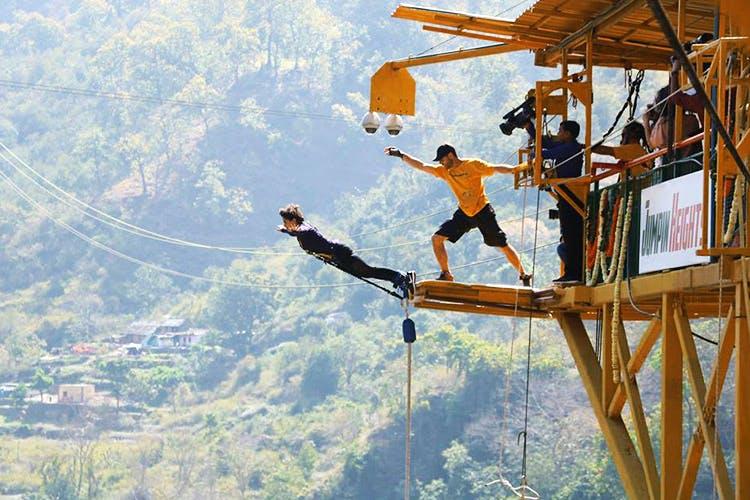 Morning Yoga at Ganga Ghat
In Rishikesh, you'll find numerous places where Yoga is taught. You can join a short one-day yoga class and practice it by the beautiful banks of the river Ganga. The early mornings in Rishikesh are incredibly serene, and the town's view is absolutely breathtaking!
Bungee Jumping
Experience an action-packed afternoon filled with excitement! Rishikesh, renowned for its spirituality, is also famous as the "Adventure Capital of India" due to its wide range of thrilling activities. Among them, bungee jumping stands out as one of the most popular adventure sports, boasting the country's highest jump at a staggering height of 83 meters.
Neelkanth Mahadev Temple
Neelkanth Mahadev temple sits at a height of 4363 ft and is devoted to Lord Shiva. According to legend, this is the spot where Lord Shiva swallowed the venom that emerged during the churning of the ocean, which turned his throat blue. In Hindi, "Neelkanth" means "blue throat," giving the temple its name.
---
Day 3
Traverse Through the Roaring Ganges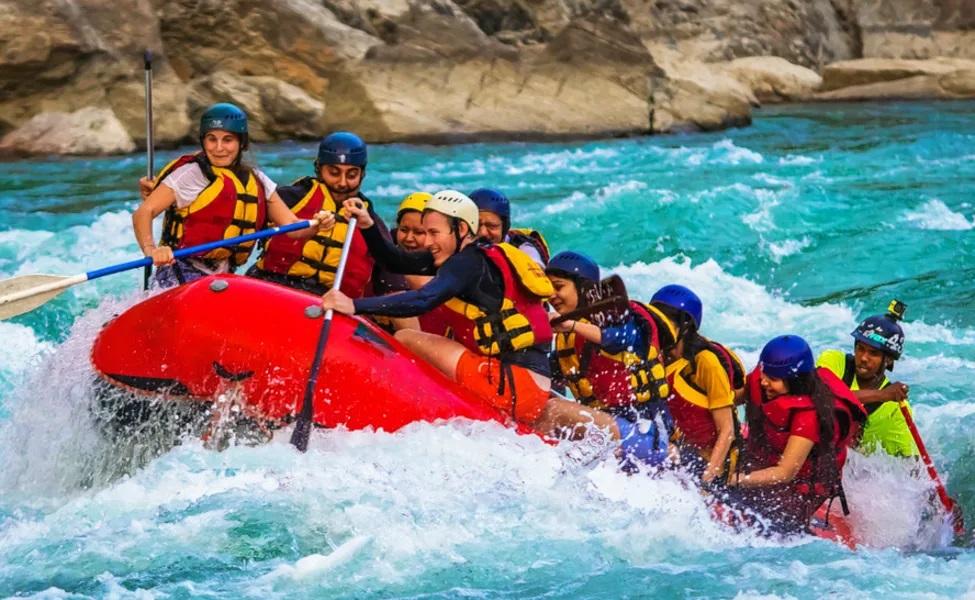 Vashishta Gufa
Vashishta Gufa is a special cave where Sage Vashishta, one of the revered sages from ancient India, resided and practiced meditation. According to the legend, after experiencing the tragic loss of all his children, Sage Vashishta attempted to end his life by drowning in the sacred River Ganga. However, the compassionate Goddess Ganga denied his plea. In response to this, Vashishta's wife, Arundhati, chose to live in a beautiful cave as a peaceful retreat. They dwelled there for a significant period of time. In 1930, Swami Purushottamand took the responsibility of maintaining this cave, which is now looked after by the Swami Purushottamananda Trust.
Neer Garh Waterfall
Going for a calm walk to the nearby Neer Garh Waterfalls is definitely one of the best activities to do in Rishikesh. Neer Garh Waterfalls consists of three absolutely stunning waterfalls. These waterfalls descend from a cliff that is 25 feet high, and the hike itself remains unaffected by human development. This means you can enjoy the most breathtaking natural surroundings during your hike.
River Rafting
Rishikesh is a popular destination for an exciting adventure called Ganga rafting. It's a thrilling sport loved by many. Whether you're a beginner or an adrenaline junkie, there are different levels of rapids for everyone to enjoy!
Camping at Shivpuri
Shivpuri, a small village just 18 km away from Rishikesh, is a wonderful place to visit. You'll find numerous campsites that provide breathtaking views of the surrounding area. When you go camping in Shivpuri, you'll experience the calming sound of the Ganga river flowing, the pleasant chirping of birds in the morning, and a wide range of outdoor activities to enjoy.
---
Day 4
Walk into the Colourful Ruins of Chaurasi Kutia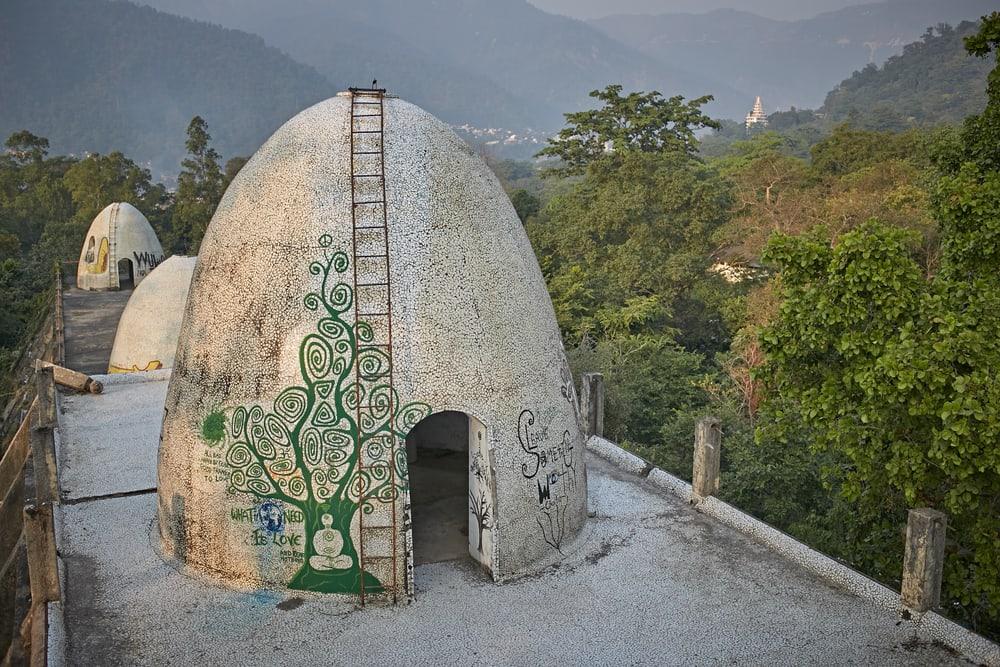 Ram Jhula
Ram Jhula, a well-known attraction in the city of Rishikesh, is a suspension bridge made of iron. It connects Sivananda Ashram to Swargashram. Compared to Lakshman Jhula, Ram Jhula is slightly smaller and less crowded. It's a great place to sit by the river, dip your feet, and unwind while enjoying the lively charm of the city.
Beatles Ashram
The place called Chaurasi Kutia, also known as Beatles Ashram, used to be called the International Academy of Meditation during the 1960s and 1970s. It was a popular destination for students of Maharishi Mahesh Yogi, the creator of Transcendental Meditation. Even the famous rock band, The Beatles, visited this place and drew worldwide attention. However, in the 1990s, the site was completely abandoned and later taken over by the local forestry department. Now, it is adorned with stunning graffiti, making it a visually appealing location.
Evening Ganga Aarti at Parmarth Niketan Ashram
Visit Parmarth Niketan Ashram in the evening to experience the Ganga aarti. This beautiful ritual is conducted by students who are studying Vedas, and you'll have a magnificent view of a large Lord Shiva Statue right before you. The evening proceedings begin with soulful bhajans (devotional songs) and prayers, followed by the enchanting aarti ceremony. Ending your day at the Ashram with this vibrant and energizing experience will be absolutely perfect.
---
Day 5
Witness the Breathtaking Sunsets in Rishikesh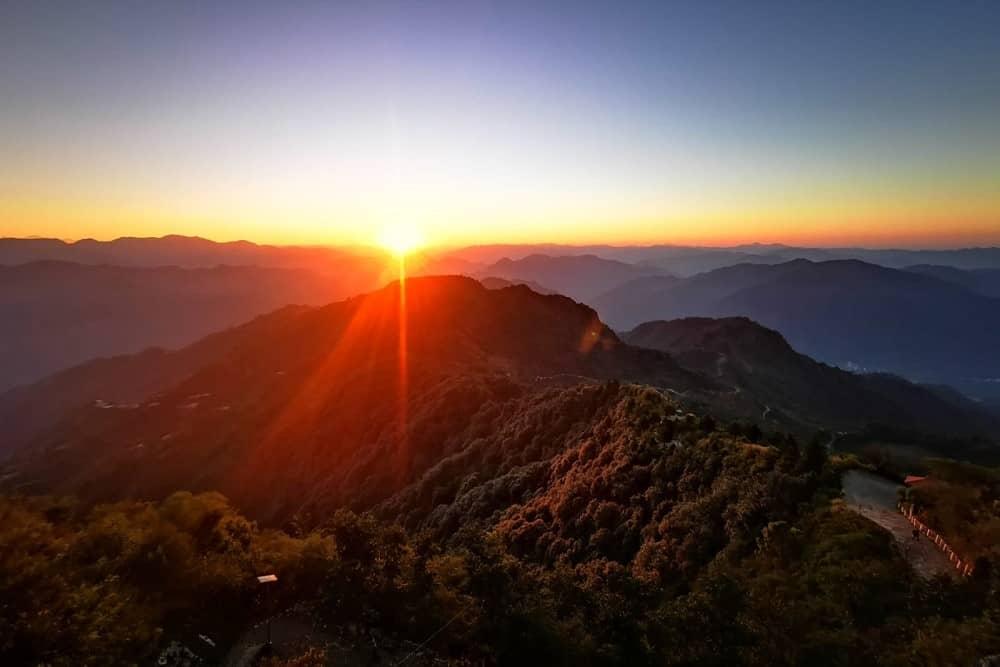 Muni ki Reti
Muni ki Reti, known as the "Sand of the Sages," is considered to be the entrance point for the Char Dham Yatra pilgrimage. It is mentioned in the ancient epic Mahabharata as the place where King Bharat performed his spiritual practices. Nowadays, Muni ki Reti is a vibrant location filled with temples, ashrams, and yoga centers. It's definitely a must-visit destination worth adding to your list!
Walk on Astha Path
Aastha Path, also called Marine Drive, is a 3-kilometer pathway that stretches alongside the Ganga river. It is a Way of Belief, as "Aastha" means Belief and "Path" signifies Way. This special pathway aims to provide a profoundly spiritual experience. It is approximately 6 meters wide and begins at Triveni Ghat, continues to the Barrage, and will soon be expanded all the way up to Ram Jhula.
Sunset at the Ganga Beach
Complete your journey by experiencing one of the breathtaking sunsets near Ram Jhula. Ganga beach is an expansive shoreline with a path leading to the river, and it stands out as one of the cleanest and most stunning beaches you'll ever come across. Imagine white sand, a turquoise Ganga river gently flowing, accompanied by the enchanting sounds of Ganga Aarti, and Ram Jhula sparkling in the background as the sun sets. It's unquestionably the most incredible evening you'll spend in Rishikesh