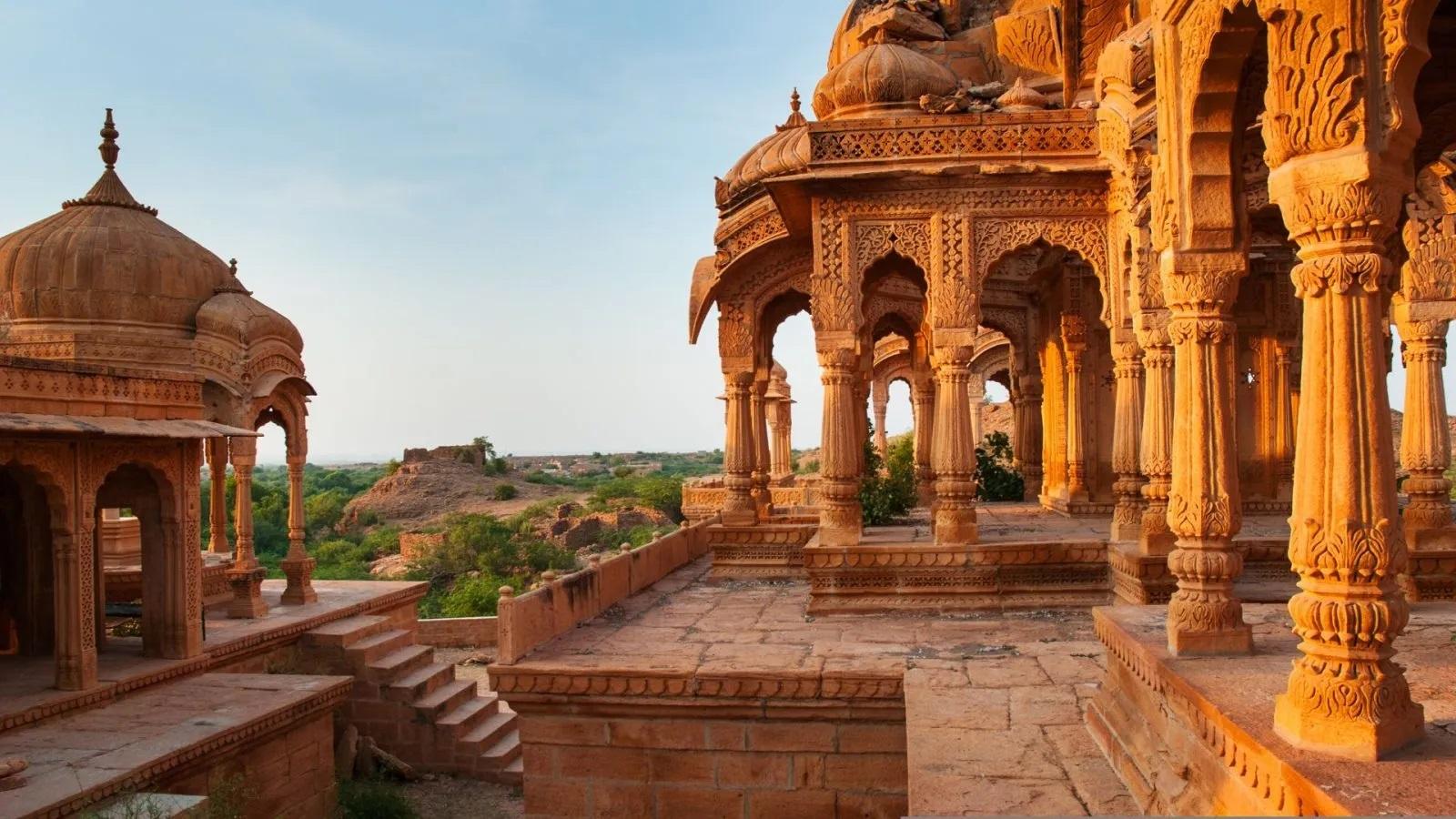 Jaisalmer, the enchanting golden city, evokes images straight out of an Arabian Nights tale. Nestled in the Thar desert of Rajasthan, this historic trading hub captivates visitors with its abundant yellow sandstone structures, creating a picturesque setting at every turn. To escape the scorching summer heat, plan your visit between September and mid-March, while the ultimate magnificence of the city comes alive during the Jaisalmer Desert Festival, typically held in February. Discover the secrets to maximizing your experience in the "Golden City of India."
Get a glimpse of Tazia Tower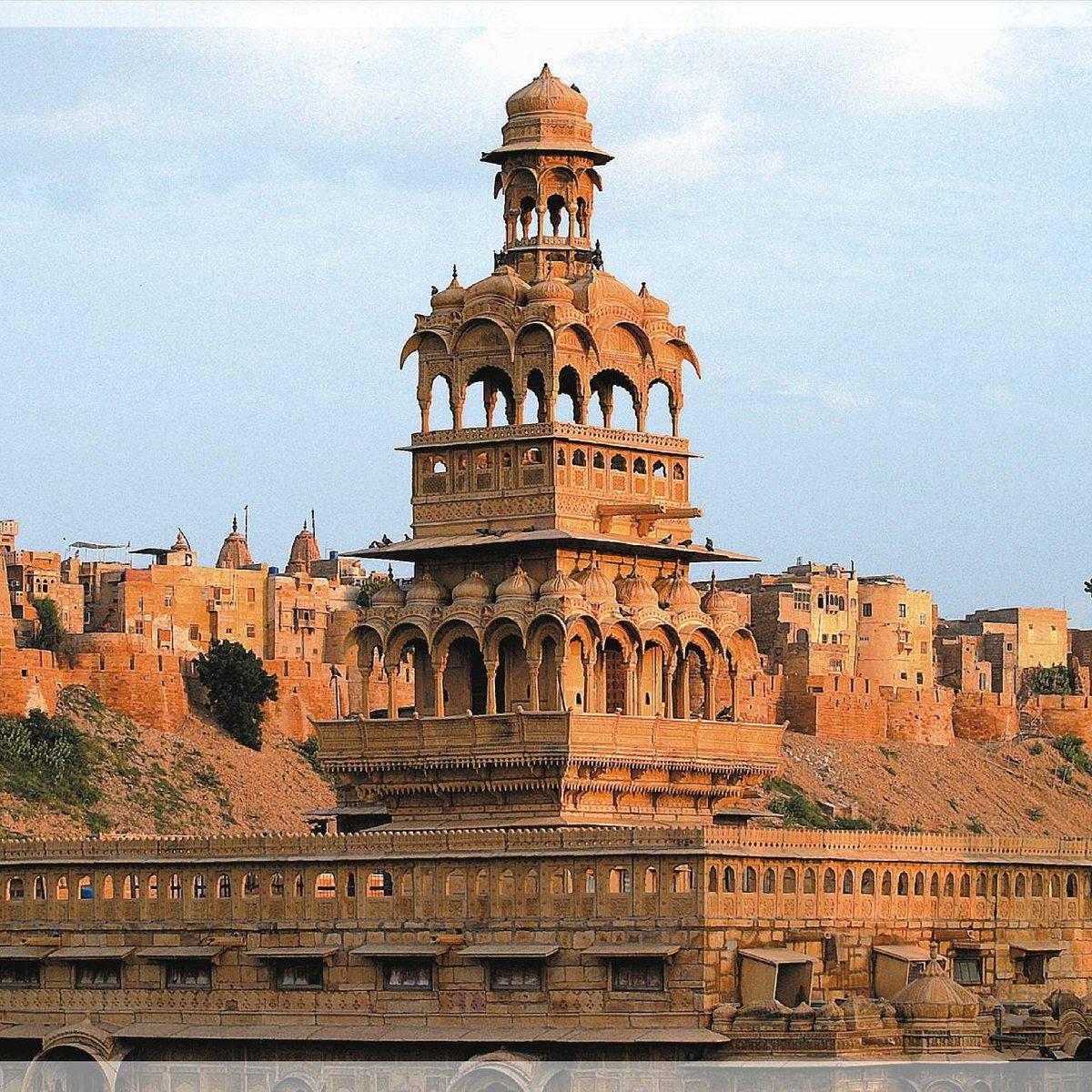 In 1886, Muslim craftsmen skillfully crafted the Tazia Tower, presenting it as a generous gift to Maharawal Berisal Singh, the ruling Hindu monarch of the time. This magnificent structure stands out from the conventional architecture of Rajasthan and Rajputana found in Jaisalmer. Situated within the Badal Palace grounds, the five-story Tazia Tower is an awe-inspiring sight. It breaks away from the norm with its unique design, featuring distinct balconies on each floor, meticulously created to replicate the elegance of a traditional Islamic mausoleum. The tower's location near the Amar Sagar Gate adds to its allure, making it a captivating landmark to explore.
---
Explore an Old Abandoned Village in the Desert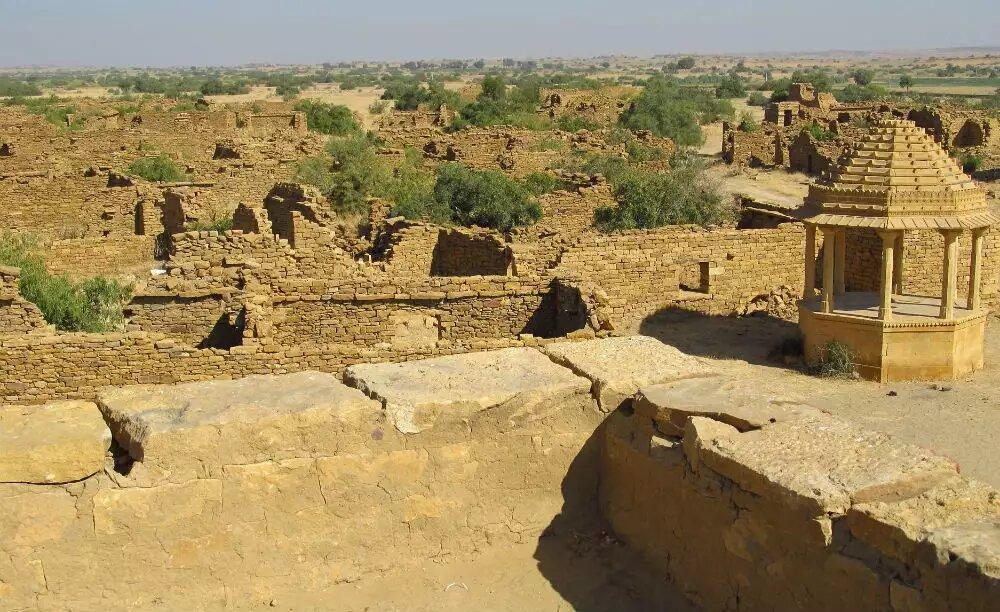 As per local legend, the prosperous city of Kuldhara (located approximately 25 minutes away from Jaisalmer) was deserted overnight by its inhabitants. The reason behind this sudden abandonment was a minister's announcement of his intention to marry the daughter of the village chief. The townspeople, fearing severe consequences for disobedience, decided to leave. As they departed, it is said that they placed a curse on the city, ensuring that it would remain uninhabited forever. Remarkably, the curse appears to have had its intended effect.
In the present day, the eerie remains of Kuldhara offer a captivating stopover for travelers journeying from Jaisalmer to the Sam Sand Dunes. Numerous individuals have claimed to have encountered peculiar paranormal phenomena during their visit, adding to the allure of this ghost town. As dusk approaches, residents from nearby villages are known to close the gates to Kuldhara, as it is believed that supernatural entities frequent the area after nightfall.
---
Discover Your Inner Shopaholic at Local Markets and Bazaars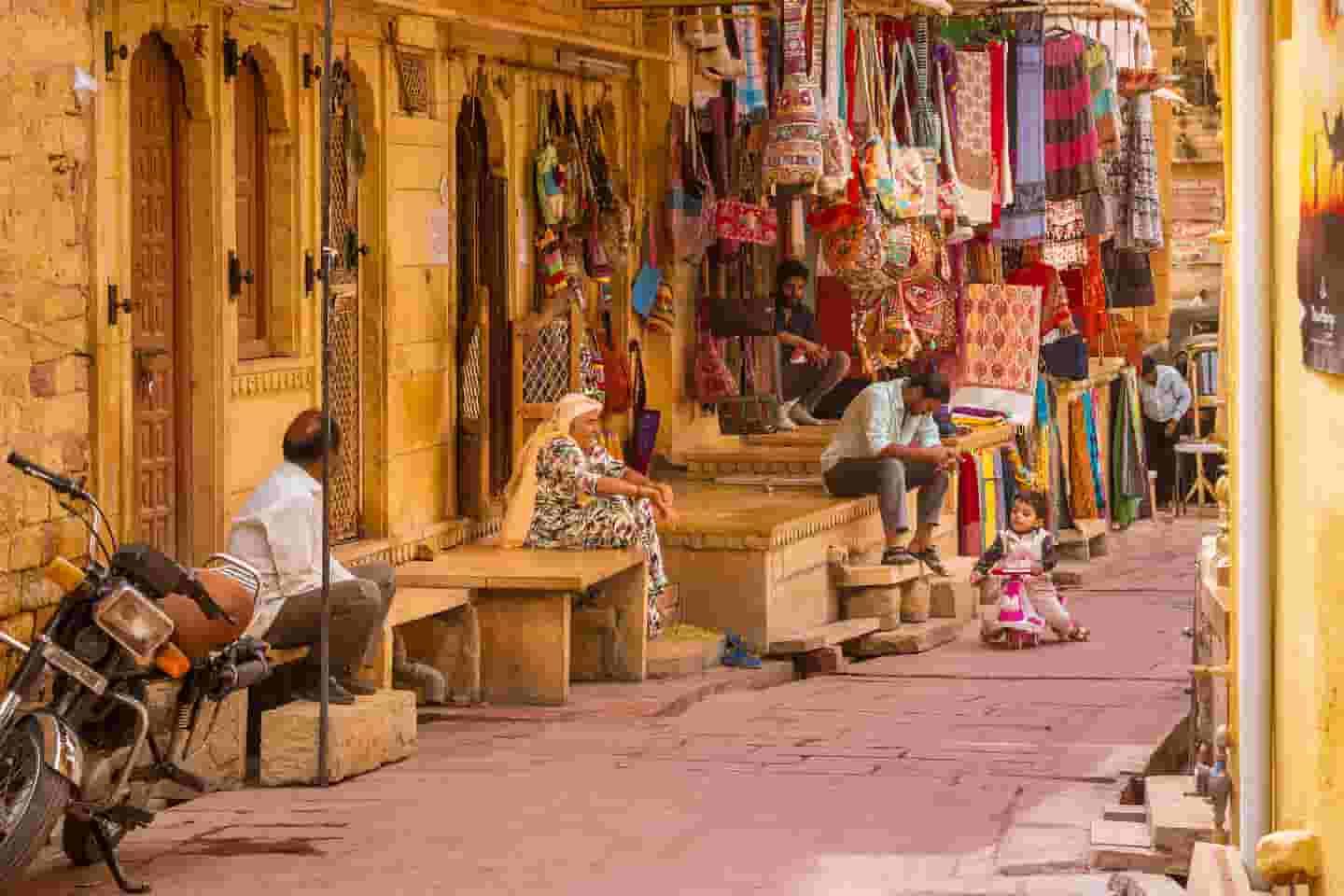 To immerse yourself in the vibrant market culture and discover unique mementos, make your way to the enchanting bazaars and markets of Jaisalmer. Begin your exploration at Sadar Bazaar, a bustling hub offering an array of treasures ranging from exquisite jewelry and traditional attire to finely crafted leather goods, carpets, and captivating paintings. For those seeking to add a saree to their collection, venture to Bhatia Bazaar, a historic shopping district renowned for its opulent silk, cotton, and luxurious fabrics. Alternatively, unleash your fascination for silver jewelry at Sonaron Ka Baas, revel in the authenticity of handicrafts and intricately designed puppets at Pansari Bazaar, indulge in more leather marvels at Manak Chowk, or lose yourself in a kaleidoscope of colorful scarves at Seema Gram. These vibrant marketplaces await, ready to deliver an unforgettable shopping experience filled with cultural delights.
---
Experience the captivating charm of the Jaisalmer Fort Palace Museum and Heritage Centre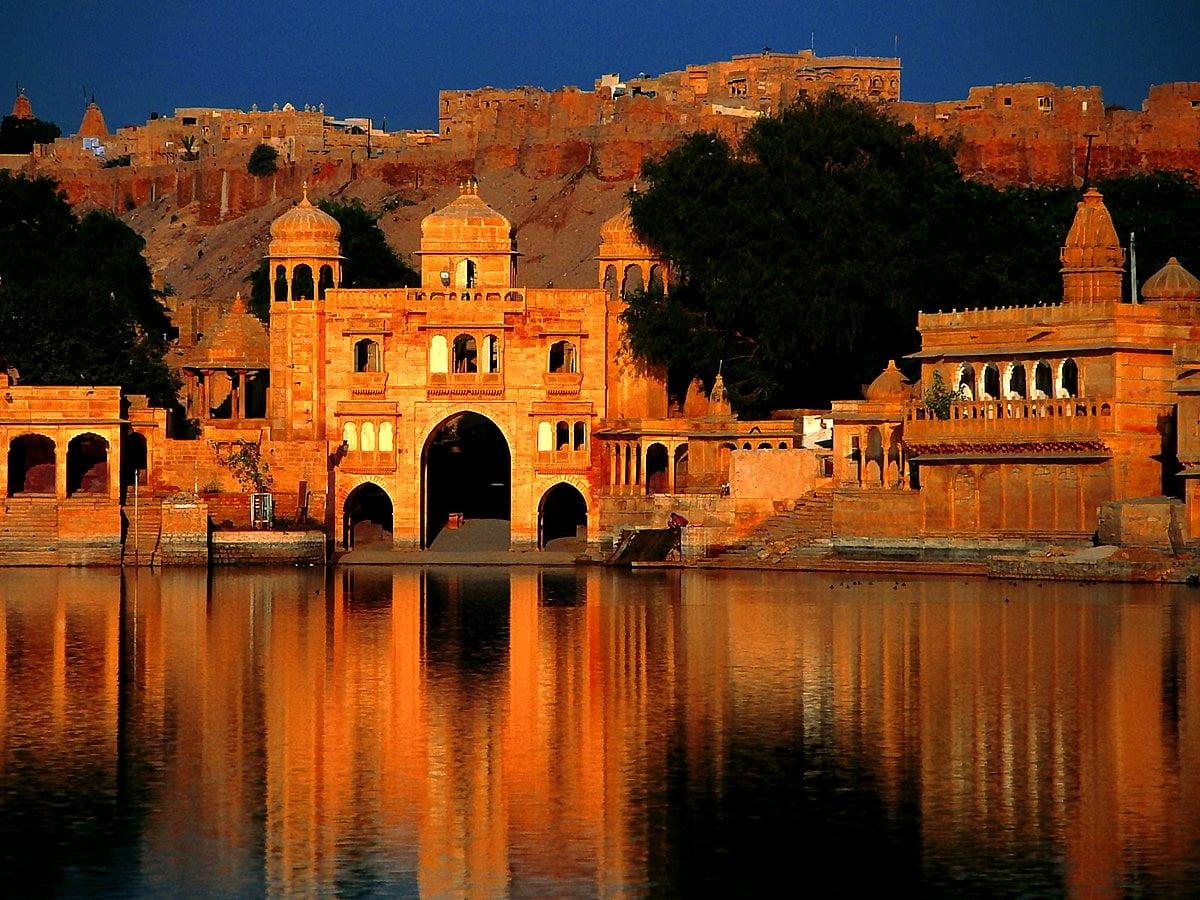 Rising majestically from the desert, Jaisalmer's enchanting sandstone fort, constructed in 1156 by Rajput ruler Jaisal, stands as a mesmerizing UNESCO World Heritage site. Its grandeur is akin to a colossal sandcastle, but what truly sets it apart is the fact that it remains a living fort, bustling with thousands of residents within its magnificent walls. Inside this historic fortress, you'll discover the former Maharaja's palace, along with numerous hotels, guesthouses, temples, shops, and restaurants.
Regrettably, the fort's condition has been gradually deteriorating over time, as drain water seeps into its foundations. As a result, many visitors choose to experience the fort's splendor from the comfort of nearby hotels, which offer evocative views of the architectural marvel, rather than staying inside its premises.
When visiting, the entry fee covers the cost of an audio guide, providing valuable insights into the fort's rich history. However, if you wish to capture captivating moments with your camera, an additional fee is required (with video cameras incurring slightly higher charges).
---
Explore the Jain Temples Inside Jaisalmer Fort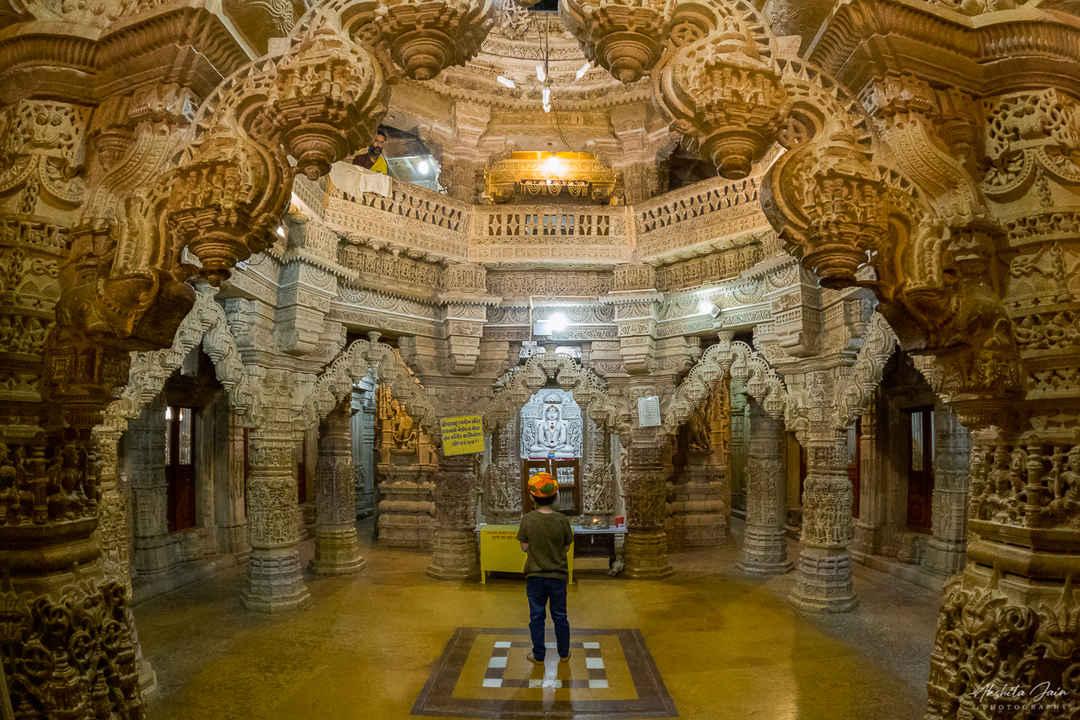 Within the magnificent Jaisalmer Fort lies a collection of seven interconnected Jain temples that truly captivate the senses. These awe-inspiring architectural marvels, crafted from exquisite sandstone, boast intricate details that can rival even the renowned marble Jain temple complex in Ranakpur. Before stepping foot inside this sacred place, it is customary to remove your shoes and any leather belongings. While a small fee is required for entry (with the exemption for local residents), those wishing to capture the beauty with their camera can enjoy this privilege for a slightly higher cost.
---
Discover the Majestic Havelis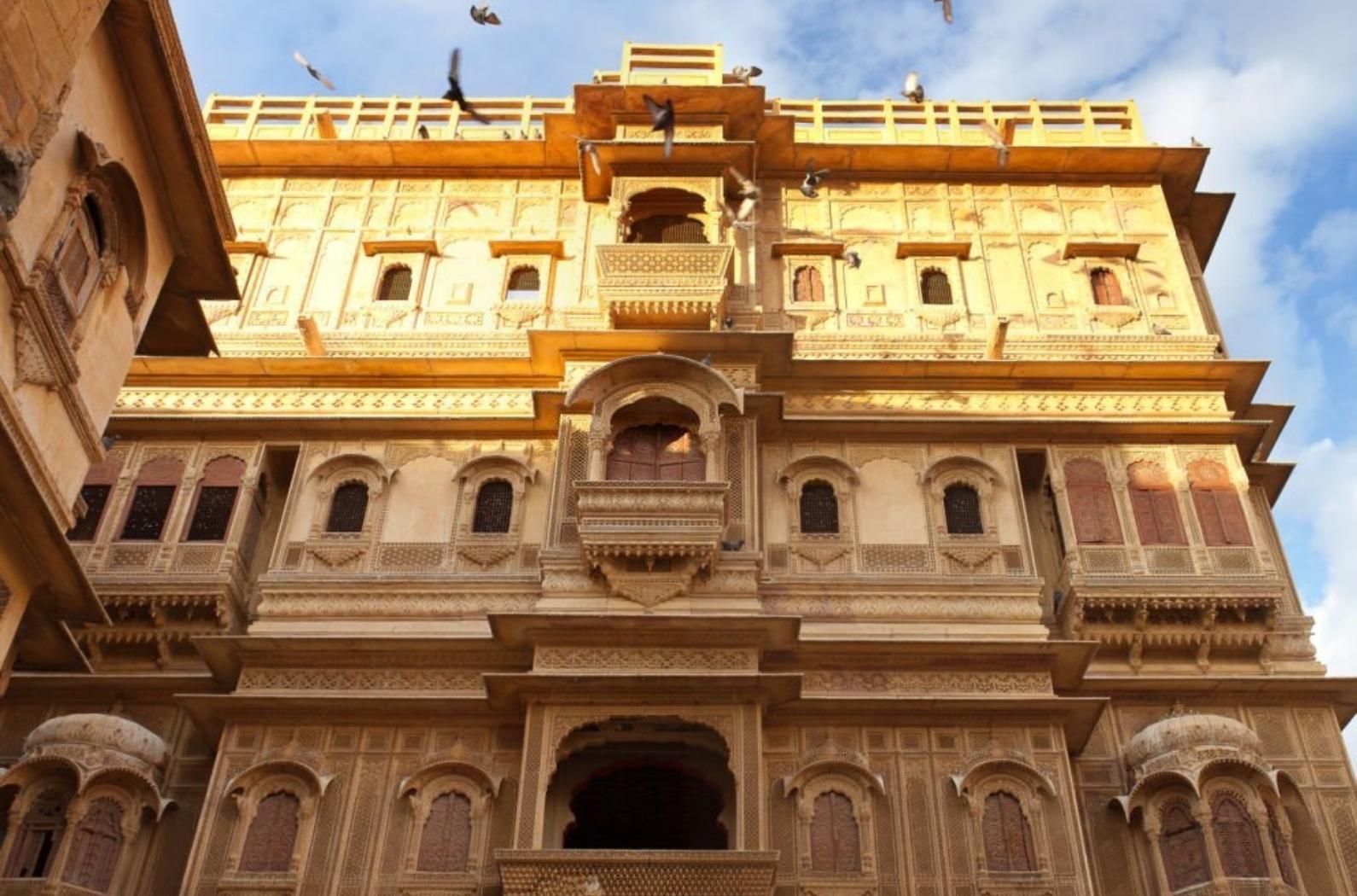 Jaisalmer is renowned for its enchanting architecture showcased in its splendid historic havelis (mansions), both within and outside the fort. Within a short 10-minute stroll to the north, narrow lanes reveal numerous havelis, each exuding a captivating charm. Among them, the grand Patwa Haveli from the 19th century stands as the city's most significant masterpiece. Comprising a cluster of five mansions constructed by a prosperous Jain merchant and his sons, this architectural gem has been transformed into a museum, showcasing awe-inspiring stonework and intricate artwork. Close by, the uniquely shaped Salam Singh Ki Haweli (Moti Mahal) and Nathmal Haveli also beckon exploration. Inside Nathmal Ki Haveli, the captivating golden paintings stand out as a true highlight.
---
Embark on an Epic Camel Safari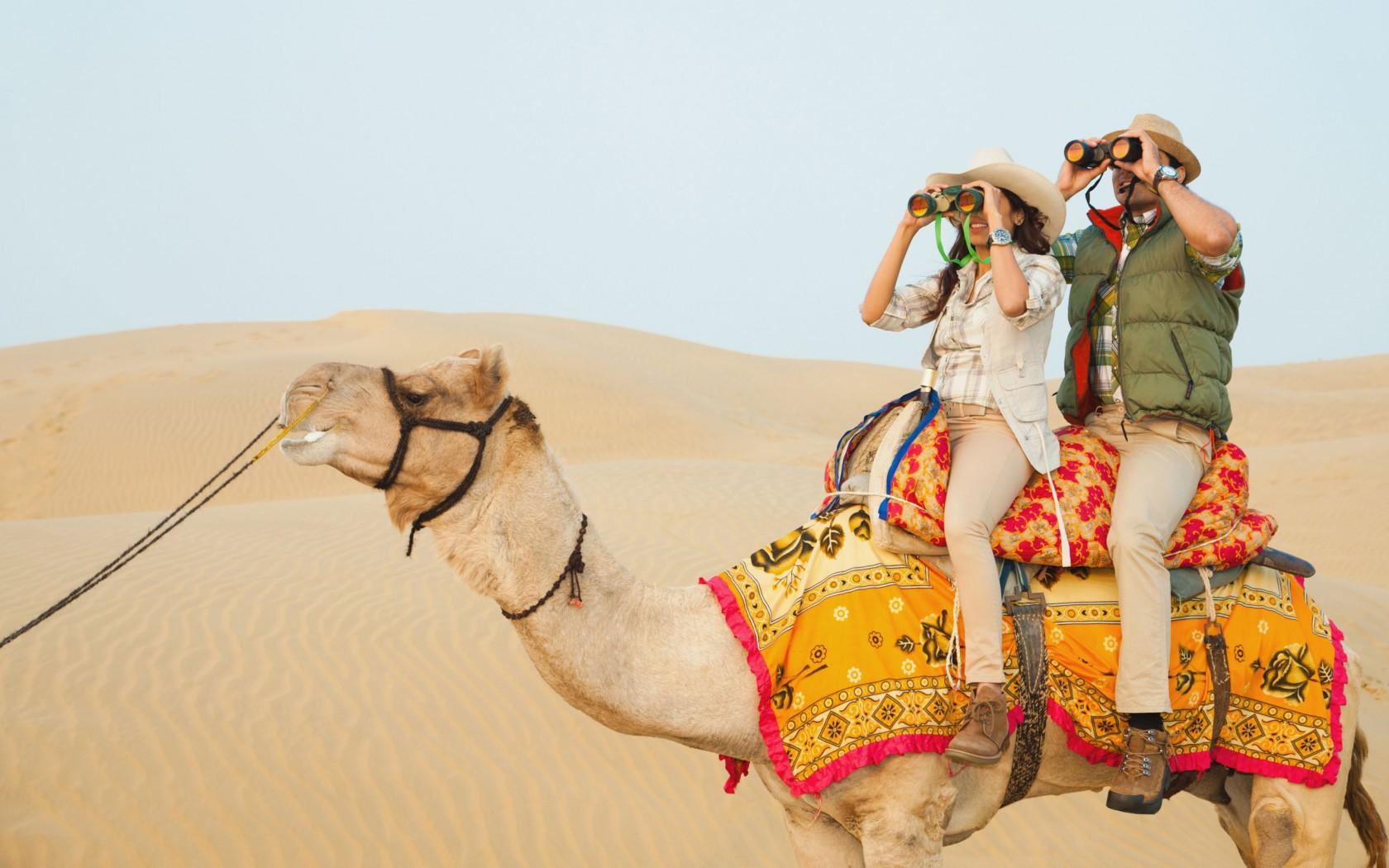 A camel safari is a popular choice among tourists visiting Jaisalmer, offering a truly authentic experience of India's rural desert life. It presents a unique opportunity to immerse yourself in the rustic charm of the region. Whether you opt for a short one-day excursion or an extensive 30-day adventure, it's crucial to select your safari provider wisely. The safari industry in Jaisalmer is highly competitive, and it's important to ensure that you receive the quality and value you deserve for your investment. Highly recommended vendors to consider are Sahara Travels, conveniently located next to the Fort gate, Trotters Independent Travel, and Real Desert Man Camel Safaris.
---
Experience the enchantment of the Thar Desert for a while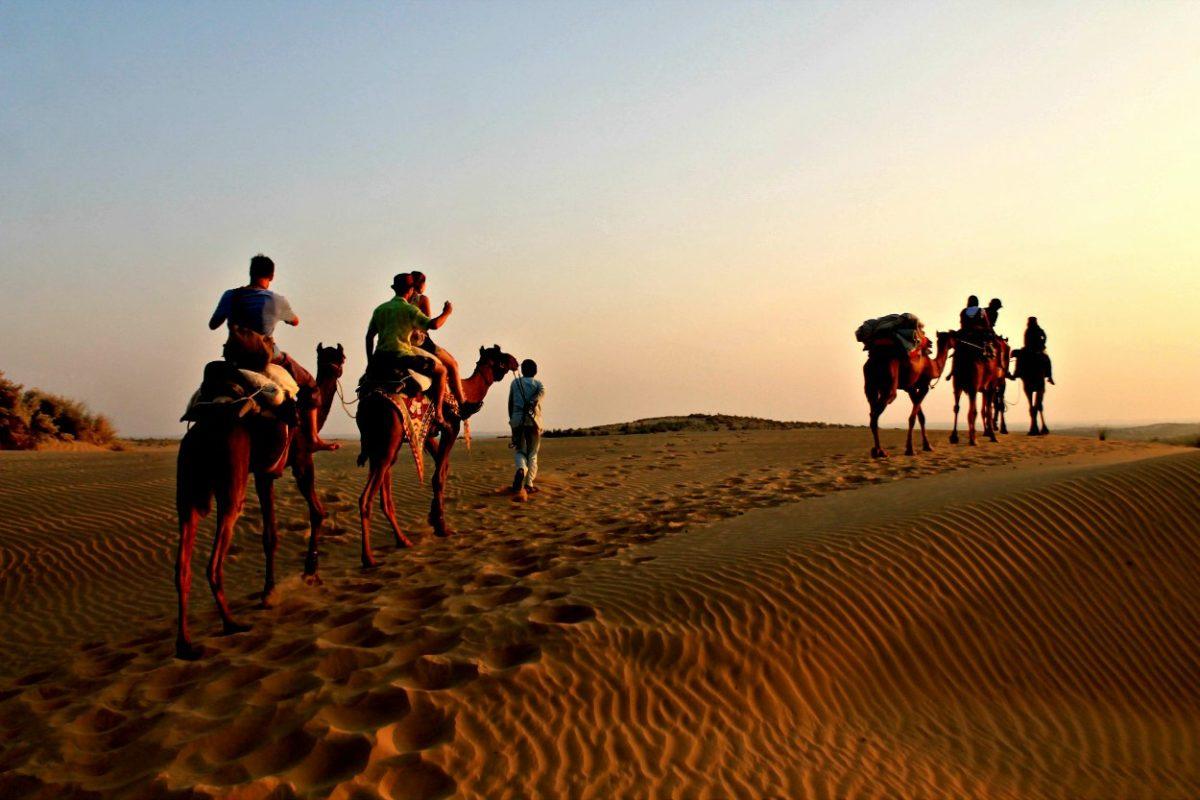 Many tourists are drawn to the renowned and stunning Sam Sand Dunes, situated approximately 50 minutes west of Jaisalmer. This captivating destination becomes particularly enchanting at sunset, when cultural performances and camel rides create an atmosphere akin to a vibrant carnival. For a truly luxurious desert experience, there are multiple options to choose from when it comes to glamping at a high-end desert camp nearby. If you're up for an adventure, consider spending the night in one of these camps, located in close proximity to the Dunes.
While en route to the Sam Sand Dunes, it's worth making a stop at the intriguing Kuldhara Abandoned Village. This ghostly yet fascinating place offers a unique opportunity for exploration and discovery.
For those seeking a more tranquil desert getaway, the dunes surrounding Khuri Village in Desert National Park, approximately an hour southwest of Jaisalmer, present a serene alternative. You can find accommodations in small resorts and traditional-style huts, with Badal House being highly recommended for an authentic local experience. Embarking on a camel safari in this area promises a serene and peaceful desert excursion.
---
Experience a unique breakfast setting amidst the stunning peacocks at Khaba Fort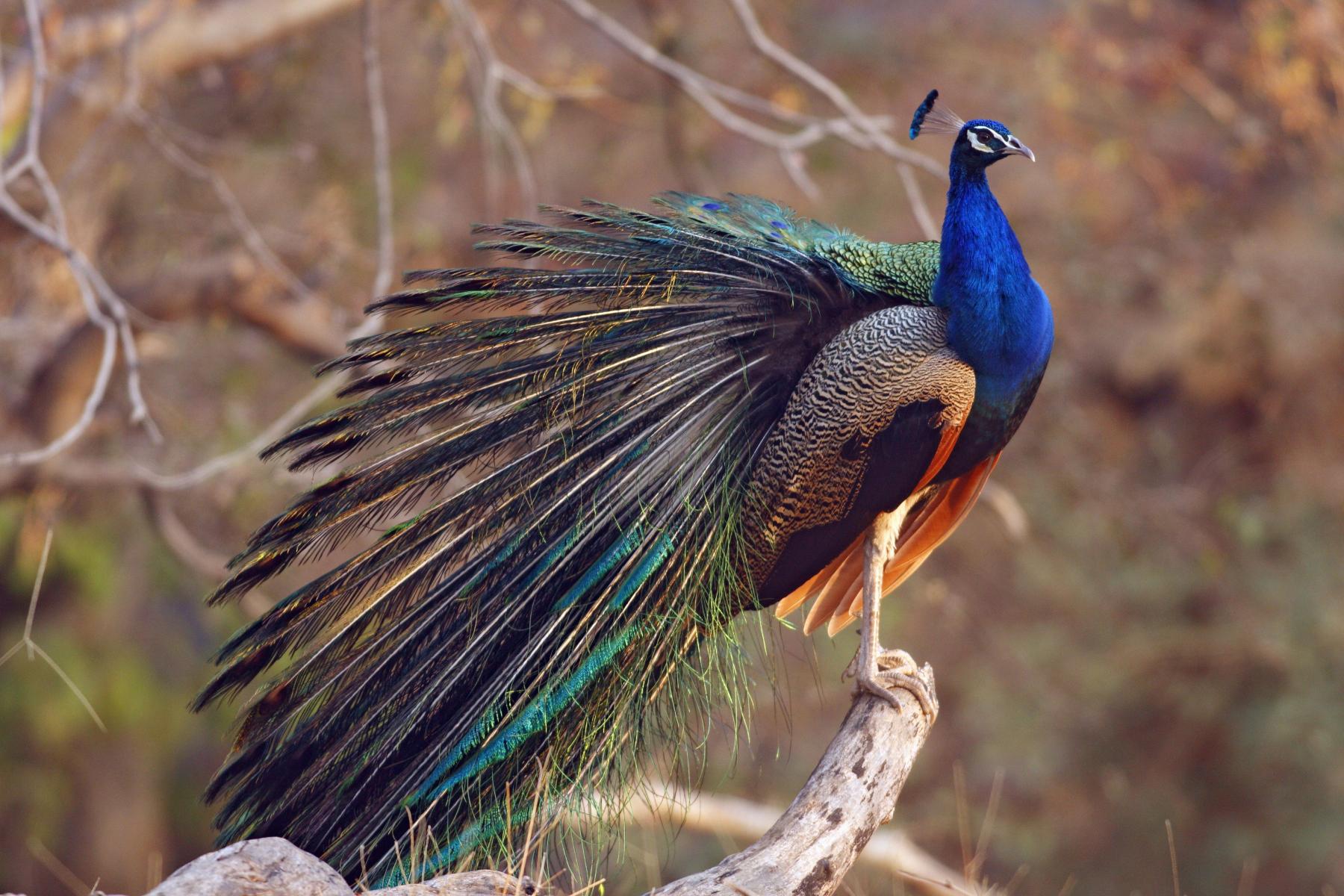 If you're an early riser, the luxurious Suryagarh Hotel presents a unique opportunity to indulge in a breakfast experience like no other. Picture yourself amidst the ancient ruins of a desert fort, surrounded by the awe-inspiring sight of a vast assembly of peacocks being fed by a local boy. As the sun begins to rise, these majestic creatures gracefully make their way to the Khaba Fort, nestled within an abandoned Paliwal village just a short 40-minute drive west of Jaisalmer, towards the enchanting Sam Sand Dunes. Immerse yourself in this extraordinary moment as you feast on a delightful array of Indian-style breakfast delicacies, accompanied by mesmerizing views of the village. Afterward, take the opportunity to explore the remaining treasures within the fort, adding to the overall allure of this remarkable experience.
---
Watch the Sunset at Vyas Chhatri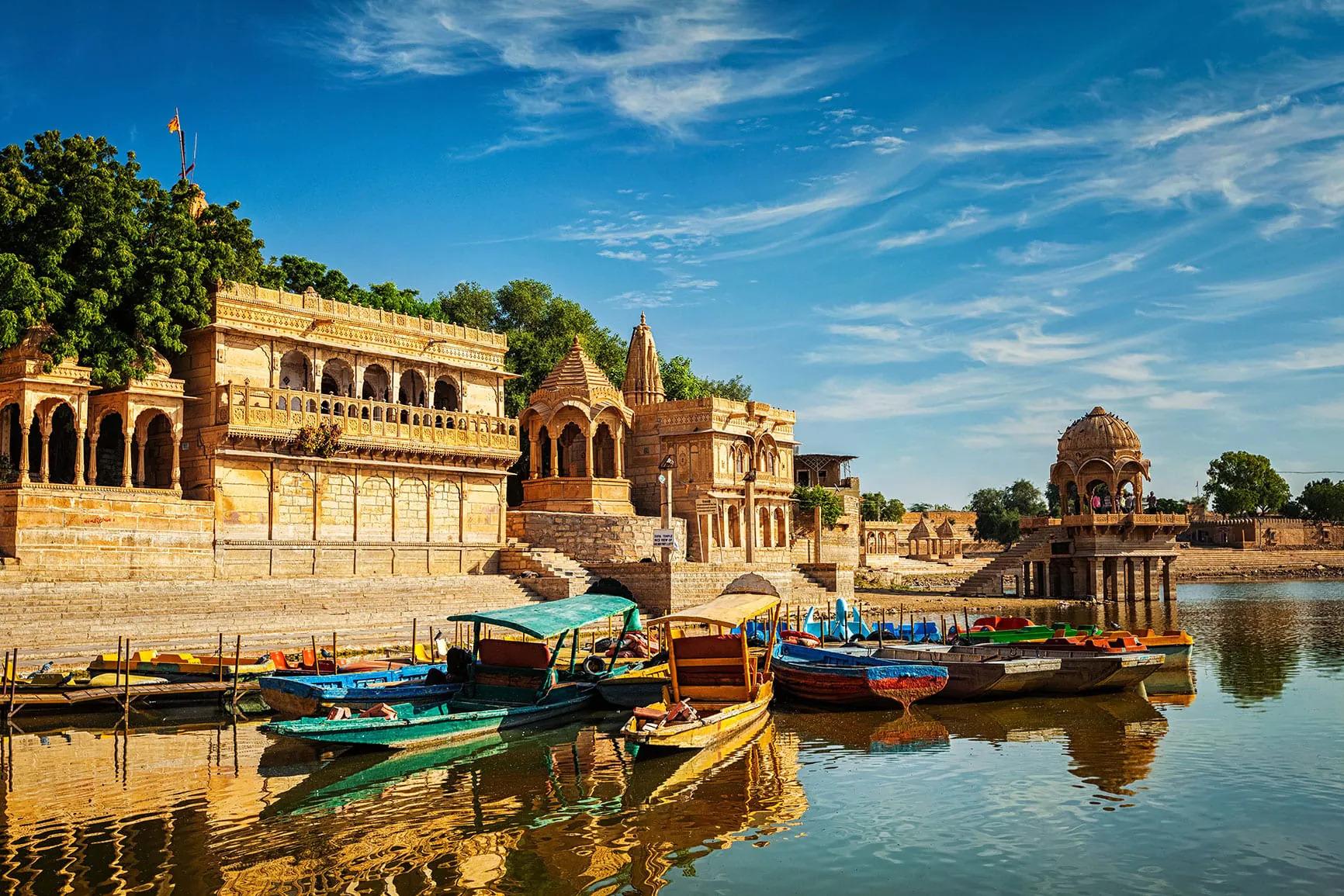 Vyas Chhatri, a remarkable cenotaph made of sandstone, stands proudly on the outskirts of Jaisalmer, towards the northern side of the Fort. It serves as a tribute to the renowned sage Vyasa, the author of the Hindu epic "The Mahabharata." This enchanting site also serves as a cremation ground for the Pushkarna Brahmins, featuring numerous empty tombs built in honor of distinguished individuals. The intricately designed cenotaphs, known as chhatris or "umbrellas" due to their dome-like structures, add to the ethereal ambiance. Don't miss the opportunity to witness breathtaking sunsets from this extraordinary location.
---
Marvel at the exquisite cenotaphs gracing the Bada Bagh Temple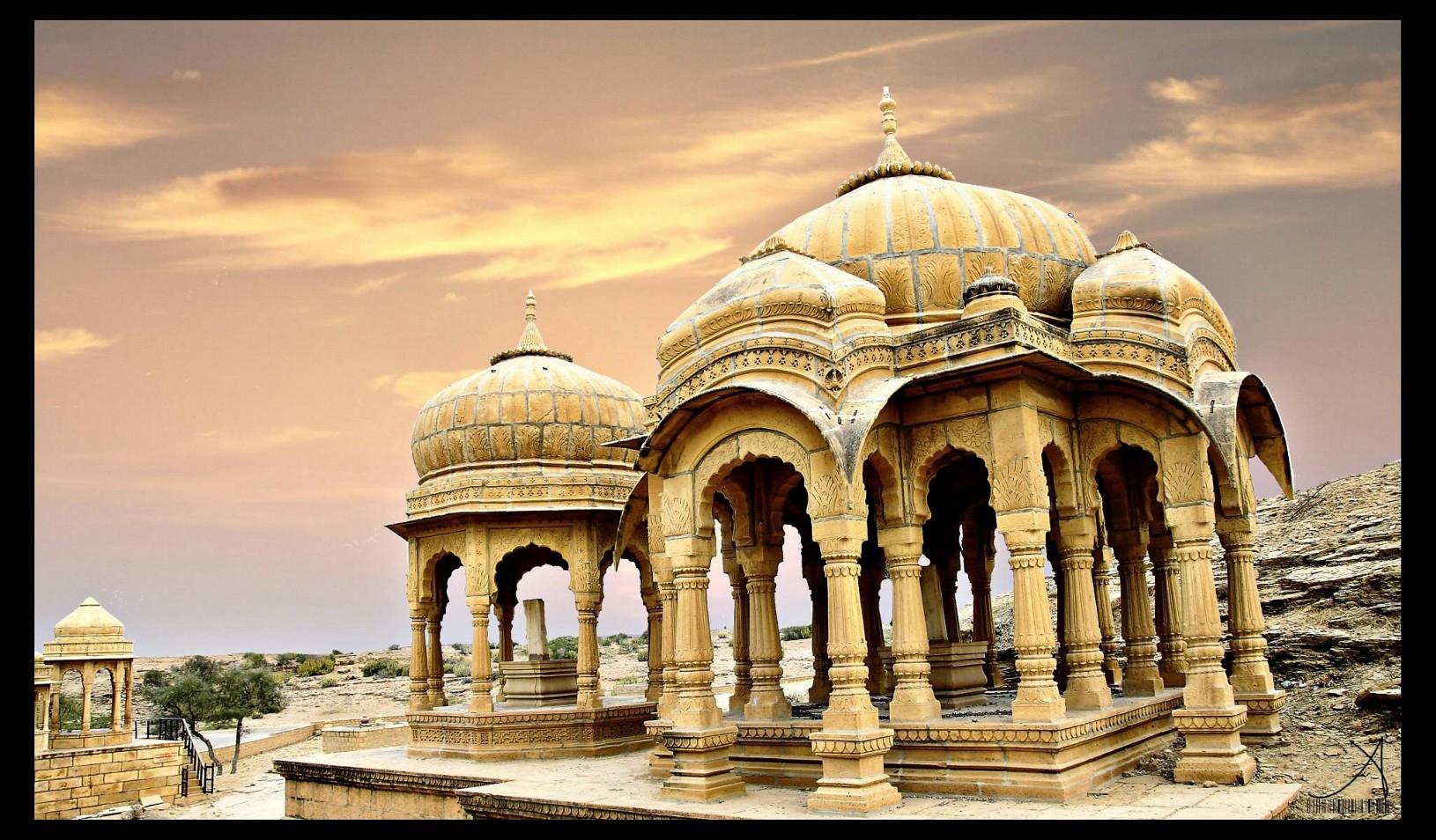 In Jaisalmer, there exists another collection of cenotaphs that share a striking resemblance. Situated in a spacious garden approximately six kilometers away, these cenotaphs stand as a tribute to the esteemed royal rulers of the city spanning the 16th to 20th centuries. Notably, the most recent cenotaph was erected in honor of Maharaja Jawahar Singh, who assumed reign after India gained independence. Regrettably, this cenotaph remains unfinished, as the untimely demise of Maharaja Jawahar Singh, a year following its construction, was considered an ill omen by the royal family. What captivates the most is the presence of plaques adorning the cenotaphs, depicting both the maharaja and the maharani together. This indicates the poignant tradition of the queen willingly joining her husband's funeral pyre. In a fascinating contrast to these ancient cenotaphs, modern wind turbines grace the breezy hill, diligently harnessing the power of wind to generate electricity.

---
Relax and Unwind by the Serene Waters of Gadisar Lake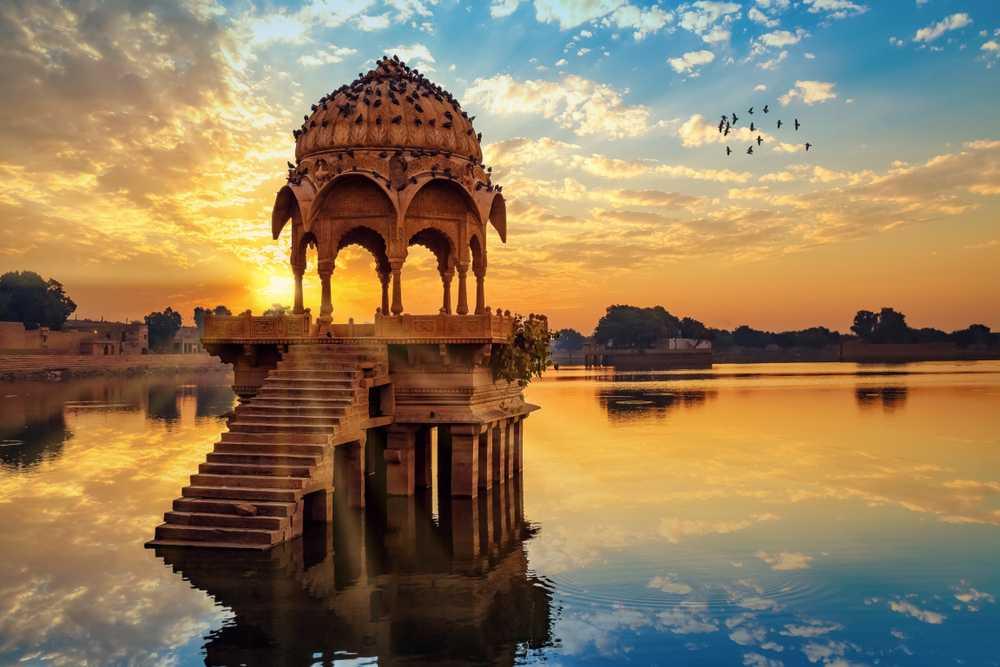 Gadisar Lake, situated on the southeastern outskirts of the city, is an expansive man-made reservoir constructed by Maharawal Gadsi Singh in the 14th century. This magnificent lake served as the primary water source for the town until 1965. Its tranquil ambiance is enhanced by the presence of several quaint temples and shrines dotted along its periphery, creating a serene atmosphere perfect for unwinding. During the winter season, migratory waterfowl grace the surroundings, adding to the lake's allure. Additionally, observing the abundance of catfish leisurely swimming by, eagerly awaiting to be fed, adds to the captivating experience. For those seeking a more immersive encounter, boats are readily available for rent, allowing visitors to fully embrace the lake's charm.
---
Discover the Richness of Local Heritage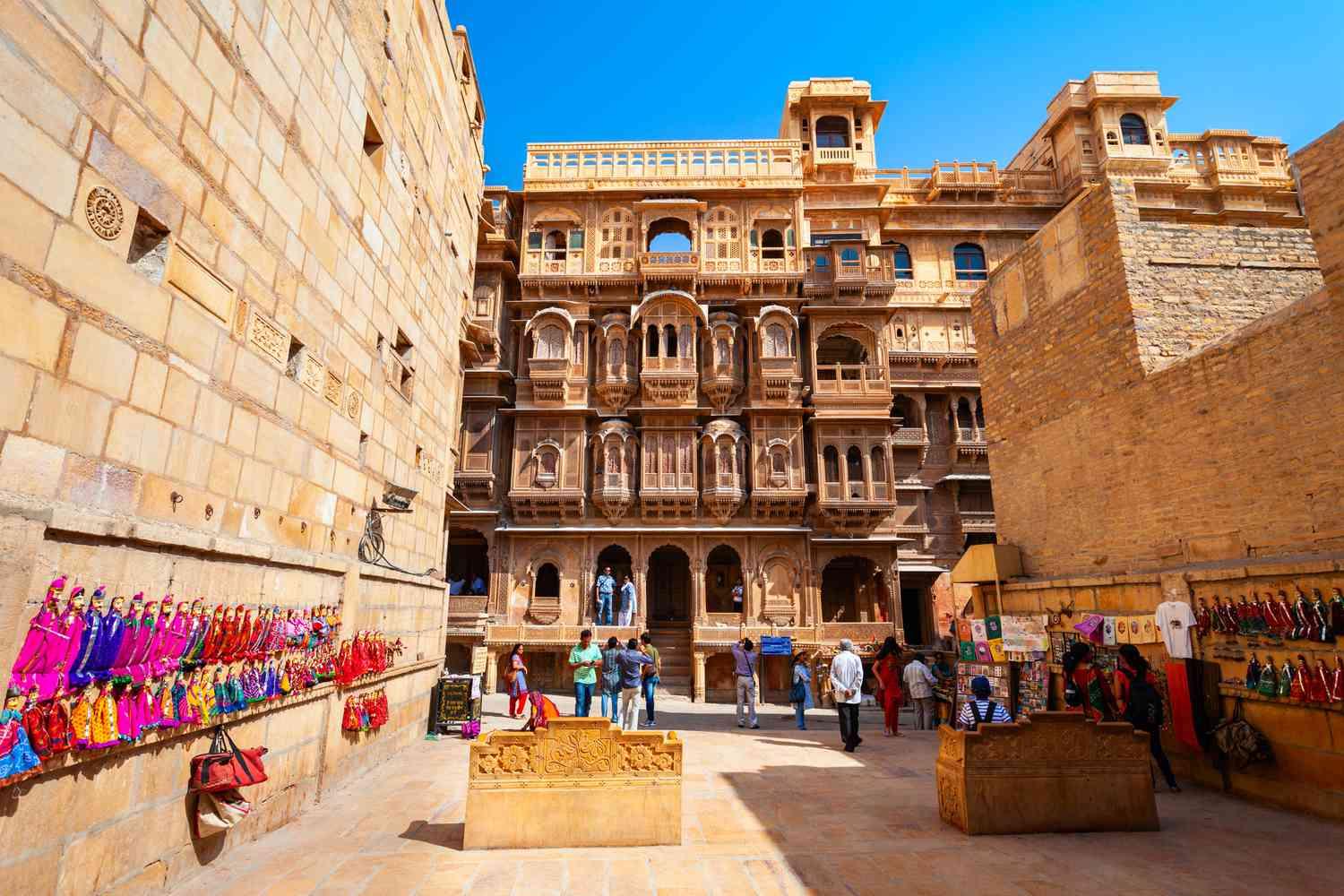 In Jaisalmer, you'll come across a handful of quaint, privately-owned museums that offer captivating insights into the local history and rich culture of the region. One such gem is the Thar Heritage Museum, where a fascinating array of artifacts awaits. From fossils and documents to portraits, photos, sculptures, coins, manuscripts, turbans, weapons, and kitchen equipment, this collection curated by the owner tells a compelling story. Prepare to be enthralled as the owner, who is well-versed in the subject matter, provides informative and delightful guided tours. Adjacent to the museum, you'll find the Desert Handicraft Emporium, an enchanting space that complements the overall experience.
Situated near Gadisar Lake, the Desert Culture Center and Museum is a must-visit destination that has rightfully earned its popularity. Managed by a local historian and teacher who also oversees the Folklore Museum, this establishment boasts an eclectic assortment of treasures. Musical instruments indigenous to the region, former currencies, exquisite traditional jewelry worn by desert women, textiles, hunting items, royal memorabilia, artillery, and armor are just a glimpse of what you'll encounter here. With a single entry fee, you gain access to both museums, and if you time your visit right, you'll have the opportunity to enjoy a captivating puppet show held in the evening.
In summary, Jaisalmer offers a remarkable selection of small, privately-owned museums that allow you to delve deeper into the local heritage and cultural tapestry. From the intriguing Thar Heritage Museum to the captivating Desert Culture Center and Museum, these places will transport you to a bygone era and leave you with a newfound appreciation for the region's captivating history and traditions.
---
Elevated dining at rooftop establishments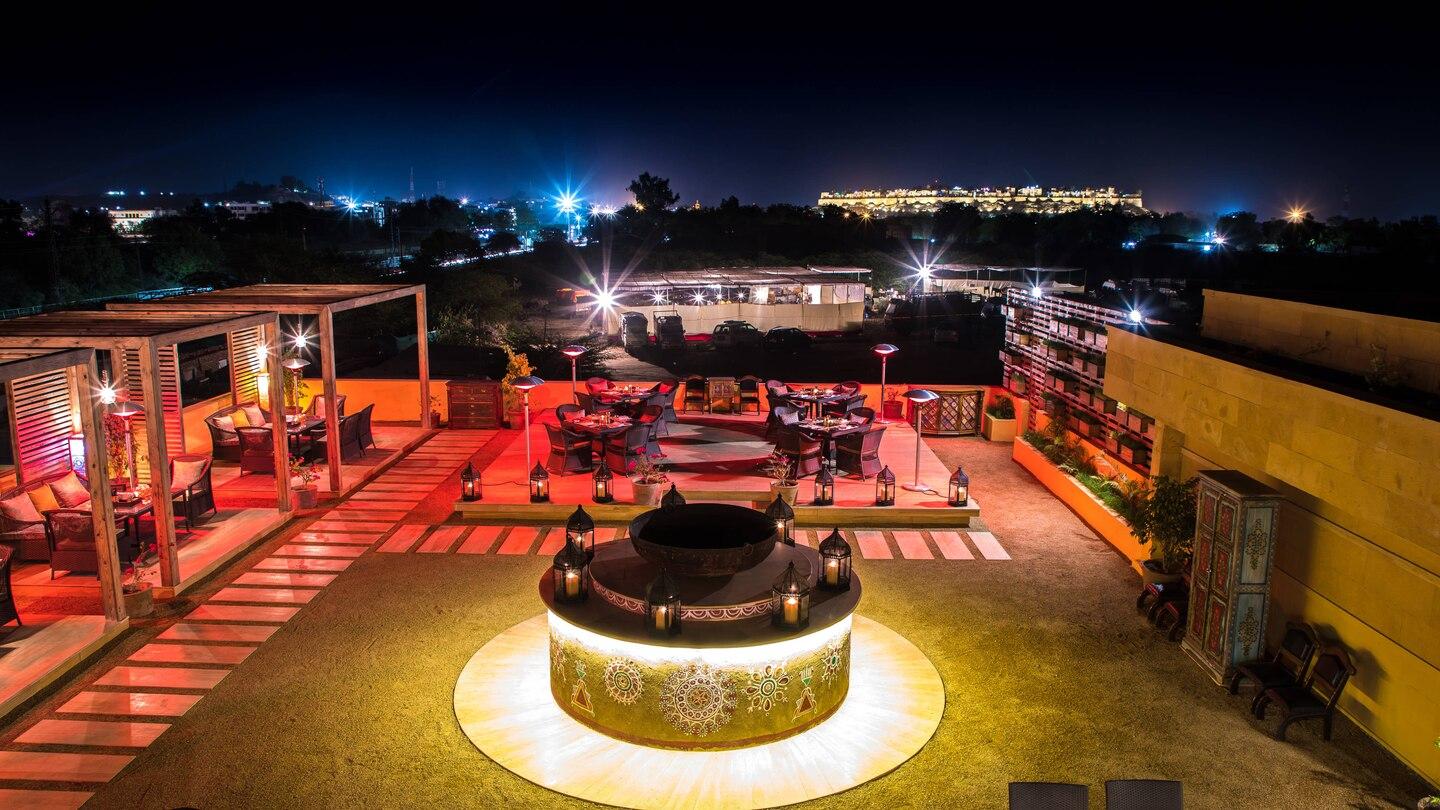 Discover Jaisalmer's enchanting rooftop dining spots, offering a memorable experience with stunning vistas of the fort and bustling market. For a delightful taste of local flavors, head over to The Trio, nestled at Gandhi Chowk. Alternatively, venture to the welcoming Pleasant Haveli Hotel rooftop restaurant nearby, renowned for its delectable North Indian cuisine and panoramic views. Gaj's Restaurant, a short stroll northward, stands out as the sole establishment in Jaisalmer where you can savor authentic Korean dishes, though their Indian fare is equally impressive.
On Patwa Haveli Road, Café the Kaku beckons with its alluring ambiance and a prime spot to relish a picturesque sunset while indulging in delectable global cuisine. Situated on the fort's boundary wall, just inside the First Fort Gate, "c" specializes in Italian culinary delights and boasts a cozy coffee corner. The rooftop restaurant atop the exquisite Hotel First Gate Home Fusion is another culinary gem, featuring a fusion of Italian and Indian vegetarian dishes that are sure to tantalize your taste buds. This boutique hotel also houses a vibrant cocktail bar that comes alive with captivating live music. For a special treat, venture to the outskirts of the city and reserve a table at Wyra Rooftop Restaurant, nestled within the Jaisalmer Marriott Resort and Spa. With its opulent setting, this hidden gem offers an unforgettable dining experience, exclusively available for dinner.
Experience the gastronomic wonders of Jaisalmer at these remarkable rooftop restaurants, each offering a unique blend of flavors, views, and ambiance.