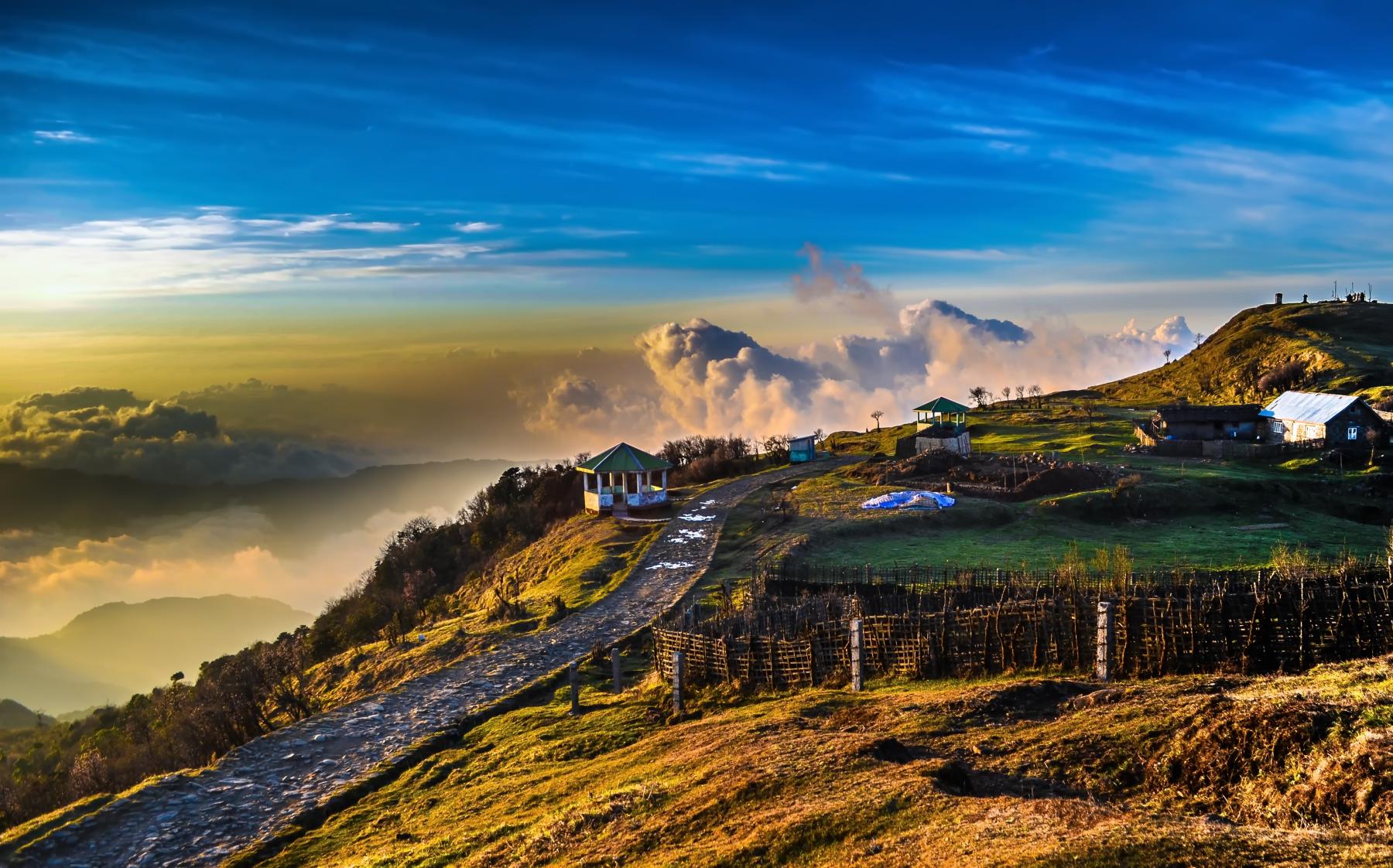 Situated in the heart of the Northeast region, Sikkim is a captivating state that shares borders with three distinct locations. The accessibility to Bhutan, Tibet, and Nepal through Sikkim adds to its allure. This enchanting state is renowned for its tranquil lakes, majestic snow-capped mountains, and breathtaking landscapes that exemplify its natural splendor. From the delectable Sikkimese cuisine to its pleasant subtropical climate, Sikkim has everything covered in its itinerary to enhance your experience. Moreover, it boasts rich biodiversity and is home to numerous monasteries.
With a comprehensive 5-day Sikkim itinerary, you can effortlessly explore the finest attractions this destination has to offer. Let's delve into some of the top places you can visit, along with their notable highlights.
Crafting Your 5-Day Sikkim Itinerary:
1. Tsomgo Lake
Your Sikkim itinerary would be incomplete without including this enchanting destination. Tsomgo lake holds great significance in this region, as it is intertwined with numerous mythological beliefs. One cannot afford to miss this heavenly place adorned with Alpine forests, which is truly a feast for the eyes. Moreover, during the summer months, you can delight in the sight of vibrant wildflowers blooming.
Tsomgo lake offers more than just natural beauty; it provides an opportunity to connect with nature and witness breathtaking sunsets alongside your loved ones. If you have a fondness for nature, this destination is a paradise for birdwatchers, with the chance to spot rose finches, flycatchers, and other migratory birds. The lake is renowned as a sacred site for the locals, as it undergoes a remarkable transformation in color and surroundings with each changing season.
Things to do: capturing the mesmerizing beauty of the surroundings, enjoying the spectacle of the sunset, savoring local delicacies from the food stalls, and immersing yourself in the serene ambiance.
---
2. Nathula Pass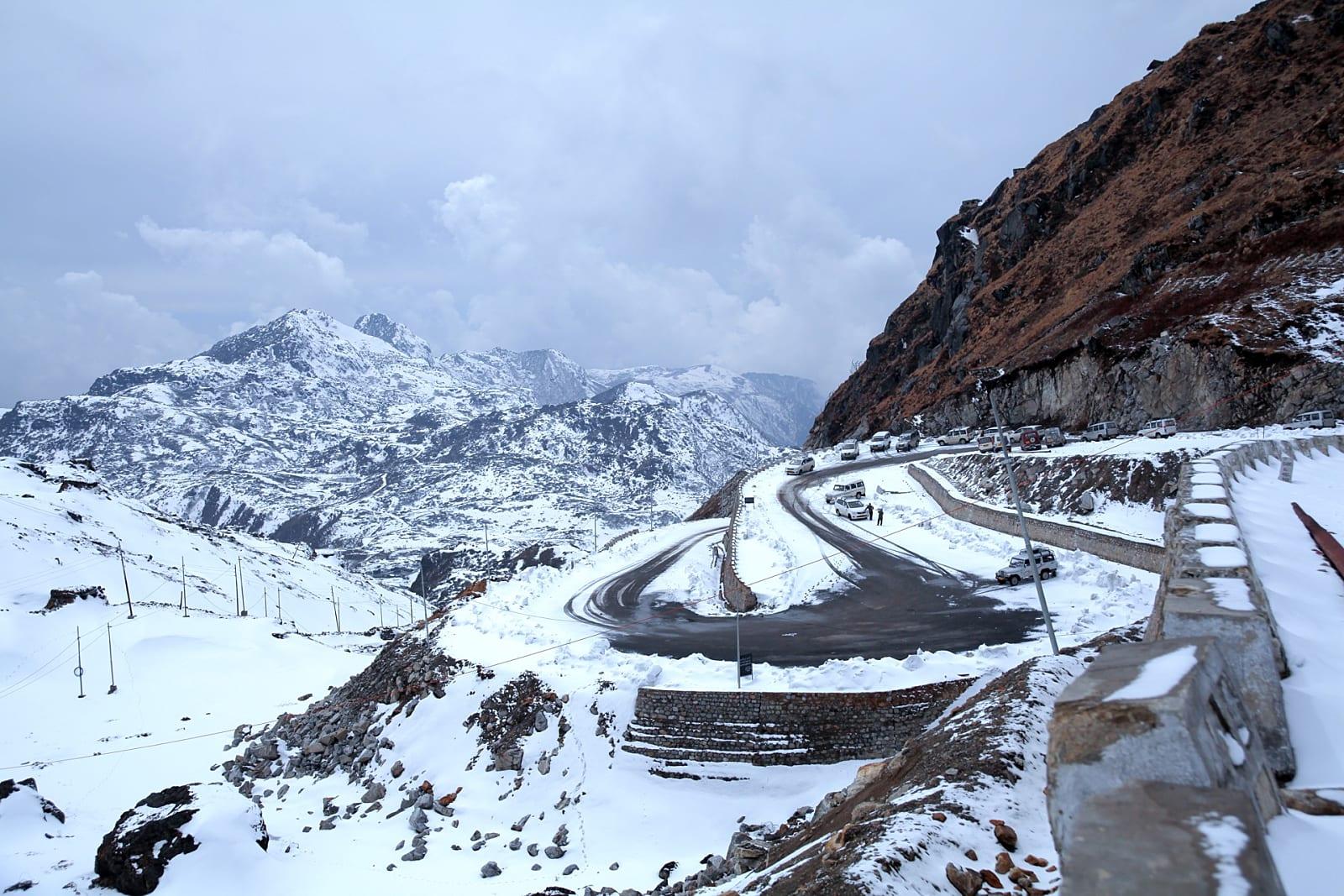 When you think of Sikkim, the renowned Nathula Pass is an absolute must-see. If you're planning a 5-day itinerary for Sikkim, allocate Day 1 for this incredible experience, filled with breathtaking views and thrilling adventures. This mountain pass holds significant importance as a key border point connecting India and China, earning it widespread recognition. Situated at an elevation of 4130 meters, the pass serves as a symbol of Sino-Indian trade.
The journey from Gangtok to the destination takes around 2 hours, allowing you to revel in the captivating scenery. A major highlight is the Indo-China border, evoking a sense of patriotism within you. Additionally, along the way, you'll come across the highest-altitude ATM in India. To ensure a comfortable rest, it is advisable to book hotels in Gangtok and return there for a cozy sleep.
Things to do: Marveling at the magnificent Mera Bharat Mahan Hill, visiting the enchanting Mandakini waterfalls, and capturing stunning photographs against the picturesque backdrop.
---
3. Yumthang Valley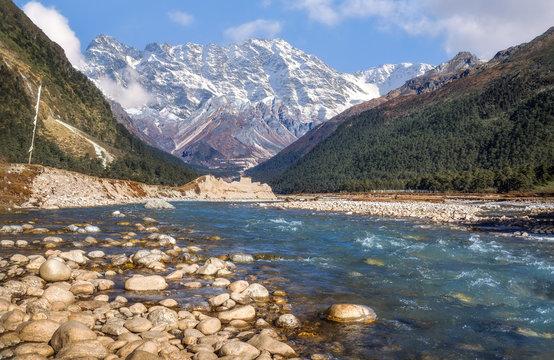 Yumthang valley is likely to evoke the same emotions you experience when you see expansive green landscapes with a serene blue backdrop in movies. Renowned for its breathtaking natural beauty, this valley encompasses vast stretches of greenery, along with yaks, rivers, and hot springs. During the summer season, numerous tourists visit to witness the vibrant blooming of wildflowers.
However, it's important to note that the valley's higher altitude results in significantly colder temperatures. A must-visit spot in Yumthang is Zero Point, which offers a mesmerizing combination of rivers and mountains merging harmoniously in the lap of nature. Additionally, the valley is renowned for its Himalayan cuisine and the warm hospitality of its people.
Things to do: Savoring delectable momos, finding relaxation near Yumthang Chu, and engaging with the locals in the village of Lachen.
---
4. Gurudongmar Lake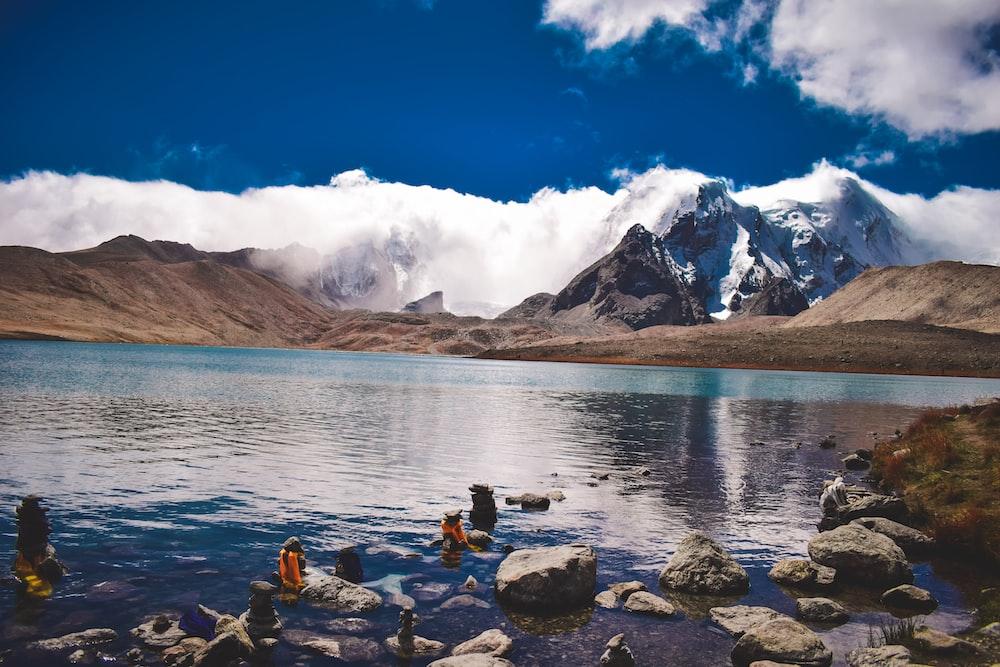 Did you know that above us lie lakes brimming with enchanting beauty? Gurudongmar, one of the highest lakes globally, holds breathtaking vistas and a serene ambiance. If you're crafting a 5-day itinerary for Sikkim, be sure to allocate Day 2 to visit this lake, as it warrants a substantial amount of time.
Due to its lofty altitude, Gurudongmar Lake entices bikers from all corners of the globe, offering exhilarating challenges. The optimal season to experience the lake's pristine waters is summer when they reveal a crystalline clarity. Imagine the added allure of majestic mountains as a backdrop, harmonizing with the snow for a truly captivating experience.
Things to do: Relax and Attune your soul to the tranquil whispers of nature, engage in meditation alongside the serene waters, and capture the awe-inspiring beauty of this state, defying belief.
---
5. Pelling
As you stroll through the town of Pelling, you'll find that all the elegant pictures you admire on Instagram won't hold up. Pelling, nestled at the base of Khangchendzonga, is renowned for the renowned Pemayangtse Monastery and the historic Rabdentse ruins. It also entices visitors from around the globe who wish to explore and delve deeper into Buddhist culture. For those seeking adventure, a visit to the Singshore Suspension Bridge, Titanic View Point, and Phamrong Falls is a must.
While in Pelling, brace yourself for a slight chill and make sure to take a stroll along the glass skywalk, an absolute must-do! Along the journey, you'll have a clear view of the Sanghak Choeling Monastery perched atop the skywalk. Pelling also boasts the enchanting Khecheopalri Lake, the serene Rimbi River, and the majestic Kanchenjunga Falls, all contributing to the town's natural beauty. To avoid high prices during the peak season, be sure to look for hotels in Pelling and plan your trip well in advance.
Things to do: Experience tranquility at the Tashiding Monastery, seek blessings at the Kirateshwar Mahadev Temple, and embark on adventurous treks in the area.
---
6. Ravangla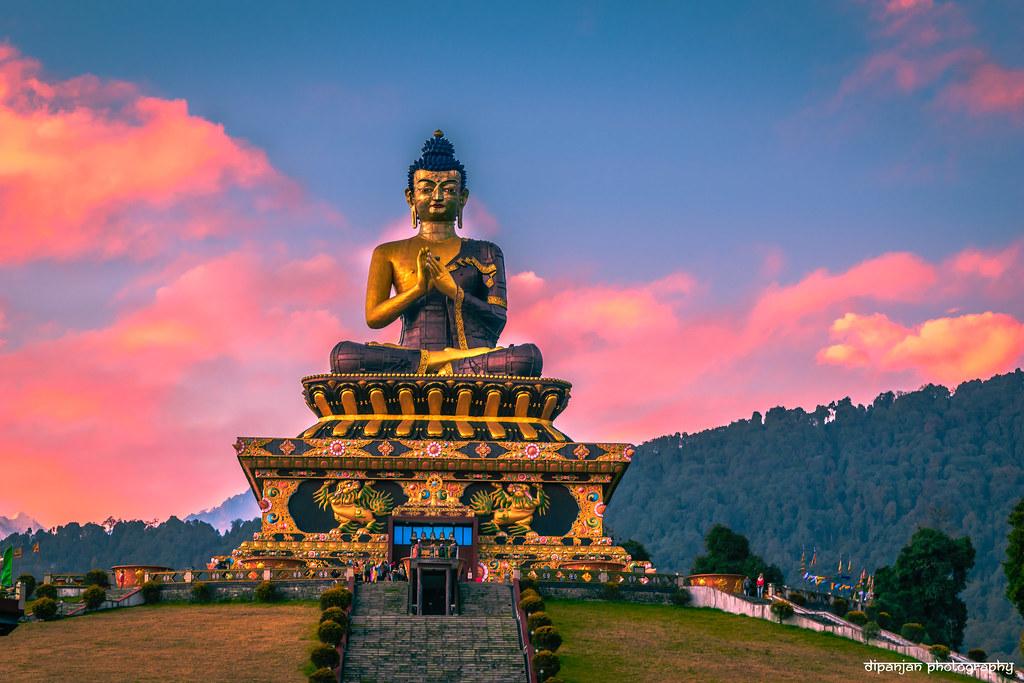 Calling all adventure enthusiasts! Look no further, Ravangla awaits you! It serves as an ideal starting point for an exhilarating trekking experience, attracting numerous backpackers who gather in the mountains, setting up their tents and relishing their time. Ravangla, a quaint town, is renowned for its diverse monasteries that beautifully portray the essence of Buddhism.
Ravangla boasts several must-visit attractions, including Buddha Park, Bon Monastery, Temi Tea Estate, and Ralang Monastery. Additionally, for those seeking an affordable trip to Sikkim, there are numerous budget-friendly hotels available in Ravangla.
While you're there, make sure to seize the opportunity to witness the breathtaking sunrise at Rayong Sunrise View Point, embark on a captivating walk through Maenam Wildlife Sanctuary, and immerse yourself in serenity at Borong Hot Spring.
---
7. Rumtek Monastery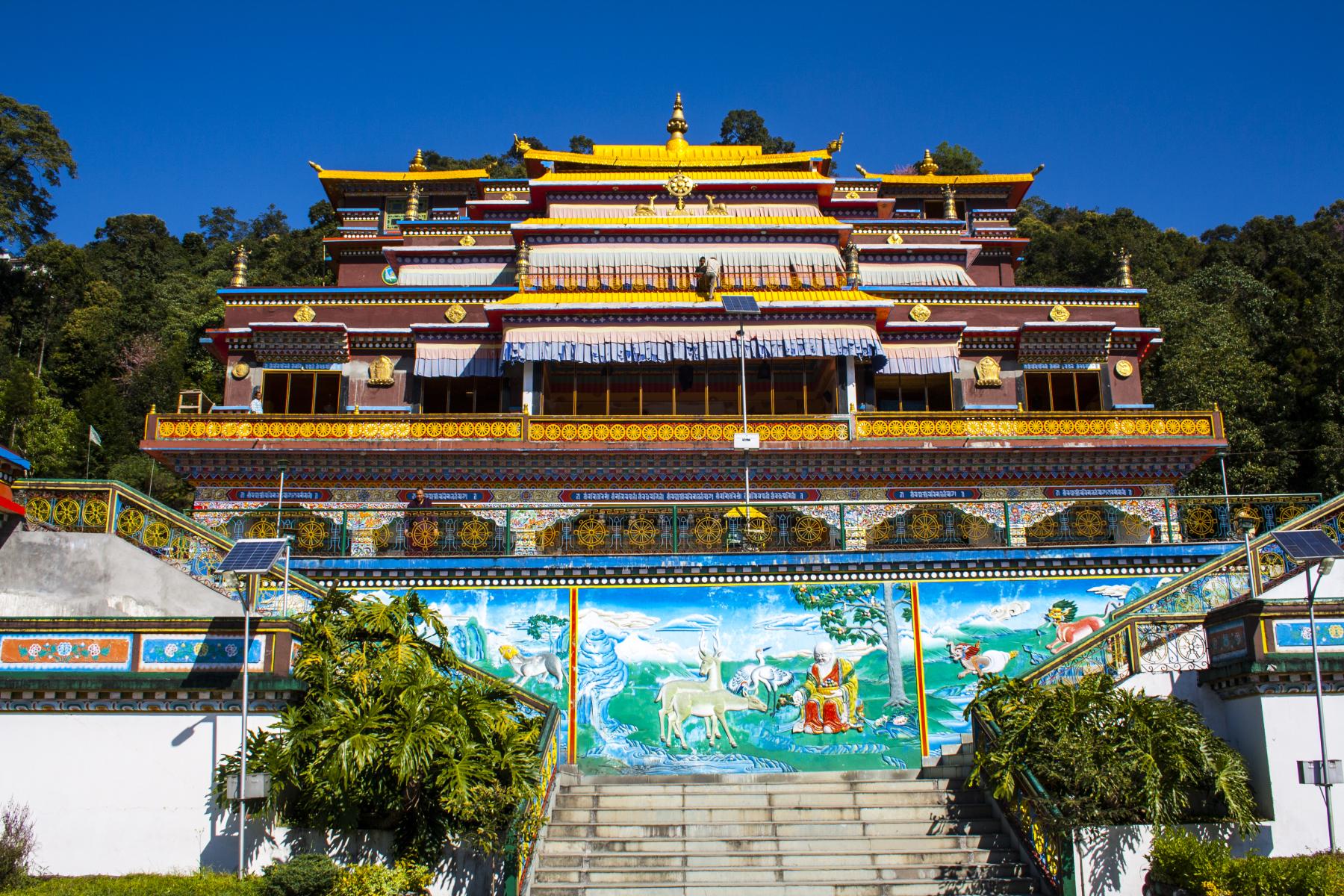 Who wouldn't want to discover the spiritual side of Sikkim that reverberates with the essence of Buddhism? Rumtek monastery, the largest monastery in Sikkim, stands out as a prime attraction for tourists. With its captivating architecture, this monastery serves as a sanctuary for numerous monks who diligently carry out their daily rituals.
Here's your chance to embrace tranquility and participate in the prayers. Positioned across from a college, the monastery provides an opportunity to engage with students who are studying Buddhism and have insightful conversations with them. Within the monastery, you'll find a treasure trove of religious scriptures and ancient texts. Don't miss the chance to appreciate the intricate beauty of the interiors while immersing yourself in the serene ambiance. There are several affordable hotels in the vicinity to cater to your accommodation needs.
Things to do: Marveling at the exquisite architecture, learning about the mythological beliefs shared by the locals, and observing the artistic objects housed within the monastery.
---
8. Khangchendzonga National Park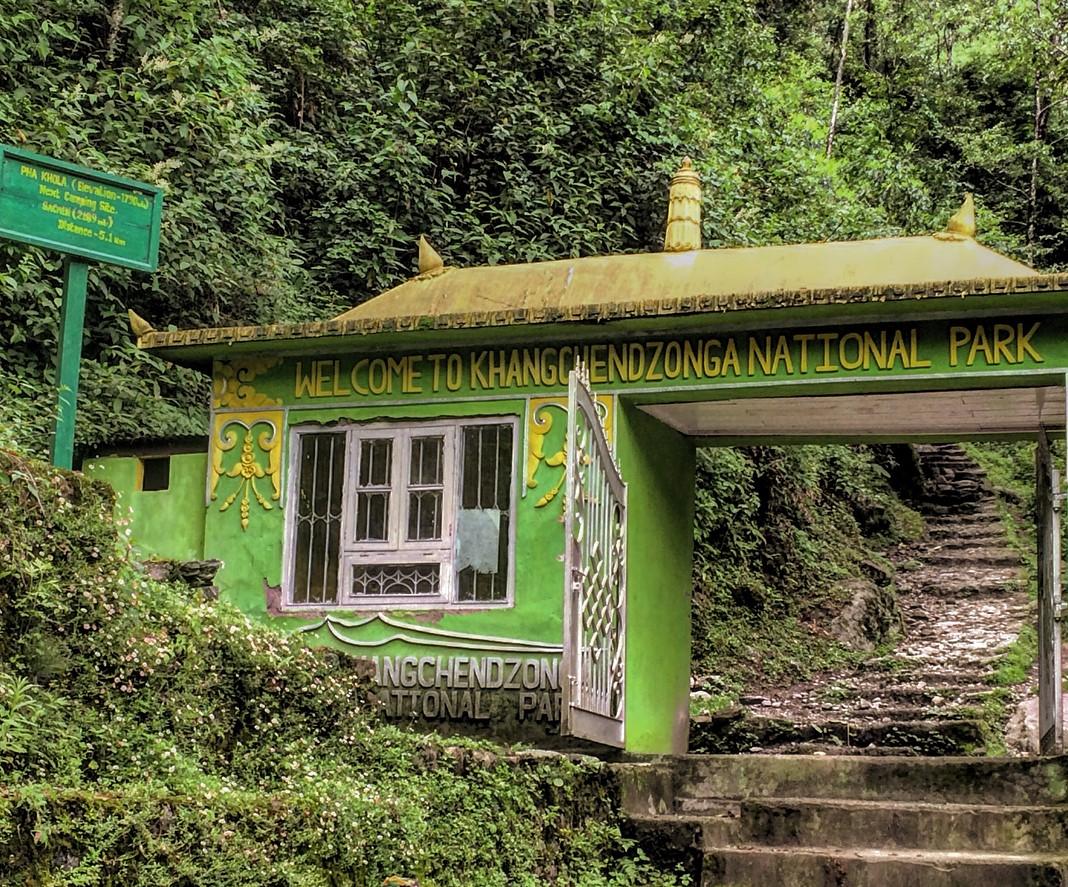 Encountering the untamed wonders of Sikkim is bound to enhance your holiday experience in this region. The national park situated amidst extreme temperatures serves as a habitat for Snow Leopards and Red Pandas, two of the rarest species to be found in the rest of India. Additionally, numerous protected areas in the lower altitudes offer sightings of these exceptional animals. Referred to as the Kanchenjunga Biosphere Reserve, this location is renowned not only for its unique fauna but also for its diverse bird population.
The favorable climate attracts migratory birds, making them frequent visitors to the area. If you possess a fondness for nature, you can revel in the sight of various orchids and Rhododendrons in this region. Exploring the wilderness of Sikkim is incomplete without strolling amidst the captivating wildflowers, an absolute must for your Sikkim itinerary.
Things to do: Taking leisurely walks through the wilderness, bringing along binoculars to observe birds, and attempting to spot the rare animal species found here.
---
9. Jawaharlal Nehru Botanical Garden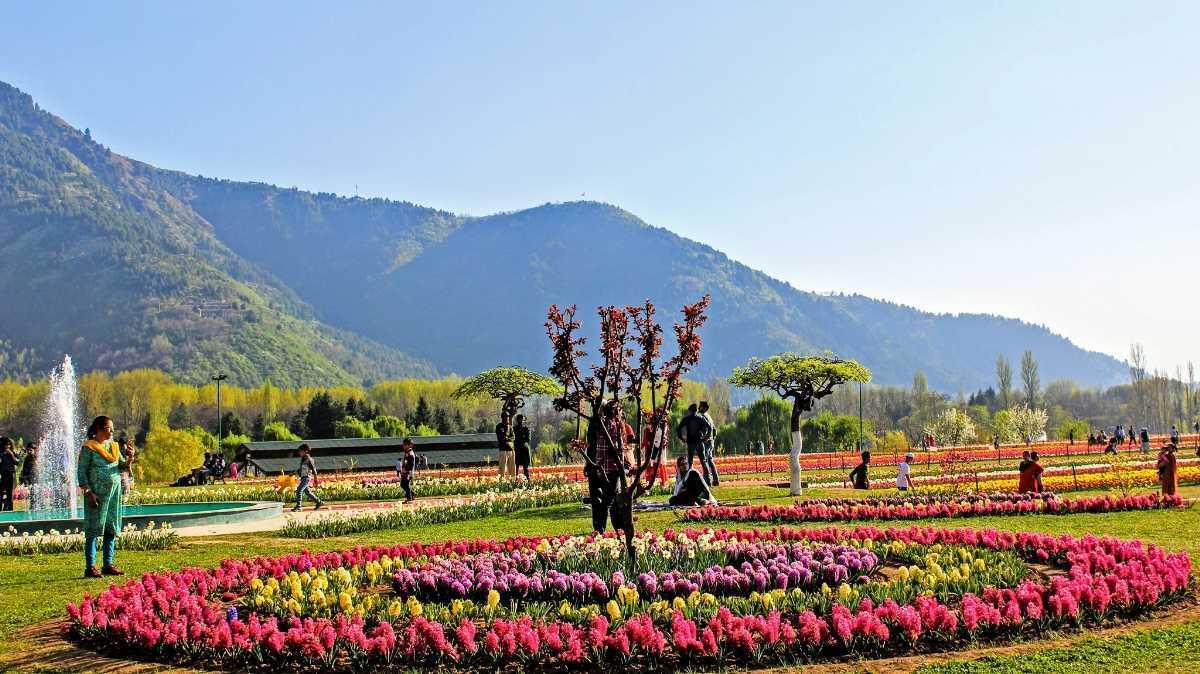 Prepare to be pleasantly surprised by the Jawaharlal Nehru Botanical Garden in the Eastern Himalayas! This stunning garden offers an abundance of diverse plant and animal life that will leave you in awe. Picture yourself standing amidst towering mountains, with a breathtaking display of ornamental plants right before your eyes. The garden is renowned for its impressive collection of Oak varieties and their botanical significance.
In addition, you'll have the chance to witness the growth of unique orchids within the garden. It serves as a recreational haven for individuals of all ages, catering to both playful children and adults seeking relaxation on the benches. If you're planning a vibrant five-day itinerary in Sikkim, make sure to include a visit to this captivating destination! Don't miss the opportunity to stroll through the lush pine forests, paying homage to the beauty of the Himalayas.
Things to do: Unwind with your loved ones during a delightful picnic, engage in conversations with the locals, and indulge in fascinating insights about the diverse flora that surrounds you.
---
10. Ganesh Tok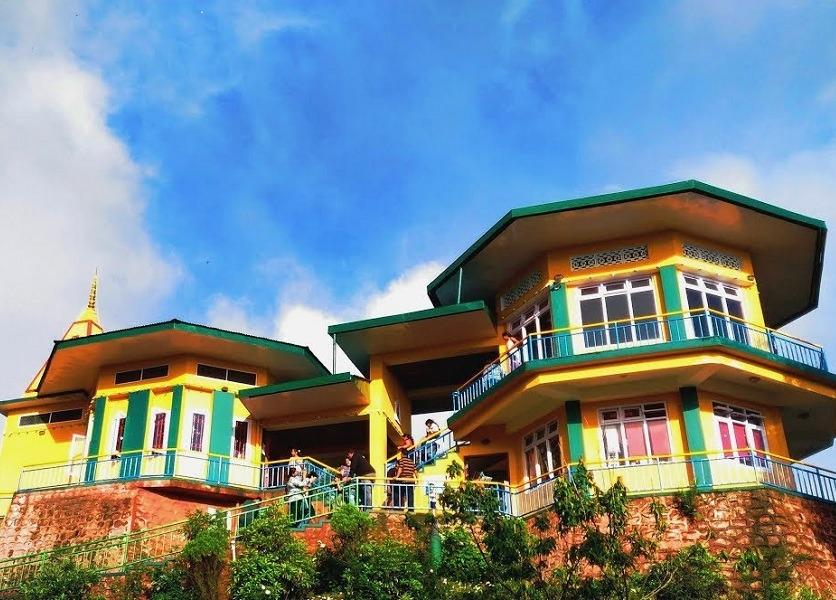 Your 5-day Sikkim itinerary could include a visit to a sacred temple, aptly named, where you can seek blessings. Situated approximately 7 kilometers away from Gangtok, this temple provides breathtaking views from its elevated position. Devoted to Lord Ganesh, the temple's vibrant architecture vividly represents the divine presence.
Be sure to allocate ample time at this location, as you'll thoroughly enjoy immersing yourself in the tranquil surroundings. In addition to exploring the temple grounds and engaging in meditation, take a moment to savor light refreshments at nearby cafes and capture stunning photographs that showcase your admiration for this place.
---
11. Baba Harbhajan Singh Temple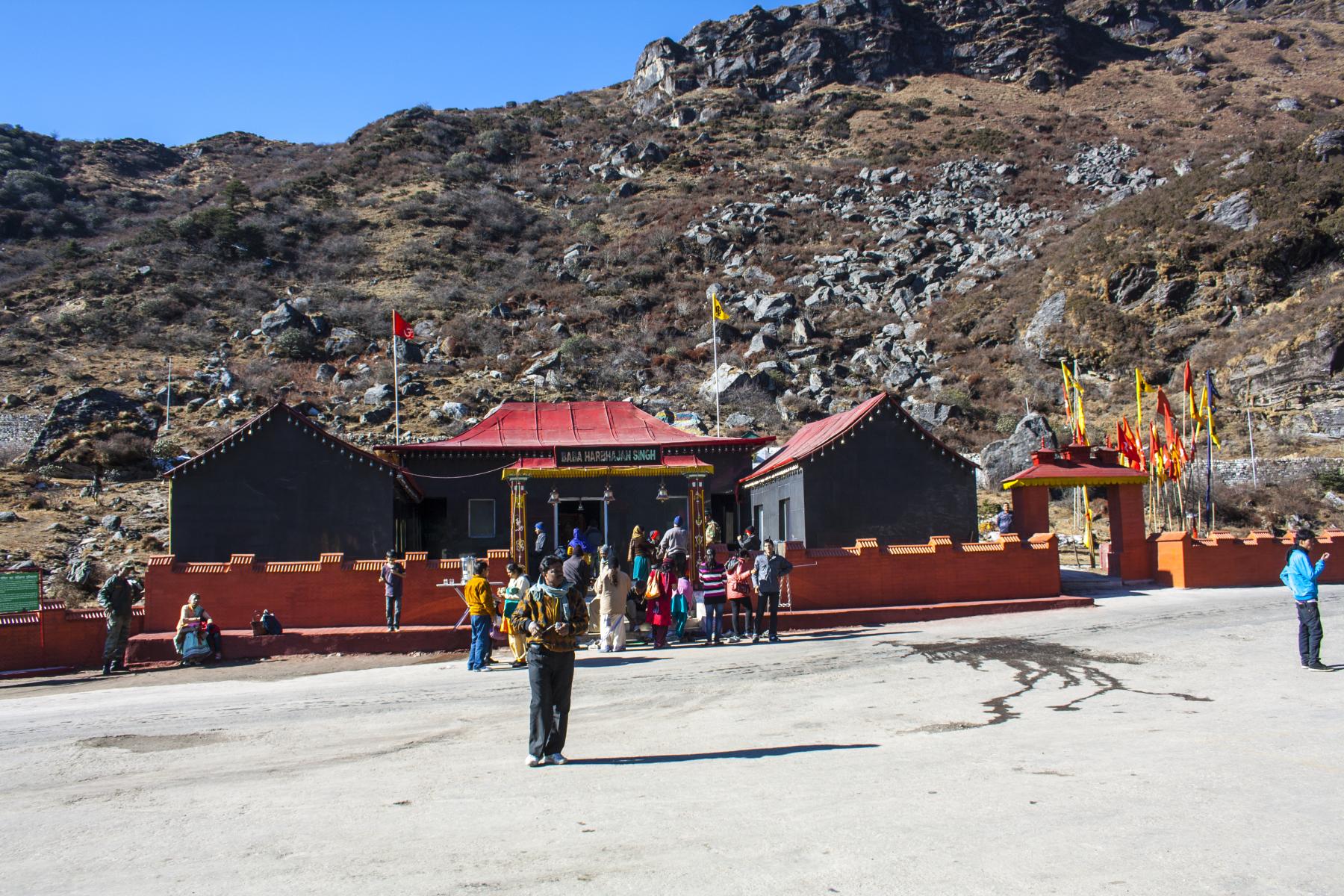 You may have come across various temples and places of worship dedicated to Gods and Goddesses, but this particular temple in Sikkim has a distinct purpose. Instead of being dedicated to a deity, it honors a soldier of the Indian Army. Located near the Nathula Pass, this temple or shrine serves as a tribute to Baba Habhajan. Upon entering, you'll immediately notice a large portrait of Baba, but what makes it even more intriguing is the presence of a central room that portrays Baba's everyday life.
Inside this room, you'll find a collection of necessities, such as clothing, a bed, boots, and other items. It is widely believed that Baba continues to safeguard the region, and some officials have even confirmed sighting a shadowy figure on a horse. Rather than being eerie or unsettling, this adds to the mystique of the place.
Things to Do: Delve into tales of bravery, engage with the locals to gain insight, and appreciate the modesty and charm of this location.
---
12. Shingba Rhododendron Sanctuary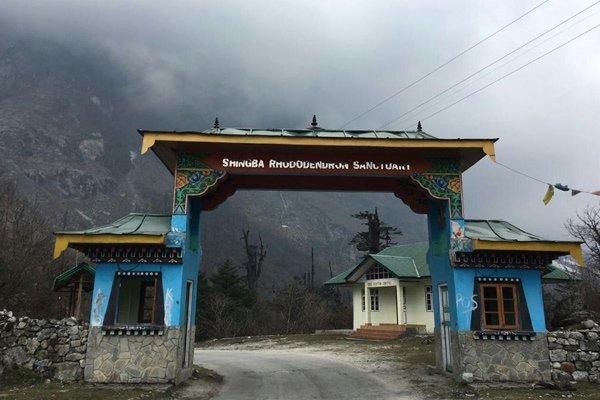 Visiting the renowned Shingba Rhododendron Sanctuary is an essential part of your 5-day itinerary in Sikkim. This sanctuary boasts an extensive assortment of Rhododendron species, attracting tourists and science enthusiasts alike who seek to admire its captivating beauty and breathe in the fresh air.
Situated approximately 7 kilometers from Gangtok, this sanctuary in Yumthang can be easily accessed via roadways. For a more fulfilling experience, consider trekking uphill, which adds an extra touch of reward to your journey.
While at the sanctuary, make sure to capture stunning photographs amidst the colorful Rhododendron flowers and relish the tranquility of this serene location.
In conclusion, Sikkim truly encompasses a blend of art, beauty, and culture like never before. Plan your Sikkim itinerary and embark on a direct journey to this enchanting land of wonders.